Contact


News Tips


Viewpoints


Search Sitnews


Copyright Info


Archives
Today's News


Alaska & Ketchikan


Top Stories


U.S. News


U.S. Politics


Stock Watch


Personal Finance


Science News


US Education News


Parenting News


Seniors News


Medical News


Health News


Fitness


Offbeat News


Online Auction News


Today In History


Product Recalls


Obituaries
Quick News Search


Alaska


Ketchikan


SE Alaska


Alaska News Links
Columns - Articles


Dave Kiffer


Arts & Entertainment


Parnassus Reviews


Jason Love


Fish Factor


Bob Ciminel


Chemical Eye On...


Rob Holston


More Columnists
Ketchikan


Our Troops
Historical Ketchikan


June Allen


Dave Kiffer


Louise B. Harrington
Recognition


Match of the Month


Asset Builders
Kid's Corner


Bob Morgan
Ketchikan Arts & Events


Ketchikan Museums


KTN Public Libraryt


Parks & Recreation


Chamber
Lifestyles


Home & Garden


Food & Drink


Arts & Culture


Book Reviews


Movie Reviews


Celebrity Gossip
On the Web


Cool Sites


Webmaster Tips


Virus Warnings
Sports


Ketchikan Links


Top Sports News
Public Records


FAA Accident Reports


NTSB Accident Reports


Court Calendar


Court Records Search


Wanted: Absconders


Sex Offender Reg.


Public Notices
Weather, Webcams


Today's Forecast


KTN Weather Data


AK Weather Map


Ketchikan Webcam


SE AK Webcams


Alaska Webcams


AK Earthquakes


Earthquakes
TV Guide


Ketchikan
Ketchikan Phone Book


Yellow Pages


White Pages
Employment


Employment
Government Links


Local Government


State & National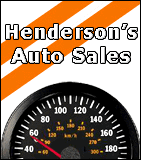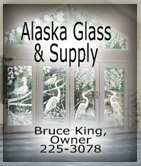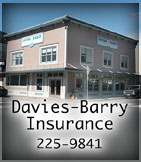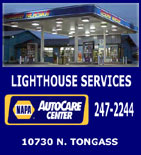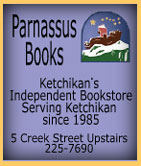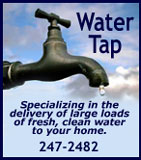 For Sale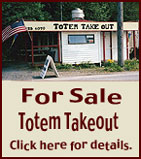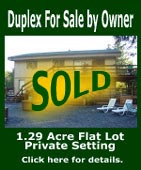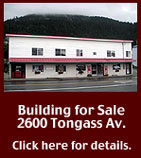 Sunday
June 03, 2007

Ward Lake: Sitka Black-tailed Deer
Front Page Photo by Elizabeth E. Harrison

Fish Factor: "Food miles" track how far food travels to reach consumer By LAINE WELCH - As people around the world ponder ways to protect our planet from the impacts of global warming, "food miles" are being used as a measure of how far food travels before it reaches the consumer. The logic is the fewer miles foods are transported the less fuel is used, thereby reducing the "carbon footprint" on the environment.

The concept of food miles is being embraced by Big Business. At a gathering last week at the Monterey Aquarium, Whole Foods, Bon Appetit and Wal-Mart announced they are doing more to reduce the distances they use in transporting the foods they purchase.

"I think food miles is going to be the next big issue of sustainability," Peter Redmond, Wal-Mart's vice president in charge of seafood said in press reports.

Redmond called supporting sustainability issues "good for business" and part of Wal-Mart's "business plan." Last year the world's largest retailer led the charge to source its seafoods only from fisheries certified as sustainable and well managed by the international Marine Stewardship Council.

Alaska's largest fisheries - salmon, pollock and halibut - have the MSC stamp of approval. That gives Alaska a big advantage in terms of 'earth friendly' seafood purchases. But how will Alaska's distance from markets be affected by food miles?

"My first response is you've got to get the fish from where the fish are. They are going to have to source Alaska seafood from Alaska, regardless of whether it's close or far," said Ray Riutta, director of the Alaska Seafood Marketing Institute.

Riutta said sourcing products closer to home is a great concept - if you have them. While it's good to be idealistic, it's also important to be realistic.

"Half the seafood produced in the U.S. comes from Alaska, so the reality is that a lot of the seafood going into these stores will come from Alaska, regardless of the distance. If they want wild seafood they're going to have to get it from Alaska," he said.

Riutta added that reducing 'food miles' and 'carbon footprints' is part of a larger trend toward protecting the environment, and ultimately, he believes that will reflect well on Alaska.

"We have a heck of a good story to tell. Clearly, we've got the best sustainability story in the world, so anyone who is interested in supporting well managed fisheries is going to source their seafood from Alaska first," he said.

Riutta added that it will be a challenge to make sure the buying public is aware of what Alaska has to offer "in terms of our seafood coming from a state that takes great pride in protecting its natural environment." - More...
Sunday - June 03, 2007

National: Majority would like 'no child' law left behind By THOMAS HARGROVE and GUIDO H. STEMPEL III - Nearly two-thirds of American adults want Congress to re-write or outright abolish the landmark No Child Left Behind Act that mandates nationwide testing of elementary students to determine if public schools are performing adequately.

Opposition is especially high among people most familiar with the law, according to a survey of 1,010 adults conducted by Scripps Howard News Service and Ohio University.

Controversy about the law has grown in recent months as Congress begins the debate on whether to reauthorize the measure that President Bush has touted is one of the most important achievements of his administration.

"The No Child Left Behind Act has worked for America's children and I ask Congress to reauthorize this good law," Bush urged legislators during his last State of the Union address.

But dissent against reauthorization has developed within his own party. Fifty-two Republican House members and five GOP senators are calling for a repeal of the law in favor of a more flexible system of achievement standards to be negotiated between the Department of Education and individual states.

"This expensive and largely unsuccessful legislation has broadened the scope of the federal government's role in education," Rep. Tim Walberg, R-Mich., said while introducing his bill.

Participants in the poll were told that No Child Left Behind "requires states to test elementary students to determine if schools do a good job teaching. Critics say the law forces teachers to teach to a particular test. From everything you've heard, do you think the No Child Left Behind Act has been good for public schools or not good?"

Only about a third said they think the law has had a positive influence on public education while slightly less than half said it has had a negative impact and a fifth were undecided.

A few respondents volunteered different answers that were generally critical of the law.

"The schools should have more leeway," said the mother of two public school children from Lexington, S.C.

"It was a good theory, but the implementation has been faulty," remarked another mother with three children from Elmhurst, N.Y.

"No Child Left Behind created unfunded mandates which force teachers to teach to the test," complained a single woman from Tonopah, Nev.

"States should have more control over their education programs," said a mother from Houston, Texas.

Respondents in the poll were also asked: "Based upon everything you've heard, do you want Congress to renew the No Child Left Behind law, do you want Congress to make changes in the law or do you want Congress to cancel the No Child Left Behind law?" - More...
Sunday - June 03, 2007

Ward Lake: Duckling
Front Page Photo by Elizabeth E. Harrison

Washington Calling: Walter Reed escapes ax; PAC watchdogs; more By LISA HOFFMAN - A Washington watchdog group is inviting you to engage in some "CSI" work, which, in this case, means "Campaign Spending Investigation."

The Center for Responsive Politics is asking the public to help them figure out which Capitol Hill lawmakers are pulling the strings behind the scenes of about 30 "mystery" fundraising political action committees.

Under current rules, these politicians do not have to disclose their control of their so-called "leadership PACs," which they use as vehicles to give themselves campaign cash or reward fellow legislators with donations -- often as a way to curry future favor for their own political ambitions.

So the watchdogs hope you can help them unmask who's behind these "mystery PACs," which include Penguin PAC (which gave $35,000 to Democratic lawmakers last year), Serving America's Citizens PAC (source of $31,000 to Republicans), and Dam PAC ($21,000 to Republicans).

The full list is at www.opensecrets.org. Send your findings, along with documentation, to MysteryPACs(at)crp.org.

X X X

Looks like Walter Reed Army Medical Center won't be closing anytime soon. Doomed by the 2005 base-closing commission, the landmark facility was given what could be a decade-long stay when Congress slipped in a provision in the Iraq war funding bill last week postponing its closure until new facilities are built and fully equipped at the Bethesda Naval Medical Center in nearby Maryland and Fort Belvoir over the Potomac in Virginia.

Given the pace of planning for those projects -- and the significant local opposition due to traffic and sprawl concerns -- the premier hospital for the war wounded from Iraq and Afghanistan should remain in business long after its 2011 shutdown date. - More...
Sunday - June 03, 2007

Ward Lake: Ducklings
Front Page Photo by Elizabeth E. Harrison

Columns - Commentary

Dave Kiffer: Lose Weight Instantly: Become Canadian - Lately, I've been getting a lot of email about something called "Hoodia."

Supposedly it helps you lose weight.

You want to really lose weight? Fly on a float plane. No, really.

Airline regulations require you to announce very loudly to the ticket agent - in front of your fellow travelers - just how much you weigh (and you have to add 10 extra pounds because they know, and you know, that you are lying). It's enough to make a beanpole go on a diet. But as usual, I digress.

Anyway, the purveyors of "Hoodia" think that I need to get some of their product in order to slim down to my appropriate body mass.

Fine. I'm not as thin as I used to be. I suppose it's the healthy thing to do. I was already pondering going on a "health kick" before the person standing next to me at the floatplane counter said "gee, you must be pretty big boned!"

But why "Hoodia?"

According to the info in the "spam," it is a plant from Southern Africa that suppresses your appetite and if you don't feel like eating, you lose weight.

I guess that makes sense. Just about anytime anything plantlike (especially of the green vegetable variety) is put in front of me my appetite immediately decreases. That will always be the case until rib-eye steaks start growing on trees.

So, so much for "Hoodia."

I can get the same result by staring down a plate of broccoli. - More...
Sunday - June 03, 2007




Public Notice

City issues RFP for New Library Site - responses due June 15th. Proposal documents are available from the Public Works Director, 2930 Tongass Avenue, Ketchikan, Alaska, and on the City of Ketchikan Web Site (Download the Request for Proposals - PDF)

Three copies of the proposal labeled, "Proposal for Property Acquisition, Contract No. 07-24", are to be submitted by 3:00 p.m., prevailing local time, June 15th, 2007 to the office of: Katherine Suiter, City Clerk City of Ketchikan, 334 Front Street, Ketchikan, Alaska 99901

Public Hearing

A public hearing will be held at the Ted Ferry Civic Center on Thursday, June 7, 2007 from 1:00 PM until 3:00 PM regarding the City of Ketchikan's proposed adoption of the 2006 International Fire Code including state and local amendments. There will also be discussion regarding the proposed revisions to the Ketchikan Municipal Code (KMC), Title 18, "Fire Prevention." Discussions will include: Road Grades and fire department access issues, the installation and maintenance of fire sprinkler systems within the city limits of Ketchikan, and other life safety issues.

Ketchikan

Ketchikan Police Report
AK Troopers Daily Dispatch
Today's Forecast
Satellite
Today's Weather Images
Marine Forecasts
Ketchikan Weather Data
Current AK Weather Map

CLASSIFIEDS

Publish ad
Please select the proper category before posting.




CLASSIFIEDS' CATEGORIES

Announcements and
Help Wanted
For Sale / Free Stuff
Garage Sales
Homes / Apts/ Property
Pets
Wanted
Lost & Found
Local Services
Publish your ad

More Front Page Archives

Viewpoints
Opinions/Letters
Basic Rules

Clean Up & Poster Contest By Jerry Cegelske - Sunday
Immigration Bill: An Open Letter By Byron Whitesides - Sunday
Borrow and Spend By Robert Rice - Sunday
More Excuses at UAS By Robert D. Warner - Sunday
RE: Top 10 Reasons to Live in KTN By Charlotte Tanner - Sunday
Top Ten Reasons for Someone to live in Ketchikan By Kayleigh Martin - Sunday
Bus #8 Students By Yeda Hicks - Sunday
Gas Prices By Andy Williams - Sunday
Top Ten Reasons To Live In Ketchikan By Loren Stanton - Thursday
Jewelers/Gas By Neil Gray - Thursday
LIMITING PRIVATE BUSINESS IS WRONG AND DETRIMENTAL By Charles Edwardson - Thursday
Congratulations! By Frances C. Natkong - Thursday
Fatal Freedom By Rusty Bongard - Thursday
A Waste Of Time and Money By Ken Levy - Thursday
Something Fishy By Carolyn Cramer - Thursday
THE CON WITHIN THE CON; DON'T SIGN THAT ANTI-JEWELRY STORE PETITION By David G. Hanger - Monday PM
We will do anything for our children EXCEPT... By Al Johnson - Monday PM
Jewelry Ring Conspiracy By Ken Lewis - Monday PM
Downtown business By Marie-Jeanne Cadle - Monday PM
Telling it like it is... By Kelli Murphy Mcloone - Monday PM
Disability access issues By Kevin Gadsey - Monday PM
RE: Newtown gets the shaft By Michelle Rosen - Monday PM
Honor the troops and bring them home By Charlotte Tanner - Monday PM
Gas Prices By Kevin Mackey - Monday PM
Maggie By Jim Burris - Monday PM
Jewelry store ordinance By Jessica Mathews - Monday PM
Fuel prices in Ketchikan By Marlene Thibert - Monday PM
JEWELRY STORE LIMITS By Bill Tatsuda - Saturday PM
Gas Prices By Carol Naranjo - Saturday PM
Newtown Gets the Shaft By Bobbie McCreary - Saturday PM
Honoring Our Nation's Fallen Heroes By Rep. Don Young - Saturday PM
Jewelry store ordinance By Rodney Dial - Saturday PM
Gas Prices....possible solution By Michael Branco - Saturday PM
Memorial Day By Sen. Ted Stevens - Saturday PM
CKF By Chris Elliott - Saturday PM
Jewelry Store Limitations By Neil Gray - Saturday PM
Memorial Day By Anita Hales - Saturday PM
Ketchikan school board has sure deteriorated By Geoff Brandt - Saturday PM
Rainiest cities By Robert Fruehan - Saturday PM
Rainfall in the lower 48 By Melissa O'Bryan - Saturday PM
Wheelchair access By Liz Lybrand - Thursday PM
Superintendent Failed District Report Card By Mike Harpold - Thursday PM
Gravina Clean Up By Jerry Cegelske - Thursday PM
What's up with the gas prices? By Jerilyn Lester - Thursday PM
Newtown gets the shaft By Tom Ferry - Thursday PM
Keep the crap off the highway. By Robert McRoberts - Thursday PM
Maggie By Jennifer O'Connor - Thursday PM
Good Try Mark Neckameyer By Charlotte Tanner - Thursday PM
Rainfall in the lower 48 By Andy Williams - Thursday PM
More Viewpoints/ Letters
Send a Letter to Viewpoints

---

E-mail your news tips, news
releases & photos to:
editor@sitnews.us

M.C. Kauffman, Webmaster/Editor
webmaster@sitnews.us

In Memory of Dick Kauffman
1932-2007

SitNews
Stories in the News
©1999 - 2007
Ketchikan, Alaska

Locally owned & operated.

Online since 1999

Articles & photographs that appear in SitNews are protected by copyright and may not be reprinted or distributed without written permission from and payment of required fees to the proper sources.