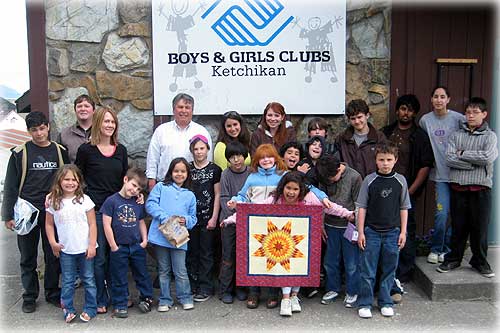 May's Asset Builders of the Month: Ketchikan's Boys and Girls Club
Michael Q. (staff members Chris Corrao, Megan Mix, Tony Azure- director, Kelley Ryan, Meagn Hanifin,) Eli M., Keagan H., John B., Maria B., Paul B., (front row) Bronson M., Ian W., Chance H., Bailey R., Emily C., Mollie R., Austin W., Kellie K., Pauline P., Mitchell R., and Kylee J.
Photograph courtesy PATCHWorks

Asset Builders of the Month: Ketchikan's Boys and Girls Club - PATCHWorks has presented their monthly "Asset Builder" award to Ketchikan's Boys and Girls Club and the dedicated staff that make this program/facility available to so many of Ketchikan's youth. By providing healthy after-school-hours options for school-aged children, the Boys and Girls Club is fulfilling a vital community need.- More...
Tuesday - June 03, 2008

April's Asset Builder of the Month: Sue Medel - Sue Medel, one of Ketchikan's great Public Health nurses, has been nominated and selected as the PATCHWorks Asset Builder of the month. She was presented with this recognition at a recent staff meeting at Public Health and all in attendance agreed that the honor was well deserved. - More...
Wednesday - April 23, 2008

Asset Builder of the Month: Miguel Torres - "Sometimes special people move to Ketchikan and immediately start to make a real difference in the lives of our community's youth," said Director of PATCHWorks Karen Eakes. - More...
Wednesday - March 19, 2008

Asset Builder of the Month: Larry Mestas - The PATCHWorks' "Asset Builder" for the month of January is a person that has gone about his job as a custodian at Ketchikan High School for the past six years in a quiet, competent and dedicated manner. He enjoys what he does and it shows said Karen Eakes, Director of PATCHWorks in Ketchikan. - More...
Wednesday - February 06, 2008

Asset Builders of the Month: Naomi Michalsen - PATCHWorks has announced the nomination and selection of Naomi Michalsen as the Asset Builder of the month for December. Executive Director of PATCHWorks Karen Eakes said Michalsen has a long history of youth advocacy in every venue of her life and is being honored for this commitment. - More...
Wednesday AM - December 12, 2007

Asset Builders for the Month of October: McPhersons' & Company - PATCHWorks has presented the October monthly "Asset Builder" award to Roy and Tina McPherson, Kim Kleinschmidt, Sayers McAlpin and all the other adult musician mentors who are providing support and guidance to many of Ketchikan's young musicians. - More...
Thursday - October 04, 2007

Asset Builder for the Month of August: First City Players - PATCHWorks presented their monthly "Asset Builder" award to First City Players at the recent children's musical, "Seussical, Jr." Those folks who were able to attend last weekend enjoyed a real treat and got a sense of why First City Players is being honored as a powerful asset building organization said Karen Eakes, Executive Director of PATCHWorks.- More...
Wednesday - August 15, 2007

Asset Builder for the Month of July: Larry Eklund - Larry Eklund has been selected by the PATCHWorks board members and director as PATCHWorks' Asset Builder for the month of July in recognition of his total dedication to the youth of Ketchikan for the past eleven years. - More...
Saturday - July 21, 2007

Asset Builder of the Month of June: Bob Norton - PATCHWorks has announced Bob Norton as their "Asset Builder" for June. Norton was nominated and selected over six months ago for this recognition, but due to the many other honors he has been receiving from the community, PATCHWorks decided to wait until June to present this award. - More...
Monday - July 02, 2007

Asset Builder of the Month: May 2007 Bobbie McCreary - PATCHWorks has announced the selection of Bobbie McCreary as the "Asset Builder of the Month" for May. She is being recognized for her "can do" attitude, boundless energy, and astounding commitment to the youth of Ketchikan. - More...
Wednesday - May 16, 2007

Asset Builder for March 2007 Ketchikan Children's Library & Librarians - PATCHWorks announced the selection of the Ketchikan Children's Library and its librarians as the "Asset Builders of the Month" for March. The presentation was made at the March"Family Night" event held at the Children's Library. PATCHWorks Director Karen Eakes said, "This recognition is well deserved for an organization that is successful in providing programs that reach out to the entire community and particularly serve the needs of our children." Eakes said as the nominator stated, "the Children's Library is committed to serving all of the children in our community - and they do it with a tremendous amount of warmth and friendliness". - More...
Thursday - April 12, 2007

Asset Builder of the Month: February 2007 - Some wonderful "Asset Builders" in Ketchikan work discreetly and prefer to remain anonymous and out of the limelight. Such is the case with PATCHWorks' selected "Asset Builder" for February. - More...
Friday - March 09, 2007

Asset Builder of the Month: Monthly Grind - PATCHWorks has selected the Monthly Grind as the Asset Builder of the Month for January, 2007. PATCHWorks Director Karen Eakes said, "As a community organization, the Monthly Grind has become a valued source of entertainment for Ketchikan's families and provides opportunities to build developmental assets in Ketchikan's youth by including them in its monthly shows at the Saxman Tribal House. Whether they are participating as performers, hosts, volunteers, poster designers, or audience members, youth are made to feel welcome at the Grind." - More...
Monday - January 29, 2007

Asset Builder of the Month: Judge Trevor Stephens - Here comes the Judge! Judge Trevor Stephens is being recognized as the PATCHWorks "Asset Builder" of the month. We are very pleased and grateful for all of his efforts to make Ketchikan a better place for kids. - More...
Tuesday AM - November 21, 2006

Asset Builder October 2006: KIC's Culture Camp - For the month of October, PATCHWorks recognizes Ketchikan Indian Community's Culture Camp as the "Asset Builder" of the month. Over the years Culture Camp has become an important means for young people to experience the outdoors and build the assets of positive identity, constructive use of time, commitment to learning and important social and cultural competencies.- More...
Friday - November 03, 2006

Asset Builder September 2006: Doug Edwards - Doug Edwards, the Culinary Arts teacher at Ketchikan High School, has been nominated and has been selected as a powerful "Asset Builder" by PATCHWORKS for the month of September. - More...
Wednesday - September 27, 2006
About PATCHWorks
PATCHWorks is a local non-profit organization in Ketchikan that promotes the developmental assets in our youth population. These 40 assets represent different relationships, experiences and opportunities that have been identified through a great deal of research as a coherent framework for promoting and supporting positive youth development.
In PATCHWorks' efforts to build community awareness about the assets and promote the idea that everyone can help build them, PATCHWorks likes to recognize individuals or organizations in our community that are building assets in our youth. PATCHWorks plans to honor a different "Asset Builder" each month.
PATCHWorks is seeking additional "Asset Builder" nominations from the public. If you know of someone whom you feel should be nominated for this honor, please call 225-4350 and ask for Karen Eakes. PATCHWorks plans to select from nominees on a monthly basis and continue to recognize the positive efforts that are benefiting our youth and our community.
225-4350