Asset Builder of the Month: June 2007
Bob Norton
July 02, 2007
Monday

Ketchikan, Alaska - PATCHWorks has announced Bob Norton as their "Asset Builder" for June. Norton was nominated and selected over six months ago for this recognition, but due to the many other honors he has been receiving from the community, PATCHWorks decided to wait until June to present this award.
PATCHWorks coordinator Karen Eakes said Norton was recognizedat a June City Council meeting and present a quilt square from the Rainy Day Quilters and a few words of praise and thanks from PATCHWorks and a couple of his many young friends that he has mentored and guided since they were small children. She said, "Bob was honored for all the years of dedication and commitment he has made to the youth of our community over the years."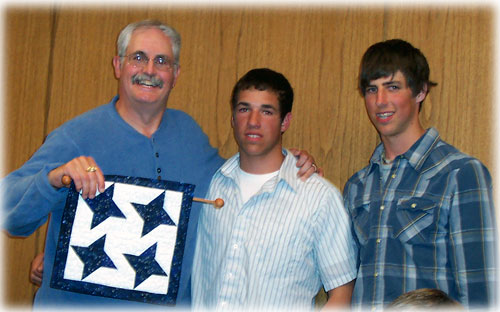 Pictured with Bob Norton are Nick Fama and Sean Hovik.
Photograph courtesy PATCHWorks

"Through his many years of reporting youth sporting events, his dedicated coaching efforts, and his financial and moral support, he has had been a huge presence in youth sports," said Eakes. In addition Norton has been a long time supporter of PATCHWorks and the developmental assets through his early participation as a vision team member, a Healthy Communities Healthy Youth conference attendee, and an advocate for youth as a City Council member. Eakes said, "Through his contact and work with young people, he has addressed and supported many of the assets that encourage positive youth development. He has observed many young people developing assets as they grow and mature over the years. Due to his love of sports and 'rock and roll' he has been able to connect with them in a very special way. PATCHWorks and the community as a whole cannot thank Bob enough for being the wonderful role model and asset builder that he is. "
Eakes said, "As many in the community know, Bob is currently struggling with ALS, otherwise known as Lou Gehrig's disease. Bob is meeting this challenge with courage, hope, a positive attitude and the support and prayers of his family and friends. He serves as a powerful example to all of us."

On the Web:

Publish A Letter on SitNews
Read Letters/Opinions
Submit A Letter to the Editor
SitNews
Stories In The News
Ketchikan, Alaska