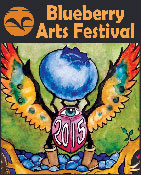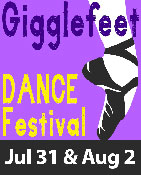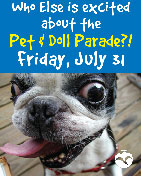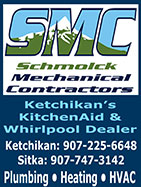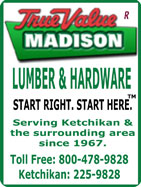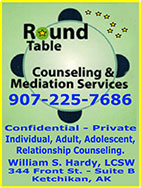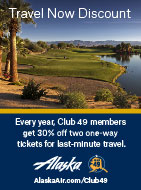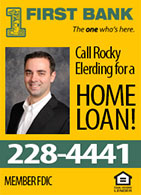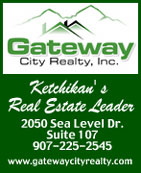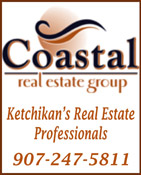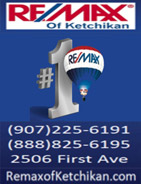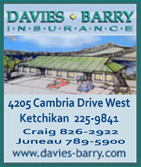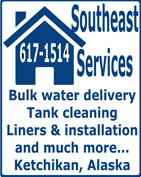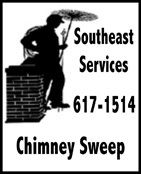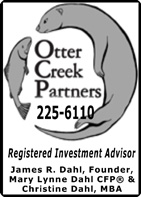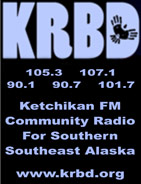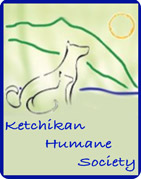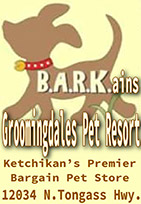 Contact


Call 617-9696


Webmail Letters


News Tips


Copyright Info


Archives
Quick News Search


Alaska


Ketchikan


SE Alaska


Alaska News Links
Columns - Articles


Dave Kiffer


Fish Factor


Money Matters
Historical Ketchikan


June Allen


Dave Kiffer


Louise B. Harrington
Ketchikan Arts & Events


Ketchikan Arts


Ketchikan Museums


KTN Public Library
Sports


Ketchikan Links
Public Records


FAA Accident Reports


NTSB Accident Reports


Court Calendar


Recent Filings & Case Dispositions


Court Records Search


Wanted: Absconders


Sex Offender Reg.


Public Notices
Weather, Webcams


Today's Forecast


KTN Weather Data


AK Weather Map


AK Weathercams


AK Earthquakes

TV Guide


Ketchikan
Ketchikan Phone Book


Yellow Pages


White Pages
Government Links


Local Government


State & National

Time for Lunch
An eagle dexterously balancing on a fish head lunch.
Front Page Photo By SHANE L. SARSLAND ©2015
Click Here to express your appreciation to the photographer and select your Favorite Front Page Photo(s) of the Month
(Submit your photograph to be featured on the SitNews' front page. Email photo to editor@sitnews.us include your name and a brief photo description.)

Southeast Alaska: 9th Circuit Court Reinstates Roadless Rule for Tongass By MARY KAUFFMAN - The U.S. Court of Appeals for the 9th Circuit struck down a Bush administration exemption of the Tongass National Forest from the "Roadless Rule," a landmark conservation rule adopted in 2001 to protect nearly 60 million acres of wild national forests and grasslands from new road building and logging.

A small glimpse of the Tongass National Forest
Photograph courtesy USFS

In a 6-5 decision today, the court held the U.S. Forest Service under the Department of Agriculture failed to provide a reasoned explanation for reversing course on the Tongass. It concluded the Roadless Rule "remains in effect and applies to the Tongass."

This case originated in 2009 when a diverse coalition of Alaska Native, tourism industry, and environmental organizations, represented by attorneys from Earthjustice and Natural Resources Defense Council, challenged the Bush Administration's 2003 rule "temporarily" exempting the Tongass from the Roadless Rule which would block expensive and controversial new logging roads and clearcuts in intact forests while allowing other economic development — including hydropower, transmission lines, mining, and tourism projects — to proceed.

The Tongass, occupying most of Southeast Alaska, is the nation's largest national forest. In 2011 a federal judge in Alaska ruled in the coalition's favor, vacating the Tongass exemption and reinstating the Roadless Rule's application to the Tongass. The State of Alaska then appealed the decision to the 9th Circuit Court of Appeals, where a three-judge panel last year reversed the Alaska judge's opinion by a 2-1 split vote. Today's order affirmed the district court's decision and maintains protections for the roadless areas of the Tongass.

Senator Bert Stedman (R-Sitka) said in a prepared statement, "I am disappointed in the decision of the 9th Circuit Court of Appeals regarding the Roadless Rule and the impacts it will have on the Tongass National Forest. As I have stated in the past it isolates our communities in the region and does not give us the ability to access our resources for future economic development. The Roadless Rule will continue to hinder our ability to keep up our standard of living by placing restrictions on access and transportation."

Earthjustice attorney Tom Waldo said, "Today's decision is great news for the Tongass National Forest and for all those who rely on its roadless areas. The remaining wild and undeveloped parts of the Tongass are important fish and wildlife habitat and vital to residents and visitors alike for hunting, fishing, recreation, and tourism, the driving forces of the regional economy."

"This decision saves the Tongass - again - and not just the Tongass, but hopefully, all old growth forests," said Niel Lawrence, senior attorney and Alaska director for the Natural Resources Defense Council. "It ensures that all of this forest's wildlands will be saved from timber sales and destructive logging roads." - More...
Wednesday PM - July 29, 2015

Southeast Alaska: Wrangell doctor found guilty of distributing child pornography - A federal jury has convicted a Southeast Alaska physician of distributing and receiving child pornography, according to an announcement on July 29, 2015, by Assistant Attorney General Leslie R. Caldwell of the Justice Department's Criminal Division and U.S. Attorney Karen. L. Loeffler of the District of Alaska.

Dr. Greg Alan Salard, 54, of Wrangell, Alaska, was found guilty after a six-day trial before U.S. District Judge Timothy Burgess of the District of Alaska. The six-day trial began in late June. Jury delibrations began after closing arguments on Tuesday, July 28th, at 11:45 a.m and the jury returned shortly with a verdict at 1:15 p.m.

Sentencing has been scheduled for Oct. 9, 2015, in Juneau, Alaska. Distributing child pornography carries a mandatory minimum of five years in prison and up to 20 years in prison. Possession can be punishable by up to 10 years in prison.

According to evidence presented during the six-day trial, during an FBI investigation concerning the trading of child pornography using peer-to-peer (P2P) software, investigators discovered that an Internet Protocol (IP) address linked to Salard was used to share files of known child pornography and that one of those files contained a video of child pornography. The evidence also showed that a laptop computer subsequently seized from Salard's home contained the same P2P software used to share the video.

Trial testimony regarding a forensic examination of the laptop demonstrated that the computer contained a child pornography video as well as evidence of hundreds of other files with names indicative of child pornography; the jury reviewed the contents of 11 of those files. The testimony also showed that multiple searches had been run on the laptop for a term associated with child pornography, and that videos of child pornography had been viewed on the computer. Finally, the evidence introduced at trial revealed that a program designed to erase or "wipe" computer files had been used multiple times, including on the morning the search warrant was executed in October 2014. - More...
Wednesday - July 29, 2015


Southeast Alaska: First Medical Education Student Begins Training in Southeast Alaska - Through a formal affiliation arrangement to establish a health system collaboration agreement, patients in southeast Alaska who access care through PeaceHealth are able to tap into the expertise of some of the best advanced medical care providers in the region. Today, this regional medical education program is known as WWAMI which is an acronym representing the states it serves, Washington, Wyoming, Alaska, Montana, and Idaho.

Southeast Alaska's first WWAMI student, Monica Cox
Photo courtesy PeaceHealth

PeaceHealth and the University of Washington Medicine developed this formal health system collaboration agreement in May 2013. PeaceHealth participates in the WWAMI program in two states, Alaska and Washington.

On the flip side of this agreement, the University of Washington Medicine is benefitting from the agreement as medical students in the UW Alaska WWAMI TRUST program are able to spend portions of their residency training in small, rural, underserved communities. This special curriculum connects students who ultimately desire to practice primary care in a rural area to a community throughout their 4-year residency process.

In August, Southeast Alaska's first WWAMI student, Monica Cox will begin her training in Alaska when she visits Ketchikan and Prince of Wales for the first time. Now a first year medical student, Cox completed her undergraduate training at the University of Alaska in Anchorage while working as a scribe in the Emergency Department at Providence Alaska Medical Center. - More...
Wednesday PM - July 29, 2015



Alaska Science: Alaska's wildfires and the changing boreal forest By NED ROZELL - In late July, more than 300 wildfires are burning in Alaska. With burned acreage totals one month ahead of the historic 2004 fire season, summer 2015 is again the year of the wildfire.

Burned Alaska forest might be the start of a different ecosystem.
Photo by Ned Rozell.

Many scientists are not surprised. In papers written a few years ago, Alaska researchers and others suggested smoky years like this one will be the norm for a few decades as hardwoods replace the spruce of Interior Alaska. The boreal forest, a swath of spruce-dominated woods from Interior Alaska to the Atlantic Ocean, might be in for a big change.

"Results suggest that a widespread shift from coniferous to deciduous vegetation began around 1990 and will continue over the next several decades," wrote UAF researcher Dan Mann in a paper published in 2012. "Our modeling results support previous inferences that Alaska's boreal forest is now shifting to a new ecological state."

And what might that state be? Terry Chapin of UAF wrote in 2004 that with an increase of temperature of 2 degrees C, aspen parkland or grassland could replace white spruce forests. Interior Alaska has worn those colors before, during a period a few thousand years ago when summer temperatures were 1 or 2 degrees warmer than they are today.

Mann wrote that Alaska's future forest may look like the mixed woods of southern Canada. Aspen trees dominate in Alberta, which is warmer and dryer than Interior Alaska.

"The replacement of spruce by deciduous species is predicted to slow by (about) 2020, by which time deciduous vegetation cover is predicted to be nearly twice as abundant as spruce," Mann wrote.

Over the years, the boreal forest's stores of flammable black and white spruce have bulked up to where they cover much of the Interior Alaska landscape.

"According to the model, the ecological threshold now being crossed in Interior Alaska is the result of a fuel-load legacy encountering rapid summertime warming," Mann wrote. - More...
Wednesday PM - July 29, 2015





Southeast Alaska: The mysterious Wrangells offer a clue to Earth then and now - If you drive down to Valdez for a vacation or catch salmon in the Chitina River, then know this: the Wrangell Mountains that rise high on the horizon are bizarre. They are like a mystery whose possible solutions always leave room for doubt.

According to Paul Layer's, dean of the College of Natural Science and Mathematics, Field notes, "The Wrangell Mountains are a chain of volcanoes in Wrangell-St Elias National Park and Preserve. You would think the answer as to how these volcanoes formed or how the geologic processes around them worked would be an easy one. They are similar to other chains of volcanoes like the ones forming the Aleutian Islands, and scientists know a lot about how these chains form."

If you do a connect-the-dots with the Wrangell Mountains or the volcanoes of the Aleutian Islands, the Mariana Islands or those of Japan, you would see that they form an arc. What these volcanic arcs represent is where the ocean plate below the Pacific Ocean is going under the different continents.

This plate, called the Pacific Plate, eventually curves and bends down into the mantle, a layer inside the Earth that is hotter and softer than the plates under the oceans and continents. As this happens, the Pacific Plate develops fractures and triggers earthquakes in itself and where it contacts the upper, continental plate. The largest earthquakes ever recorded are around volcanic arcs.

As the Pacific Plate moves down, ocean water seeps into the mantle and stirs things up. This causes parts of the mantle to melt into magma. If conditions are right, this magma erupts through the ocean or through fissures in the Earth's crust and builds volcanoes. This is most prominent around the Pacific Ocean in what has been called the "Ring of Fire."

The Wrangell Mountains sit over where the Pacific Plate should be arcing down into the mantle. But "should" is the key word. We know the Pacific Plate is definitely trying to slip under Alaska near the Wrangell Mountains. But then the plate seems to disappear.

Although the plate may very well be there, something else is missing — earthquakes. An earthquake map shows that thousands and thousands of earthquakes happen along the other volcanic arcs. In fact, look no farther than the area between Kenai and Anchorage, where the Pacific Plate is at work. Thousands of earthquakes happen in that area but then abruptly stop when reaching the Wrangell Mountains. - More...
Wednesday PM - July 29, 2015




Real Time U.S. Debt Clock
http://www.usdebtclock.org/

U.S. Inflation Calculator
Easily calculate the buying power of the US dollar & inflation rate from 1913-2014

U.S. Energy Info. Admin.
Heating Oil & Propane Update

Public Service Announcements
Public Meetings & Info

KGB Animal Protection

Ketchikan Borough Assembly

Live video stream of current meeting
Archived videos
Agenda and Information Packets
Assembly Meeting Minutes
Borough Records
Calendar

Ketchikan Planning Commission

Live video stream of current meeting
Agenda, Information Packets & Minutes

Ketchikan City Council

View a Video of Meeting
Agenda & Information Packets

Ketchikan School Board

Live video stream of current meeting
Agenda & Information Packets


Gravina Access Project SEIS Alternatives Development

Gravina Access Website

Police Blotters

AK Troopers Daily Dispatch
Ketchikan Police Reports
Juneau Police Reports

Ketchikan

Jobs
Today's Forecast
Satellite
Today's Weather Images
Marine Forecasts
AK Weathercams
Ketchikan Weather Data
Current AK Weather Map




CLASSIFIEDS' CATEGORIES

Announcements
Help Wanted
Job Wanted
For Sale / Free Stuff
Garage Sales
Homes / Apts/ Property
Pets
Wanted
Lost & Found
Publish Your Ad

Front Page Archives
Letter Archives
June - July 2015

| | | | | | | |
| --- | --- | --- | --- | --- | --- | --- |
| S | M | T | W | T | F | S |
| 31 | 01 | 02 | 03 | 04 | 05 | 06 |
| 07 | 08 | 09 | 10 | 11 | 12 | 13 |
| 14 | 15 | 16 | 17 | 18 | 19 | 20 |
| 21 | 22 | 23 | 24 | 25 | 26 | 27 |
| 28 | 29 | 30 | 01 | 02 | 03 | 04 |
| 05 | 06 | 07 | 08 | 09 | 10 | 11 |
| 12 | 13 | 14 | 15 | 16 | 17 | 18 |
| 19 | 20 | 21 | 22 | 23 | 24 | 25 |
| 26 | 27 | 28 | 29 | | | |


Viewpoints
Commentary
Opinions/Letters
Basic Rules &
Freedom of Speech

Questions, please contact the editor at editor@sitnews.us or call 617-9696
Sitnews reserves the right to edit.

Ketchikan's Proposed Tobacco Tax By Jim Tuttle - Really, City of Ketchikan and the Borough? You really need all of that extra money from your proposed tobacco tax? For what, really? I'm not a smoker and certainly not the smartest guy in town, but even I can smell a money grab when it's so obvious. A paltry 18% or so dedicated to address the supposed problem and the rest to go into the local coffers for who knows what, but no doubt to the benefit of the "visitors" that saturate our beloved little town every year. - More...
Saturday PM - July 25, 2015

Tenakee Logging Company By Owen Graham - Recently the Ketchikan Daily News & other sources printed an interesting article about a small logging and milling company in Tenakee Springs. Interesting because although the feel-good article rightly acknowledged the company's hard work and entrepreneurial efforts, it also skipped over some important issues. - More...
Wednesday PM - July 22, 2015

The Smoker's Tax By Paul Jarvi - To the people drafting language for this Ketchikan tax, social engineering is not why you were elected. Stop this nonsense about a local tobacco tax this product is taxed enough. Governing on an 'us verses them' approach will end badly for everyone. - More...
Wednesday PM - July 22, 2015

Ketchikan's proposed cigarette tax By John Loyd - Why don't the lawmakers put an outrageous tax on Alcohol? This is stupid to put it on just cigarettes! I guess our Ketchikan lawmakers think it's more dangerous to get hit by someone smoking and driving a car than someone drinking and driving. I have never heard of someone getting hit by someone smoking and driving. - More...
Wednesday PM - July 22, 2015

Ketchikan tobacco tax By Pat Bethel - I came back from Nevada this winter where I paid $35.00 a carton for cigarettes. Native casino, so no fed tax. But still state tax. $75.00 for the same carton here. I like smoking. I dislike paying unfair taxes more. I quit smoking. - More...
Sunday PM - July 19, 2015

Time for peace By Garrett & Russell Collins - According to the Center for Disease Control, there were 16,121 homicides in the United States in 2013. More than 11,000 of those killings were caused by firearms. - More...
Sunday PM - July 19, 2015

First the smokes and then... By A. M. Johnson - A few personal stances and observations. I am a Christian. I am pro-life. I am in favor of the death penalty, and while we are speaking to criminal activity and gun laws, I am in favor of nationwide Conceal Carry allowed under interpretation of the second amendment. I am anti-gay marriage but could care less if two of the same-sex wish to copulate in any manner they wish. Get a room. They can have all the so called, Rights Mox-Nix to me. - More...
Thursday AM - July 16, 2015

Alaska leaders: Put your Xtratuffs on and walk your salmon talk By Malena Marvin - Walk up to most houses in rural Southeast Alaska, including ours, and the first thing you see is an impossibly long row of battered XtraTuff rubber boots. There are boots for the family, the friends who stopped by to chat, extras for the summer folks who came to visit or work as crew, and probably a pair or two with mysterious origins. Together, they tell a story of a certain way of life, one lived by the tidelines and on the water, and one defined by adventure and hard work outdoors. - More...
Monday PM - July 13, 2015

Tobacco Tax By Chris Elliott - Like a lot of controversial topics, being on the pro-side of a tobacco tax is much easier than being against it. Being pro-life is much easier than pro-choice. Being anti-death penalty, an environmentalist, anti-gun, pro gay marriage, a believer in climate change, and a hundred other current issues is just much easier to defend. - More...
Monday PM - July 13, 2015

Webmail your letter or
Email Your Letter To: editor@sitnews.us

---

Articles & photographs that appear in SitNews may be protected by copyright and may not be reprinted or redistributed without written permission from and payment of required fees to the proper sources.

E-mail your news & photos to editor@sitnews.us

Photographers choosing to submit photographs for publication to SitNews are in doing so, granting their permission for publication and for archiving. SitNews does not sell photographs. All requests for purchasing a photograph will be emailed to the photographer.




The Local Paper is now available online.
Click here for this week's printed edition.