Remembering Hyder
Hyder, British Columbia, that is!
By DAVE KIFFER

February 06, 2023
Monday

(SitNews) - Everyone knows about the twin towns at the head of Portland Canal, Hyder, Alaska and Stewart, British Columbia.
They grew out of mining activity on both sides of the border and have experienced boom and bust, and more boom and bust, for more than a century.
But what is often forgotten is that there was a third small town at the head of Portland Canal; Hyder, BC.
On maps of the 1920s, there are two Hyders, one on each side of the border. It is not a misprint. There really was a Hyder, British Columbia, in those days.
"Hyder, BC was built adjacent to Hyder, Alaska in the early 1920s in response to the success of the Premier Mine," Longtime Portland Canal resident Ian McLeod wrote in 2004 in his book"Prospectors, Promoters and Hard Rock Miners: Tales of the Stewart, BC and Hyder, Alaska Camps." "With Stewart just two miles north and the wharf right beside them, the two Hyders had access to hundreds of miners coming and going."
Both Hyders were built on pilings that stretched more than 100 yards from the heavily timbered shoreline out into the mudflats of the Salmon River. Hyder, Alaska was much larger in those days with more than 40 buildings and 500-750 residents. Hyder, BC had about a dozen buildings on its pillings and a population of about 75 people. The border between the towns, and the countries, was a narrow road between the buildings. To ships approaching from the water, it appeared as a single town.
" (Hyder, BC) consisted of...several hotels, a restaurant, the Canadian Customs, two whore houses and three or four 'blind pigs,' " McLeod wrote, using the colloquial term for unlicensed bars.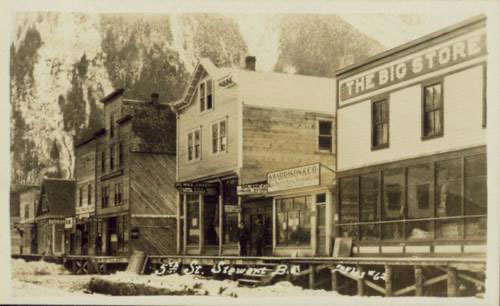 5th Street Stewart B.C.
ca.1910 -1930
[Photographed by] Hughes
Repository: Northern BC Archives & Special Collections
Courtesy: Northern British Columbia Archives, Geoffrey R. Weller Library, University of Northern British Columbia (Educational use permitted)
Both Hyders were named after the same person, Canadian mining engineer Frederick Hyder. Originally, the Alaska town of Hyder chose "Portland City" as its name in 1915, but the United States post office said "no" because several other American communities were already named Portland. The name Hyder was picked in replacement by the Lindeberg brothers who owned must of the Alaska townsite. McLeod surmises that the Lindebergs were honoring the man who surveyed their land and reported favorably on its mining potential.
Like Hyder Alaska, Hyder BC had a very rudimentary sewer system, outhouses that dropped waste from the docks where the 26-foot tides would carry it away twice a day.
Fresh water was a problem though. Attempts in both Hyders to drill wells ended up with water that was too salty, so water lines had to be run hundreds of yards onto the neighboring hillsides.
"Drinking water (though) was not in great demand considering the vast amounts of beer and whiskey that were available," McLeod noted, even though the booms of both Hyders coincided with Prohibition in the United States.
Canada did not succumb to the "do gooderism" that spurred American prohibition and there was plenty of liquor on the Canadian side of the border.
By the 1930s, both Hyders were in decline and the rotting pilings and buildings began falling into the Canal. Eventually, what little economic action that remained in Hyder, BC moved to Stewart BC up the road. The remains of Hyder, Alaska relocated to the Salmon River peninsula, where the 100 residents continue to live today. A few broken pilings remain on the mudflats to remind visitors of the towns that once stretched far out into the Canal.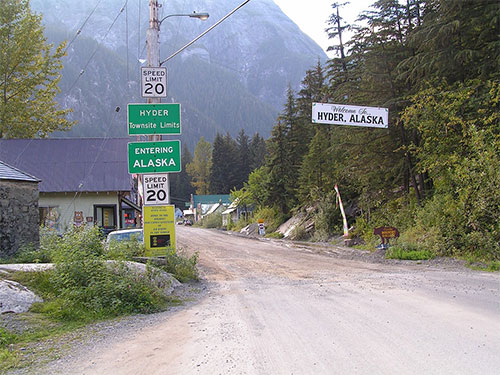 The border between Stewart, British Columbia and Hyder, as seen from the Canadian side. Created: 25 August 2005
CC BY-SA 3.0
Courtesy CC Wikipedia.org
There is one other reminder of Steward, BC. The work of legendary, Canadian artist Bill Reid.
Reid, whose father, Bill Reid Sr, was a Scots-American and his mother, Sophie Gladstone Reid, was a Haida from Skidegate on Haida Gwaii, was born in Victoria, but spent many years living in Hyder, BC as a child. Bill Reid Sr. owned the Keith Hotel.
"Billy Reid and his sister Peggy went to school in Stewart and walked the two miles between home and school daily," McLeod write in 2004, noting that the local paper, the Stewart News, reported when Bill Reid successfully passed into eighth grade shortly before he and his sister Peggy moved back to Victoria.
Reid, who died in 1998, would go on to become one of the most significant Northwest Coast artists of the 20th Century, producing more than 1,000 works of art in jewelry, sculpture, screen printing and painting. His work even appeared on Canadian banknotes in the early 21st Century.



On the Web:
Columns by Dave Kiffer

Historical Feature Stories by Dave Kiffer
Dave Kiffer is a freelance writer living in Ketchikan, Alaska.
Contact Dave at dave@sitnews.us
Dave Kiffer ©2023
Publication fee required. ©
If you would like to reprint/republish this article, contact Dave Kiffer for permission and to arrange payment of publication fee.
Representations of fact and opinions in comments posted are solely those of the individual posters and do not represent the opinions of Sitnews.


Send a letter to the editor@sitnews.us
Contact the Editor
SitNews ©2023
Stories In The News
Ketchikan, Alaska

Articles & photographs that appear in SitNews are considered protected by copyright and may not be reprinted without written permission from and payment of any required fees to the proper freelance writers and subscription services.

E-mail your news & photos to editor@sitnews.us

Photographers choosing to submit photographs for publication to SitNews are in doing so granting their permission for publication and for archiving. SitNews does not sell photographs. All requests for purchasing a photograph will be emailed to the photographer.