Alaskan Chris Leding: 1886-1975
A Norwegian adventurer
By June Allen
April 07, 2005
Thursday

Ketchikan, Alaska - Today's Ketchikan phone book includes a fair share of Scandinavian surnames. There are, however, relatively few Norse names among the records of the town's earliest settlers. Most of Ketchikan's Norwegian population originated later, during the early 1920s when the halibut fleet, its skippers, crewmen and families moved north from the Seattle area. An exception was the late Chris Leding, who wasn't yet a fisherman when he settled down in Ketchikan the mid-1920s and who discovered commercial fishing much later in life.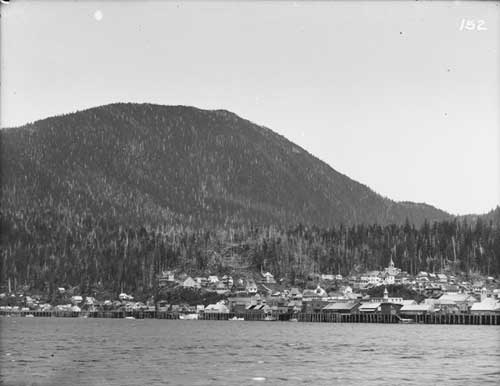 Ketchikan: Downtown and West End, 1904
Photographer: Harriet Hunt
Donor: Forest J. Hunt, THS 62.4.1.152
Courtesy Ketchikan Museums

Chris Leding was born Sept. 9, 1886, in Tromso, Norway, a picturesque city located above the Arctic Circle, a mid-13th century town of graceful church spires, quaintly decorated buildings and, today, hordes of tourists! The town is located on an island in the Norwegian Sea ­ but connected to the mainland by a bridge. Leding spent his boyhood in the Tromso region, working as a farm hand, as a goat herder and, on one occasion, as a guide for a group of British engineers. These men taught him enough English "to get by" and were the ones who told him about America and especially about Alaska.
At age 18, Chris Leding left home to travel first to Narvik, Norway, to learn the bakers' trade. There he heard that the very best trade school was in Germany, at the renowned Kaiser Wilhelm Institute in Berlin, so that's where he went and where he said he learned blasting as well as specialized baking. Growing up in those earliest years of the 20th century, during the era of worldwide excitement about the Alaska Gold Rush, he may have been covering his bets for the future with more than one trade!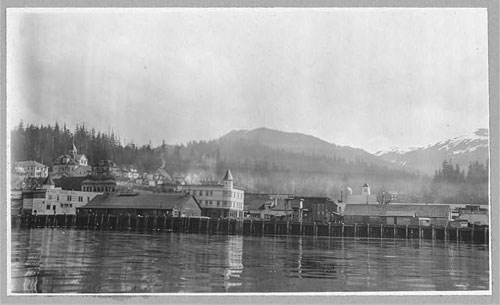 Ketchikan, Alaska between ca. 1900 and ca. 1930
Forms part of: Frank and Frances Carpenter collection (Library of Congress). Gift; Mrs. W. Chapin Huntington; 1951 - Photograph courtesy Library of Congress

Years later, in Ketchikan, it was said of Chris Leding that he was the fellow who could not only bake a fine loaf of bread, but he could blast out a basement for you without rattling the dishes in the kitchen! But before he settled down to any one of any combination of trades, the young Chris Leding set out to see a little of the world.
At age 20 Leding joined the German merchant marine, saved his money and set out on his adventure. The sea tour took him to the Mediterranean, France and Spain, and finally to England. From there he booked passage on the British ship S/S Guernsey, sailing for the United States. Landing at Newport News, Va., he immediately headed for the West Coast by train. In Seattle he learned to his dismay that journeyman bakers were getting only $11 a week. He said that at the time he felt like had wasted two-and-a-half years of his life in trade school!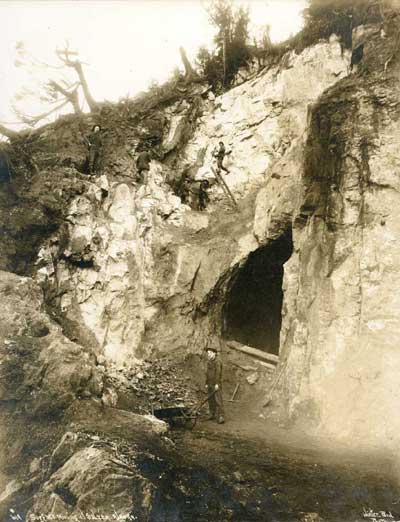 Surface work at the opening of the Sulzer Mine, circa 1900
Photographer: Winter and Pond
Donor: Estate of John R. Smith, THS 65.1.1.3
NOTE the five men above the mine tunnel....
Photograph courtesy Ketchikan Museums
So he decided he'd try his luck somewhere within the mining industry ­ he was, as well as a baker, a powder man. And maybe Alaska was his original goal? A cousin of his, already employed by the Sulzer mining company on Prince of Wales Island, encouraged him to come up and promised him well-paid work.
So the young immigrant booked steerage passage on the Pacific Steamship Co. vessel Ohio bound for Valdez But Leding's stop would be Ketchikan, where he would catch another vessel to take him to Prince of Wales. The price of passage from Seattle to Alaska's first port, Ketchikan, was $15 - a price Leding later said was too high for the worth of the accommodations! Steerage, he discovered, defined the ship's holds which were simply decked over and lined with bunks, two wide and three deep. The place was not only uncomfortable but unsanitary, he complained. The rough plank dining tables featured garbage cans at each end used for a variety of unmentionable functions.
It was August 1908 when the ship tied up at Ketchikan, a pleasant, cloudless day. A highly critical Chris Leding strode down the gangplank onto the steamship dock and then set out to explore the town. Coming from a town in Norway that was founded in the Middle Ages, Chris Leding found "nothing impressive" about Ketchikan. "It was," he was quoted in a much later interview, "not much and couldn't have had more than a thousand people in it." It actually had about 1,500 residents at that time. He noticed the fishing boats and the canneries and mentioned that he was surprised not to see streetwalkers cruising the waterfront as they did in other seaport towns. He was unaware that they were sequestered along Creek Street.
And, being from Norway, the young man likened the setting, the weather and the scenery as much like Norway. The difference was, he said many years later, that Norway's beauty is a combination of natural beauty and the small, well-kept farmsteads dotting the area - God's work and man's work. But Alaska's beauty was a naked natural beauty that man couldn't improve on! And it was while looking at Alaska's beauty that young Leding promised himself that he would return one day and homestead on Gravina Island. He would indeed finally return to Ketchikan a quarter of a century later, but he was never able to fulfill his Gravina homestead dream.
From Ketchikan the young Norwegian headed for the town of Sulzer on Prince of Wales Island and the mining job his cousin had promised. Sulzer was a company town, a bustling frontier community built around and because of the copper mine at Green Monster Mountain at the head of Hetta Inlet (near today's Hydaburg). It was a booming "metropolis" in 1908! Chris recalled that it had a population at that time of about 2,000 with a church, a school, and two smelters operating. Leding said it was a nice orderly town and by far the largest in the region.
The mining company and the town of Sulzer were named for owner Charles A. Sulzer, a well known New Jersey-born man who was educated in New York and a graduate of the United States Military Academy at West Point before he served in the short-lived Spanish-American War. Sulzer came to Alaska in 1902. He and his family were newsworthy throughout their lives. His older brother, William "Plain Bill" Sulzer, served as a New York Assemblyman, then in the U.S. Congress, and later was elected governor of New York - only to be impeached and removed from office in 1913 for alleged ballot tampering.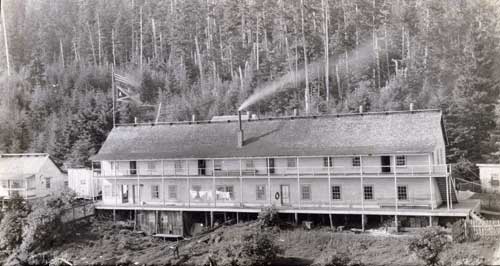 Bunkhouse at Sulzer mine - Prince of Wales Island
Photographer: Mr. Wynne
Donor: John T. Wynne, THS 82.1.27.38 - Taken by the Bookkeeper at the mine...
Photograph courtesy Ketchikan Museums

Charles Sulzer followed in his older brother's early political footsteps, being elected to the Alaska Territorial Senate in 1914. Then in 1917 he ran for the seat of Alaska Delegate to the U.S. Congress, a seat occupied for many years by Judge James Wickersham. Sulzer defeated Wickersham in a hotly contested election, each side accusing the other of ballot tampering! But before he could take his seat, Sulzer died suddenly of an unrecorded cause, and Wickersham re-assumed to his familiar role in Congress.
In 1908, newcomer Chris Leding would not be able to use either his baking or blasting skills on his new Sulzer job. Along with his cousin, he found himself a member of three two-man prospecting teams. Their duties were to prospect for likely looking ore deposits and then report back to Sulzer who would then send out geologists to test the ore deposits and decide whether or not to file a claim. The area the Chris and his cousin were to explore the vast wilderness terrain Cholmondeley to Cape Chacon. For this they would each be paid five dollars a day, minus a dollar a day for their company-provided grub and personal supplies.
The money seemed to be adequate, but Chris Leding hated that job! He later called the 1908 winter spent on Prince of Wales Island as the toughest he ever spent. He remembered the days of rowing that little boat in and out of the hundreds of uncharted and seemingly identical inlets and bays, tromping over soggy terrain in blowing rain. The nights were long and cold as his cousin cheerfully rolled up in his blankets, sometimes too tired to fix dinner. The cousin would happily fall soundly asleep but a much less cheerful Chris Leding remembered he would lie there cold and exhausted and awake for long hours -- and it was a very long time until breakfast! At the end of the winter, Chris Leding quit on the spot.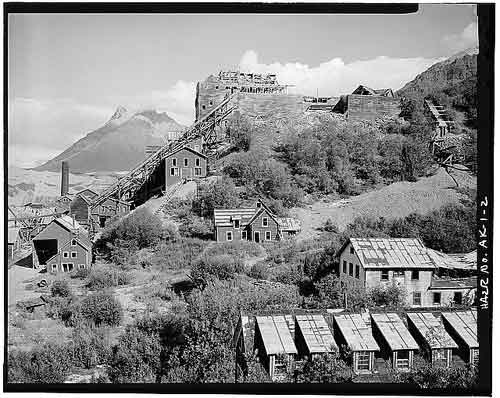 Kennecott Copper mine north of Cordova
Kennecott Copper Corporation, On Copper River & Northwestern Railroad, Kennicott, Valdez-Cordova Division, AK - Overview from south, boarding house in foreground... Courtesy Library of Congress

By the time the spring of 1909 arrived, the news of the latest mining boom was spreading across Alaska. A railroad was being built to access the next bonanza, the Kennecott Copper mine north of Cordova, the new town on the eastern edge of Prince William Sound. Leding said good-bye to his cousin and headed north. He worked on the new railroad project for a year and a half. The railroad would soon be regularly shipping ore so Chris Leding moved on to Valdez, where highway work was beginning on the old Valdez trail to Fairbanks, soon to become the more modern Richardson Highway.
But it was at Valdez that the young Norwegian heard about the new gold strikes just north of Fairbanks, at the far northern end of the highway-to-be. He and four others on his work crew discussed the futility of working for wages at four dollars a day when they could possibly strike it rich finding gold! They quit as road-builders and off they went to Fairbanks, arriving in that cold Interior Alaska city a week before Christmas, 1910.
Drift mining at forty degrees below zero, and lighting fires to thaw the ground in order to dig shallow shafts to find gold trapped under the earth did not appeal to the young Norwegian man, even though he was born above Norway's Arctic Circle. The unsubstantiated and feverish tales of fabled gold strikes suddenly no longer tempted him; his excitement faded quickly. Chris Leding, now 25 years old, headed south for the Seattle area.
He settled down in Washington, first in Yakima in the south-central part of the state, using his skills in bakeries. He sent back to Norway for a wife and they began their family. Leding served in the U.S. Navy during World War I. It was in 1918 that his wife died. Her sister in Norway traveled out to care for the children, and, in time, she became the second Mrs. Leding.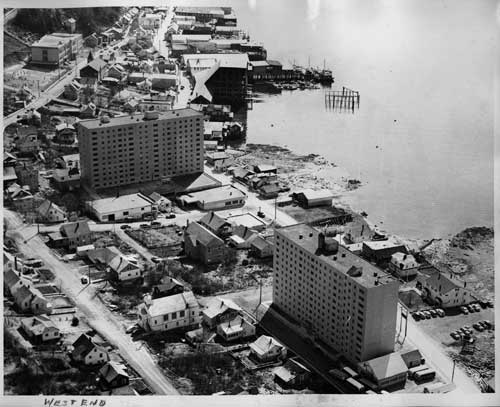 West End, 1953
Photographer: Paulu T. Saari
Donor: Paulu T. Saari, KM 2005.2.63.56
Photograph courtesy Ketchikan Museuam

Chris Leding is sometimes remembered as a crusty old, hard-headed Norwegian. He was critical of almost everything, but critical or not, he never forgot Ketchikan or how much Ketchikan's scenery reminded him of the Norway of his boyhood. He said in a 1965 interview that he and his family came to Ketchikan in the mid-1920s to settle down for good. The first home for Chris and his family was a house near White Cliff school. Chris, with his partner Rudolph Stahr, worked at their old Log Cabin Bakery on the dock side of Front Street, just down from the cold storage.
Later, in the mid-1940s, Chris Leding tried a new profession, fishing, and made himself well known in town after he bought a troller and became associated with fishermen's issues and associations. In a rare sentimental moment, he named his troller the Laurel Anne, after his first grandchild.
In his capacity representing fellow trollers, he wrote critical letters to the editor of every news organization in town - and probably elsewhere. He traveled to Canada and even to Russia, and came home with little souvenir Sputniks that celebrated the Russians' launching, in October of 1957, the first artificial satellite - Sputnik. Leding's daughter-in-law, Jane Leding, says those souvenir Sputniks still come in handy for the Leding family when taken to school by children for Show-and-Tell.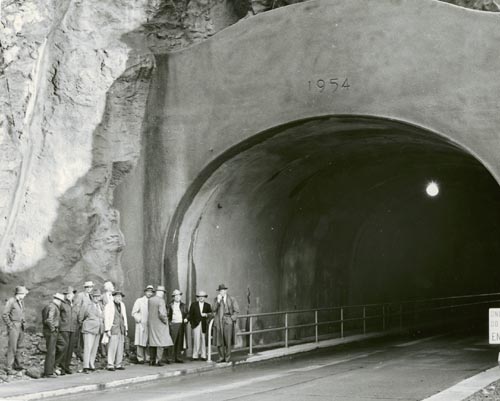 North portal of the new Ketchikan Tunnel, 1954
Photographer: Paulu Toivo Saari
Donor: City of Ketchikan, Tongass Historical Society 80.1.5.137
Photo courtesy Ketchikan Museums

As a fisherman working in southern Southeastern waters, Leding became interested in, almost fanatical about, the mega-fishing town of Kodiak. Passing-through fishermen made Kodiak sound to him like the epitome, the end-all of fishing villages. Finally he made the trip north to see the town for himself ­ and came home disgusted, disappointed and critical, mumbling about juke boxes and other nonsensical things.
Chris Leding remained interested in almost everything throughout his later years. He took courses on geology and on mining. When the blasting work began on Ketchikan's unique 1954 downtown tunnel, Leding, almost 70 by then, knew exactly how it should be done, forecast exactly what would - and did - happen during the successful blasting project. And the old gentleman stayed interested in everything until the end, which came on Nov. 18, 1975. Then Chris Leding was laid to rest in Ketchikan's Bayview Cemetery. He joined all those of his Norway-born countrymen who chose the almost-as-good Ketchikan for their homes. Which turned out to be just-as-good.
My thanks to Jane Leding, for her information for this story. I also thank former Community College librarian Robert Warner, who found a stack of old student papers buried on a shelf at the college library a few years ago and donated them to the Ketchikan Friends of the Library. The papers were written 40 years ago for the 1965 summer session classwork in Dr. Walter Benesch's Alaska History course. The 1965 interview with Chris Leding does not say which student conducted the interview. Does anyone know who that was?

june@sitnews.org
This June Allen Story Is Made Possible In-Part By:


| | | |
| --- | --- | --- |
| | | |
| | | |
Copyright © 2005 June Allen
All rights reserved.
Not to be reprinted in any form without the written permission of June Allen.
Post a Comment View Comments
Submit an Opinion - Letter

Sitnews
Stories In The News
Ketchikan, Alaska