The Nautilus V
A dream come true
By Louise Brinck Harrington
July 17, 2004
Saturday

Ketchikan, Alaska - "Our darkest hour was when we were sitting in Florida and the work on the boat just wasn't progressing. Nothing was happening. We were about to get kicked out of the condo we were renting because it was the busy season in Florida. And we were spending money like a drunken sailor."
To Nils Utterback and his wife Diane, this certainly seemed like the darkest hour in their venture to purchase a "semi-submersible" or glass-bottomed boat. This was the hour they began having doubts about whether the boat would ever be finished, released from the shipyard and transported across the country to their hometown of Ketchikan, Alaska.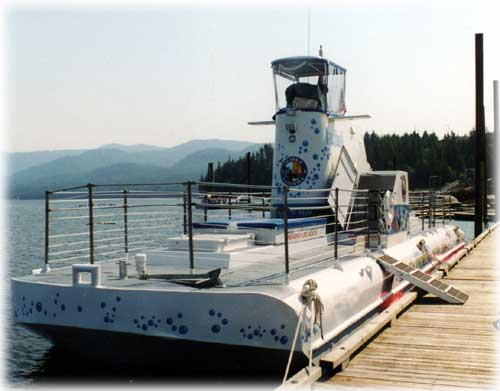 The Nautilus V
Photo by Terry Richardson

"And then some people in Florida started making comments like, 'What the heck are you going to take that up to Alaska for? What do you think you're going to see in the waters up there? There's nothing in Alaska waters.'"
And that was not very encouraging, Nils says.
And indeed this only seemed like the darkest hour; there were darker hours ahead.
The Dream
In the fall of 2003 the Utterbacks began brainstorming. They wanted to come up with "something original and different" to enhance and expand their small downtown-Ketchikan tour-bus business. They tossed around a few possibilities and settled on the idea of an underwater tour.
At first they considered buying a submarine but soon changed their minds. The cost of a sub would start at about five million dollars and go up from there. Also, a support vessel would be required for another half-a-million.
The couple then came up with the idea of a "semi-submersible," which they thought would be cheaper than a sub and work just as well. After more research they learned that a semi-submersible would be cheaper, yes, but a new one would cost over a million dollars and take a year to build. That was still too much money and too much time as well.
By now they'd refined their ideas and knew for sure what they wanted. Their goal was to purchase a used semi-submersible and get it ready for tourists and the upcoming 2004 season. This became their dream and they became devoted to it.
But then, another problem: Only a limited number of used semi-submersibles existed around the world and all were operating successfully and none were for sale.
The Nautilus V
After a few months and a couple of disappointing leads, a ship finally became available in Florida. By now it was the spring of 2004.
The owners of this 60-foot ship, the Nautilus V, were having financial trouble. While on a tour in the Florida Keys the ship had sucked a shark into one of its out drive engines, destroying the engine and requiring the owners to put in a new propulsion system. At the same time the owners decided to install a new underwater lighting system and the combined cost of it all became too much for them.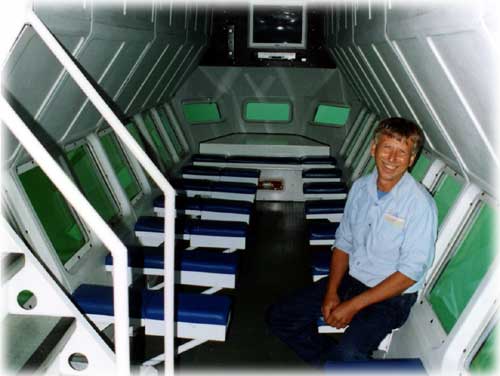 Inside the Nautilus V and the Captain Tom Jacobsen
Photo by Terry Richardson

Hoping this would be their dream ship, the Utterbacks flew to Florida. When they first saw the Nautilus V "she was in dry dock, completely torn apart, a mess," Nils recalls.
Yet the boat was only 12 years old and basically in good shape. More importantly, it filled the bill for an Alaskan undersea tour and the couple loved it. They returned to Ketchikan, talked to their investors and decided to purchase the boat.
Problems, problems
This was the beginning of a long ordeal for the Utterbacks, who essentially had to rent a condo in Key West, settle in and spend every day at the shipyard supervising work on the boat.
When the work was finally completed, the financial arrangements were not. The shipyard would not release the boat until the former owners settled their outstanding accounts.
"For us to get the boat everything had to happen at once," Nils recalls. "It was on a Saturday [which made financial dealings more difficult] and [to make sure everything happened on schedule] we had to get three people together-the bankers, the shipyard and the former owners of the boat. Finally we managed to get them all together and they all scrambled and wired the money. And finally the shipyard released the boat."
Before the Nautilus V could leave Florida, however, the Coast Guard required sea trials and a hull inspection "to make sure that the boat would float," says Nils, who now at least can chuckle at the whole experience.
In the meantime Nils and Diane made arrangements with a trucking company to transport the Nautilus V to Alaska. The company agreed to pick up the boat at Coral Bay, which was eight hours by sea from the boat's present location in Key West.
In order to make the trip the boat would have to motor through two shallow canals, which meant waiting for the "highest high tide possible, which was at the most two feet," recalls Diane, who like Nils can laugh at the experience in hindsight. Even with a full two-foot tide (which is high by Florida standards), it was possible the Nautilus V might scrape bottom and just in case a tugboat was hired to stand by.
The Nautilus V made it in good shape to Coral Bay, where it was to be picked up by the trucks. By this time the Ketchikan couple were ready to heave a sigh of relief and head for home. They could not believe their ears when one of the truck drivers said, "Well, start loading."
"We said, 'What do you mean?'" recalls Nils. "'We don't have a clue how to load this thing. You're supposed to know that.' And the truckers said, 'No, we just drive the trucks.'"
The couple was informed that the "conning tower" or upper bridge of the boat had to be removed so the trucks could pass safely under bridges and other obstacles. They ended up hiring a crane to dismantle the Nautilus V and load it onto two trucks. This meant of course additional expense and delay and a missed flight to Seattle. By this time they had begun to wonder about their dream, as well as their sanity.
More Problems
Finally arriving in Ketchikan on 16 April 2004, the Nautilus V was towed to Air Marine Harbor, "where we had to put it back together because it came in two pieces," Nils says. Everyone pitched in and helped including newly hired skipper, Tom Jacobsen, and relief captain, Jesse Tiffany.
As soon as the boat was launched, the Coast Guard performed another inspection and this time required that a new life raft be purchased for the Nautilus V. When this last hurdle was accomplished, it seemed reasonable to hope the end was in sight.
Yet there remained one not-so-small problem: that of underwater visibility-or lack thereof-in the downtown Ketchikan area.
Even before purchasing the boat the Utterbacks and their investors were aware of the problem and did some diving to try to check it out. Yet "it's difficult to tell when you dive," says Nils. By diving they couldn't tell for sure how clear-or unclear-the water would be from the boat.
Once the boat was launched, however, they knew. Whether due to plankton or "algae bloom" or just plain urban sprawl, the water visibility around town was not good. It was decided to move the boat to Clover Pass.
Hurray, the First Tour!
All the hard work and hassles paid off on 22 June 2004 when the first tour left the float at Clover Pass.
"I was so happy to do our first tour, I tell you," says Diane, expressing all the pent-up frustration of the past months.
"The people on board were thrilled too," Nils adds. "They saw a giant albino starfish with thirteen legs and one woman thought it was an octopus."
Today the Nautilus V shines in the sun and catches attention - lots of attention. In fact a crowd has gathered, as my husband and I approach for a Sunday morning tour.
We stand on the float and chat with other tour-takers, then board and descend to the underwater "viewing pod," where we meet our interpreter Trevor Taggart.
As we cross Clover Passage to the viewing area, through thick bulletproof glass we see nothing but bubbles, lots of bubbles. Taggart uses this traveling time to explain that the Nautilus V has 24 viewing stations and can carry 48 passengers. It travels at a top speed of 5.5 knots ("not very fast!") and at about one knot for underwater viewing. When in shallow waters, the boat operates about four to eight feet off the bottom.
Once at the viewing area near Betton Island, we begin to see all sorts of underwater life: lion's mane jellyfish, starfish, sea urchins, sea cucumbers, lots of ocean perch, lots of kelp and two different kinds of seaweed - Turkish towel and sea lettuce.
Everyone on board is having fun-looking out and exclaiming over each newly discovered creature.
With the underwater tour a success, the Utterbacks now have a new dream: "We'd like to get another boat in here for next year," says Nils. "We know it's a good tour that can support another boat, maybe even two new boats."
With a chuckle he adds, "We've made all our mistakes now. Things are looking up."
Nils and Diane agree the future looks bright with the "darkest hours" behind them.

Post a Comment View Comments
Submit an Opinion - Letter

Sitnews
Stories In The News
Ketchikan, Alaska