Can Emergency Responders Find You?
By Louise Brinck Harrington
January 25, 2006
Wednesday AM

Ketchikan, Alaska - It was the middle of the night when North Tongass Fire Department EMS Lieutenant Jerry Kiffer got a radio call that an elderly woman was having a medical problem. During the call the 911 dispatcher, located in downtown Ketchikan, informed Kiffer that the woman lived near North Point Higgins Road and gave him the woman's address. But due to privacy regulations the dispatcher could not relay the woman's name.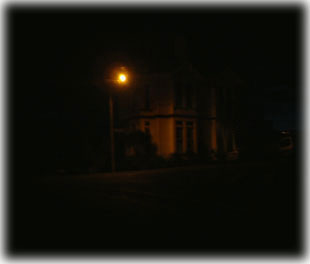 "Please, help us find you! Do whatever you can to make your address visible so that in your time of need we can get there to help you."
NTVFD Chief Hull
Kiffer responded to the call immediately with the ambulance.
"We were called to [the home of] an old time family," Kiffer said, recalling the incident later, "and I am very good friends with both of them. "I had been to their house a hundred times."
But Kiffer had only the family's address, not their name, and he could not find the address in the dark.
"The way the addresses are done in some new subdivisions, there are not enough numbers between one house and the other. Down some of those subdivisions there may be what appears to be one-driveway road, but you'll find 20 or 30 houses. Had I known the name I would have found it but all I had was the address."
"It's scary because we're trying to find someone to help them and we can't find the address," Fire Lieutenant Steve Phillips said, relating another incident about an 80-year-old woman who believed she was having a heart attack. "We happened to be at Station Six [across the highway from Ward Cove]; we were only half-a-mile away from her and we couldn't find the house. Even though it had a North Tongass address, it wasn't really on the highway. It was nestled back away from the road."
Phillips initially drove past the house, was forced to turn around, drive back and start searching. "So instead of being there in a minute and a half, it took us four or five minutes. When you are talking about a potential heart attack five minutes is a long time!"
Longtime North Tongass resident Del Shull has had two medical emergencies since the North Tongass Fire and EMS Service was formed.
"We have nothing but good things to say about the EMS folks," Rosemary Shull says. "They [the ambulance crew] were here so fast. Of course we have big numbers-260-and a light on our house."
Having numbers on your house is most important during a medical emergency rather than a fire call, says Fire Chief Dave Hull. "If there's a lot of fire and smoke, obviously we are going to find you."
A medical emergency is different, however. "But you can do a lot to help yourself," Hull says.
First of all, be sure you know your location and how to describe it to the 911 dispatcher. Know the names of nearby cross streets and if you're near a major thoroughfare, such as North or South Point Higgins, mention that. If you live in a cul-de-sac off a major thoroughfare mention that and describe the area.

"Remember," Hull advises, "that the dispatcher you are talking to is in town and may not be familiar with the North Tongass area."
Most of all, though, make sure you have BIG numbers on your house or business and make sure the numbers are "reflective" so they show up when a light shines on them in the dark. And make sure your driveway is clear and well-lit.
Also, during an emergency, try to stay calm.
Hull relates an incident during which the person who called was "very excited" and cost precious time. "We had the initial call and the directions we had sent us to across from the Texaco Station. Unfortunately where they really wanted us to go was across from the Light House, the Tesoro Gas Station. I drove right past the person who was madly waving [at the Tesoro Station] but I wasn't looking for anyone there; I was going to the Texaco Station. So when you call in, make sure that you try to describe exactly where we need to go."
Another problem for North Tongass EMS personnel, says Fire Lieutenant Paul Hook, is that many side streets do not have street lights or signs. "We were called to an address on D-1 Loop [Road]. We had the ambulance in route and we had people in private cars. We probably spent an additional five minutes driving up and down D-1 Loop trying to find this house that was set up off the road. If they'd had a sign or post down on the highway with their address we'd have been there a lot faster."
If you had an emergency would the North Tongass Fire and EMS crew be able to find you? Are your numbers on your house or driveway?
"Please, help us find you!" pleads Chief Hull. "Do whatever you can to make your address visible so that in your time of need we can get there to help you."

Louise Brinck Harrington is a freelance writer living in Ketchikan, Alaska.


Publish A Letter on SitNews Read Letters/Opinions
Submit A Letter to the Editor
SitNews
Stories In The News
Ketchikan, Alaska