Fifty years ago, a great novel took shape in Ketchikan
Silko's 'Ceremony' was created in a vacant law office on Ketchikan Creek;
'I was so homesick, I tried to remake the homeland that I missed so much.'
By DAVE KIFFER

January 09, 2023
Monday

(SitNews) - What is likely the most famous novel ever written in the First City was neither about Ketchikan nor even Alaska.
It was written by an author considered one of the greatest Native American novelists, but she is not Tlingit, Haida or Tsimshian.
"Ceremony" was the first novel written by Laguna Pueblo Native Leslie Marmon Silko. It was published to great acclaim in 1977, but it was written when Silko lived in Ketchikan in the early 1970s. Silko, 74, has gone on to have a significant career as a novelist, short story writer, poet and memoirist and has won several major awards, including being named a MacArthur Genius Award winner in 1981.
"Ceremony" was primarily written in 1973 and 1974 on a small desk in a law office overlooking Ketchikan Creek, the result of the largesse of a Ketchikan attorney who was a significant promoter of the arts during his four decades in the community. Silko would later say that much of the early draft of the novel was written on the back of discarded legal stationary.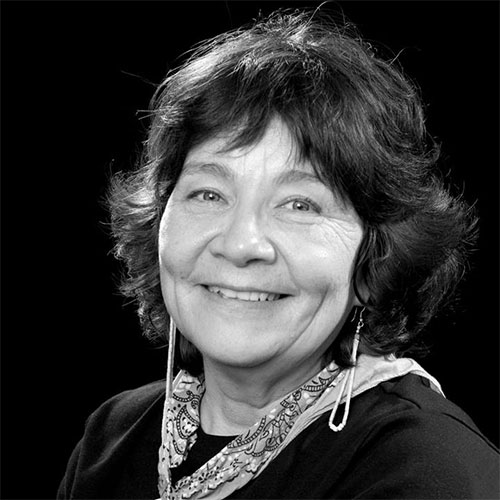 Leslie Marmon Silko
Photo courtesy National Women's History Museum
https://www.facebook.com/womenshistory
"Ceremony" tells the story of Tayo, a half Pueblo, half white World War II veteran who returns from the war with a case of what would now be called post-traumatic stress order, but in those days was called "battle fatigue." After several years of treatment, he is sent home to the pueblo to recuperate, where he finds that the poverty and an extreme drought only exacerbate his problems. Eventually, he comes to see that actions he can take can help save both himself and also help save the pueblo from the crippling drought. The novel combines traditional Native storytelling and mythology. Multiple stories arc into and out of the narrative, eventually tied up in Tayo's efforts to recapture a herd of cattle that was stolen from a relative, the "ceremony" from the title of the book. The "ceremony" also involves abstaining from the violence that followed him home from the war and learning from a spirit woman.. The novel ends with Tayo peacefully tending to the herd of cattle.
"Ceremony" has sold hundreds of thousands of copies in its 45 years of print, but it is most known today because it is required reading in dozens of college literature programs across the country.
Leslie Marmon Silko was born in Albuquerque, New Mexico in 1948 and grew up on the Laguna Pueblo 50 miles west of Albuquerque. Her mother, Mary Virginia Leslie, was a teacher, and her father, Lee Marmon ( Leland Howard Marmon), was a noted Native American photographer and author. Her father is known for his black-and-white-portraits of tribal elders. Lee Marmon's photography career began as a youthful, creative pursuit in 1947, shortly after he returned home to New Mexico from his World War II tour of duty in the US Army on remote Shemya Island in the far western Aleutians. His father, Henry Marmon, put a professional quality Speed Graphic camera in 22-year-old Lee's hands, and suggested that he take photographs of the tribal elders, "so we'll have something to remember them by."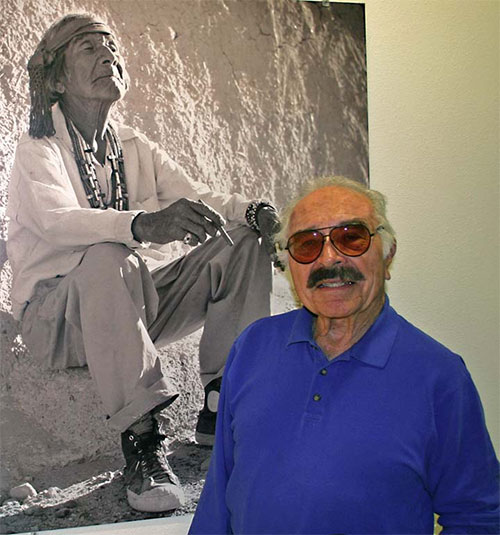 Acclaimed Laguna photographer Lee Marmon stands next to an enlarged version of his most well-known image, "White Man's Moccasins" (1954) at the Indian Pueblo Cultural Center in Albuquerque, New Mexico (February, 2006)
Marmon Publicity Photo for Web
Created: 18 June 2006
Creative Commons Wikipedia.org
Lesile Marmon Silko learned story telling from her grandmother and great-grandmother and other elders. She graduated from the University of New Mexico with a Bachelors in English Literature in 1969 and briefly attended the UNM Law School, intending to become a lawyer like her father, but she had already begun to publish short stories and poems and she turned away from a legal career.
Silko arrived in Ketchikan in 1973 with her husband John and two small children. John Silko was taking over the Ketchikan Alaska Legal Services office, which provides free civil legal services to low-income Alaskans.
The isolation that Silko felt in Ketchikan fueled "Ceremony," which she worked on during the time her children were in day care or school. The rainy, cloudy skies sharply contrasted with the dry, cloudless world she was used to. She soon learned one of the most important literary lessons: That sometimes you have to leave your home to be able to write about it.
"It (the displacement) really affected me," she told the Chicago Tribune in a 2010 interview. "I was so homesick, I basically tried to remake, from the ground up, the homeland that I missed so much. The detail and attention to the landscape and the sky might not have been so central had I been living in New Mexico at the time."
In the preface to the 30 th Anniversary edition of Ceremony that came out in 2006, Silko went into more detail about her time in Ketchikan.
Ketchikan was John Silko's hometown and the family moved here in the late Spring of 1973. Leslie Silko's oldest son, Robert Chapman, was seven years old and her youngest, Cazimir Silko, was 18 months.
"The average rainfall (in Ketchikan) was 180 inches," Silko wrote in 2006. "In Chinle (Arizona, where the couple had lived before moving to Ketchikan) the annual rainfall was 12 inches in a good year. I was accustomed to the bright sunlight of the Southeast, where the weather permitted activity outdoors all year around. In Southeastern Alaska the tall spruce trees, heavy clouds, fog and mist and the steep mountains enclosed the town. In the Southwest I was accustomed to gazing into distances of forty or fifty miles. I was accustomed to seeing the sky and the stars and the moon. The change in climate had a profound effect on me."
Silko wrote that she was depressed for most of the summer and barely got any writing done.
"I spent all of June, July, and August fighting off the terrible lethargy of a depression caused in large part by the absence of sunlight," she wrote in 2006. "I managed to write one short story during that time, about a woman who drowned herself; it wasn't a good short story but a message to myself. In September after the boys were in day care and school, I tried to write at home, but I found it difficult to concentrate: the dirty dishes and dirty laundry seemed to cry out for attention."
It was then that local Ketchikan attorney Richard "Dick" Whittaker came to her aid.
"Dick and his family lived across the street from my Silko in-laws," she wrote. "He practiced Indian law mostly for the local tribes, and he was a strong supporter of the Alaska Legal Services program, which employed my husband. Dick was a reader of novels and especially admired Kurt Vonnegut's "God Bless You, Mr. Rosewater." I talked about needing a place to write, and Dick Whittaker invited me to use the table and chair in his closet-sized law library."
Whittaker's office was upstairs in the old Western Auto building office on Stedman Street. It now houses Parnassus Books. Legal Services was located in the same building.
"I worked on the library table with my Hermes portable typewriter and a fountain pen," Silko wrote. "Once I saw what I'd typed, I immediately edited with a fountain pen. Every day I read the previous day's writing to get myself started again. Luckily, I was in the early stages when I didn't have much manuscript or many notes, because of course I could not leave my work spread out over the law library table: Dick Whittaker and his staff did need to use the law books from time to time. I wrote the short story 'Lullaby' in the law library. I'd already started to write what would become 'Ceremony.' "
After about six months, legal services moved into a different building and Silko moved with it. She was a given a small office space without a door.
Then Whittaker invited her to move back into the space on Stedman that had been vacated by Legal Services.
"Rent free, he gave me the exclusive use of the space complete with heat and lights and, best of all, no telephone," Silko said in 2006. "There was an outer room that had been for reception, and the inner office that had windows that looked out on Raven and Fog Woman above Ketchikan Creek. The inner office had a chair and a wide, long built-in plywood work area shaped like a wing. The first thing I did was buy a can of Chinese red enamel and paint the plywood desktop. I brought an old percolator down to make hot water for instant coffee... My rule for myself was this: I had to stay in that room whether I wrote or not and finally, after I had written letters...or taken a nap, I'd walk over to the window to look up at the big black raven carved above me on the top of the pole. A long way down the pole came Raven's two raven helpers, Gitsanuk and Gitsaqeq, their raven beaks oddly hooked, melted from the fire's heat the time they carried Raven's gift of fire to human beings. Then came the figures of Raven and his wife, Fog Woman, who held two salmon by the tails. The beauty of the carved figures lifted my spirits and I'd finally break down my resistance, and start work on the novel."
Silko noted that she would later learn the significance of the Chief Johnson pole just outside her window and how "Fog Woman's gift of the salmon had made the Ketchikan people rich."
She wrote that for lunch most days she would go down the street to eat at a cafe operated by the Hirabayashi family.
"Mrs. Hirabayashi welcomed all her customers with a joyous greeting, and her elderly mother working behind the stove smiled shyly and nodded," Silko wrote in 2006. "I always ordered the same thing: Green tea and bowl of pork noodles. Except for me and a few old Tlingit and Haida people, the Hirabayashi's customers were fishermen in rubber boots and gray wool halibut jackets. Usually, it was raining. My first October, in 1973, Ketchikan got 42.5 inches of rain in 31 days. So, after my noodles and tea, I usually went straight back to my writing and worked until three, when it was time to fetch Caz from day care to be home when Robert returned from school."
Sometimes, she wrote, she walked around town when it wasn't raining too hard, looking at the fishing boats, the "giant" cruise ships and the "vast flotillas" of spruce logs being towed to the local mills.
"Big ravens cavorted on the docks in search of tidbits from the fishing boats, but most amazing to my eyes were the great bald eagles, a dozen or more, that lounged or played in the tops of tall spruce while they waited to dive into the water for salmon," Silko wrote. "After a while, I realized that Raven and Eagle still owned the town; the old-time tribal people belonged to the clans of Killer Whale, Grizzly Bear and Wolf. Humans belonged to Halibut and King Salmon and Steel Head Trout clans too; surrounded by ocean, rivers, creeks, and rainwater, the watery clans seemed a safer bet. The totem poles often had small, wan faces of 'drowned men' carved between the major figures - I couldn't swim and boats made me seasick - the small wan face might be me."
Silko wrote that working on the novel helped her get over her depression.
"The novel was my refuge, my magic vehicle back to the Southwest land of sandstone mesas, blue sky and sun," she wrote. "As I described the sandstone spring, the spiders, water bugs, swallows, and rattlesnakes, I remade the place in words; I was no longer on a dark rainy island thousands of miles away. I was home, from time immemorial, as the old ones liked to say to us children long ago."
In February of 1974, Silko spent several weeks as a visiting writer in a Bethel middle school which she found more similar to home because the Southwest Alaska tundra was not as enclosed as the Southeast rainforest. She returned to Ketchikan and continued to work on her novel. It was essentially complete when the family left Ketchikan in September of 1975 to return to New Mexico.
"Ceremony" was published in March of 1977. By then Silko was teaching at the University of New Mexico. One of the novel's early fans was actor Marlon Brando, who told his friend Geraldo Rivera about the book and it was featured on Good Morning America.
"Later, when I worked on a film project for (Brando) he sometimes brought up obscure details from 'Ceremony' that I hardly remembered," Silko wrote. "He had a photographic memory for anything he saw or read."
Ceremony went on to win the American Book Award in 1980. It is recognized as one of the first major works in what is now called the Native American Renaissance in literature which began in the late 1960s. It is taught in classes at dozens of American and foreign universities.
Silko has gone on to publish two other novels and seven books of poetry and short stories. She has also published three works on non-fiction including a memoir. She taught for many years at the University of Arizona and lives in Tucson. She and John Silko are divorced.
In the forward to "Ceremony" Silko thanks the "Rosewater Foundation on Ketchikan Creek" for support, which brings us back to Dick Whittaker.
Whittaker was born in Illinois in 1931 and graduated from the University of Oregon before going to law school at Northwestern, back in Illinois. He came to Ketchikan in the mid 1960s.
He was a state representative from District 1 in 1971-72 and then was elected to the Ketchikan School Board in 1973-74. He was also on the Ketchikan Gateway Borough Assembly from 1981-83. Whittaker was a common figure in Ketchikan politics and community events, once saying he considered himself a "cheerful gadfly, who loved to prod others to action."
But Whittaker's main interest, besides the law, was in promoting the arts in Ketchikan. Silko was just one of many artists he assisted over the years.
Whittaker, along with Bill Green, Lillian Ferrence and others, worked to bring a series of well-known writers to the First City for readings in the 1970s and 1980s including Richard Brautigan, Tom Robbins and Gary Snyder. They were also part of a local group that brought many performers to the community including Harry Chapin and Gordon Lightfoot.
Whittaker died in Ketchikan in 2001, after nearly 40 years in the First City.
Leslie Marmon Silko still occasionally visits the First City. Her sister, Gigi Marmon Pilcher, is a long time Ketchikan resident.



Related:




On the Web:
Columns by Dave Kiffer

Historical Feature Stories by Dave Kiffer
Dave Kiffer is a freelance writer living in Ketchikan, Alaska.
Contact Dave at dave@sitnews.us
Dave Kiffer ©2023
Publication fee required. ©
If you would like to reprint/republish this article, contact Dave Kiffer for permission and to arrange payment of publication fee.
Representations of fact and opinions in comments posted are solely those of the individual posters and do not represent the opinions of Sitnews.


Send a letter to the editor@sitnews.us
Contact the Editor
SitNews ©2023
Stories In The News
Ketchikan, Alaska

Articles & photographs that appear in SitNews are considered protected by copyright and may not be reprinted without written permission from and payment of any required fees to the proper freelance writers and subscription services.

E-mail your news & photos to editor@sitnews.us

Photographers choosing to submit photographs for publication to SitNews are in doing so granting their permission for publication and for archiving. SitNews does not sell photographs. All requests for purchasing a photograph will be emailed to the photographer.