Money Matters
By Mary Lynne Dahl, CFP®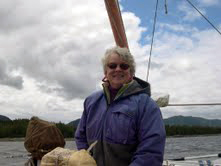 Mary Lynn Dahl
Mary Lynne Dahl, CFP® is a Certified Financial Planner ™ and partner in Otter Creek Partners, a fee-only registered investment advisor firm in Ketchikan, Alaska. These articles are generic in nature, are accepted general guidelines for investment or financial planning and are for educational purposes only.
Mary Lynn Dahl can be reached at moneymatters@sitnews.us

27. RAISING YOUR KIDS TO BE MONEY SMART By MARY LYNNE DAHL, CFP® - Kids as young as 3 and 4 are surprisingly savvy when it comes to their understanding that money can buy candy, gum and toys. By age 7, a child has already formed his or her basic attitude about money. Yet we grossly underestimate how easy it is to teach them about money and many parents do not approach the subject, ever. Why? Studies show that the main reason why parents do not teach their kids how to handle money is that they themselves do not know how to handle money. So the cycle continues from generation to generation. The result is that the US has too many people who are financially illiterate, in debt and unable to teach their children how to save, invest and be financially responsible. - More...
Thursday PM - June 15, 2017
26. MINIMIZING THE FINANCIAL COSTS OF DIVORCE By MARY LYNNE DAHL, CFP® - Most people realize that a divorce can be costly, and sometimes messy. It doesn't have to be, but it can be. You can reduce the costs, however, with some education about the whole process. - More...
Sunday PM - May 21, 2017
25. PENNY STOCKS By MARY LYNNE DAHL, CFP® - Every once in a while I am asked about investing in penny stocks. What is a penny stock? It is a stock selling for less than $5 in a company that has a very small capitalization, meaning not much cash with which to operate the company. Generally, the reason I am asked about investing in penny stock is that someone has heard what I call a "story". The "story" is so enticing that some people cannot resist investing, because most of the time, the story being told is that this company is on the verge of something really big and you better invest in it now, before it gets discovered. While the definition of a penny stock is that it sells for less than $5, many penny stocks sell for under $1, which increases the lure to invest for many people. After all, with stock as cheap as this, you don't have much to lose, right? This is faulty logic; you risk losing whatever total you invest, regardless of the price per share. Just because the shares are cheap does not reduce the risk. In fact, it actually increases it. As an investor, you should be very aware of the risks and characteristics of penny stocks as investments. Why are they so risky? - More...
Monday AM - March 13, 2017
24. IS MARKET TIMING THE SECRET TO INVESTMENT SUCCESS? By MARY LYNNE DAHL, CFP® - Now that the U.S. stock market has topped the 21,000 point, there is a lot of speculation about the potential of it going even higher, or, conversely, dropping back down below the 21,000. - More...
Wednesday PM - March 01, 2017
23. INVESTING IN ANNUITIES – A GOOD IDEA OR NOT? By MARY LYNNE DAHL, CFP® - A financial planner that I know recently mentioned to me that she had a new client who asked her to explain annuities. The planner had not recommended an annuity but the investor was interested and wondered why not, because he had seen a commercial on TV which he said claimed that you could not lose money and your return could only go up, not down, with a certain kind of annuity. The investor was attracted to that idea, of course. Who wouldn't want an investment that could not lose money and which guaranteed a return that would only go up and never down? It sounded too god to be true, which should be a warning flag. Too often, it is not. - More...
Friday PM - February 17, 2017
22. HOW MUCH $ IS ENOUGH? TIPS ON GETTING THERE By MARY LYNNE DAHL, CFP® - I write a lot about retirement and investing. This is because they go hand in hand, and retirement is generally the biggest financial goal most people have while they are working. I hear people say over and over again that they want to retire early. However, I see the evidence in many cases where those people who do retire early hit the wall a few years later, often because the amount of income that they started out with is no longer enough to live on comfortably. When this happens, early retirement has turned out to be a bummer, not a joy. This can be avoided. - More...
Monday PM - January 23, 2017
21. EVALUATING AND SELECTING A FINANCIAL ADVISOR By MARY LYNNE DAHL, CFP® - I recently attended the wedding of a friend who asked a really good question, one that many other people are probably asking these days. We had been standing in a group at the reception, talking about retirement and money matters. During the conversation, two of those present mentioned that they were "financial advisors". One was a stock broker at a big name firm in New York City. The other was a Certified Financial Planner ™ at an independent boutique firm in a small town. My friend listened to these advisors talk about money and investing and later took me aside and asked me to explain what it meant to say that one is a "financial advisor". He mentioned that at age 42, he was interested in getting financial advice regarding his retirement plan at work but that he also had questions about refinancing his home, buying a vacation property and a business opportunity he was considering. He wanted to find someone to work with that he could trust to give him objective advice and he wanted to be able to invest his retirement plan money wisely. - More...
Monday PM - August 29, 2016
20. Living Well on Less By Mary Lynne Dahl, CFP® - I recently read a news story which said that the majority of Americans would not be able to write a $1,000 check for an emergency expense. It claimed that in a survey of over 6,000 middle income people in the US, most of them would have to use a credit card or borrow from friends/family in order to come up with $1,000 cash for an unexpected expense. If this is true, it is an indication that too many people spend every dollar they make, saving nothing, and this fact prompts this column. It is an indication also of the financial insecurity of those who do spend all of their income, and sometimes more, piling up a burden of debt. If this is your situation, you would be wise to stop spending and start saving, now. How do you do this? Well, maybe you can find some answers by trying what has worked for others. - More...
Wednesday PM - May 25, 2016
19. IMPORTANT NEW RULES THAT WILL AFFECT YOUR IRA AND 401-K By MARY LYNNE DAHL, CFP® - The US Federal government has changed some rules that have a very important impact on your IRA or 401-k retirement plan. The new rule, mandated by the US Department of Labor, changes the way you can get advice about your investments in your retirement plan and what you will pay for that advice and those investments.
18. DO THE RECENT CHANGES TO SOCIAL SECURITY BENEFITS AFFECT YOU? By MARY LYNNE DAHL, CFP® - The recent changes to Social Security will affect benefits for some people who were going to file soon but have not done so yet. If you are one of those people, you only have until April 29, 2016 to file for benefits that may not be available after that date. Social Security is complex, so many people are unaware that they may be eligible for benefits that are expiring soon. - More...
Thursday PM - April 07, 2016
17. STOCK MARKET ROLLER COASTER RIDE: IS IT AN OPPORTUNITY OR A PROBLEM? By MARY LYNNE DAHL, CFP® - If you are an investor, you probably have some financial goals. Security. Freedom. Wealth. Business ownership. Philanthropy. But when the market starts a roller coaster ride up and down, those goals are at risk. It is unsettling. You may experience anxiety and fear when you read or hear the media talking as if the world is coming to an end, the economy is in chaos, the markets are crashing and your hard-earned money is evaporating. Your instincts are to pull your money out of your investments and bury it in a coffee can in the yard. If this is the case, you have now encountered the greatest risk to your financial well-being……yourself. - More...
Monday PM - February 15, 2016
16. SURVIVING MAJOR STOCK MARKET CORRECTIONS: DO'S AND DON'T'S By MARY LYNNE DAHL, CFP® - As of this date (August 23, 2015), the Dow Jones Industrial Average (DJIA) is down more than 10% from its May 19 high of 18,312.39 and the other US exchanges are in similar basement territory. This is technically referred to as a "market correction" and it means that a lot of portfolios of ordinary people are down as well. Is this cause for alarm? What should a small investor do about it? - More...
Thursday PM - August 27, 2015
15. TIPS FOR GETTING THE MOST OUT OF SOCIAL SECURITY RETIREMENT BENEFITS By MARY LYNNE DAHL, CFP® - When I began writing this article on getting the most out of your Social Security, my goal was to simplify a subject that had seemed to be pretty confusing to a lot of people. My first thought in doing this was that it would be easy to parse out the retirement benefits and simply list them by category. Boy, was I wrong! - More....
Monday PM - June 08, 2015
14. BITCOIN - IS IT THE NEW MONEY? By MARY LYNNE DAHL, CFP® - Anyone with a smartphone, IPad or even a computer game, knows almost intuitively that "the next big thing" is some sort of new technology. It may be a mobile device, a medical miracle, artificial intelligence or it may be a new form of money, known as "cyber currency", which is already here and being used worldwide. This cyber currency is also known as "crypto currency". - More...
Monday PM - February 23, 2015
13 .SHOULD YOU RETIRE EARLY? By MARY LYNNE DAHL, CFP® - I am often asked to help someone decide when to retire. The question revolves around an estimate of how much income will be available when the individual stops working for wages. For many people, this is new territory and can be pretty scary. I can see why, because many people are guessing at the numbers. And, guessing is risky! - More...
Saturday PM - January 03, 2015
12. ARE YOU A BUDDING MILLIONAIRE? TAKE THIS QUIZ AND FIND OUT.By Mary Lynne Dahl, CFP® - What if you won $5 million in a lottery, after taxes, in a lump sum? Could you handle this much money all at once? Do you have visions of endless vacations, summer cottages on the ocean, new cars, quitting your job? Would you make good financial decisions regarding control of this much money? - More...
Thursday AM - October 09, 2014
11. 10 STEPS TO A SECURE RETIREMENT By Mary Lynne Dahl, CFP® - Retiring, for most people, means to stop working for a wage. However, when you stop working, you stop getting a paycheck. So, then what? How will you pay the bills and preserve your lifestyle? This is the most important issue for anyone who is facing retirement. If you have not been saving and investing for this goal, you better wake up and get started now! - More...
May 06, 2014
10. MUTUAL FUNDS FOR INVESTMENT SUCCESS By MARY LYNNE DAHL, Certified Financial Planner™ - If you noticed that people who were invested in the stock market during 2013 did very well with their investments, you may have now decided to join them and become a serious market investor yourself in 2014. If so, congratulations! This is step one to investment success: getting started. The question is, where do you start and how do you do it wisely? - More...
January 25, 2014
09. OBAMACARE IN PLAIN ENGLISH By Mary Lynne Dahl, CFP® & Nancy Tietje, RHU-REBC - Soon, Americans will have to figure out if and how our new national health care law, known as "Obamacare", will change their lives. This article is the first attempt to explain this new law, in plain language, and direct the reader to whatever he or she will need to do, if anything. - More...
October 04, 2013
8. INVESTING BASICS: STOCKS AND BONDS - Part #2: Stocks By MARY LYNNE DAHL, CFP® - Investing in stocks and bonds should be a long-term plan of accumulating financial assets that can help support you as you get older. Retirement is probably the biggest reason most people invest at all, so getting educated about how to invest in stocks and bonds is basic to accumulating those assets. - More...
Tuesday - June 11, 2013
7. INVESTING BASICS: STOCKS AND BONDS - Part #1: Bonds By Mary Lynne Dahl, CFP® - Investing in stocks and bonds should be a long-term plan of accumulating financial assets that can help support you as you get older. Retirement is probably the biggest reason most people invest at all, so getting educated about how to invest in stocks and bonds is basic to accumulating those assets. - More...
Saturday - April 13, 2013
6. AFTER THE DIVORCE – SO, NOW WHAT By Mary Lynne Dahl, CFP® - The financial impact of divorce is generally not fully realized until after the divorce is final. Many of the money issues, such as the splitting of the pension and retirement funds, depend on the paperwork being correctly written and submitted to employers and retirement plan administrators as part of the final divorce documents. As a result, both parties do not actually give or receive their share of these marital assets until several months afterwards. In addition, if the house is being sold as a result of the settlement, that often takes place afterwards as well. And, when tax time rolls around, the previously married couple who filed a joint return in the past now finds themselves filing their federal tax return under significantly different rules. - More...
Sunday AM - February 24, 2013
5. COMMON FINANCIAL MISTAKES IN DIVORCE By MARY LYNNE DAHL, CFP®- Divorce is costly! There are the emotional costs, the legal costs and the financial costs of splitting up the income, assets and debts. - More...
Thursday AM - January 31, 2013
4. BABY BOOMERS WAKE-UP CALL By Mary Lynne Dahl, CFP® - Most baby boomers can recall the 70's, when things were groovy and the world was full of good vibrations. It was a cool time and retirement seemed so far away that nobody worried about it much. But guess what…..that day has started to arrive for a thunderous army of those folks who were cool during the 70s and 80s, who are turning 65 between now and the year 2025. US Census records indicate that almost 76 million births were registered between 1946 and 1964. Estimates are that even with normal mortality rates, a boomer will reach age 65 every 8 seconds from now until the year 2029. - More..
Wednesday PM - October 10, 2012
3. 10 Common-Sense Investing Guidelines - Successful investing requires a plan and should be based on reasonable goals and expectations. Unfortunately, many investors today are motivated only by fear and greed, neither of which is a good basis for successful investing. What does work, you ask? Here are 10 common-sense guidelines: - More...
September 12, 2012
2. Reaching Your Most Important Financial Goal: A Comfortable Retirement - How can you determine whether or not you will have a comfortable retirement? As practical as this question would seem to be, most people are not able to answer it clearly. This column offers an example that will illustrate the process of actually calculating the income that will provide that comfort, or not, depending on your situation. Knowing this information, in advance of retiring, is critical to reaching your financial goals, so read on and take note. - More...
June 25, 2012
1. The Road to Financial Success is Called "Financial Planning" - Do you want to achieve financial success? Is financial security an important goal for you? If so, you will need to do some financial planning in order to make it happen. Financial Planning is a term used to describe a process of setting financial goals, solving financial problems, making financial decisions and reaching those financial goals. For most people, it is a lifetime process that happens in stages. Most people who are financially successful do not achieve their success haphazardly; they work at it. They develop the discipline and patience to stick with a financial plan and a strategy that is reasonable, not pie-in-the-sky. Many make considerable sacrifices in the early years of the plan because they really, truly want to reach those goals. Those are the people who achieve financial success, on their own terms. - More...
May 18, 2012
E-mail your news, photos & letters to editor@sitnews.us


SitNews ©2012
Stories In The News
Ketchikan, Alaska

Articles & photographs that appear in SitNews may be protected by copyright and may not be reprinted without written permission from and payment of any required fees to the proper sources.