Money Matters
Living Well on Less
By MARY LYNNE DAHL, CFP®
May 25, 2016
Wednesday PM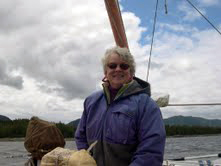 Mary Lynn Dahl

(SitNews) Ketchikan, Alaska - I recently read a news story which said that the majority of Americans would not be able to write a $1,000 check for an emergency expense. It claimed that in a survey of over 6,000 middle income people in the US, most of them would have to use a credit card or borrow from friends/family in order to come up with $1,000 cash for an unexpected expense. If this is true, it is an indication that too many people spend every dollar they make, saving nothing, and this fact prompts this column. It is an indication also of the financial insecurity of those who do spend all of their income, and sometimes more, piling up a burden of debt. If this is your situation, you would be wise to stop spending and start saving, now. How do you do this? Well, maybe you can find some answers by trying what has worked for others.
Along those lines, I have been thinking about a re-write of a book I wrote in 1994, called Money Matters for Women which was published by Zondervan in 1995. After it was published I received letters from readers, thanking me for the book and telling me their own personal stories. These are people who figured out how to spend less, get out of debt, save money, live well and be better money managers.
So, I will share with you what those readers shared with me so many years ago and perhaps you will find something that will help you to spend less, save more, get out of debt and be more secure.
The #1 way most of my readers got out of debt was to curtail their urge to shop. These are the comments they shared with me on how they tamed this tiger, plus some updated advice of my own:
Pay cash and keep your receipts.
Cut up your credit cards and discontinue using them until you are 100% out of debt.
Total your receipts monthly to know exactly what you spent on everything. Record your totals and compare them month to month.
Avoid shopping by staying out of malls, shops and garage sales. Throw out catalogues without opening them. Stay off the internet sites where you might shop. Remove the apps from your mobile phone that enable shopping; block or uninstall those apps.
Implement the "3-day rule": wait 3 days before buying that item that you think you must have. If you still must have it after 3 days, maybe it is ok to buy it. This helps to control impulse shopping and avoids buyer's remorse as well.
Rate every item "need" or "want" before you purchase it. Purchase you "want" items later, if at all.
Never shop without a list, for anything. If it is not on the list, don't buy it.
Set an absolute maximum price that you are willing to pay on all big ticket items, and never pay even a penny over that maximum price. This is a hard rule to follow, but it creates the habit of being disciplined, which is a huge key to getting out of debt and staying out of debt.
Never buy a new car. If you think you must have a new car, buy a demo or car salesman's company car; they are like new but no longer priced like new. New cars lose about 30% of their value within the first year. Best tip: buy a 1-year old care that is still under warranty.
Do not "bargain" hunt. Instead, shop premeditatedly.
Pay zero attention to ads, sales, gimmicks and commercials. Use your mute button often.
Do not buy disposable items.
Buy less house than you can afford. (This is a BIG way to live well on less!)
If you are an impulse buyer, stay out of big box stores like Costco.
Do not buy the big container of anything if you will not use all of it (and will end up throwing it out).
In the grocery stores, use the small baskets instead of the large carts. You will buy less.
Grocery shop with a list that is based on a week of meals and an inventory of your pantry.
Buy quality clothing only. Stick to a clothing budget amount. Be prepared to buy fewer clothes. Wear clothing until it wears out.
The #2 way most people get out of debt and stay there is with life-style changes. A great list of lifestyle changes suggested by my readers is next. Some are pretty creative. Others are simply common sense. Again, read on and enjoy!
Vow to consume less.
With every pay raise, use 50% of it to pay down debt, 25% of it for savings and 25% of it for a purchase that is a reward for paying down on your debt.
Set up an automatic savings plan and automatic investment plan.
Establish a "fiscal fast" period of time during which you will not shop. Repeat as often as necessary until the urge to shop is gone. This is a proven method of breaking the shopping habit, I am told. It works because of the repetitions, apparently. Whatever, as long as it works.
Increase the deductibles in your insurance policies so that the premiums are significantly less. Save what you do not spend on premiums in a savings account that goes towards the deductible in case you have a claim. You can save up to 30% on your premiums this way in many policies.
If your car insurance premiums are more than 10% of the fair market value of your car, drop the collision and comprehensive coverage on the policy and just carry liability coverage, or shop around for a better priced policy.
Only buy term life insurance. Do not buy life insurance on babies or minor children.
Do not mix insurance with investments. Keep each one separate from the other.
Cook from scratch and eat your leftovers the next day.
Cook in a crock pot several times a week. Utilize the cheapest cuts of meat for your slow-cook meals.
Plant a garden and eat fresh vegies, fruits and herbs from it. Can or freeze any extra.
Smoke, vacuum seal or freeze any fish you catch that you cannot immediately eat.
Do not buy bottled water in plastic bottles. If you have some plastic water bottles, wash and reuse them by refilling them from your own tap. Note: 1.5 million barrels of oil are required to manufacture plastic water bottles annually in the US, bottled water is 240 to 10,000 times more expensive than tap water and our dumps are being overwhelmed with plastic water bottles.
Do not buy paper diapers. Use cloth diapers with a "woolsie" outer diaper. Wash and reuse both. Cloth and "woolsie" diapers are proven to be better for your baby and will save you a lot of money. Ditto the problem of used paper diapers in our dumps and landfills.
Watch movies at home and make your own popcorn.
Purchase things that will either appreciate in value or can legally be depreciated or deducted on your taxes.
Do not lease a car.
Learn to fix things yourself.
Learn to do your own car maintenance.
Dry clean your own clothing in your dryer with a reusable dry clean product.
Use an outdoor clothes line to dry on nice days instead of a machine dryer. Set up an indoor clothes line for wet or cold days and use it often. A heated garage, laundry room, bathroom, pantry or spare room is ideal for an indoor clothes line.
If you want to go to a fine restaurant, go at lunch. Lunch prices are less than dinner prices for the same meals in many fine restaurants.
For a vacation, stay in hostels and campgrounds with cabins or cottages. Choose places that include breakfast whenever possible. Camping with your kids is just as much fun for them as spending big money for rides at theme parks, maybe even more fun if it includes campfires, marshmallows and storytelling.
When your bottled soaps (shampoo, liquid hand soap, dish soap etc.) are empty, add water to about ¼ of the container, shake them up and continue using them. You will get about 1 week extra from each.
Others?
I am sure that there are plenty of other great ideas for saving money, spending less, living well and getting out of debt that you can think of. Recent studies and surveys indicate that Americans are very worried about inflation having a negative impact on their retirement, with one study indicating that 57% of respondents to the survey saying that their plan for a secure retirement is to live more modestly in retirement than during their working years. In that regard, I am reminded of the tiny house movement currently gaining popularity, in which people choose to downsize from a full sized home to a very small home, called a tiny house, which is often less than 500 square feet. These are younger people as well as people of retirement age, however, which indicates to me that there is a wider range of people interested in living simply than what has been estimated. The primary goal for tiny house owners is to live with less and eliminate a mortgage, which is possible with a tiny house lifestyle. I am not suggesting you consider a tiny house; it is just an example of what some people are doing to achieve those goals of getting out of debt and learning how to live well on less.
Please do keep in mind that this concept…. living well on less…. is not for everyone. However, if it appeals to you, matches your values and goals, it may be useful for you to use in managing your finances. It certainly does offer easy steps to take to reduce debt and build a savings fund. It is a very practical, down-to-earth list of ideas that anyone can apply, if they want to. I hope it does help someone make some beneficial changes to their finances and lifestyle. In the meantime, I will work on my own ideas for a re-write of the Money Matters book.



On the Web:
More Money Matters by Mary Lynn Dahl
©2016 Mary Lynne Dahl, CFP® is a Certified Financial Planner ™ and partner in Otter Creek Partners, a fee-only registered investment advisor firm in Ketchikan, Alaska. These articles are generic in nature, are accepted general guidelines for investment or financial planning and are for educational purposes only.
Mary Lynne Dahl©2016
Mary Lynn Dahl can be reached at moneymatters@sitnews.us
E-mail your news, photos & letters to editor@sitnews.us


SitNews ©2016
Stories In The News
Ketchikan, Alaska

Articles & photographs that appear in SitNews may be protected by copyright and may not be reprinted without written permission and/or payment of any required fees to the proper sources.