Money Matters
The Road to Financial Success is Called "Financial Planning"
By MARY LYNN DAHL,
Certified Financial Planner ™
May 18, 2012
Friday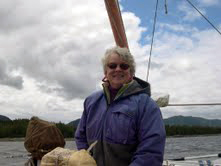 Mary Lynn Dahl
(SitNews) Ketchikan, Alaska - Do you want to achieve financial success? Is financial security an important goal for you? If so, you will need to do some financial planning in order to make it happen. Financial Planning is a term used to describe a process of setting financial goals, solving financial problems, making financial decisions and reaching those financial goals. For most people, it is a lifetime process that happens in stages. Most people who are financially successful do not achieve their success haphazardly; they work at it. They develop the discipline and patience to stick with a financial plan and a strategy that is reasonable, not pie-in-the-sky. Many make considerable sacrifices in the early years of the plan because they really, truly want to reach those goals. Those are the people who achieve financial success, on their own terms.
A good financial plan includes budgeting, saving for emergencies, investing for retirement, buying a home, funding college expenses, starting a business or engaging in self-employment, reducing or eliminating debt, managing risks, paying taxes, making charitable gifts or donations and planning for long term care, disability and death.
Unfortunately, many Americans are financially illiterate; the concepts involved in financial planning are a mystery to them. That doesn't have to be you, however. The goal of this column is to change that fact, at least a little bit. To do this, I will start with the basics and get gradually more complex.
Naturally, the place to start is at the beginning. That means to identify your goals. An example of a financial planning goal would be "a comfortable retirement". You may have a long list of goals, or just one, but whatever yours are, make a written list.
Next, identify problems that would prevent you from reaching your goals. To solve a problem, you must first identify it. Don't sugar-coat this issue, please. Be real here, and write down what you know is in the way of reaching those goals. For example, if you would like to be self-employed but have too much debt to risk quitting your present job for self-employment, write this down as a problem. Remember, this list is for you, not for someone else, so be totally real and honest here.
Once you have a list of goals and a list of problems needing to be solved, the next step towards financial freedom is to crunch some numbers. This is the really hard part for most people. If you don't like to deal with money, this is where you have to get tough on yourself. Skipping this step is like telling the doc you know you are sick and need medicine but don't want a diagnosis to identify the cause of your illness. Don't kid yourself by making the mistake of skipping this part of the process.
So, what are the all-important numbers to crunch? Read on:
1. Cash flow – this is a list of your monthly, quarterly and annual expenses in the column on the left and all sources of spendable income in the column on the right, side by side, compared to each other. If you end up with extra in the column on the right, yippee! That black ink is your excess income. It can be saved, invested, given away or spent. That's all. You can't eat it or do anything else productive with it, so let's save, give it away or invest it.
If you do not end up with excess, you have just identified your biggest problem, deficit spending. The government may be able to get away with this, but you can't.
Eventually your credit bills come due in full or will overwhelm your ability to simply keep pace with minimum payments. Spending more than you have, month after month or year after year, is the biggest reason many people never achieve financial freedom. They are enslaved to their overspending habit.
So, if you end up with red ink, your first priority is to solve this problem. If you don't solve it, forget about your other financial goals. Generally, the solution to cash flow problems is to make a spending plan (a budget). Your only other option is to make more money, but even if you can increase your income, you still have the potential of overspending because people without spending plans often simply increase their spending when their income goes up. The solution is the discipline of a spending plan, written down and honored like it was written in gold.
2. Net worth – this is a list of the fair market value of all of the assets that you own and all of your debts in total amounts, side by side just like the cash flow statement. For example, let's say that you own your home, which is worth $250,000 and you have a mortgage on it of $100,000. List those side by side, the home at $250,000 in the left column and the mortgage at $100,000 in the right column. If that is your only asset and only debt, your net worth is $150,000. Your net worth should grow every year, and will eventually support you in your retirement, if you plan well.
Now that you have crunched the numbers, you have a picture of your current financial condition. It may be good or it may be bad. Regardless, if you know what it is, you can begin to work towards your goals. Without this picture, trying to reach financial goals is like driving down a road without a destination; you are going somewhere but it may or may not be in the right direction. There is no short- cut. Take the time to do this and you will have made a giant leap forward in your efforts to become financially secure and comfortable.
Most people say that their most important financial goal is "a comfortable retirement", so that will be our subject for the next column. I will approach the subject in a very down-to-earth manner, in plain English, from a financial planning perspective and using some real life examples. Stay tuned and keep your pencils sharpened.
Mary Lynne Dahl, CFP® is a Certified Financial Planner ™ and partner in Otter Creek Partners, a fee-only registered investment advisor firm in Ketchikan, Alaska. These articles are generic in nature, are accepted general guidelines for investment or financial planning and are for educational purposes only.
Mary Lynn Dahl can be reached at moneymatters@sitnews.us

E-mail your news, photos & letters to editor@sitnews.us


SitNews ©2012
Stories In The News
Ketchikan, Alaska

Articles & photographs that appear in SitNews may be protected by copyright and may not be reprinted without written permission from and payment of any required fees to the proper sources.