Begich plane disappeared 50 years ago; Two US Congressmen disappeared on ill-fated flight
By DAVE KIFFER
November 03, 2022
Thursday

(SitNews) - Even after half a century, it remains the most famous missing plane in Alaskan history.
On Oct. 16, 1972, a Cessna 310C, tail number N1812H, lifted off from Anchorage International Airport for a three plus hour trip to Juneau. It never arrived and the disappearance would reverberate through Alaskan and national politics for decades.
Because of Alaska's size, lack of roads and often bad weather, it is not unusual for planes, particularly small ones, to come to grief. And for much of Alaska's history is has not been unusual for planes to completely disappear in the vast wilderness and the open ocean.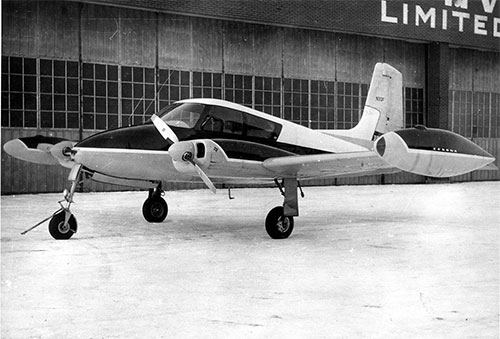 A vintage straight-tail Cessna 310 similar to N1812H.
Courtesy Plane and Pilot Magazine
www.planeandpilotmag.com
But with modern electronics and communications, most lost planes are eventually found. When the Cessna, carrying two US Congressmen, failed to arrive in Juneau, it sparked one of the longest and most expenses searches in American history, but no trace of the plane or its four occupants were ever found.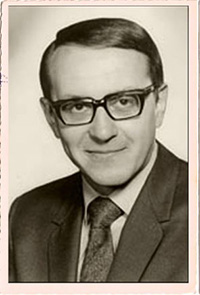 Nick Begich
Photo courtesy
commons.wikimedia.org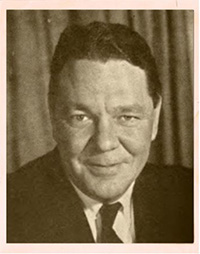 Hale Boggs
Photo courtesy
commons.wikimedia.org
On board were freshman United States Congressman Nick Begich of Alaska and one of the most powerful politicians in the country, Rep. Hale Boggs of Louisiana, the majority leader of the US House. Boggs was campaigning in Alaska for fellow Democrat Begich. Also on board were pilot Don Jonz and Begich's aide, Russell Brown. The three men we headed to a political rally in Juneau, three weeks before the national election.
The plane was operated by Pan Alaska Airways, which was owned by Jonz. Jonz was an experienced Alaskan pilot with more than 17,000 flight hours and more than a decade of air time in Alaska. He did have a reputation as someone willing to push the limits and - even though he was flying under visual flight rules on his last flight - the mid October weather was not good. The plane left Anchorage at 9 in the morning.
According to the National Transportation Safety Board accident report, Jonz had filed a flight plan that included flying over Turnagain Arm and going through Portage Pass to Prince William Sound and then following the coast on down to Yakutat and eventually Juneau. The plane had 6 hours of fuel on board for the roughly 3 and a half hour flight.
The weather forecast for the area called for marginal flight weather, poor visibility, freezing rain and headwinds and significant turbulence along the coast.
When the plane didn't arrive in Juneau in the early afternoon, officials began searching. They stayed at it for nearly 40 days and covered more than 300,000 square miles. Nearly 100 military and civilian planes took part. It was the largest search and rescue mission in the US up to that point. Nothing was ever found and officials eventually concluded the plane had been lost the mountains or crashed into the ocean.
During the search and the investigation, there were several reports of unknown emergency signals being received up and down the coast. Unfortunately, the federal investigation determined the plane had not been carrying any sort of emergency locator beacon. Shortly before the crash the federal government had announced a new law requiring locator beacons on smaller commercial flights but the deadlin for installation was December of 1972. Jonz was known to carry a portable locator beacon, but it was later found on a different one of his airplanes.
Shortly, after takeoff, Jonz contacted the Anchorage airport to check on an updated weather forecast before heading into the mountains and Portage Pass. That was the last contact with the plane. Officials believe the plane made it safely through the pass and down to Prince WIlliam Sound because no wreckage was found on land.
During the nearly two-month search, several radio operators also reported hearing communications that could have been from the missing plane, but none of those reports was found to be conclusive.
Meanwhile, the election that was the reason for the flight, went on and both Boggs and Begich were easily reelected. Boggs would be replaced by wife. Begich, would be replaced by Don Young, who would go on to serve as Alaska's Congressman for the next 49 years. Young died earlier this year.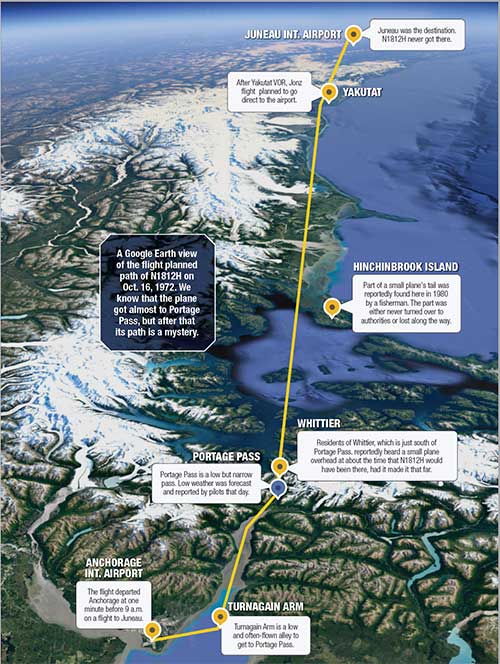 A Google Earth view of the flight planned path of N1812H on Oct. 16, 1972. We know that the plane got almost to Portage Pass, but after that its path is a mystery.
Image via Google Earth, CNES/Airbus Data LDEO-Columbia, NSF, NOAA, U.S. Navy, GEBCO IBCAO Landsat/Copernicus Maxar Technologies TerraMetrics.
Begich would be followed in politics by several of his descendants who would eventually serve in the state legislature, the US Senate and the mayorship of Anchorage. One of his grandchildren is running for US Congress in 2022.
Of course, the disappearance left Alaskans to speculate what had happened and that speculation continues 50 years later.
What likely brought the plane down?
Weather is still thought to be the likely culprit. Freezing rain has been known to have caused several crashes. Low visibility along the coast could also have caused the plane to hit one of the numerous mountains. The significant winds along the route could also have blown the twin-engined Cessna off course. The fact it was a land plane and not a float plane would have limited its ability to land safely along the route if it got into trouble as well.
And since politics was involved, there have been more that few conspiracy theories that have been floated.
Outside of Alaska, Begich was not a well-known politician at the time, but Boggs was majority leader and was expected by many to eventually become Speaker of the House, the third most powerful position in American government.
Boggs had also been a member of the Warren Commission, which had investigated the assassination of President John F. Kennedy a decade before. Boggs publicly supported the findings of the commission. But by the late 1960s, there were rumors the investigation might be reopened, although it never was. Boggs himself reported several times that he thought his phone had been tapped or that he was being surveilled. The assassination and the commission have been fertile breeding grounds for numerous conspiracies over the past 60 years.
In recent years, there have been suggestions that if foul play was involved in the disappearance, that Boggs may not have been the target.
About a year and a half after the disappearance, Begich's widow Pegge remarried Jerry Pasley. It turned out that her new husband had some associations with organized crime and he would eventually be convicted of murder in a case that happened after he and Begich's wife divorced.
When he was in prison, Pasley reportedly told investigators that he had transported an electronic bomb to Alaska that may have been used later to bring down the Begich plane. But there has been no official evidence presented in the last half century to support any of the claims that the plane was brought down intentionally.
In the last several years, the bomb theory has become more prominent and has been featured in articles in national aviation magazines and on a prominent podcast called "Missing in Alaska."
All that is known for sure is that on October 16, 1972, a small plane disappeared between Anchorage and Juneau but it has been causing big waves ever since.



On the Web:
NTSB Final Report - October 16, 1972 Missing (pdf)
On the Web:
Columns by Dave Kiffer

Historical Feature Stories by Dave Kiffer
Dave Kiffer is a freelance writer living in Ketchikan, Alaska.
Contact Dave at dave@sitnews.us
Dave Kiffer ©2022
Publication fee required. ©
Representations of fact and opinions in comments posted are solely those of the individual posters and do not represent the opinions of Sitnews.


Send a letter to the editor@sitnews.us
Contact the Editor
SitNews ©2022
Stories In The News
Ketchikan, Alaska

Articles & photographs that appear in SitNews are considered protected by copyright and may not be reprinted without written permission from and payment of any required fees to the proper freelance writers and subscription services.

E-mail your news & photos to editor@sitnews.us

Photographers choosing to submit photographs for publication to SitNews are in doing so granting their permission for publication and for archiving. SitNews does not sell photographs. All requests for purchasing a photograph will be emailed to the photographer.