The Day Ketchikan Tried to Quarantine Wrangell
First City Mayor claimed that northern neighbor had smallpox outbreak
By DAVE KIFFER

May 21, 2023
Sunday

(SitNews) - People are often surprised by how much "competition" there is between the communities in Southeast Alaska. Even though some of the towns are hundreds of miles apart, they are still highly competitive when it comes to industries, quality of life issues, and even sports.
The closer cities like Wrangell and Petersburg, Haines and Skagway and Craig and Klawock are particularly competitive in many areas, although that competition often takes the tone of warring siblings more than anything else. They frequently compete for state resources and often are at odds when the state looks to save money by expecting one city to provide certain state services for the other, especially if it means closing an existing facility in one community to save money.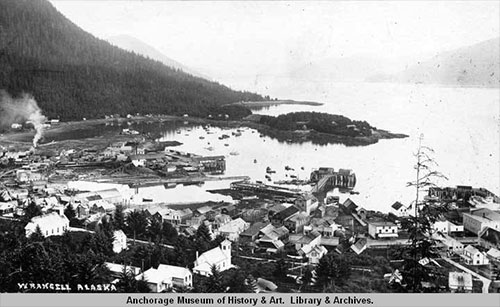 Wrangell - 1920's
View of town of Wrangell, Alaska, as seen from above, with boats in harbor and church in foreground. 1920's. Postcard.
Collection Name: AMRC. John Urban Collection
Courtexy Anchorage Museum at Rasmuson Center - Anchorage, AK
Even the more far spaced cities are competitive. Ketchikan and Juneau may be 230 miles apart, but they have been competitive in many areas for more than a century and consider each other their "blood rival" especially in high school sports. Sitka stands apart from either town and cheerfully tweaks both, in, usually, friendly competition.
One thing that is generally clear is that any attack from Outside the region generally pulls all the communities together in defense. The recent Washington court decisions that could shut down the Southeast Summer Troll Season is an example of that, as nearly all the communities in Southeast have stepped up to fight any fishing closure. Southeast communities are also generally in agreement that mines on the Canadian side of the transboundary rivers could harm the environment in Alaska without providing any appreciable economic benefit to Southeast itself.
Of course, none of this precludes Southeast localities from trying to occasionally get the upper hand over each other. And this is the story of an "incident" of possibly just that in 1920.
It comes from a time when Ketchikan and Wrangell, approximately 90 miles apart, were still engaged in vying for supremacy in Southern Southeast and it comes courtesy of Wrangell historian Ronan Rooney, whose website wrangellhistoryunlocked.com is the go-to place for the history of the "Gateway to the Stikine."
Rooney was recently researching something else when he came across interesting story in the Jan. 29, 1920 edition of the Wrangell Sentinel entitled "An Unexpected Quarantine Against Wrangell." The subtitle added "But Was Too Short a Duration to Do Any Harm."
According to the story, the steamship City of Seattle had just arrived in Wrangell on one of its regular 1920 runs up the Inside Passage. But it was no normal arrival.
"No sooner had the steamer tied up at the dock than a local transfer man attempted to go aboard as usual," the Sentinel reported. "A guard at the gangplank turned him back, at the same time informing him that no Wrangellites would be permitted to go aboard nor would any through passengers be permitted to come ashore."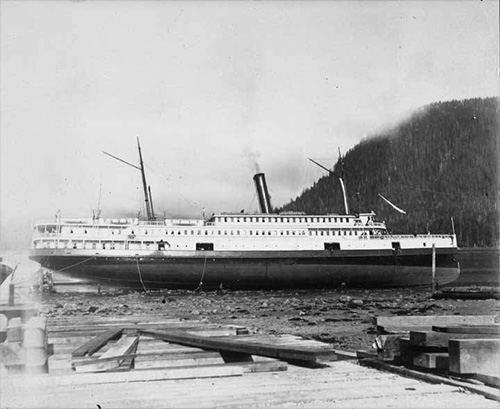 Passenger steamship "City of Seattle" - 1905
Collection Name: Edith G. Fish Papers
Courtesy Alaska and Polar Regions Collections, Elmer E. Rasmuson Library, University of Alaska Fairbanks
When asked where the "quarantine" came from, Wrangell officials were told it had been ordered by Ketchikan Mayor Robert Petty. At first local officials, including Mayor Pritchett, thought the "quarantine" was either a joke or a prank, but they discovered that the crew of the City of Seattle was taking it all very seriously.
"When asked what it was about, Capt. Bob McGilivray very courteously explained that Ketchikan had established a quarantine against Wrangell on account of smallpox at Wrangell," The Sentinel reported. "He also stated that before sailing from Ketchikan notice was served on him personally by Ketchikan authorities that if passengers were taken on board or permitted to go ashore at Wrangell, his vessel would be quarantined."
The only problem, it soon became clear, was that Ketchikan didn't have any authority to implement such a quarantine on any other community. From 1919 to 1922, the Spanish Influenza outbreak caused some communities to limit ships from the Outside from arriving in their communities, but no community had the authority to declare any "quarantine" in another community. That was up to the Territorial Board of Health.
According to the Sentinel, Dr. Shurick was "rousted out of bed" to come down to the ship to provide a statement indicating there was no smallpox in Wrangell at the time.
"Under his signature, Dr. Shurick wrote 'Acting Assistant Surgeon of the Public Health Service of Alaska' which would carry as much weight as any official notices the steamship company had received from the municipality of Ketchikan," the Sentinel noted. "The mayor delivered the health officer's note to Captain McGilivray, and he immediately notified the purser that passengers would be taken on from Wrangell, and that any one aboard who cared to go ashore could do so."
The Sentinel noted that Dr. Shurick also took additional action
"He sent a pointed message by cable to the mayor of Ketchikan," The Sentinel reported. "He sent another cablegram to the Territorial Commissioner of Health informing him that Ketchikan had established an unwarranted quarantine against Wrangell. He then furnished Agent Leo McCormack of the Pacific Steamship company a copy of the official notification he had sent to Captain McGilivray...Later in the day Mayor Pritchett was notified by cable from Seattle that the steamship companies would continue to book passengers to Wrangell as usual."
Meanwhile, the Sentinel also reported that both Ketchikan newspapers in 1920, the Chronicle and the Daily Times, had reported that Mayor Petty had informed them of 10 smallpox cases in Wrangell, as well as six cases in Klawock and four in the long-ago community of Shakan, which was also on Prince of Wales Island.
"Mayor Petty said that if anyone landed anyone from any of the boats coming from any of the above named towns, they would be placed in quarantine in Ketchikan for a period of 21 days," The Ketchikan Daily Times reported. "All mail coming from these towns will be fumigated before being handled in Ketchikan. Every precaution will be taken to prevent the epidemic from gaining a foothold in Ketchikan and health officers are vigilantly watching every boat which arrrives."
The Sentinel was not amused by that.
"The thought of Wrangell being bottled up indefinitely on account of a 'small pox epidemic' that was a myth, a delusion, and a snare, was anything but a pleasing prospect,'' The Wrangell newspaper noted, also adding that a cable had been sent to all of Southeast Alaska from the Territorial Health Commissioner letting everyone know there was no smallpox outbreak in Wrangell and that cable then received the following cable from Ketchikan,
"Wrangell. Glad to hear quarantine unnecessary. Lifted immediately. Thanks for prompt information. Petty, Mayor, Ketchikan."
The story ended there, with no speculation on why Ketchikan felt it necessary to try to shut down its northern neighbor over an apparently non-existent smallpox outbreak in January of 1920.





On the Web:
Columns by Dave Kiffer

Historical Feature Stories by Dave Kiffer
Dave Kiffer is a freelance writer living in Ketchikan, Alaska.
Contact Dave at dave@sitnews.us
Dave Kiffer ©2023
Publication fee required. ©
If you would like to reprint/republish this article, contact Dave Kiffer for permission and to arrange payment of publication fee.
Representations of fact and opinions in comments posted are solely those of the individual posters and do not represent the opinions of Sitnews.


Send a letter to the editor@sitnews.us
Contact the Editor
SitNews ©2023
Stories In The News
Ketchikan, Alaska

Articles & photographs that appear in SitNews are considered protected by copyright and may not be reprinted without written permission from and payment of any required fees to the proper freelance writers and subscription services.

E-mail your news & photos to editor@sitnews.us

Photographers choosing to submit photographs for publication to SitNews are in doing so granting their permission for publication and for archiving. SitNews does not sell photographs. All requests for purchasing a photograph will be emailed to the photographer.