Seeking the Right to Vote
A century ago, Native Leaders Charlie Jones and Tillie Paul were charged with a crime
By DAVE KIFFER

November 20, 2022
Sunday

(SitNews) - November 7, 1922 was a lovely day in Wrangell. We know that because Judge James WIckersham, then living in Wrangell, noted it in his diary the "fine weather."
But there was a storm brewing that even Wickersham, the longtime Alaska political leader, was unaware of. And the storm would establish once and for all, that the Native residents of Alaska would have the right to vote, no matter what obstacles were put in their way by the power structure.
At the center of the debate were Charlie Jones, also known as Chief Shakes VII, and Matilda (Kinnon) "Tillie" Paul. Jones, who had voted before in Wrangell elections, wanted to vote that day. When the poll workers said no, he came back with help from Tillie Paul. Both were charged with breaking the law.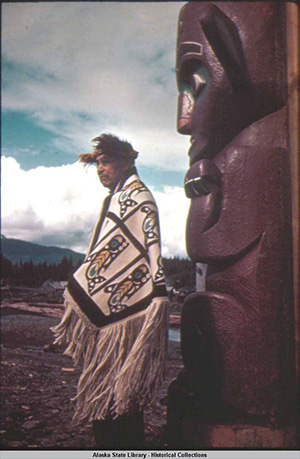 Formal portrait of Charlie Jones, also known as Chief Shakes VII, wearing the Killer Whale Flotilla Robe. Around 1935 to 1944
Title and description and Photo courtesy Alaska State Library - Historical Collections, Juneau, AK
Dora M. Sweeney. Photographs, 1935 - 1975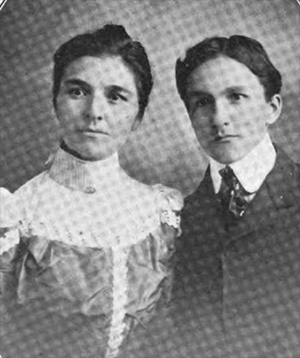 Matilda "Tillie" Kinnon Paul Tamaree and her son William Paul, circa 1902
Courtesy Wikipedia Commons
Photograph by Bachmann, New York - Mary Lee Davis, We are Alaskans, 1931
Public Domain
The question of whether or not Jones could vote was based on a disagreement over which law governed the ability of Natives to vote in Alaska, the federal Dawes Act of 1887 and the Alaska Territorial Citizenship Act of 1915. The Dawes Act considered Natives who were born in the territory that was now part of the United States to be eligible for citizenship - which they would have to apply for - in order to be able to vote. The Alaska Citizenship Act added some caveats such as "evidence" of the "habits of civilization" such as being able to read and write and live in a manner that was considered "civilized."
Charlie Jones had been born in Wrangell in 1865, so he qualified under the Dawes Act. But it was clear that the poll workers in Wrangell were going to determine that he didn't qualify.
When Jones arrived at the polling station, he was met by three poll workers, C.E. Weber, Ole Gunderson and Leonard Churchill. Churchill was in charge of voting that day. In fact, Churchill was in charge of many things in Wrangell in those days. He had first arrived in the community in 1887 and had held many positions of authority over the years.
It is said that political leaders frequently know all their constituents. In Churchill's case that was literally true. Churchill filled out both the 1920 and 1930 Wrangell US Censuses by hand. So, he knew every resident in the community, including Jones, whom Churchill had certified was a "citizen" in 1920.
But in 1922, when Jones asked for a ballot, Churchill told him that he could not vote because he was not a "United States Citizen."
Jones left but later he was talking to Tillie Paul, who was his in-law because two of their children were married, and she convinced him to try again. According to Fred Paul, Tillie's grandson, the conversation - as recounted in Ronan Rooney's "Wrangell History Unlocked podcast" - went as follows:
"What is the matter, Kuh-dah-nay'eek?" she asked him
in Tlingit, using his Native tongue.
"I've just come from the voting place," he replied, "and
they won't let me vote."
"Come with me," she said. "We are going right back there to talk to them."
When they asked the poll watchers, Churchill responded again that Jones was not a citizen. Tillie Paul had had experience dealing with local officials attempting to disenfranchise Natives previously. She encouraged Jones to swear an oath that he was a citizen. This made it a matter of his word versus Churchill's. He did so and the election board allowed him to vote.
That, of course, was not the end of it.
Churchill took his complaint that Jones had illegally voted to the court system. A grand jury, of white residents in Ketchikan, found there was enough evidence to accuse Jones of illegal voting and perjury for testifying he was "civilized."
The grand jury, empaneled by District Attorney Arthur Shoup, determined that Jones was "illiterate" and therefore not "civilized." Paul was charged as an accessory to Jones' perjury and the act of his voting.
Jones and Paul were arrested in March of 1923 and taken to Ketchikan. Both faced fines of $500 and three to six months months in jail. The Ketchikan trial began on Oct. 23, 1923. Both Jones and Paul had been out on bail since March, as several Ketchikan residents had provided bail for them.
William Paul, Tillie's son who was the first Alaska Native to pass the bar and be admitted to practice law in the territory, defended Jones and his mother. He was assisted in his efforts by Judge Wickersham, who had previously been an attorney for Churchil in another case in which Churchill had been charged with preventing a Native from voting.
The case was heard by Federal District Court Judge Thomas Reed. Almost immediately, Reed ruled that the federal law superseded the territorial law. In spite of that, Shoup pressed the government's case that Jones was "illiterate" and therefore incapable of voting.
Shoup also presented evidence that Jones had served proudly as Chief Shakes VII since 1916 and therefore renounced any American citizenship rights.
The main gist of Paul's counter arguments was that the Alaska law did not specifically mention "literacy" as a condition for "citizenship." Paul also noted that Jones owned a house, paid taxes, made charitable contributions to local groups and generally "lived like a white person."
According to those that knew him, William Paul also indicated he had been prepared to use what he called "the toilet paper" defense if it had been necessary. He would have entered evidence of the use of toilet paper to show that Jones was civilized. But it was clear at the time that the other evidence of Jones' "civilized deeds" was enough.
And it was.
After a brief deliberation, the jury ruled that Jones had not broken the voting law and not committed perjury. Charges against Tillie Paul were then dropped.
Although it would be another two decades before full civil rights were accorded to Alaska Natives, their ability to vote was codified by the results of the trial.
Meanwhile, life would go on for Tillie Paul, Charlie Jones and WIlliam Paul.
Tillie, who had long been leader in Native affairs, would be elected the ruling leadership of the Presbyterian Church of the United States, one of the first indigenous women so honored on the national level.
Charlie Jones would preside at a national celebration in 1940, the opening of the Native Park on Shakes Island in Wrangell Harbor. Jones would be the last Chief Shakes.
In 1924, William Paul would be the first Native Alaska elected to the territorial legislature. He would continue to advocate for Native Civil Rights and would be the driving force behind the Alaska Native Claims Settlement Act of 1971.



On the Web - Historical Documents:
Criminal Case file for USA vs. Tillie Paul Tamaree for inducing an Indian vote (1923)
Alaska State Archives

Criminal case file for USA vs. Charlie Jones for perjury (1923)
Alaska State Archives

Criminal case file for USA vs. Charlie Jones for illegal voting (1923)
Alaska State Archives
On the Web:
Columns by Dave Kiffer

Historical Feature Stories by Dave Kiffer
Dave Kiffer is a freelance writer living in Ketchikan, Alaska.
Contact Dave at dave@sitnews.us
Dave Kiffer ©2022
Publication fee required. ©
If you would like to reprint/republish this article, contact Dave Kiffer for permission and for payment of publication fee.
Representations of fact and opinions in comments posted are solely those of the individual posters and do not represent the opinions of Sitnews.


Send a letter to the editor@sitnews.us
Contact the Editor
SitNews ©2022
Stories In The News
Ketchikan, Alaska

Articles & photographs that appear in SitNews are considered protected by copyright and may not be reprinted without written permission from and payment of any required fees to the proper freelance writers and subscription services.

E-mail your news & photos to editor@sitnews.us

Photographers choosing to submit photographs for publication to SitNews are in doing so granting their permission for publication and for archiving. SitNews does not sell photographs. All requests for purchasing a photograph will be emailed to the photographer.