'The example we want to follow'
Legendary bush pilot Herman Ludwigsen dies at 95
By DAVE KIFFER

March 27, 2023
Monday

(SitNews) - Herman Nels Ludwigsen packed a lot of action into his nine decade life. He was a bush pilot, a commercial fisherman and an Alaskan Hall of Fame trapper.
Ludwigsen died in Ketchikan on February 14 at the age of 95.
Ludwigsen was born in Seattle on Nov. 20, 1927, the youngest of eight children of Nels and Amalie Ludwigsen. Nels was a boat builder who relocated the family to Ketchikan in 1938. He had grown up in Denmark and jumped ship in Seattle in the years before World War I.
As a young boy, Herman Ludwigsen remembered "falling in love."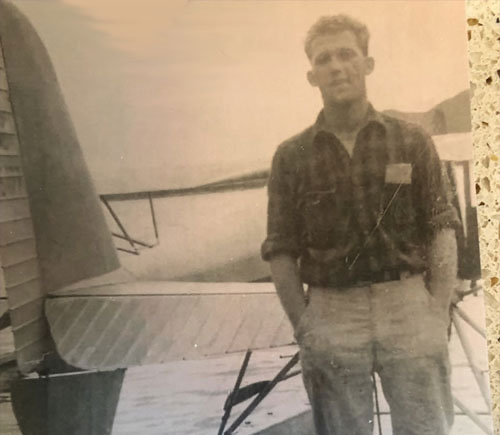 Herman Ludwigsen as 21-year-old pilot in 1948.
Photo courtesy Herman Ludwigsen
"I was six or seven years old," Ludwigsen said in 2020. "I had to walk down past the apple trees on Commodore Way to see her. She was a grand old lady. You could see she had good structure and fine lines. She was a 1930s biplane."
His early years on the Seattle waterfront brought him in close proximity to the burgeoning Seattle aviation industry, especially the seaplanes he saw buzzing about. He knew early on that he wanted to eventually fly.
In 1938, the 10 family members piled into a 36-foot trolling boat that Nels built and headed north for "better opportunities." It took nearly two weeks to reach Ketchikan and Ludwigsen said the rough weather made them all sick.
The family eventually found a home along the Tongass Avenue waterfront as Nels and older brother Harry developed their boat building and repair businesses. Herman was more taken with the numerous air taxi businesses nearby.
As a boy, Herman was a "dock rat" for aviators like Jimmy Reinhart, Herb Munter and Ray Renshaw. He also sold newspapers, did deliveries for the nearby Golden Rhine Brewery, and helped unload halibut boats at Ketchikan Cold Storage.
He says he was plenty smart enough to be a good student but was more interested in fishing and hunting, and basketball.
His basketball prowess was important at Ketchikan High School and he led the then named Polar Bears to two state titles as a high scoring forward. He was also student body president, but he didn't complete his senior year.
"I was fooling around in back (in class one day)," Ludwigsen said in 2021. "(the teacher) stood me up in class and said 'what did you come to school for?' and I said 'to play basketball.' She said 'get out.' Out the door I went, and I never came back."
Ludwigsen had already begun commercial fishing with his father and older brother Arnold and soon he had his own trolling boat which he fished during the war, primarily along the inner coast of Prince of Wales from Hadley down to Cape Chacon. After the war, he acquired a larger boat, the Don Carlos, and he fished that boat until 1950, when he joined the Army.
"The Army saved me," he noted in 2020.
Ludwigsen had grown tired of commercial fishing by the late 1940s and was also concerned that the salmon runs were in steep decline. Like more than a few other local fishermen, he blamed the dozens of fish traps in the area, and he was more than happy to "rob" those traps when the opportunity arose. More than 70 years later, he still smiled when he talked about taking salmon from the cannery traps and then selling the same fish back to the canneries.
He said that he and his fishing partner Ed Allain spent a lot of time "outrunning the Pinkertons," the detectives that the canneries hired to chase down the pirates.
But Ludwigsen said he always had an eye skyward while fishing, wishing someday to make his living as a pilot. During World War II, he trained to fly with Pete Cessnun and Jim Webber.
When the Army called in 1950, Ludwigsen happily went ashore. He was posted in Western Alaska and spent most of his time working on aircraft in Bethel. It was there he met Anita Loeb, whose family owned a restaurant. They would be married for 70 years.
In 1952, his tour ended, and he joined the reserves. With the help of Anita's father, he purchased and rehabbed a plane. Herman then flew it to Ketchikan. It didn't have floats and Herman caused a bit of a stir when he used the South Tongass Highway (then just a narrow dirt road) near Mountain Point as his landing strip. Larry Erickson, Oral Freeman and others were his ground crew.
(See "A South Tongass Airport?" SITNEWS, June 22, 2020)
Ludwigsen put floats on his Piper Supercruiser and then spent the next few years working unofficially as a pilot, basically being available to take anyone anywhere, just not as an official commercial flight.
He also took part in several search and rescue missions.
Most famously he found the downed plane of Texas oil baron/aviator Ellis Hall. Hall and several family members disappeared after leaving Annette Island in 1953. The family and the oil company offered a $30,000 reward ($280,000 in 2023 dollars) and Ludwigsen found the crashed plane a month after it disappeared in the mainland mountains between Ketchikan and the Canadian border. Ludwigsen used some of the money for family purchases but shared a chunk with other pilots who engaged in the search, and also gave his brother Harry money to spruce up the Walker Field baseball park.
(See "Ketchikan Pilot Found Millionaire's Plane," SITNEWS, March 25, 2020)
Over the years, Ludwigsen found numerous downed planes and was proud that he had taken part in so many rescues and recoveries.
As Ludwigsen's notoriety as a pilot grew, it was suggested that he needed to get his commercial certifications in order and he flew to Seattle to do so in 1955, even though he already had more than 2,000 hours of flight time.
When he came back freshly certified in 1956, he said, the local market was too crowded with pilots. He noted that he applied for Ellis Airlines, then the dominant regional carrier in Southeast Alaska, but that the company felt he was a little too "seat of the pants" for their operations, so he and Anita went back to Bethel and opened up a flight service there.
For the next nine years, he flew in western and northern Alaska. At one point he flew for Wien Air and at another point he flew heavy duty cargo flights between Fairbanks and the North Slope. He also spent a lot of time flying oil prospectors around to various sites in the north.
In 1965, they decided they needed to move back to Ketchikan because the community provided more opportunities for their family, which by then had three children. They were especially keen on a better educational system for their kids.
In fairly short order. Ludwigsen became the chief pilot for Webber Air, a position he held for more than a decade. He was particularly known for piloting Webber's Grumman Goose from one end of Southeast to the other, including trips into northern BC. He carried everyone from loggers and fishermen to movie stars and US Senators.
A couple of notable trips involved sea otters as passengers, as the state brought down the furry creatures from the Aleutians to repopulate Southeast where the otters had been wiped out. He even took a group of the otters down to museums and aquariums in British Columbia.
(See "Planes Aren't the Only Otters that Have Flown in Southeast," SITNEWS, April 13, 2020)
In the late 1970s, Ludwigsen became the chief pilot for Tyee Airlines. Then he became a corporate pilot for Southeast Stevedoring until his retirement in 1998. He finished with more than 32,000 hours of flight time.
He and Anita moved to Wrangell for several years to be closer to family but eventually returned to Ketchikan.
In 2020, he was honored by the Federal Aviation Administration with the Wright Brothers Master Pilot Award. His exploits as a long-time trapper in the area gained him induction into the Alaska Trapping Hall of Fame in 2001. His community basketball teams won the Juneau Gold Medal tournament multiple times in the 1940s and 1950 and Ludwigsen is in the Gold Medal Hall of Fame. He was also honored by the US Air Force in the 1950s for his efforts to locate downed and missing planes.
Ludwigsen's hunting and trapping exploits were frequently reported on in the Alaska Sportsman magazine in the 1950s and 1960s.
Ludwigsen's grandson, Max, is also a pilot and worked to see his grandfather honored by the FAA. Three longtime Ketchikan pilots offered testimonials.
"Herman is a legend in Ketchikan," Jeff Carlin of Carlin Aviation said in 2020. "He trained me to be a pilot and was my mentor for many years. He was the man to work with, be trained by, and emulate."
Like Carlin, Mike Cessnun also started out with Ludwigsen as a "dock boy." He called Ludwigsen "one of my true heroes" and a "larger than life figure."
"Herman had an instinct and a knowledge of flying in Alaska that was a rare gift," Cessnun said in 2020. "He had a knack for helping you learn not just so you could be better pilot but to keep you alive."
Kirk Thomas, who employed Ludwigsen at Tyee, also called him a "legend."
"Without exception we all look to Herman as the example of what we want to follow," Thomas said in 2020.




On the Web:
Columns by Dave Kiffer

Historical Feature Stories by Dave Kiffer
Dave Kiffer is a freelance writer living in Ketchikan, Alaska.
Contact Dave at dave@sitnews.us
Dave Kiffer ©2023
Publication fee required. ©
If you would like to reprint/republish this article, contact Dave Kiffer for permission and to arrange payment of publication fee.
Representations of fact and opinions in comments posted are solely those of the individual posters and do not represent the opinions of Sitnews.


Send a letter to the editor@sitnews.us
Contact the Editor
SitNews ©2023
Stories In The News
Ketchikan, Alaska

Articles & photographs that appear in SitNews are considered protected by copyright and may not be reprinted without written permission from and payment of any required fees to the proper freelance writers and subscription services.

E-mail your news & photos to editor@sitnews.us

Photographers choosing to submit photographs for publication to SitNews are in doing so granting their permission for publication and for archiving. SitNews does not sell photographs. All requests for purchasing a photograph will be emailed to the photographer.