A South Tongass Airport?
Not really, but a local pilot did land there once
By DAVE KIFFER
June 22, 2020
Monday PM


(SitNews) Ketchikan, Alaska - Before the middle part of the 20th Century, Southeast Alaska was a generally unhospitable place for land planes.
Most planes that transited the Inside Passage had floats, allowing them to land on any suitable waterway, such as lakes or the saltwater near the communities. There were some large beaches in the region that were big and flat enough for small wheeled planes to land on, but this was considered an emergency option because those beaches were not located near any of the region's far flung larger communities.
In the 1930s, flat land at the mouth of the Mendenhall River was turned into a small airport for the Juneau area. During World War II, military airports were built in Sitka and Ketchikan (Annette Island) to support the war effort and those eventually became civilian airports after the war.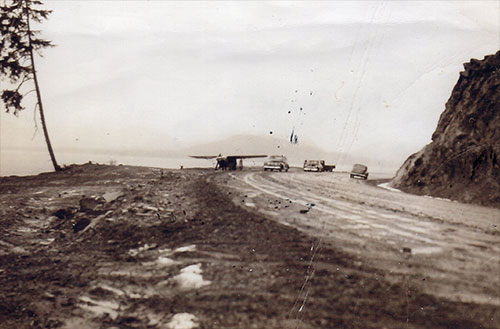 Herman Ludwigsen landed his Piper plane at Mountain Point in 1953.
Photo courtesy Herman Ludwigsen ©
Ketchikan's airport was somewhat problematic for the community, being located some 20 miles away from Ketchikan on an entirely separate island. While larger wheeled planes and early jets could land on Annette Island, passengers to Ketchikan were still required to get into smaller float planes and amphibians if they wanted to continue to on the First City.
In the early aviation years, there were occasional reports of wheeled planes landing on beaches near Ketchikan, particularly on the north end of town, but these were rare occurrences.
Therefore, it was big news, and worth of stories in both Ketchikan's daily news papers, when local pilot Herman Ludwigsen decided to attempt to land a wheeled plane on the South Tongass Highway near Mountain Point in 1953.
Ludwigsen, a local fisherman and pilot, had completed a tour of duty with the Army in Southwestern Alaska. He learned how to fly before leaving Ketchikan in the late 1940s and had spent his enlistment flying for the Army in the Yukon-Kuskokwim area.
His tour of duty ended in 1952 and he signed up four years with the Army reserve rather than re-up his regular Army duty. His father-in-law, Max Lieb, bought Ludwigsen a Piper Supercruiser on wheels. Ludwigsen decided to return to Ketchikan to continue his aviation career.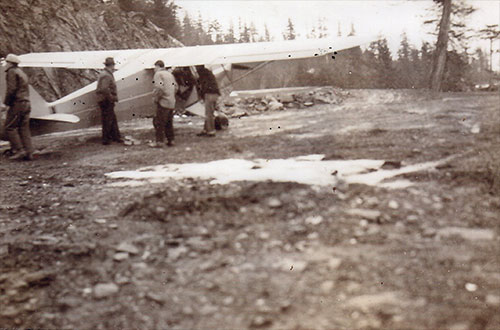 Photo courtesy Herman Ludwigsen ©
As his Army time wound down, Ludwigsen had been planning to get an airplane and return to Ketchikan where he had learned to fly in the mid 1940s. He had his eye on a semi-derelict plane in Bethel.
"The plane was rough," he said. "The fabric was all ripped up, it had been sitting just off the dirt strip for years. It was a sad wreck. I could see it every time I went for a walk on the side of the runway and started asking questions."
The purchase price was $1,500, or $14,500 in 2020 dollars. And that was only the beginning, as Ludwigsen then spent four months rehabbing the Piper from the ground up.
"I rebuilt the whole thing," he said. "Rebuilt the engine, refabricated the fuselage. Your refabric jobs are tough, you have to stretch them tight, make sure all the joints, the connections, the tubings are not rusted or corroded and fall apart on you. It was just a matter of doing the damn thing right."
When the plane was ready to fly, Ludwigsen was ready to go to Anchorage to get his Army discharge and then go home to Ketchikan, a distance of more than 1,100 miles, the longest flight distance he had flown up to that point.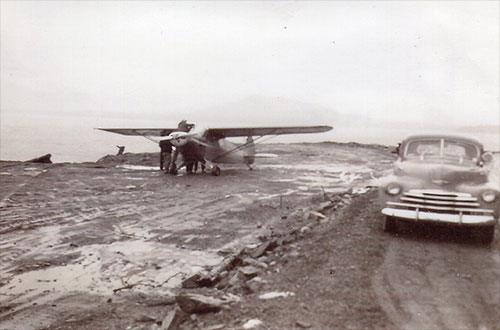 Photo courtesy Herman Ludwigsen ©
"Flew the whole way without a radio," he said. "When you do that you fly by the airport and let them know you need to make a landing, you make one pass on the downwind run and you blink your running lights and he sees you and he gives the red light, meaning don't land or go around. Or gives you a green light, okay, come in to land. That was years ago, it happened that way because you don't have much communication."
Ludwigsen planned to fly first to McGrath, then Anchorage, then Yakutat, Juneau and finally Ketchikan.
"Anyone with any sense wouldn't have left," he said. "It was late November. I was on wheels, no skies, no radio, never having flown there before. (I was) just some dumb guy who took it and went. I can't believe it (now)."
After flying past Aniak, Sleetmute, and Crooked Creek, he got into trouble.
"All hell broke loose," he said. "A big snow storm. (Later) looking at my charts, I wouldn't have made it anyway. I was flying ground contact. So I turned back and landed at Crooked Creek. I overshot the runway because it was snowing heavily. Once I got on the ground I turned back."
He said the local school teacher in Crooked Creek came out to meet him.
"He looked at me and smiled," Ludwigsen said. "He said 'did you see that all the first 300 or 400 feet (of the landing) was all six inch stumps? You're very lucky."
They had been extending the runway and had chopped down numerous alder trees, but hadn't finished and the "runway" was filled with numerous stumps. Somehow, Ludwigsen's plane had dodged them all.
"It would have torn me apart," Ludwigsen said.
The next day, he flew on to McGrath and then went through the Alaska Range via Ptarmigan Pass to Anchorage's Merrill Field.
"It's kinda bumpy and rumpy (through the Range) and you hope to hell you get through to the other side," he said. "A lot of planes don't. There's a lot of pieces of them there."
The weather from Anchorage to Yakutat was "sketchy" he said, but when he arrived in Yakutat he was treated to a Thanksgiving dinner. There was heavy snow, again, between Yakutat and Juneau.
"The FAA in Juneau said 'don't go' he said, remembering getting ready to leave Juneau to go south. "But I had to go, I want to go home. After I passed Cape Fanshaw it was warmer."
The weather, he said, was generally good from there on to Annette Island.
Would he do that flight again, under those circumstances?
"Oh hell no," he said. " These days, I yell at guys for flying around here on wheels, just going to Petersburg or Wrangell."
He was very happy to get to familiar territory.
"Annette was beautiful, two or three big runways," he said. "They (the Coast Guard at Annette) knew I was freshly discharged from the Army and they left me come in and hide out for the winter (leaving his plane in one of their hangers). In the Springtime, Captain comes and says 'Herman, you gotta go.' "
The Coast Guard needed the hanger, but Ludwigsen was already planning to get the plane to Ketchikan.
"I had never landed on a road before, but Larry Erickson and I went out (to Mountain Point) a few times to look and see where the wires were, which trees were leaning which way," he said.
He also had to convince the territorial highway patrol that it was okay to land on the dirt South Tongass Highway. Oral Freeman - later Ketchikan mayor and state legislator - was the highway patrolman.
"I think he probably thought I was (crazy)," Ludwigsen said. "I said 'Oral, I gotta land here, it won't take long. Coming from up north, he maybe thought I did know something about landing (in odd places) on wheels."
Freeman and several of Ludwigsen's friends made sure the roadway was clear and he flew over.
"After I touched down, it seemed like everyday stuff," Ludwigsen said. "As far as I know, it's the only time a plane has landed on a Ketchikan highway."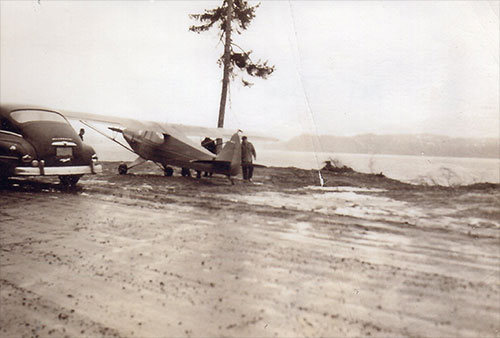 Photo courtesy Herman Ludwigsen ©
But it wasn't everyday stuff to both Ketchikan newspapers, the Chronicle and the Daily News, which printed stories on the landing.
The Daily News, which had been advocating for an airport on Revillagigedo Island proudly noted the first landing on the "Mountain Point airport."
The Chronicle also considered it a milestone.
"When Herman Ludwigsen landed his 3-place Piper Cruiser plane at Mountain Point yesterday, he was not instituting a new mail-passenger service to the burgeoning community," the Chronicle noted. "Instead he had been forced to move the wheeled plane from its hanger on Annette."
In those days, Mountain Point - five miles south of Ketchikan - considered itself a suburb of Ketchikan with a small grocery store, a church, a roadhouse and a residential area.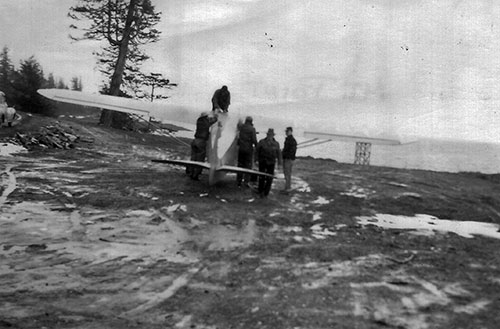 Photo courtesy Herman Ludwigsen ©
After landing, Ludwigsen removed the wings from the Piper and brought it into Ketchikan and stored it at the family boathouse. He installed floats on the plane and re-installed the wings, causing him to go back through the tedious process of putting the fabric on the wings, with the help of local seamstress Harriet Olson.
"Had to rebuild the wings, that took a long time," he said. "Had to buy fabric to recover the wings and sew the fabric on with big long needles. I would push the needle through and Harriet on the other end would grab it, make sure the rip stitching was over the ribs. Real tough stuff. You had to make sure the fabric doesn't rub on the wing strut or the rib. You have to make it tight."
Ludwigsen eventually sold the Piper and it was taken to Anchorage, where it was destroyed years later in a crash.
"I got a message, someone sent me a little ID tag (from the inside of the cockpit door)," Ludwigsen said. "It said 'Herman, here is what is left of your plane.' "
But he noted that the serial number was transferred to a new plane, so the little Piper lived on in spirit.
It would be another 20 years, 1973, before the current Ketchikan International Airport was built on Gravina Island, a short ferry ride from Ketchikan's West End, ending the future need for pilots to land on local roadways to reach Ketchikan.
On the Web: