Ketchikan pilot found millionaire's plane crash in Boca de Quadra in early 1950s
Herman Ludwigsen had a long career of finding downed planes, flyers
By DAVE KIFFER
March 25, 2020
Wednesday PM

(SitNews) Ketchikan, Alaska - Most area residents are familiar with the plane crash of legendary pilot Harold Gillam in Boca de Quadra back in 1943. But almost exactly a decade later there was another crash in Boca de Quadra, barely a mile away from where Gillam's plane when down.
This one involved Ellis Hall, the multimillionaire owner of Texas-based Condor Petroleum. Hall was on a vacation with his wife, two daughters and a family friend to Southeast Alaska. After visiting Juneau, Ellis was piloting his de Havilland DH 104 Dove, a large twin engine plane. The plane would disappear after leaving Annette Island on August 17, 1953 leading to a month long search, before the wreckage was found by Ketchikan pilot Herman Ludwigsen.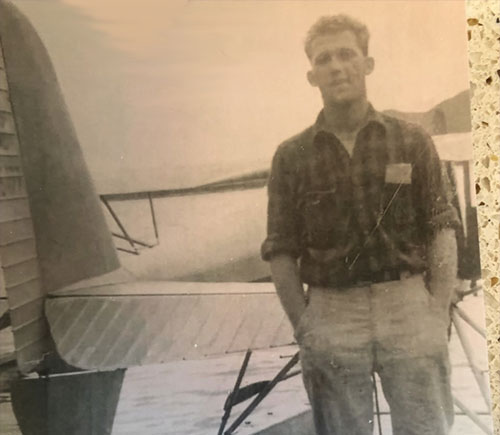 Herman Ludwigsen as 21-year-old pilot in 1948.
Photo courtesy of Herman Ludwigsen ©
Hall had landed his plane at Annette because the weather was beginning to deteriorate but was determined to press on to his next stop, in Smithers, B.C., on the way home to New Mexico.
"He knew that Ellis Air was not flying as the winds were 80-90 mph," Ludwigsen, 92, said recently. "He decided to leave anyway. He did not make it."
When Hall was reported missing it created one of the biggest searches in Southeast Alaska history.
"What happened was it was pretty (bad) weather and they picked up ice and then the turbulence became bad and they tried to go back (to Annette) but the ice and the heavy turbulence impacted the airplane and it fell apart in the air," Ludwigsen said.
Ludwigsen said the debris - when the plane was finally found, not far from where Gillam's plan had gone down a decade before - was spread over a large area so it was clear the plane came apart in the air rather than when it hit the ground.
"Everyone in town was searching for 30 days," Ludwigsen said. "All the gas was free from Condor Petroleum. They had wanted nine planes searching. The Canadian and US Coast Guard were involved and after they stopped searching, Condor still wanted the little guys to continue. (Hall) was the owner of a big company so lawyers wanted finality."
Condor Petroleum also offered a $25,000 reward for whomever found the plane. After a couple of weeks, it was increased to $30,000.
The search covered pretty much everywhere from 50 miles north of Ketchikan to Prince Rupert. For the first two weeks, the disappearance and search were national news and stories from Ketchikan appears in newspapers from coast to coast.
An example was an Associated Press story that appeared in dozens of papers three days after the crash.
The AP story noted that searchers were now looking 30 miles north of Ketchikan because two loggers at a camp on the northern end of Revillagigedo Island had seen a ball of fire on a nearby mountainside.
"A fish trap tender, operating about five miles from the logging camp, told of hearing a plane's engines Monday evening that suddenly died out," the Associated Press added. "A searching plane saw two clipped trees which might have been sheared off by a plane which, crippled, could have gone on before crashing."
Ludwigsen said that eventually the other pilots had to break off the search, but that because he was only working part time he continued looking during his off hours. He continued to poke into the valleys and the channels near Boca de Quadra with his Piper Super Cruiser. He said that he and other local pilots made a pact that if any of them found the Hall plane, they would split the $30,000 reward with the other pilots.
One day, after telling his wife Anita he was going duck hunting, he flew back down to Boca de Quadra and got lucky.
"I flew down and looked at the left side of Quadra at Porpoise Point," Ludwigsen said. "I was flying so close that I could see between the trees and then I saw something white laying on the ground. There had been lots of rain so the creeks were foaming white but this was not foam. It was not moving it just lay there between the big spruce trees. I circled back and look up the five mile valley for parts of the plane to the north. As I made a turn, I saw a green wing on the mountainside. I could see the circular part of the wing structure, I knew then it was plane parts."
It was also clear that none of the five people on board the plane had survived the crash.
Ludwigsen got a hold of Webber Air and determined that what he saw was not part of the Gillam plane which had been intact when it crashed less than a mile away from where he spotted the Hall wreckage. Ludwigsen continued to circle around and spotted more wreckage in the nearby valley.
"I flew back to Ketchikan and Bruce Johnstone and I were the first back to the shore," he said. "We walked up the mountain. The bodies had been there over a month and the animals and insects had taken their toll. Watches were stopped by the impact and a five-carat diamond ring glistened on one of the fingers."
The Coast Guard recovered the bodies, but most of the plane debris was left on site, just as had been done with the Gillam flight. Ludwigsen got his check for $30,000 (more than $280,000 today).
Ludwigsen said he donated $5,000 of the money to local charities and gave $1,000 to his brother Harry to build dugouts at Walker Field, where Harry Ludwigsen was a coach and longtime volunteer. He bought his wife a new washer and dryer and some other household goods and he paid for his mother to fly to Chicago to visit a brother she hadn't seen in 30 or 40 years.
"I invited all the other pilots and their wives to a dinner at the Narrows Restaurant," Ludwigsen said. "The pilots each had a $1,000 check under their plates."
Meanwhile, Ellis Hall's surviving children inherited some $24 million ($231 million today) in Condor Petroleum stock. One of his sons, James Ellis Hall, would go on to found Chaparral Motors, partner with Carroll Shelby, and become one of the world's premier race car designers.
In 2016 one of Hall's granddaughters visited Ketchikan on a cruise ship and met with Ludwigsen to thank him for finding the plane.
Ludwigsen would go on to a five - decade career in local state-wide aviation . He was involved in many other searches, recoveries and rescues over the decades.
Related Articles: