Asset Builders of the Month: Ketchikan's Boys and Girls Club
June 06, 2008
Tuesday

Ketchikan, Alaska - PATCHWorks has presented their monthly "Asset Builder" award to Ketchikan's Boys and Girls Club and the dedicated staff that make this program/facility available to so many of Ketchikan's youth. By providing healthy after-school-hours options for school-aged children, the Boys and Girls Club is fulfilling a vital community need.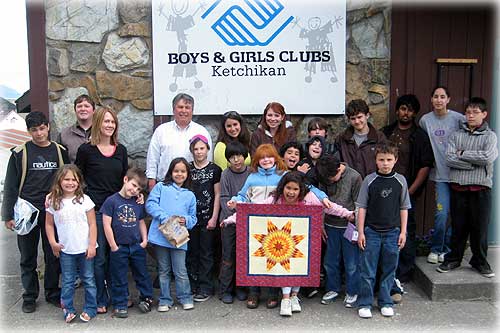 Asset Builders of the Month: Ketchikan's Boys and Girls Club
Michael Q. (staff members Chris Corrao, Megan Mix, Tony Azure- director, Kelley Ryan, Meagn Hanifin,) Eli M., Keagan H., John B., Maria B., Paul B., (front row) Bronson M., Ian W., Chance H., Bailey R., Emily C., Mollie R., Austin W., Kellie K., Pauline P., Mitchell R., and Kylee J.
Photograph courtesy PATCHWorks

The primary goal of the Club is based on developing positive interaction by creating an atmosphere where caring, professional adults establish positive relationships with youth. This involves some of the simple but important practices of knowing children's names, regularly checking in with them about how their day is going, and actively participating and interacting with them in their learning, games and activities.
Power Hour starts the afternoon whereby for a minimum of 30 minutes students are encouraged and helped to complete their homework. Those that finish are encouraged to read. No other activity goes on during this Power Hour. Students earn points and Club Bucks by completing homework and actively participating in the curricular programs.
The Boys and Girls Club follows a curriculum that includes 42 different programs. These programs all fall under five core areas that include Career and Education, Character and Leadership, Health and Life Skills, the Arts, and Sports, Fitness and Recreation. One of these core curricular areas is a focus each day on a rotating basis.
" Job Ready" is an example of a program that falls under the Career and Education core curriculum. Students are taught some of the "soft" skills related to seeking and holding a job and have the opportunity to visit with adults from the community who represent different occupations. The Torch Club (10 - 12 year-olds) and Keystone (13 - 18 year-olds) have elected officers and provide different services to the club and the community. These programs fall under the core curricular area of Character and Leadership.
The Club operates and depends on community support that is built on the concept of volunteerism and mentoring. Currently they are looking for adult mentors to work with 4th through 8th grade students either at the club or in the schools. Interested volunteers are encouraged to call or stop by the Club.
Executive Director of PATCHWorks Karen Easkes said, "PATCHWorks commends the efforts of everyone involved with the Boys and Girls Club for your asset building efforts. You are making a big difference for the youth of Ketchikan!"



On the Web:

Publish A Letter on SitNews
Read Letters/Opinions
Submit A Letter to the Editor
SitNews
Stories In The News
Ketchikan, Alaska