Asset Builder of the Month: Larry Eklund
July 21, 2007
Saturday

Ketchikan, Alaska - Larry Eklund has been selected by the PATCHWorks board members and director as PATCHWorks' Asset Builder for the month of July in recognition of his total dedication to the youth of Ketchikan for the past eleven years.
Ketchikan has been fortunate to have Larry Eklund as a school district administrator for the past eleven years said the Executive Director of PATCHWorks Karen Eakes. He and his wife Celia are retiring and leaving our community - at least as far as their permanent home said Eakes.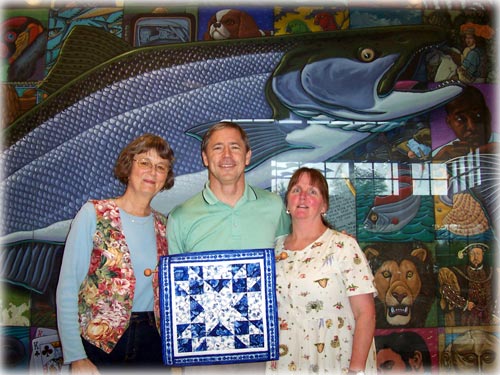 Karen Eakes, Larry Eklund and Susan Walsh
In the background is the Kayhi mural by Ray Troll
Photograph courtesy PATCHWorks

Eklund was the principal of White Cliff School for five years and served as principal of Ketchikan High School for the past six years. Eakes said in these roles Eklund has been an outstanding advocate for kids and what is in their best educational and personal interests.
After a PATCHWorks board member conducted an impromptu survey with students regarding Mr. Eklund's attributes a recurrent theme emerged - that of a powerful role model. A few sample comments included:
"He always puts other's needs over his own."
"He always listened to students."
"He;s a very hard worker."
"He didn't play favorites."
"He was always there at the games and activities supporting us."
"He didn't give up on me even when I was in trouble and felt like quitting school.- and it wasn't just me either!"
Eklund's staff at the Ketchikan High School expressed glowing comments about his positive leadership and commitment in the June edition of the Kayhi News. Among the many things they appreciated was how he demonstrated great trust in his staff by allowing them to create and develop programs that they believed would benefit students. They said that he always went the extra mile to keep at-risk students in school and believed that every student needed an advocate. Another comment was about his amazing school spirit exemplified by the creation of the Annual Student/Teacher Talent Show and his attendance at every Kayhi home function, game, match and performance. They referred to his tenure as principal of Kayhi as "a golden time in Kayhi's history." That is quite a testament said Eakes.
"PATCHWorks promotes the developmental assets in our youth and Larry Eklund exemplified the assets in his own life, while he was building them in the lives of our youth and our teachers. We greatly appreciate all that he has done for our community and wish him well in the future," said Eakes.
On the Web:

Publish A Letter on SitNews
Read Letters/Opinions
Submit A Letter to the Editor
SitNews
Stories In The News
Ketchikan, Alaska