Asset Builders of the Month: Naomi Michalsen
December 12, 2007
Wednesday

Ketchikan, Alaska - PATCHWorks has announced the nomination and selection of Naomi Michalsen as the Asset Builder of the month for December. Executive Director of PATCHWorks Karen Eakes said Michalsen has a long history of youth advocacy in every venue of her life and is being honored for this commitment.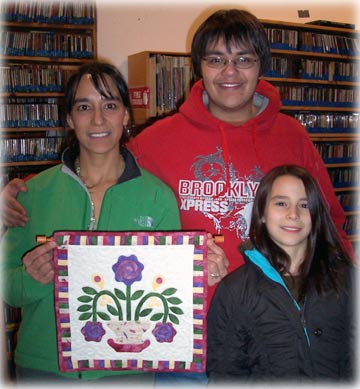 Naomi Michalsen and two of her children, Nick and Kaia. This photo was taken at KRBD where they honored Michalsen with a PSA lauding her efforts and accomplishments.
Photograph courtesy PATCHWorks
Eakes said Michalsen was recognized at the December 4th, T.A.L.K. event held in Ketchikan where Michalsen was presented with a beautiful quilted wall hanging donated by a member of the Rainy Day Quilters.
Through her work as the W.I.S.H. education specialist, she has provided continual outreach to the schools and communities of Petersburg, Wrangell, Metlakatla, and Prince of Wales on the important topic of violence prevention education said Eakes. Michalsen has been the coach of the Lady Kings volleyball team for the past ten years. Eakes said, "In that role she has taught countless young women the importance of healthy life styles, good sportsmanship, and the life skills of winning and losing through friendly competition. In the many hours spent coaching and in fundraising efforts, Naomi has built important positive relationships with her young team members."
Michalsen's personal interest in the development of creativity and the arts has led her to encourage young people to explore this venue. She has been instrumental in bringing the Los Angeles based creative drama and dance group, INSIGHT, to Ketchikan on several occasions which has inspired local young people to pursue their own creative interests and talents through open mic nights, Monthly Grind appearances, and other performing opportunities said Eakes.
Eakes said, "Through her own growing appreciation of her heritage, Naomi seeks to promote and increase understanding of Native cultural values and traditions in the Native youth of Ketchikan. She is an individual with a grounded and solid foundation in youth advocacy and is well deserving of the title Asset Builder."

On the Web:

Publish A Letter on SitNews
Read Letters/Opinions
Submit A Letter to the Editor
SitNews
Stories In The News
Ketchikan, Alaska