Asset Builder of the Month: Judge Trevor Stephens

November 21, 2006
Tuesday

Ketchikan, Alaska - Here comes the Judge! Judge Trevor Stephens is being recognized as the PATCHWorks "Asset Builder" of the month. We are very pleased and grateful for all of his efforts to make Ketchikan a better place for kids.
During the past four years he has volunteered his valuable time to educate and prepare young people to take on the various important roles in Ketchikan Youth Court. Over these years, countless interested youth from 12 - 18 years of age have attended nine weeks of classes in preparation for induction into Ketchikan Youth Court. This training includes an investigation of the U.S. Constitution, various State laws, the importance of total confidentiality, and the necessity of passing a bar exam. When completed, these youth are prepared to act as judges, prosecuting and defense attorneys, and bailiffs in cases passed to them from Juvenile Probation and District Court.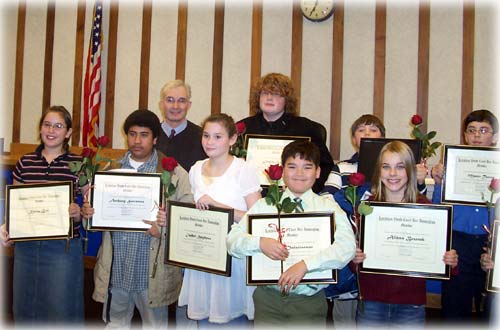 Judge Trevor Stephens is pictured with several of the students
inducted into the Youth Court Bar Association on Nov. 17, 2006
Photo courtesy PATCHWorks

Judge Stephens' efforts build youth assets in many ways. A few that are learned and reinforced in our youth are the importance of service to others, seeing themselves as community resources, reinforcing their roles as positive peer influences, observing positive adult role models, developing a sense of purpose, and building the values of social justice, integrity, honesty and responsibility.
One ex-student and Youth Court graduate said, "I can just tell you that he is absolutely wonderful as a teacher for the Ketchikan Youth Court classes. He was always extremely patient with all the students and would answer all questions, no matter how ridiculous! It was always interesting to listen to his law stories from over the years and these always seemed to relate to the subject being taught." Gretchen Klein, the KYC executive director, stated "He has generously volunteered approximately 200 hours over the yearsHe makes the course interesting and fun but always emphasizes the seriousness of the tasks ahead when they become members. We also thank his family for sharing him with us each year during this instruction."
On Friday evening, November 17th, the most recent inductees to KYC graduated with their friends and family in attendance. Judge Stephens was recognized for his valuable contribution to the success of Ketchikan Youth Court and their student members. He received PATCHWorks' thanks and a beautiful patchwork wall hanging created and donated by Rainy Day Quilters. He is a powerful asset builder. Thank you Judge Stephens!
On the Web:

Publish A Letter on SitNews
Read Letters/Opinions
Submit A Letter to the Editor
SitNews
Stories In The News
Ketchikan, Alaska