Asset Builder of the Month: Sue Medel
April 23, 2008
Wednesday

Ketchikan, Alaska - Sue Medel, one of Ketchikan's great Public Health nurses, has been nominated and selected as the PATCHWorks Asset Builder of the month. She was presented with this recognition at a recent staff meeting at Public Health and all in attendance agreed that the honor was well deserved.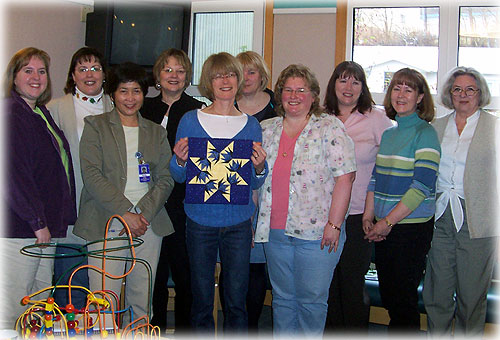 April's Asset Builder of the Month: Sue Medel
Pictured: Kara McCoy, Margie Gilmon, Emily McClory, Annette Hanson, Sue Medel, Deb Jepsen, Janine Frederickson, Brenda Jacobson, Pamela Wilsie, and Janis Endsley.
Photograph courtesy PATCHWorks

Medel's nominator had these words of praise for her. "Sue demonstrates extraordinary mutual respect and caring for the teens in Ketchikan. She is a special advocate for them and has been for many years. She believes in them and in particular, nurtures the development of the empowerment assets."
In talking to a few other people who come in contact with Medel's work with young people, one said, "First and foremost, she is about keeping young people healthy and safe through her work at Public Health. She always makes students feel better about themselves by letting them know they are good, even though they may not have made a good choice." Another said, "Her enthusiasm, ability to speak openly and frankly about sensitive health issues, and willingness to follow through with students has made her an important part of our program."
Karen Eakes, Executive Director of PATCHWorks said, "As many in the community may be aware, we have not had nurses in our schools for many years. However, Sue has been working informally with students in the Medical Technology class and helping them to see the nursing profession in a truly caring manor. In addition, she has been offering a free lunchtime yoga class once a week at the High School and Revilla. This has allowed her to teach important health information related to the practice of yoga, but also have the opportunity to talk informally with students about important health related issues that might not be discussed in a more formal setting."
"Sue Medel is a quiet but continual and intentional asset builder and that is what asset building is all about! PATCHWorks wants to thank her for all she is doing for the young people in Ketchikan," said Eakes.

On the Web:

Publish A Letter on SitNews
Read Letters/Opinions
Submit A Letter to the Editor
SitNews
Stories In The News
Ketchikan, Alaska