Asset Builder of the Month: First City Players
August 15, 2007
Wednesday

Ketchikan, Alaska - PATCHWorks presented their monthly "Asset Builder" award to First City Players at the recent children's musical, "Seussical, Jr." Those folks who were able to attend last weekend enjoyed a real treat and got a sense of why First City Players is being honored as a powerful asset building organization said Karen Eakes, Executive Director of PATCHWorks.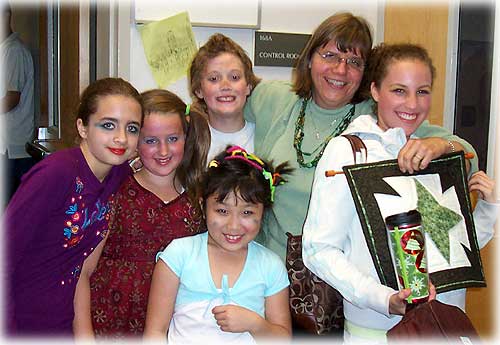 Elizabeth Nelson with some of the children that performed in "Seussical"
after their performance on opening night.
Photo courtesy PATCHWorks

Eakes said, "As research tells us, young people thrive in an atmosphere that encourages and supports them in trying new experiences. They thrive in situations where they can learn from adults in non-threatening ways. They thrive when they are allowed to express themselves through a variety of creative methods. They thrive when given the opportunity to take responsibility for themselves and demonstrate that they can be contributing members to a larger group effort. They thrive on challenge and the motivation that comes from doing a job to the very best of their ability. They thrive in situations that build their self-confidence and give them a sense of purpose."
She said through the various wonderful musical theater productions, 'guest artist' in the schools presentations, and summer ARTScool classes, First City Players provides young people with all of the above mentioned positive experiences and opportunities.
Elizabeth Nelson is the director of First City Players and her work with young people is a pleasure to watch said Eakes. "She can grab their attention, hold it indefinitely, and motivate them to do amazing things. And she does this with natural charm and caring."
Eakes said, "This award also goes to the unseen hardworking staff of FCP and the many, many generous volunteers and parents that make this organization function so effectively. PATCHWorks wants to recognize and thank all of the people who make up First City Players for their on-going contribution to the young people of Ketchikan and to the community as a whole."

On the Web:

Publish A Letter on SitNews
Read Letters/Opinions
Submit A Letter to the Editor
SitNews
Stories In The News
Ketchikan, Alaska