Asset Builder of the Month: Larry Mestas
February 06, 2008
Wednesday

Ketchikan, Alaska - The PATCHWorks' "Asset Builder" for the month of January is a person that has gone about his job as a custodian at Ketchikan High School for the past six years in a quiet, competent and dedicated manner. He enjoys what he does and it shows said Karen Eakes, Director of PATCHWorks in Ketchikan.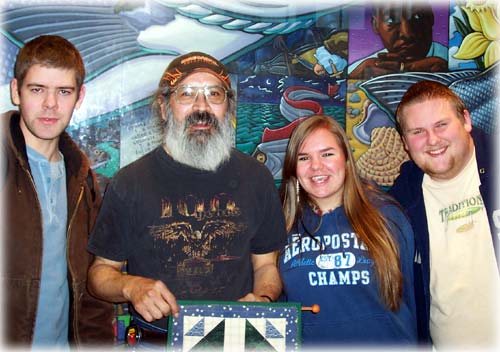 Ty Gass, Larry Mestas, Sarah Ring and Doug Fredrickson
Photo courtesy PATCHWorks

Larry Mestas, was nominated and selected as an "Asset Builder" by a student who has observed for quite awhile the positive manner in which he interacts and supports students at Kayhi said Eakes. According to the nominator, Mestas "has a smile and fun manner that makes students feel at home and look forward to seeing him in the hallways. He is always available to help a frustrated student with a jammed locker, with a friendly smile and a joke or two. - Not only does he do his job well, but he does it with a positive and genuine concern for students."
Mestas was surprised with his award on Friday, January 25th, at lunchtime in the Commons with a large percentage of the student body in attendance said Eakes. "The loud applause and cheering made it quite clear that he is greatly appreciated by the students and staff," she said. In addition to his duties as a custodian, and his total dedication to students and staff, he also supported a school-wide fundraising effort.
"To emphasize the importance of reading, Mestas posed on a motorcycle reading a book. He was photographed and posters were made with the caption "Read to Ride. Ride to Read." Larry autographed the posters with the message "Keep it clean!" and they were sold to students, staff and the public as a fundraiser called the Larry Mestas Lunch Duty Vocational Scholarship. It garnered funds to help send a Kayhi graduate to further vocational training," said Eakes.
Mestas was presented with a quilted wall hanging provided by the Rainy Day Quilters as a constant reminder to him that he is doing great work as an "Asset Builder." Eakes said, "Keep it up, Larry. You are an example for other adults in the community to emulate."

On the Web:

Publish A Letter on SitNews
Read Letters/Opinions
Submit A Letter to the Editor
SitNews
Stories In The News
Ketchikan, Alaska