Asset Builder of the Month: Miguel Torres
March 19, 2008
Wednesday

Ketchikan, Alaska - "Sometimes special people move to Ketchikan and immediately start to make a real difference in the lives of our community's youth," said Director of PATCHWorks Karen Eakes.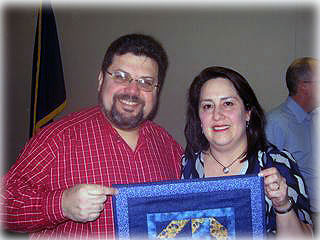 Asset Builder of the Month: Miguel Torres
"The PATCHWorks Asset Builder for the month of February is just such a person. We are pleased to announce the nomination and selection of Miguel Torres for this special recognition. Miguel and his family have only lived in Ketchikan for two years, but he has already positively influenced our community's youth in many areas and ways," said Eakes.
Torres was recently recognized with a great round of applause at the February 27th, Chamber of Commerce lunch. "At that time he was presented with a lovely quilted wall hanging made by a member of the Rainy Day Quilt Guild and received public recognition for some of the great things that he does for young people in our community," said Eakes.
Torres is a member of the leadership council for the Big Brothers Big Sisters program and has had his own "little" brother through the school program, for the past two years. He is on the advisory board of the Boys and Girls Club and as a Rotarian is a youth exchange officer for the Rotary Foreign Exchange program. As an involved parent, he is on the APC (governing board) of the Tongass School of Arts and Sciences. In addition he has coached the 3rd, 4th and 5th grade girls' basketball in the Dribblers League and been actively involved in the Knights of Columbus at his church.
Eakes said, "As a great supporter of the arts, Miguel encourages youth to participate by being an adult role model. He has participated with his family members in the Giggle Feet Dance performance and is actively involved in First City Players having performed in Oliver and The Fish Pirates' Daughter."
Through all of these efforts, Eakes said, Torres is building the specific assets of Family Support, Other Adult Relationships, Parent Involvement in Schooling, Community Values Youth, Adult Role Models, Creative Activities, Youth Programs and Religious Community. In addition other assets are also being reinforced such as Achievement Motivation, Caring, Interpersonal and Cultural Competence and Self-Esteem.
His oldest son, Marco, jokingly says his father has CVS - Compulsory Volunteer Syndrome!
Eakes said, "PATCHWorks and the Ketchikan community are grateful for Miguel's syndrome and his dedication to the youth of our community - and we appreciate his wife, Olivia, and his children, Marco, Lisa and Emilio, who support him in his asset building efforts."

On the Web:

Publish A Letter on SitNews
Read Letters/Opinions
Submit A Letter to the Editor
SitNews
Stories In The News
Ketchikan, Alaska