Asset Builder of the Month: May 2007
Bobbie McCreary
May 16, 2007
Wednesday

Ketchikan, Alaska - PATCHWorks has announced the selection of Bobbie McCreary as the "Asset Builder of the Month" for May. She is being recognized for her "can do" attitude, boundless energy, and astounding commitment to the youth of Ketchikan.
As her nominator stated, "Bobbie recognizes a problem, offers a solution, and then says, why not?" She was instrumental in the efforts to beautify the downtown in the winter by organizing community members to paint and decorate some of the boarded up windows. This has now become an "annual event where young and old gather to share their artistic talent and this effort has made a little corner of our town a welcome relief in the dreary winter months."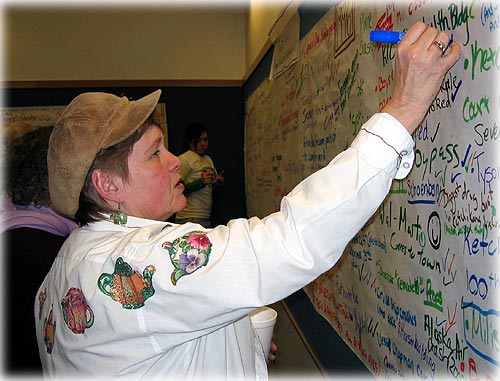 Asset Builder of the Month: Bobbie McCreary
Photograph courtesy PATCHWorks

According to information provided by PATCHWorks, McCreary has been a major supporter and guide in the formation and development of Ketchikan Youth Initiatives, a local non-profit organization focused on youth empowerment. With McCreary's guidance, and through several years of effort, these young people have formed a paint-ball league and playing field that is open and available to the youth of our community for fun, healthy outdoor activity.
Through the Americorps VISTA program that McCreary has been instrumental in developing and extending in Ketchikan, many additional programs for the youth of Ketchikan have gotten off the ground. These include the VISTA volunteer program at the Boys and Girls Club, the VISTA-developed Ketchikan Community Link database that will shortly become an instrument to benefit the entire community and the Ketchikan Youth to Work program that is partnering with Ketchikan Job Center and local businesses in an effort to train and prepare young people for the work place.
She has served as a volunteer accountant for Ketchikan Youth Court and with PATCHWorks she co-coordinated the Youth Future Search that was held last year. She is an active member of the Revilla Island Prevention Coalition and the UAS Ketchikan College Advisory Board. In addition, she is always available to coordinate and support efforts when crisis situations develop for young people in our community.
PATCHWorks Director Karen Eakes said, "McCreary's outstanding organizational skills and positive interaction with so many of our youth, make her an outstanding role model. As one of the youth KYI members said, "I wish I was as organized as Bobbie, although I would rather not have her work load. She is always forgiving if someone makes a mistake or forgets something. She is as tolerant and patient as a saint and always strives to be the solution, not the problem."" Eakes said, "What higher praise could one receive from a teenager? "
Eakes said, "PATCHWorks wishes to thank Bobbie McCreary for doing the important work of building assets in our youth - consistently and intentionally. She is an asset builder each and every day! "

On the Web:

Publish A Letter on SitNews
Read Letters/Opinions
Submit A Letter to the Editor
SitNews
Stories In The News
Ketchikan, Alaska