Asset Builder of the Month: Doug Edwards

September 27, 2006
Wednesday

Ketchikan, Alaska - Doug Edwards, the Culinary Arts teacher at Ketchikan High School, has been nominated and has been selected as a powerful "Asset Builder" by PATCHWORKS for the month of September.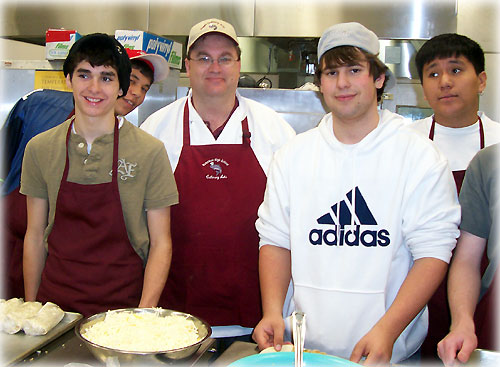 Culinary Arts teacher Doug Edwards with several of his Culinary Arts students.

Edwards' students speak very highly of him using words such as optimistic, understanding, helpful, encouraging, and an excellent teacher. He not only teaches cooking, but also respectfulness, important social skills, and a sense of independence. They say he is a great role model who enjoys his relationships with students. He gives them a sense of purpose and a positive view of their personal future. At least one current student plans to become a chef due to his experiences with Mr. Edwards. He has high expectations of all of his students and cares deeply about them. In addition, through his positive interactions with all of the students at the High School either in the kitchen or the Commons, he is helping to create a caring school environment.
Edwards is a model "Asset Builder" and PATCHWorks is very pleased to have the opportunity to recognize him for his efforts. The next time you see him, say hello, congratulate and thank him for the important work he is doing with young people.
PATCHWorks is a local non-profit organization in Ketchikan that promotes the developmental assets in our youth population. These 40 assets represent different relationships, experiences and opportunities that have been identified through a great deal of research as a coherent framework for promoting and supporting positive youth development.
In PATCHWorks' efforts to build community awareness about the assets and promote the idea that everyone can help build them, PATCHWorks likes to recognize individuals or organizations in our community that are building assets in our youth. PATCHWorks plans to honor a different "Asset Builder" each month.
PATCHWorks is seeking additional "Asset Builder" nominations from the public. If you know of someone whom you feel should be nominated for this honor, please call 225-4350 and ask for Karen Eakes. PATCHWorks plans to select from nominees on a monthly basis and continue to recognize the positive efforts that are benefiting our youth and our community.



Publish A Letter on SitNews
Read Letters/Opinions
Submit A Letter to the Editor
SitNews
Stories In The News
Ketchikan, Alaska