Contact


News Tips


Viewpoints


Search Sitnews


Copyright Info


Archives
Today's News


Alaska & Ketchikan


Top Stories


U.S. News


U.S. Politics


Stock Watch


Personal Finance


Science News


US Education News


Parenting News


Seniors News


Medical News


Health News


Fitness


Offbeat News


Online Auction News


Today In History


Product Recalls


Obituaries
Quick News Search


Alaska


Ketchikan


SE Alaska


Alaska News Links
Columns - Articles


Dave Kiffer


Arts & Entertainment


Parnassus Reviews


Jason Love


Fish Factor


Bob Ciminel


Chemical Eye On...


Rob Holston


More Columnists
Ketchikan


Our Troops
Historical Ketchikan


June Allen


Dave Kiffer


Louise B. Harrington
Recognition


Match of the Month


Asset Builders
Kid's Corner


Bob Morgan
Ketchikan Arts & Events


Arts This Week


Ketchikan Museums


KTN Public Library


Friday Night Insight


Parks & Recreation


Chamber
Lifestyles


Home & Garden


Food & Drink


Arts & Culture


Book Reviews


Movie Reviews


Celebrity Gossip
On the Web


Cool Sites


Webmaster Tips


Virus Warnings
Sports


Ketchikan Links


Top Sports News
Public Records


FAA Accident Reports


NTSB Accident Reports


Court Calendar


Court Records Search


Wanted: Absconders


Sex Offender Reg.


Public Notices
Weather, Webcams


Today's Forecast


KTN Weather Data


AK Weather Map


Ketchikan Webcam


SE AK Webcams


Alaska Webcams


AK Earthquakes


Earthquakes
TV Guide


Ketchikan
Ketchikan Phone Book


Yellow Pages


White Pages
Employment


Employment
Government Links


Local Government


State & National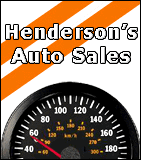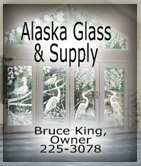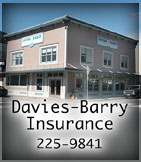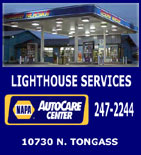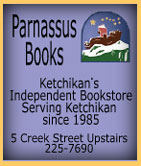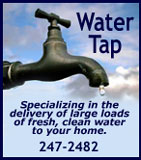 For Sale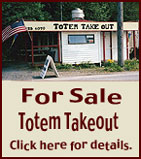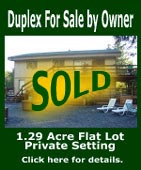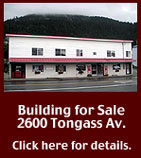 Tuesday
May 15, 2007

KTB School of Dance Spring Performance
The theme this year was "The Castel" and the Matinee performance theme was "Royal A, B, C's". Performances were held May 11th & May 12th...
Front Page Photo by Carl Thompson
View Photo Gallery 1 View Photo Gallery 2

Ketchikan: Forest Service Issues Traitors Cove Project Decision - The Tongass National Forest announced Monday the release of the Traitors Cove Timber Sale Final Environmental Impact Statement (EIS) and Record of Decision. The project designates approximately 905 acres of commercial forest land for harvest, supporting 82 jobs of local employment opportunities for the Ketchikan and surrounding communities.

"The decision takes into consideration the needs of many different users of the Forest, while continuing to provide economic opportunity and support for the local community. This decision is a key component to ensuring a steady timber supply for our local mill owners until the Forest Plan Amendment is finalized," said Tongass National Forest Supervisor Forrest Cole.

The project includes three roaded areas around Traitors Cove, and utilizes three existing marine transfer facilities for transporting the logs. These marine transfer facilities were recently redesigned and reconstructed to prevent bark and debris from entering the marine environment. All logs will be barged. - More...
Tuesday AM - May 15, 2007

Alaska: Alaska's salmon season is officially underway By LAINE WELCH - Alaska's 2007 salmon season is officially underway and it promises to be another good one. The statewide catch is projected to come in at 171 million fish, up more than 21 percent from the 2006 season. The fish will go to an expanding mix of global markets that have a growing appreciation for the superior taste and health benefits of wild salmon.

Four of the five salmon species harvested in Alaska have showed upward ticks in dockside and wholesale prices in recent years. The one exception is sockeye salmon (reds), which account for up to two-thirds of the total value of the statewide catch.

The average price for sockeye last year was 67-cents a pound, down from 73-cents in 2005. Two important trends are driving the sockeye slump, according to industry analyst Chris McDowell of the Juneau-based McDowell Research & Consulting Group.

Most importantly, there has been a dramatic drop in sockeye salmon exports to Alaska's most important seafood customer, Japan.

"Japan has traditionally taken about 75 to 80 percent of Alaska's H&G (headed and gutted) frozen sockeye pack. For 2006 Japan received 37 percent," McDowell said. That has made available about 30 million pounds of frozen reds to other markets, primarily the U.S. and Europe.

"I think demand is still maturing in those markets and that's part of what has kept the prices down a bit for sockeye," he added.

Hefty catches have also kept a downward press on the conventional sockeye market. In the past 110 years, the Alaska harvest has topped 40 million fish just 13 times - three of those occurred in the past three years. The catch projection for reds calls for a similar haul this year. - More...
Tuesday AM - May 15, 2007

Alaska: Governor Palin Fills Marine Transportation Advisory Board - Governor Sarah Palin announced Monday the appointment of several Alaskans to the Marine Transportation Advisory Board (MTAB). The Alaska Marine Transportation Advisory Board advises the state on issues related to the Alaska Marine Highway System. The nine-member advisory committee is made up of representatives from communities served by state ferries. MTAB was re-authorized under Administrative Order No. 233 by Governor Palin on March 28, 2007.

Captain William Hopkins of Ketchikan will represent employee labor unions of the Alaska Marine Highway System. Hopkins retired from the Alaska Marine Highway System (AMHS) in January 2007, after thirty years of service. He has piloted Southeast, Southwest and Puget Sound on all AMHS vessels, except for the Wickersham and high-speed craft. Hopkins served eight years as permanent master of the M/V Aurora and another eight years as permanent master of the M/V Kennicott. He is the author of two books including, "Wrangell Narrows, Alaska," a mile-by-mile guide for mariners navigating the Inside Passage.

Robert Venables of Haines will represent northern Southeast Alaska. Venables has worked for the Haines Borough since 2000 ­ first as the Borough's Economic Development Director and later as the Borough's Manager, a post he has held since 2004. He is a former member of MTAB and former chair of the Southeast Conference. Venables is active in the Haines and Alaska State Chambers of Commerce, and has been a board member of the Haines Borough Fire District #3 since 1988.

John (JC) Conley of Ketchikan will represent southern Southeast Alaska. Conley is the owner of Service Auto Parts, a locally owned auto parts store he has been with since 1979. He served three terms on the Ketchikan Gateway Borough Assembly, and served twice as chair of the Ketchikan Chamber of Commerce and Southeast Conference. Conley is the former chair of MTAB. - More...
Tuesday AM - May 15, 2007

Alaska: Vehicle Forfeiture Bill Heads to Governor - Local governments will now have another legal tool to help them take a vehicle away from potentially dangerous drivers. Monday the Alaska Legislature passed Senate Bill 145, the Vehicle Forfeiture Bill.

Sen. Lesil McGuire (R ­ Anchorage) sponsored SB 145. It grants municipalities the power to enact ordinances permitting the impoundment of any vehicle belonging to a driver with $1,000 or more in unpaid traffic citations.

"The Anchorage Police Department asked the Legislature for this law," said McGuire. "Now reckless drivers will finally suffer the consequences for refusing to pay traffic tickets." - More...
Tuesday AM - May 15, 2007

Alaska: Mortgage Lenders Licensure Bill Heads to Governor; Bill Provides Consumer Protection for Homebuyers - The Alaska Senate on Monday unanimously passed HB 162, a bill that will bring mortgage lenders working in Alaska under state regulation and licensure. Sponsored by Rep. Bob Lynn (R-Anchorage), the bill will provide a higher level of consumer protection for the thousands of Alaskans who obtain financing for home and property loans.

"We license working Alaskans from tattoo artists and hair stylists to lawyers and real estate agents, yet the people who help guide you during one of the most important decisions you will ever have to make ­ buying a home ­ currently do not," Lynn said. "HB 162 corrects this problem by bringing this portion of the commercial banking industry under the auspices of the Division of Banking and Securities. With the laws and regulations of mortgage lending and loans constantly in flux, and the advent of internet and on-line mortgage companies, it is eminently important to step in and establish guidelines and ground rules for lenders and agents." - More...
Tuesday AM - May 15, 2007

Cruise Ship Empress of the North Runs Aground
Passengers of the Cruise Ship Empress of the North being offloaded onto the Coast Guard Cutter Liberty and volunteer civilian vessels after running aground at 2:00 a.m. Monday. The Liberty took on 130 of the 248 passengers before offloading them onto the passenger vessel Columbia, which transported them back to the city of Juneau.
Official Coast Guard photo by Petty Officer Chris Caskey

Alaska: Cruise Ship Empress of the North Runs Aground - The 360-foot sternwheeler cruise ship Empress of the North, owned an operated by Majestic America Line of Seattle, WA, ran aground 49 miles west of Juneau, Alaska near Hanus Reef in Lynn Canal Monday morning at about 2 a.m. local Alaska time. The Alaska Emergency Coordination Center immediately began working with the United States Coast Guard to facilitate a smooth and efficient rescue. Local fishing boats, a Coast Guard cutter, and the state ferry Columbia coordinated efforts to evacuate the 281 passengers on board.

"I'm very proud of our residents who, on their own accord, moved into action to help those in need at a critical time," said Governor Sarah Palin. "Alaskans did a fantastic and professional job making this rescue happen swiftly, and I am very happy to know all of our visitors are safe and secure this [Monday] morning."

The Empress of the North contacted the Coast Guard Monday morning via VHF radio on Channel 16 reporting they were aground with 281 passengers on board. Coast Guard Air Station Kodiak launched a C-130 crew and a pre-deployed HH-60 helicopter crew from Cordova, Alaska to the scene. - More...
Tuesday AM - May 15, 2007

Match of the Month: April 2007
Little Brother William (Left) and Big Brother Miguel (Right) build a model Camaro at Houghtaling Elementary School.
Photo by Nancy Coggins

Recognition

Ketchikan: Match of the Month: April 2007 by NANCY COGGINS - The storytellers were warming up!

Recently, this author had a chance to sit in on one of Big Brother Miguel and Little Brother William's meetings at school. As Miguel finished telling William about one of his childhood adventures (or misadventures), William picked up the story-telling thread with one of his own wild stories. Their camaraderie is what the Big Brothers Big Sisters (BBBS) program is all about. They have so much fun just sharing their experiences, containing many of life's lessons.

Miguel says, "William loves to share how he has done with video games." And one of their current favorite activities is putting together a model "Camaro," shown here. For safety, William made sure to cap the X-acto® knifepoint between uses.

Quoting William's mother, "William 'hit it off' right away with Miguel. BBBS did a wonderful job -- taking its time -- making the 'perfect' match. William seems to truly enjoy the time that he spends with Miguel. He's very positive in all that he says about their meetings." - More...
Tuesday AM - May 15, 2007




Viewpoints
Opinions/Letters
Basic Rules

Debris In the Sea (and elsewhere) By Carol Baines - Tuesday AM
Turning the Private Sector Loose By Charlotte Tanner - Tuesday AM
Why take a good man out? By Tami Linne - Tuesday AM
Inexperienced elected officials By Bill Thomas Sr. - Sunday
Cleaning Up More Trash By Jerry Cegelske - Sunday
Ask Yourself - I Did By Carl Webb - Sunday
Save us all the trouble of recall, just resign By Rick Watson - Sunday
Turn the private sector loose By Sean Parnell - Sunday
Re: Val Klemm By Dave Kiffer - Sunday
Dismissal Of The Superintendent By Jerilyn Lester - Sunday
Are youth held more accountable? By Kelli Carlin-Auger - Sunday
Make a final list, check it twice 'n thrice By Sen. Kim Elton - Sunday
Mickey Mouse rip-off character By Mark Neckameyer - Sunday
Join a Community of Hope! By Linda Teal Kreider - Sunday
No Grounds For Recall By Dan Ortiz - Saturday
THE EAGLE CENTER NEEDS YOUR HELP! By Danika Fornear - Saturday
Governor's Position on Gravina Logging Road By Eric Tyson - Saturday
Recall By Chris Elliott - Saturday
Frank Murkowski, Oh Where Art Thou? By Charlotte Tanner - Saturday
Dismissal of Superintendent Martin By Mike Harpold - Wednesday PM
Recall Elections By Bill Hendricks - Wednesday PM
Recall, It IS the Electoral Process! By Michael Fitzgerald - Wednesday PM
Mr. Carl Webb's apology By Charles Edwardson - Wednesday PM
Sickened By Kevin Mackey - Wednesday PM
After Prom Breakfast By Christy Moss - Wednesday PM
Think you have seen it all? By Jessica Mathews - Wednesday PM
Prescription Drug Advertising. Where is the Outrage? By Paul G. Jaehnert - Wednesday PM
Traveling Doctor's departure ... By Shirley McDonald - Wednesday PM
Please do not invalidate the electoral process By Choc Schafer & Karen Eakes - Monday PM
A Bad Day in the State Capitol By Sen. Hollis French - Monday PM
Cooperative Extension Service deserves your support By Philip Loudon - Monday PM
Conan for School Board By Ken Lewis - Monday PM
Whitecliff School and property auction By Jackie Williams - Monday PM
Signal Creek Campground By Robert Gustafson - Monday PM
Do We Really Need a New Public Library? By Robert D. Warner - Monday PM
Ask yourself some questions By Susan Walsh - Monday PM
Fundraiser Villains By Tina Stephens - Monday PM
More Viewpoints/ Letters
Publish A Letter

Ketchikan

Ketchikan Police Report
AK Troopers Daily Dispatch
Today's Forecast
Satellite
Today's Weather Images
Marine Forecasts
Ketchikan Weather Data
Current AK Weather Map

CLASSIFIEDS

Publish ad
Please select the proper category before posting.




CLASSIFIEDS' CATEGORIES

Announcements
For Sale / Free Stuff
Garage Sales
Homes / Apts/ Property
Pets
Wanted
Lost & Found
Local Services
Publish your ad

More Front Page Archives

Columns - Commentary

Jay Ambrose: Boycotters full of gas - The Internet is a powerful tool, and we may get some inkling of just how powerful on May 15th. That's when there's supposed to be a nationwide boycott of gas stations. If it comes off -- if millions and millions steer clear of the pumps -- we'll know that an organizing effort via e-mail, Web sites and chat groups produced extraordinarily successful results.

But because the premise of this boycott is that U.S. oil companies are greedy, exploitative and conspiratorial, we will also know that these millions of our fellow citizens haven't the slightest notion of economic reality.

The thesis of the boycott organizers, or at least those I have encountered, is that the oil companies can set just about any price they want and are now getting unbelievably rich at the expense of all us poor slobs who either have to pony up what's demanded or walk to our various destinations.

It's a narrative that just about anybody can grasp because it makes the world oh so simple. You see, there are bad guys and good guys, and if the good guys will just stand up for themselves, they can bring the bad guys to their knees. - More...
Tuesday AM - May 15, 2007

Michael Reagan: Going Wobbly - Maggie Thatcher had a great line about politicians who lose their nerve when faced with a big problem: she warned them against going wobbly.

That warning would be lost on the members of today's national Democratic Party. They've gone far beyond that stage. Nowadays they have no problem with being seen as America's surrender monkeys.

Covering their eyes so they won't be able to see how their policies will bring on a holocaust that will afflict the Middle East, and their ears so they won't hear the cries of hundreds of thousands of Iraqis and Afghans as they are butchered by al Qaeda and Iranian terrorists, they are willing to stand by while chaos reigns in the entire region, a major part of our oil supply is cut off, and terrorism comes home to our front door.

Their latest gambit, carried out under the guise of an organization of veterans calling themselves VoteVet.org, a group affiliated with the Soros-funded far-left MoveOn.org ­ a Democratic front group -- has sponsored a TV ad featuring retired Gen. John Batiste, Gen. Paul Eaton and failed Democratic presidential candidate Gen. Wesley Clark.

The ad opens with a clip of President Bush saying, "I have always said that I will listen to the requests of our commanders on the ground." - More...
Tuesday AM - May 15, 2007

Val J. Halamandaris: A need for home care nurses - In 2006 the first year of the baby boom generation turned 60. In the very near future, this, the largest U.S. generation in history - 77 million people - will come into their retirement years. In doing so, they will transform every aspect of American society.

This generation will not go silently into the good night. They will not meekly submit to retirement but will bend and shape the concept to suit their needs.

The evidence is clear that this will remain an activist generation until the end of its days. To meet their health needs, baby boomers will shape home- and community-support programs rather than look to institutions. While they will be far healthier and live longer than their parents, boomers -- the richest generation in history -- will have the resources to structure the support programs needed to deal with disabilities and remain independent in their own homes. - More...
Tuesday AM - May 15, 2007

Newsmaker Interviews

Bill Steigerwald: Why Voters Vote the Way They Do - How do voters choose their candidates? How do they process all the political information that they are bombarded with so they can make intelligent choices during elections like next week's primaries? No one knows everything about how voters think and act, but Richard R. Lau, a politics professor at Rutgers, has at least tried to find out. Based on research from experiments with about 700 people, Lau and David Redlawsk wrote "How Voters Decide: Information Processing in Election Campaigns," a 2006 book definitely not aimed at casual readers. I recently spoke with Professor Lau by telephone from the Rutgers campus as he was grading final exams:

Q: Are voters usually rational when they choose a candidate?

A: Well, that depends on what you mean by "rational." Can voters give you a reason for why they did what they did? Yes, absolutely. A more formal economic definition of rationality is ... to very actively and conscientiously consider the consequences of the different alternatives for your own well-being, however you want to define that, and, in this case, vote for the candidate that maximizes your self-interest, however you want to define that. No. Not very many people do that. - More...
Tuesday AM - May 15, 2007

---

E-mail your news tips, news
releases & photos to:
editor@sitnews.us

M.C. Kauffman, Webmaster/Editor
webmaster@sitnews.us

In Memory of Dick Kauffman
1932-2007

SitNews
Stories in the News
©1999 - 2007
Ketchikan, Alaska

Locally owned & operated.

Online since 1999

Articles & photographs that appear on SitNews are protected by copyright and may not be reprinted or distributed without written permission from and payment of required fees to the proper sources.