Making Sense
Going Wobbly
By Michael Reagan
May 15, 2007
Tuesday AM

Maggie Thatcher had a great line about politicians who lose their nerve when faced with a big problem: she warned them against going wobbly.
That warning would be lost on the members of today's national Democratic Party. They've gone far beyond that stage. Nowadays they have no problem with being seen as America's surrender monkeys.
Covering their eyes so they won't be able to see how their policies will bring on a holocaust that will afflict the Middle East, and their ears so they won't hear the cries of hundreds of thousands of Iraqis and Afghans as they are butchered by al Qaeda and Iranian terrorists, they are willing to stand by while chaos reigns in the entire region, a major part of our oil supply is cut off, and terrorism comes home to our front door.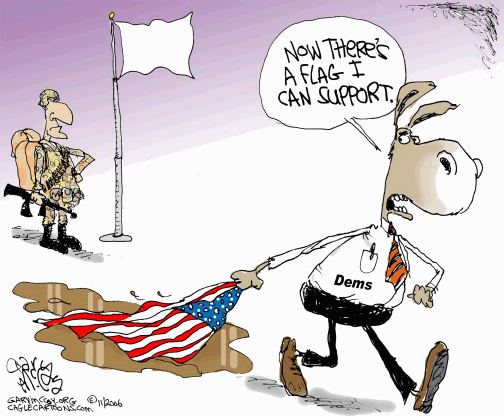 Democrat's Flag
Artist Gary McCoy, Cagle Cartoons
Distributed to subscribers for publication by Cagle Cartoons, Inc.

Their latest gambit, carried out under the guise of an organization of veterans calling themselves VoteVet.org, a group affiliated with the Soros-funded far-left MoveOn.org ­ a Democratic front group -- has sponsored a TV ad featuring retired Gen. John Batiste, Gen. Paul Eaton and failed Democratic presidential candidate Gen. Wesley Clark.
The ad opens with a clip of President Bush saying, "I have always said that I will listen to the requests of our commanders on the ground."
In the ad Batiste says, "Mr. President, you did not listen. You continue to pursue a failed strategy that is breaking our great Army and Marine Corps. Mr. President, you have placed our nation in peril. Our only hope is that Congress will act now to protect our fighting men and women."
What Batiste is really saying is that President Bush doesn't listen to him, which, thankfully, is true. Instead, the President is listening to his top general in Iraq, General Petraeus, and the other generals there. They are on the ground, know what's going on there, are following a carefully thought out strategy, and they are convinced they can bring about a political solution ­ which the Democrats are demanding - by first making it possible by wiping out al Qaeda and other foreign fighters and quelling the sectarian violence which stands in the way of political unity among all Iraqis.
The blatantly obvious political motive behind the group was noticed by retired Gen. William Nash, a senior fellow at the Council on Foreign Relations. He told ABC, "When you become part of the political process, you're taking some part of your uniform into that arena and that is an issue that many soldiers, whether they be active or retired, would have a problem with."
The group's ads target GOP House members Mary Bono of California, Phil English of Pennsylvania, Randy Kuhl and James Walsh of New York, Jo Ann Emerson of Missouri, Timothy Johnson of Illinois, Mike Rogers and Fred Upton of Michigan and Michael Castle of Delaware.
Recognizing the real source of the ads, English's spokeswoman Julia Wanzco sneered, "The congressman has long stated that he is for a political settlement not a surge, and at the end of the day, these ads are more about cheap Democratic political stunts than about solving the actual problem."
Solving the problem, however, is not what this is all about. Sen. Harry Reid, the hapless Democrat majority leader in the Senate, made it quite plain what his party's motive in all but surrendering to Osama bin Laden is all about: winning more seats in the Senate next year. National security be damned; full speed aft.
When he had the gall to all but tell al Qaeda that they have won and we have lost, he in effect told out troops ­ you know, all those soldiers and Marines over there in harm's way -- that they are wasting their time risking life and limb; that's it's a losing battle. What a great morale builder that was!
In using front groups like MoveOn.org and VoteVets.org to spew their venom the Democrats have shown that they learned a lesson from the Soviets, who all but created the strategy of hiding behind innocent-sounding fronts here in America.
It's too bad that officers with splendid military records are allowing themselves to be the patsies for the surrender monkeys.
Mike Reagan, the eldest son of the late President Ronald Reagan, is heard on more than 200 talk radio stations nationally as part of the Radio America Network.
Look for Mike's new book "Twice Adopted". Order autographed books at www.reagan.com
E-mail Michael Reagan at mereagan@hotmail.com
Copyright 2006 Michael Reagan, All Rights Reserved.
Distributed exclusively to subscribers for publication
by Cagle, Inc. www.caglecartoons.com.

Post a Comment View Comments
Submit an Opinion - Letter

Sitnews
Stories In The News
Ketchikan, Alaska