Match of the Month: April 2007
By Nancy Coggins
May 15, 2007
Tuesday AM

Ketchikan, Alaska - - The storytellers were warming up!
Recently, this author had a chance to sit in on one of Big Brother Miguel and Little Brother William's meetings at school. As Miguel finished telling William about one of his childhood adventures (or misadventures), William picked up the story-telling thread with one of his own wild stories. Their camaraderie is what the Big Brothers Big Sisters (BBBS) program is all about. They have so much fun just sharing their experiences, containing many of life's lessons.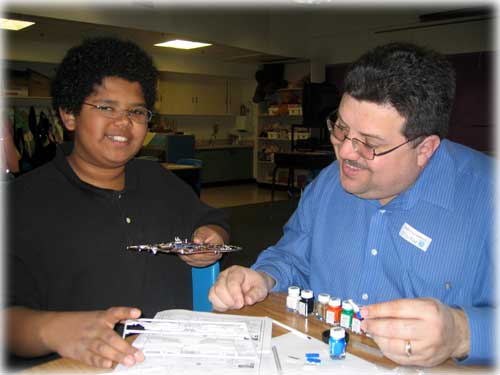 Little Brother William (Left) and Big Brother Miguel (Right)
build a model Camaro at Houghtaling Elementary School.
Photo by Nancy Coggins

Miguel says, "William loves to share how he has done with video games." And one of their current favorite activities is putting together a model "Camaro," shown here. For safety, William made sure to cap the X-acto® knifepoint between uses.
Quoting William's mother, "William 'hit it off' right away with Miguel. BBBS did a wonderful job -- taking its time -- making the 'perfect' match. William seems to truly enjoy the time that he spends with Miguel. He's very positive in all that he says about their meetings."
William feels his match with Miguel is special and magic because, as he says, "We like the same stuff such as building models. We have fun." Fun for those two also includes going over schoolwork together.
At school, Little Brother William motivates his Big Brother Miguel in their "lose weight" challenge, as they take their walk around the playground [during recess]. On the playground, one adventurous incident did occur when the recess patrol stopped Miguel for not wearing a Visitor pass!
William's mother says her son looks forward to his weekly meetings with Miguel. And to Miguel, "It's magic to see William's smile when he shows up in his classroom; and, afterwards, hearing him say, 'See you next week!' "
Sound like fun? Join Big Brothers Big Sisters program and add a little magic to your life. Capture fun moments with your "Little." Get involved. Call 907-247-3350.


On the Web:
Big Brothers Big Sisters of Southeast Alaska
http://www.southeastbigs.org/


Publish A Letter on SitNews
Read Letters/Opinions
Submit A Letter to the Editor
SitNews
Stories In The News
Ketchikan, Alaska