Viewpoints
Cleaning Up More Trash
By Jerry Cegelske
May 13, 2007
Sunday

I was happy to read A.M. Johnson's letter published in Sitnews on May 3, 2007 stressing the work of Dept. of Transportation & Public Facilities, Division of Highways Supervisor Nick Farstad, and his crew Mike Earnest and Jim Ingle. They have a big job to do, actually many jobs to do, and accomplish them all with little appreciation or recognition. Many people don't realize that they work under difficult conditions and occasionally cannot do everything they want to do in a timely manner due to a lack of equipment. When people assist with highway clean up projects early in the year, many times the needed state equipment is being used for other projects so the picking up of the collected trash may be delayed for a time. Thanks to their efforts each year, the trash collected by the volunteers is collected and taken to the landfill where it should have been placed in the first place. "Thanks, Nick, Mike and Jim we appreciate your efforts!"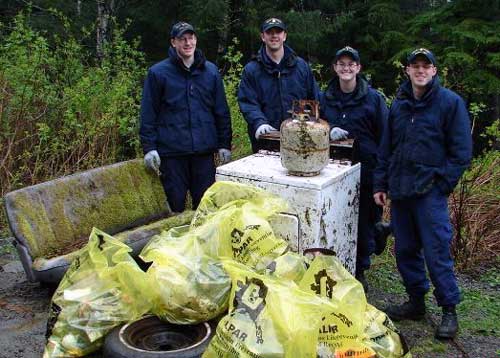 Ensign Paul Stepler, Seaman Tyler Powers,
Ensign Molly Kilduff, Ensign Elliot Hollinberger...
More trash for Nick Farstad and Company to pick up.

Now I would like to tell the Ketchikan Community of the efforts of members of the crew of the Acushnet which would not be mentioned otherwise. The Acushnet is scheduled to leave Ketchikan on routine patrol in the Bering Sea soon and the schedule was moved up a week or so prior to their expected date of departure which put everything into the rush mode! The generator engines were rebuilt and other needed repairs are being done. Despite the hectic pace aboard ship, members of the crew took time out to work on the S. Tongass clean up on Thursday.

About 100 yards from one of Ketchikan's tourist attractions, the waterfall at Mile 10.5 mile S. Tongass, was a pile of household trash that had accumulated over the years. Thanks to the Acushnet volunteers, the trash is no longer there but placed along the road for Nick and Company to pick up after they get done putting gravel down and grading the road! Collected besides the common trash was a car seat, car parts, an electrical control box, two propane tanks- with fuel in one, a six gallon outboard motor tank, and a clothes dryer. The dryer wasn't trophy size but it put up a good fight from the bottom of the ditch and it took three of us to land it on the road.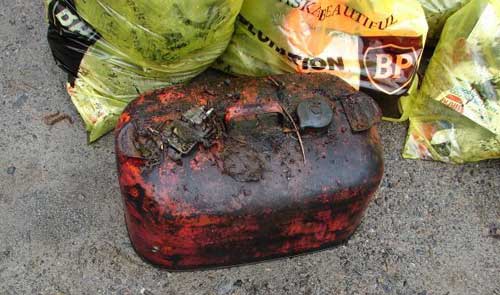 Outboard fuel tank with gasoline still in it.

It is interesting the articles in the news about wheat gluten having melamine as an additive which gives a false impression on the protein content of the feed, and turns out to be poisonous in some cases. This has caused investigations into where it is placed in the wheat and other grains imported into the U.S. The concern is over what someone has added to the food stocks, yet we regularly dump lead acid batteries, fuel tanks and bottles, acids, cleansers and other hazardous wastes in the ditches, parking lots, and other areas, which will eventually end up in the waters we get our "Fresh from the icy waters of Alaska" seafood we feed our families and ship to our friends in the lower 48 for them to consume! For some reason there isn't much concern raised about that poisoning problem.

Although my youngest son is in the Coast Guard I must confess I don't know all I should about Coast Guard. The four people that came out to work on the clean up were a Seaman, and three Ensigns! I haven't figured out if the Seaman was there to supervise the Ensigns, or the Seaman was such a problem that he had to be supervised by three Ensigns! He seemed nice enough to me! Anyway, they did a great job and deserve the appreciation and "Thanks" from the Ketchikan community, not only for their work on cleaning up Ketchikan, but for their service to the nation. It was a pleasure to work with them and I look forward to doing it again as planned. Please plan to join us!
Jerry Cegelske
Ketchikan, AK
Received May 10, 2007 - Published May 13, 2007
About: Jerry Cegelske is the Borough Code Enforcement Officer and S. Tongass Clean Up coordinator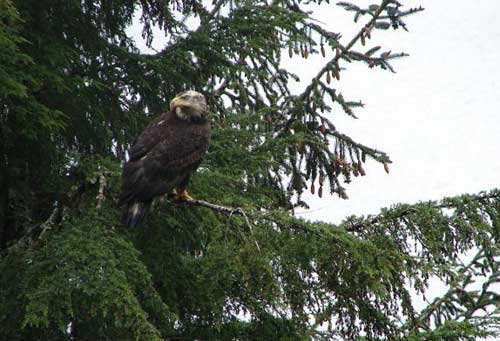 Immature Bald Eagle near a dump site, Whitman Creek, S. Tongass Highway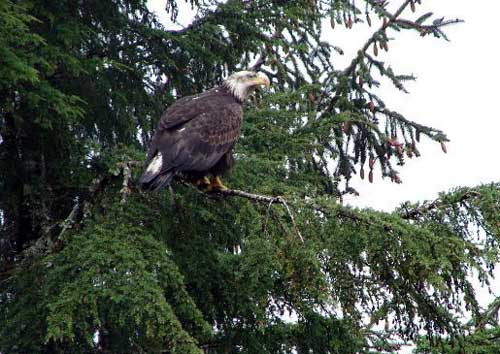 Immature Bald Eagle near a dump site at 8.5 Mile S. Tongass Highway



Note: Comments published on Viewpoints are the opinions of the writer
and do not necessarily reflect the opinions of Sitnews.
Send A Letter -------Read Letters

E-mail the Editor at editor@sitnews.us

Sitnews
Stories In The News
Ketchikan, Alaska