Commercial Advertising
Why Advertise With SitNews?
617-9696
Ketchikan, Alaska - According to U.S. Census data, Alaska was the most wired state in the nation with 64% percent of Alaskan households online in 2001 - imagine what that percentage of Alaskan households online is today!
SitNews has been a Ketchikan owned business website for almost 20 years and the first online-only news website published in Alaska.
In 2017, most commercial businesses have websites promoting their services and products available and online purchasing of products available. Although Social Media, such as FaceBook has become more prominent on the web since 2017, world-wide only14% of the population are subscribed as members to the most popular social media service FaceBook. Advertising using a Social Media service can greatly limit your advertising business exposure due to membership requirements before individuals may be able to view your ad on a social media service site.
SitNews provides great exposure for commercial advertisers. The front page of SitNews had over 200,000 page views during the month of March 2017 -- actual page views meaning Front Page Commercial Ads displayed on SitNews exposed commercial business ads to potentially to 200,000 SitNews users during the of March 2017 with no fee or membership required for the readers to view your business ad.
According to SitNews stats that are tracked daily, during the month of March, total page views for all pages published by SitNews was 999,797 with total hits of 7,060,191. For those commercial ads that were displayed on other pages published by SitNews, this increases your business advertising exposure through additionsl page views on news articles.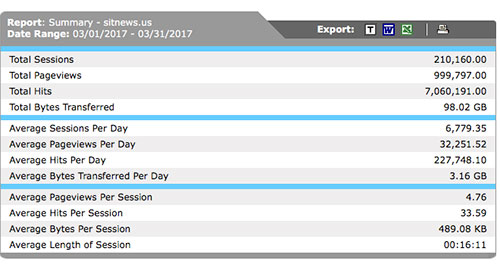 In 2015, 75% of U.S. homes were connected to the Internet with that number increasing daily.
Isn't it time to take advantage of the great exposure SitNews can provide to your business through advertising?
By advertising with SitNews you will not only receive wide exposure for your ad, you will be helping to provide this local, independently owned Ketchikan news and information web site that is visited by local, state, national and international readers.
By advertising with SitNews. we are able to meet all our operational costs of running the business including paying all the freelance writers who provide the great historical feature articles and news articles. Articles that are provided to readers for enjoyment and for promoting Ketchikan's history & community.
For more information on how to advertise your commercial business on SitNews please contact: editor@sitnews.us or call 617-9696.
SitNews was created and is owned and operated by Mary Kauffman. She has resided in the community of Ketchikan since 1983. After retiring from teaching, Mary created the SitNews website in 1997 and has served as its webmaster for almost 20 years. Later in 1999, her husband Dick Kauffman's retirement from the Federal Aviation Administration, he volunteered to serve as the editor and Dick served as the editor until his death in 2007.
SitNews was provided independently by the Kauffmans from 1997 until 2005 when SitNews became a licensed Alaska business and began offering commercial advertising.
For more information or questions, call 907.617.9696
editor@sitnews.us
Last Updated: April 2017

Copyright 1997-2017


Stories In The News
Ketchikan, Alaska