Contact


News Tips


Viewpoints


Search Sitnews


Copyright Info


Archives
Today's News


Alaska & Ketchikan


Top Stories


U.S. News


U.S. Politics


Stock Watch


Personal Finance


Science News


US Education News


Parenting News


Seniors News


Medical News


Health News


Fitness


Offbeat News


Online Auction News


Today In History


Product Recalls


Obituaries
Quick News Search


Alaska


Ketchikan


SE Alaska


Alaska News Links
Columns - Articles


Dave Kiffer


Arts & Entertainment


Parnassus Reviews


Jason Love


Fish Factor


Bob Ciminel


Chemical Eye On...


Rob Holston


More Columnists
Ketchikan


Our Troops
Historical Ketchikan


June Allen


Dave Kiffer


Louise B. Harrington
Recognition


Match of the Month


Asset Builders
Kid's Corner


Bob Morgan
Ketchikan Arts & Events


Arts This Week


Ketchikan Museums


KTN Public Library


Friday Night Insight


Parks & Recreation


Chamber
Lifestyles


Home & Garden


Food & Drink


Arts & Culture


Book Reviews


Movie Reviews


Celebrity Gossip
On the Web


Cool Sites


Webmaster Tips


Virus Warnings
Sports


Ketchikan Links


Top Sports News
Public Records


FAA Accident Reports


NTSB Accident Reports


Court Calendar


Court Records Search


Wanted: Absconders


Sex Offender Reg.


Public Notices
Weather, Webcams


Today's Forecast


KTN Weather Data


AK Weather Map


Ketchikan Webcam


SE AK Webcams


Alaska Webcams


AK Earthquakes


Earthquakes
TV Guide


Ketchikan
Ketchikan Phone Book


Yellow Pages


White Pages
Employment


Employment
Government Links


Local Government


State & National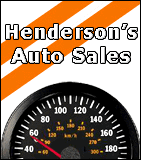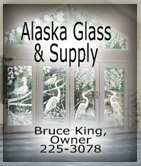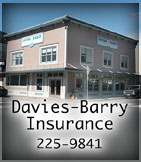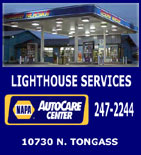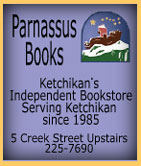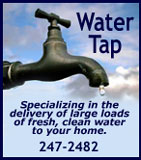 For Sale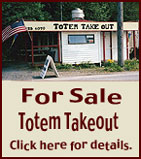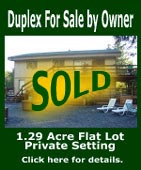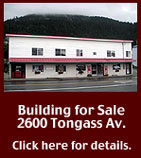 Friday
May 18, 2007

Citizens' group asks, "What fate do we choose for our community?"
Front Page Photo of Ketchikan by Carl Thompson

Ketchikan: Citizens' group asks, "What fate do we choose for our community?" - Citizens for Ketchikan's Future (CKF), a newly formed citizens' group, has submitted a voters' initiative to the Ketchikan Gateway Borough Clerk's office to limit the density of stores exclusively selling jewelry within the City of Ketchikan. Upon approval by the Borough Clerk, the group will collect the required signatures of the 533 registered voters necessary to have the item placed on the regular October ballot.

The proposed ordinance, if approved by the voters, would require the entrances of jewelry stores to be at least 200 feet apart. The proposed ordinance defines jewelry stores as a business selling precious or semi-precious metals and minerals, the display of which constitutes over forty (40%) percent of the total merchandise on display. Existing stores would be "grandfathered" in and could continue to operate as long as they don't close for more than eight months.

The initiative sponsors are Wally Kubley, Larry Kubley, Dan Eichner, Delores Churchill, Helen Finney, Walt Bolling, Harold Enright, Julie Wills, Virginia Klepser, Mark Murdock, Garnet Dima, and Charlene Dima.

"Good communities, ones that are desirable to live in and sought-after as places to visit, don't just happen by accident", according to Charlene Dima, one of the petition sponsors, "In general, we believe Ketchikan residents really want a town that provides opportunities for a diverse range of businesses. This ordinance is a first step." According to Dima, the initiative's main goal is to encourage and provide opportunities for year-round services and trade which would offer a more diverse range of retail and business services for local residents and visitors. "We have nothing against jewelry stores per se; however the reality is that these stores have over-populated the downtown and will likely continue to spread."

Citizens for Ketchikan's Future (CKF) would also like local government leaders to give more thought and consideration to the direction of the community as a whole. There is little doubt that tourism is extremely important to this community, however the group believes that perhaps more could be done to improve the community's appeal to other types of industries. The haphazard manner in which the community has changed over the past decade is a symptom of the problem.

"Whether we like it or not, regulations are an important component to community success," according to Larry Kubley, who owns commercial property in the heart of downtown. "The important thing is to have the rules backed by a real sense of what we want Ketchikan to look like. It should be a place that feels authentic, not another outlet mall."

The group says that these changes are necessary to protect existing investment and that people do not come to Ketchikan by the hundreds of thousands to see diamonds, emeralds, and rubies - that's not what the brochures reflect. - More...
Friday PM - May 18, 2007

Alaska: $1.7 Billion Capital Budget Heads to Governor - The Senate Thursday night approved a $1.7 billion Capital spending budget in the waning hours of the first session of the 25th Alaska Legislature, passing SB 53 on to the governor's office following passage by the House of Representatives. The budget comes in almost $1 billion less than the prior year's capital spending package, with the significant difference coming from the Legislature's forward funding FY 09 education spending by a like amount.

"Although we've invested $1.7 billion total funds across Alaska with the passage of this bill, because we are such a vast and young state, there are still more wants and needs out there than we have the revenue to fund," House Finance Committee Co-Chairman Kevin Meyer (R-Anchorage) said. "Our Department of Transportation alone tells us that they have more than $10 billion in projects back-logged. Alaska is a young state, with many infrastructure needs, and this spending package is a responsible one that addresses as many of those needs that we can manage and sustain."

The budget invests $583 million in general funds, $789 million in federal funds, and $414 million in other funds on projects ranging from roads, transportation and other infrastructure, to school auditorium restoration, safety and technology upgrades, and field enhancement for schools. In addition to the construction and maintenance, the budget includes $45 million to implement a quarter of the University of Alaska Anchorage's Institute of Social & Economic Research (ISER) school funding study and other school improvement grants, on top of another quarter funding of the ISER study in the operating budget.

"One of our highest priorities is to provide our children with the opportunity to get a good education," Meyer said. "We worked hard to come up with a compromise to change the education formula and have agreed to continue working through the summer on that issue. It's a win-win for all, not us, but all children.

"When you add up all of the pieces that we have in the operating and capital budgets for K-12 education, I would say that this has been the single largest increase both into the classroom and to K-12 in Alaska's history."- More...
Friday PM - May 18, 2007

Alaska: Legislature Continues Multitude of Senior Programs - The 25th Alaska Legislature, through passage of operating and capital budget bills that provide funding, has endorsed the continuation of more than $300 million in programs that address the needs of senior and elder Alaskans.

"The State of Alaska provides many services to seniors, many of which are not found in other states," said House Rules Committee Chairman John Coghill (R-North Pole). "What we have tried to do is identify programs that address specific needs of seniors and make sure those are funded first. These include a full array of services, from Pioneer Homes to heating assistance and from dental care to assisted living.

"While it is true we have moved away from cash payments that don't have any strings attached to them, we have bulked up our response level to specific needs to make sure those needs are taken care of. We believe seniors' needs are more than adequately funded in a multitude of state programs."- More....
Friday PM - May 18, 2007

Tribal Health Compact pre-negotiations held
Pictured are Richard Jackson and Barbara Karshmer. Not pictured are Merle Hawkins, tribal representative, CC Johnson, KIC-OVS Chair, and Jasmine Nelson, Interim Health Administrator.
Front Page Photo by Cecelia Johnson

Ketchikan: Tribal Health Compact pre-negotiations held - Tribal Health Compact pre-negotiations were held in Anchorage, the week of April 16th. - More...
Friday PM - May 18, 2007

---

Volunteers
ANB-ANS Camp #14 youth volunteers help the organization by cleaning, taking tickets, greeting the public, and wherever else they are needed. Pictured are: Greg Bird (back) Tram Nguyen, Min Hu, and Fern help at a recent spring fundraiser.
Front Page Photo by Cecelia Johnson

Alaska: SeniorCare program to end following legislative session - The SeniorCare program, which provides monthly cash payments and help with prescription drug costs to approximately 7,000 low-income Alaska seniors, will end on June 30, 2007. The program was scheduled to sunset at the end of fiscal year 2007, and legislation to extend the program was defeated in the last few hours of the legislative session.

"The Department of Health and Social Services is working to assist seniors impacted by this change to identify all other options available to meet their needs," Commissioner Karleen Jackson said. "We are dedicated to promoting and protecting the health and well being of Alaskans, including our seniors."

There are several different programs to assist seniors - each with its own eligibility criteria. Seniors will need to be assessed on an individual, case-by-case basis to determine which services they can access. - More...
Friday PM - May 18, 2007

Alaska: Vertically Privileged Alaskans Defended; Senator Wilken disputes "The Optimal Taxation of Height" - Sen. Gary Wilken, R-Fairbanks, went on record today in vehement opposition to "The Optimal Taxation of Height: A Case Study of Utilitarian Income Redistribution."

The working paper was published by Harvard University colleagues N. Gregory Mankiw and Matthew Weinzierl on April 13, 2007, and publicized in the Wall Street Journal May 1. It argues that taxing tall people more than short people neatly meets the two criteria of an ideal tax system: it is both equitable and efficient.

"I am starting to rethink my support for increased funding of higher education," said Wilken, who is 6 feet, 8 inches tall. - More...
Friday PM - May 18, 2007




Viewpoints
Opinions/Letters
Basic Rules

Meet the Superintendent Candidates! By Dave Lieben - Friday PM
Mickey Mouse and Eisenhower By Jos "Gus" Govaars - Friday PM
Pets By Amy Serjeant - Wednesday PM
GRAVINA ISLAND CLEAN UP By Jerry Cegelske - Wednesday PM
Fair Credit Due to Republican Generals By Nick Kelly - Wednesday PM
LET'S PARTY AT THE EAGLE CENTER!!! By Danika Fornear - Wednesday PM
Debris In the Sea (and elsewhere) By Carol Baines - Tuesday AM
Turning the Private Sector Loose By Charlotte Tanner - Tuesday AM
Why take a good man out? By Tami Linne - Tuesday AM
Inexperienced elected officials By Bill Thomas Sr. - Sunday
Cleaning Up More Trash By Jerry Cegelske - Sunday
Ask Yourself - I Did By Carl Webb - Sunday
Save us all the trouble of recall, just resign By Rick Watson - Sunday
Turn the private sector loose By Sean Parnell - Sunday
Re: Val Klemm By Dave Kiffer - Sunday
Dismissal Of The Superintendent By Jerilyn Lester - Sunday
Are youth held more accountable? By Kelli Carlin-Auger - Sunday
Make a final list, check it twice 'n thrice By Sen. Kim Elton - Sunday
Mickey Mouse rip-off character By Mark Neckameyer - Sunday
Join a Community of Hope! By Linda Teal Kreider - Sunday
No Grounds For Recall By Dan Ortiz - Saturday
THE EAGLE CENTER NEEDS YOUR HELP! By Danika Fornear - Saturday
Governor's Position on Gravina Logging Road By Eric Tyson - Saturday
Recall By Chris Elliott - Saturday
Frank Murkowski, Oh Where Art Thou? By Charlotte Tanner - Saturday
Dismissal of Superintendent Martin By Mike Harpold - Wednesday PM
Recall Elections By Bill Hendricks - Wednesday PM
Recall, It IS the Electoral Process! By Michael Fitzgerald - Wednesday PM
Mr. Carl Webb's apology By Charles Edwardson - Wednesday PM
Sickened By Kevin Mackey - Wednesday PM
After Prom Breakfast By Christy Moss - Wednesday PM
Think you have seen it all? By Jessica Mathews - Wednesday PM
Prescription Drug Advertising. Where is the Outrage? By Paul G. Jaehnert - Wednesday PM
Traveling Doctor's departure ... By Shirley McDonald - Wednesday PM
Please do not invalidate the electoral process By Choc Schafer & Karen Eakes - Monday PM
A Bad Day in the State Capitol By Sen. Hollis French - Monday PM
Cooperative Extension Service deserves your support By Philip Loudon - Monday PM
Conan for School Board By Ken Lewis - Monday PM
Whitecliff School and property auction By Jackie Williams - Monday PM
Signal Creek Campground By Robert Gustafson - Monday PM
Do We Really Need a New Public Library? By Robert D. Warner - Monday PM
Ask yourself some questions By Susan Walsh - Monday PM
Fundraiser Villains By Tina Stephens - Monday PM
More Viewpoints/ Letters
Publish A Letter

Ketchikan

Ketchikan Police Report
AK Troopers Daily Dispatch
Today's Forecast
Satellite
Today's Weather Images
Marine Forecasts
Ketchikan Weather Data
Current AK Weather Map

CLASSIFIEDS

Publish ad
Please select the proper category before posting.




CLASSIFIEDS' CATEGORIES

Announcements
For Sale / Free Stuff
Garage Sales
Homes / Apts/ Property
Pets
Wanted
Lost & Found
Local Services
Publish your ad

May 2007

| | | | | | | |
| --- | --- | --- | --- | --- | --- | --- |
| S | M | T | W | T | F | S |
| | | 01 | 02 | 03 | 04 | 05 |
| 06 | 07 | 08 | 09 | 10 | 11 | 12 |
| 13 | 14 | 15 | 16 | 17 | 18 | 19 |
| 20 | 21 | 22 | 23 | 24 | 25 | 26 |
| 27 | 28 | 29 | 30 | 31 | | |

More Front Page Archives

Columns - Commentary

Dave Kiffer: RIP: Golden Nugget Service - Our national airline, Alaska, is choosing this month - May - to make us jump through some big wild hoopla over its 75th anniversary. Alaska celebrating its history all the way back to Mac McGee and his three-seat Stinsons in 1932.

Oddly enough, I had the "pleasure" of flying Alaska Airlines twice recently to the East Coast and back and I certainly felt the echoes of McGee's drafty old seaplanes. Especially when it came to the in-flight amenities. In the old days, McGee might have offered a hot thermos of coffee. And that's really about all you get 75 years later! (see below).

Of course in the modern world, you also get digi players instead of iced up windows and panoramic views. Fair enough. Nothing like a showing of "Borat" to take your mind off the turbulence over the Mid West.

But don't even think of getting up to use the rest room. The line was about 10 deep (not in first class of course, but 9/11 and heightened class consciousness now has totally shut off the forward restroom from the hoi polloi. First class also gets something approximating real food from the airline, but as usual I digress (see below)).

Among the other amenities not available to McGee's passengers is the vaunted in-flight magazine. This month (May) it is chock-a-block with info relating to the 75th anniversary.

Unfortunately all the neat photos and references to Alaska's past didn't exactly get me feeling warm and fuzzy about the airline's present. Kind of like how baseball old-timers games trot out the legends and get you wondering how come the current players are such bums.

After sating myself with all things Alaska Airlines, all I can say is "where have you gone Mac McGee, Bob Ellis, ''Mudhole' Smith, and Shell Simmons." Heck, I find myself even pining for Charlie Willis, Ron Cosgrave and Bruce Kennedy. In their place are people who think that you can sell your service "soul" for $750 a flight (see below). - More...
Saturday AM - May 19, 2007

Jason Love: Complaining - My career in nagging started early, in Dad's Plymouth Volare:

"Are we there yet? Are we there yet? Are we there yet?"

Until my dad, doing 80, finally said, "Yes, we are there, Jason. And you can step out any time you'd like."

Mom didn't give in either. She'd just rub her fingers together and say, "Honey, what's this? World's smallest violin."

So it goes.

Marriage brought more lessons. My wife and I debated the philosophy of decorative towels until I prevailed with this argument: "Anything you say bounces off me and sticks to you."

Even our love life suffered my grousing. During sex I would always start in: "Are we there yet? Are we there yet? Are we there yet?"

You can see why Ventura Unity issued me a "complaint bracelet." Unity is a New Thought church, which means you think for yourself (sorry, middle states). It's hard to concentrate on the message, though, because reverend Cathy Norman is, to speak in clerical terms, a hot chickie mama. Picture Heather Locklear with a heart.

"Happiness," says Cathy, "is an inside job. It's not what you look at but what you see." - More...
Saturday AM - May 19, 2007

Tom Purcell: If Osama Were to Speak to the Grads - Renegades, nonbelievers and infidels, it is a great honor for you that I speak at your graduation ceremony today. I am here to tell you that you are wrong, whereas I, Osama, am receiving precise instructions from God, who has told me to kill you.

If Osama has told you once, he's told you a thousand times: stop supporting Israel. We dislike the Jews. We dislike the Christians, too. In fact, we dislike the Buddhists, Hindus, Taoists and Osama has forgotten the full list of religions he dislikes, but you get the point.

And we want you out of our sacred lands. Leave! Bugger off! As soon as you leave, we will destroy Israel. We will destroy all the corrupt governments that you prop up. We will establish theocracies to rule all of the Middle East, and then we can really get cooking!

First, we'll shut off our oil taps to the West, sending your markets into chaos. We'll use the remaining oil wealth to fund global Jihad. From East to West, North to South, we'll root the infidels out of the rest of the world. We'll do so because God is giving me, and a handful of other men, precise instructions.

Oh, how glorious the world will be then. A small band of men will hold all the power and lord over all the people. Just as we do now, we will appear to be pious and subservient, when, in fact, we are really egotists and narcissists who use religion to drape ourselves in absolute power and the adulation of millions.

We will never promote freedom, as you western pigs see it. There will be no separation of religion and state, no representative government or elections, and no individual rights, especially for women. The only rule of law will be OUR rules, as determined by the precise instructions God is giving me and a handful of others. - More...
Saturday AM - May 19, 2007

---

E-mail your news tips, news
releases & photos to:
editor@sitnews.us

M.C. Kauffman, Webmaster/Editor
webmaster@sitnews.us

In Memory of Dick Kauffman
1932-2007

SitNews
Stories in the News
©1999 - 2007
Ketchikan, Alaska

Locally owned & operated.

Online since 1999

Articles & photographs that appear on SitNews are protected by copyright and may not be reprinted or distributed without written permission from and payment of required fees to the proper sources.