Citizens' group asks, "What fate do we choose for our community?"

May 18, 2007
Friday

Ketchikan, Alaska - Citizens for Ketchikan's Future (CKF), a newly formed citizens' group, has submitted a voters' initiative to the Ketchikan Gateway Borough Clerk's office to limit the density of stores exclusively selling jewelry within the City of Ketchikan. Upon approval by the Borough Clerk, the group will collect the required signatures of the 533 registered voters necessary to have the item placed on the regular October ballot.
The proposed ordinance, if approved by the voters, would require the entrances of jewelry stores to be at least 200 feet apart. The proposed ordinance defines jewelry stores as a business selling precious or semi-precious metals and minerals, the display of which constitutes over forty (40%) percent of the total merchandise on display. Existing stores would be "grandfathered" in and could continue to operate as long as they don't close for more than eight months.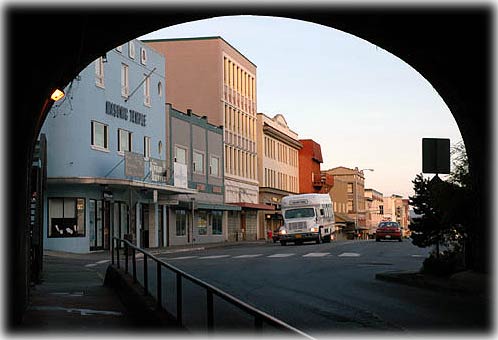 Ketchikan
Photograph by Carl Thompson©

The initiative sponsors are Wally Kubley, Larry Kubley, Dan Eichner, Delores Churchill, Helen Finney, Walt Bolling, Harold Enright, Julie Wills, Virginia Klepser, Mark Murdock, Garnet Dima, and Charlene Dima.
"Good communities, ones that are desirable to live in and sought-after as places to visit, don't just happen by accident", according to Charlene Dima, one of the petition sponsors, "In general, we believe Ketchikan residents really want a town that provides opportunities for a diverse range of businesses. This ordinance is a first step." According to Dima, the initiative's main goal is to encourage and provide opportunities for year-round services and trade which would offer a more diverse range of retail and business services for local residents and visitors. "We have nothing against jewelry stores per se; however the reality is that these stores have over-populated the downtown and will likely continue to spread."
Citizens for Ketchikan's Future (CKF) would also like local government leaders to give more thought and consideration to the direction of the community as a whole. There is little doubt that tourism is extremely important to this community, however the group believes that perhaps more could be done to improve the community's appeal to other types of industries. The haphazard manner in which the community has changed over the past decade is a symptom of the problem.
"Whether we like it or not, regulations are an important component to community success," according to Larry Kubley, who owns commercial property in the heart of downtown. "The important thing is to have the rules backed by a real sense of what we want Ketchikan to look like. It should be a place that feels authentic, not another outlet mall."
The group says that these changes are necessary to protect existing investment and that people do not come to Ketchikan by the hundreds of thousands to see diamonds, emeralds, and rubies - that's not what the brochures reflect.
Dan Eichner another petition sponsor states "I think that as a community, we have jumped in over our head trying to capture tourism dollars and fear that people may choose to go elsewhere. There is nothing worse than when a visitor asks where the downtown is when they're standing right in the middle of it. They want to see our town, not a facsimile."
For too long, the community has asked outside consultants to help establish community planning goals, say Citizens for Ketchikan's Future (CKF). The group believes it's time to ask ourselves - what fate do we choose for our community?
If interested in participating in the group's effort, contact Citizens for Ketchikan's Future at 225-4477.
On the Web:
Source of News:
Citizens for Ketchikan's Future
225-4477

E-mail your news & photos to editor@sitnews.us


Publish A Letter on SitNews Read Letters/Opinions
Contact the Editor
SitNews ©2007
Stories In The News
Ketchikan, Alaska