Contact


Webmail Letters


News Tips


Search Sitnews


Copyright Info


Archives
Today's News


Alaska


Ketchikan


Top Stories


U.S. News


U.S. Politics


Stock Watch


Personal Finance


Science News


US Education News


Parenting News


Seniors News


Medical News


Health News


Fitness


Offbeat News


Online Auction News


Today In History


Product Recalls


Obituaries
Quick News Search


Alaska


Ketchikan


SE Alaska


Alaska News Links
Columns - Articles


Dave Kiffer


Parnassus Reviews


Fish Factor


Chemical Eye On...


Bob Ciminel


Rob Holston


More Columnists
Ketchikan


Our Troops
Historical Ketchikan


June Allen


Dave Kiffer


Louise B. Harrington
Recognition


Match of the Month


Asset Builders
Kid's Corner


Bob Morgan
Ketchikan Arts & Events


Ketchikan Museums


KTN Public Libraryt


Parks & Recreation


Chamber
Lifestyles


Home & Garden


Food & Drink


Arts & Culture


Book Reviews


Movie Reviews


Celebrity Gossip
On the Web


Cool Sites


Webmaster Tips


Virus Warnings
Sports


Ketchikan Links


Top Sports News
Public Records


FAA Accident Reports


NTSB Accident Reports


Court Calendar


Court Records Search


Wanted: Absconders


Sex Offender Reg.


Public Notices
Weather, Webcams


Today's Forecast


KTN Weather Data


AK Weather Map


Ketchikan Webcam


SE AK Webcams


Alaska Webcams


AK Earthquakes


Earthquakes
TV Guide


Ketchikan
Ketchikan Phone Book


Yellow Pages


White Pages
Employment


Employment
Government Links


Local Government


State & National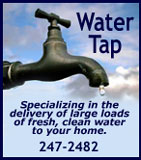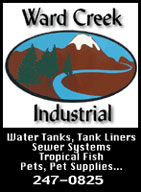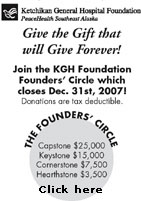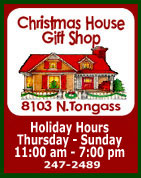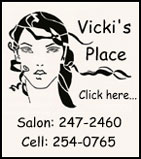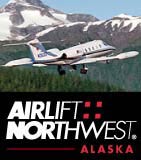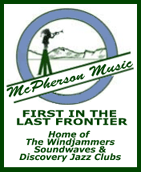 Wednesday
December 26, 2007



Ketchikan Waterfront
Front Page Photo by Carl Thompson




Announcement

Gregory Scott Howard passed away at home on December 22, 2007 at 49 years of age.

A service in his memory is scheduled for Thursday, December 27, 2007 at 3:00 p.m. at Holy Name Church.

Alaska: Ancient Stone Objects Donated by Juneau Man - A Juneau man has donated four ancient stone objects to Sealaska Heritage Institute (SHI), marking one of the most significant donations of cultural items received by the nonprofit in recent years.

Ronald Haffner holding a maul
Photograph courtesy SHI

The pieces donated by Ronald Haffner include a maul, a bowl, what appears to be a grinder and an object shaped like a seal head. The items were dug at Auke Bay by Haffner's great grandmother, Dora Spaulding, likely in the 1930s, said Haffner.

The pieces reveal the artistic talent of indigenous people thousands of years ago, said SHI President Rosita Worl, who thanked Haffner, calling the donation generous.

"The objects are utilitarian objects, but one piece in particular, the seal head, is finely and intricately carved, and it reflects the artistic achievement of Tlingit people prior to the arrival of Europeans," said Worl.

"I'm glad we can finally put them out there and give them back to the Native community so everyone can see and enjoy them and learn about them," said Haffner, who is part Tlingit and Haida.

The stone seal head is the most unusual of the collection. Its function is unknown, but it is decoratively carved with the face of a seal and grooves that suggest it was once attached to a staff or other item. It appears to be a piece that was ornamental or of ceremonial use. The carver spent a lot of time on the piece, suggesting its function was important.

Mauls historically were used by Native people as a type of sledge hammer. The maul donated to SHI is significant because it was carved as a zoomorphic head and painted, and some traces of ancient red paint remain. The specific function of grinders is unclear to scholars, but the object donated to SHI shows use from hammering while another side is worn flat from grinding.

It's also unclear why the objects were buried at Auke Bay, the ancestral homeland of the Tlingit Áak'w Kwáan. Haffner's great, great grandmother was a Tlingit born at Auke Bay. She married Wes Waydelich, who moved here in the late 1800s and founded Juneau's first commercial farm. The farm was at Auke Bay, back then a remote area with no road. Their daughter, Dora Spaulding, might have unearthed the objects while digging at or near her family's farm. Spaulding eventually gave the collection to her daughter, Edith (Nan) Trambitas, who treasured it for 50 years before giving it to Haffner. Haffner made the donation to SHI in memory of Trambitas, who passed away in November 2006. - More...
Wednesday - December 26, 2007

Alaska: Governor Palin Asks Customs to Exclude Alaska Cruises from Proposal; New interpretation for Hawaiian Cruises Would Hurt Alaska Visitor Businesses - Governor Sarah Palin has asked the U.S. Bureau of Customs and Border Protection to back off on a proposed rule interpretation that would harm the Alaska tourism industry.

At issue is the agency's proposed interpretation of an 1886 maritime law that would require foreign-owned cruise ships running between the U.S. West Coast and Hawaii to spend at least 48 hours in a foreign port. The vessels would also have to spend at least half as much time in a foreign port as spent in all U.S. ports of call.

If applied to Alaska cruises, the governor said, the new interpretation would force cruise lines to significantly cut back their time in Alaska ports, pulling hundreds of millions of dollars a year out of the Alaska economy.

The governor has asked the bureau to exclude Alaska cruises from its rule interpretation aimed at a specific problem with Hawaiian cruises. If not, the bureau should at least start over with a full impact review and public process, the governor said. - More...
Wednesday - December 26, 2007

Ketchikan: Klein Appointed to Deputy Commissioner of Aviation - Former Ketchikan resident Christine E. Klein has been appointed to serve as Deputy Commissioner of Aviation, effective Feb. 1, 2008.

Klein is currently a principal with Tikigaq Engineering Services, LLC. She previously worked for the department as the Ted Stevens Anchorage International Airport facilities manager.

"Alaska's international airports are great successes, with Ted Stevens Anchorage International Airport being the number one airport in the U.S. for landed cargo aircraft," said Commissioner Leo von Scheben.

The state owns and operates 256 rural airports as well. DOT&PF has significant issues facing rural airports regarding funding for maintenance and upkeep; installation of lighting for increased safety; medevac capabilities and dust management. - More...
Wednesday - December 26, 2007

Ketchikan: Funding for Dozens of Alaska Water Projects Approved by President Bush - President George W. Bush today signed into law the Omnibus Appropriations bill (H.R. 2764), which contains funding for a series of water projects. Harbor and port projects across the state, ranging from Akutan to Barrow to Ketchikan, received funding in the legislation.

"A viable harbor is the key to a vibrant local economy for our communities," said Senator Ted Stevens (R-Alaska. "But more importantly, our ports provide a gateway for Alaskans to receive basic goods and services. In many communities absent of roads, our harbors are our lifeline."

Several Alaska ports and harbors received significant funding for ongoing projects. The Port of Anchorage received $15.1 million** in the bill for dredging. Another $3 million was allocated to the Nome harbor for dredging, sheet-pile replacement, and construction. The St. Paul harbor received $2.8 million for construction and another $6.6 million will be provided to the Unalaska harbor. - More...
Wednesday - December 26, 2007

Columns - Commentary

Dave Kiffer: Just Feeling A Little Testy - Since I am a baseball fan, I have been thinking a lot about steroids and drug testing lately.

I haven't quite figured out the human growth hormone angle. It's not like baseball players are suddenly 7-feet tall and 300 pounds yet.

But I have noticed that a lot of players seem a lot more "buff" lately and the growth of Barry Bonds' head is beyond reasonable explanation, so maybe there is something to all this hoo-haw and that is too bad.

But that's not what I'm here to prattle on about. I'm interested in the idea of random testing. Not just for drugs, steroids or HGH.

This occurred to me recently when I "prepped" for my bi-annual visit to the dentist by madly flossing every day for a month. Not that I don't floss when I don't have an upcoming appointment, but I certainly don't approach it with as much enthusiasm.

Kind of like how I set a date for my physical and immediately start hitting the gym and laying off the cheesecake and salt.

Wouldn't it be a more accurate assessment of my health, if like the drug testers, my dentist showed up at my place of work and said "pee in this cup."

Well, actually he wouldn't have to say "pee in a cup."

All he would have to do is say "say ahh" which would then be followed by "tsk, tsk" and then "you haven't flossed or brushed since Christmas, have you?"

Same with the annual physical. If you got a call from the hospital and were told to show up in two hours, there would be no way that two hours on the exercycle would make any difference.

"Now about that spare tire you're wearing," the doctor would say. "Looks like you been using the 'all season' model a bit too much."

This could also extend to other aspects of our lives.

For example, no one in school really suffers through "pop" quizzes any more.

Teachers really don't want to surprise their students because a "surprised" student is a "failing" student and that is not a good thing, especially when it comes to "progress assessment tools" as they call quizzes.

This is just fine with me because the last "pop" quiz I passed was "Coke or Pepsi?" As usual, I digress.

But is it really an assessment of progress if you prep someone for several weeks in order to pass a test? - More...
Wednesday - December 26, 2007




Ketchikan

Ketchikan Police Report
AK Troopers Daily Dispatch
Today's Forecast
Satellite
Today's Weather Images
Marine Forecasts
Ketchikan Weather Data
Current AK Weather Map

CLASSIFIEDS

Publish ad
Please select the proper category before posting.




CLASSIFIEDS' CATEGORIES

Announcements and
Help Wanted
For Sale / Free Stuff
Garage Sales
Homes / Apts/ Property
Pets
Wanted
Lost & Found
Local Services
Publish your ad

More Front Page Archives

Viewpoints
Opinions/Letters
Basic Rules

Thank you for caring By Richard LaScala - I want to take a moment to thank the entire community for their prayers, love and support for my sister Theresa Howard, a nurse at Ketchikan Hospital, and her two children Ethan and Elisha. Your presence along with your generosity have helped ease the burden placed on them with the loss of Gregory Howard, a wonderful husband, father and strong member of the community. - More...
Wednesday PM - December 26, 2007

Crisis management leads to poor decision making By Charles Edwardson - I am not only concerned about the spending practices but the priority process in which the Ketchikan City Council implements the budget. Is it through a strategic plan or just what ever happens to be in front of them at the time? The cruise ship dilemma facing southeast should be top on the list on City Council, and Borough Assembly agendas but it appears little or no attention is being paid to this issue, there seems to be a lot of emphasis on a library though. - More...
Wednesday PM - December 26, 2007

One Bellingham boat all summer By Trygve Westergard - I was just looking at the summer schedule for the Alaska Marine Highway and noticed there was only one mainline boat running to Bellingham. I can't believe with the money being so tight that we are taking away one of the two boats on the money making run. - More...
Wednesday PM - December 26, 2007

Public bus stop benches... By Cheryl Jackson - I drove by the Ketchikan Public Library where the bus stop is, and to my surprise there were no benches there. Who decided to remove them and why? They have been there for many years as we all know. The tourists are gone. So, put back the benches for the people of this town! Downtown is empty. The beautiful docks are there, and walk-ways -- off limits to the general public for security reasons, I suppose. - More....
Wednesday PM - December 26, 2007

Thank You City and Citizens of Ketchikan By George Miller - We at Ketchikan Youth Court, wish to thank all in our community who donated time and resources to our work in 2007. Without you we could not make it. Ketchikan Youth Court helps youth who are in trouble for the first time to end up with a clean record, when they complete the youth driven requirements. - More...
Wednesday PM - December 26, 2007

Ketchikan Public Library By Signe Markuson - I was disappointed in the Ketchikan City Council's choice of location for the new library, but what ever the end of the matter is, I ask that they strongly consider the handicapped, transit system dependent, fire codes and tech upgrades and the future in their designing decisions of this community investment. - More...
Wednesday PM - December 26, 2007

Response to "Expense of Running a Local Business" By Vincent Borelli - Ouch! it is quite obvious I struck a nerve on this one. As I stated I don't want to offend anyone, just open your eyes. Does a non-biased, third party, citizens OPINION get you that worked up? Should we not make observations? - More...
Wednesday PM - December 26, 2007

Trying to find carver By Christine Hagmeier - Does anyone know of a carver by the name of Charlie Weatherstun or Weatherspoon? He also goes by "Big C or Big Charlie". - More...
Wednesday PM - December 26, 2007

City Council Spending By Bill and Linda Auger - Voted on by the Ketchikan City Council Thursday, December 20:

1. Eighty-Five Thousand Dollars ($85,000) for a Hybrid Vehicle for the Meter Reader.

2. A New Library Building NOT on the bus route, built on a lot that MAY NOT have adequate parking WITHOUT a parking garage built on an adjacent lot. (Did not the city residents VOTE DOWN this project and location not too long ago?) - More...
Monday AM - December 24, 2007

Ketchikan Police Report By Michael Moyer - I enjoy reading SitNews. What a great way to bring local news to our region and the rest of the world. I am a bit concerned however by the way your Ketchikan Police Report is published. I have absolutely no concern about the press publishing a criminal charge as this is good gossip. Good gossip is gossip that helps to "police" our societies moral character. However, and this is the difference, publishing how a Police call was reported to police dispatch may influence the outcome of a trial and borders on predjudice and slander. The embelishment of reality is not needed in your attempt to manage our moral character. I assume that is why you are publishing any of this information in the first place. - More...
Monday AM - December 24, 2007

Keeping the spirit alive By Chris Elliott - A huge thank you to Don & Joyce Hazelquist for clearing driveways on Jackson Street with their snowblower. It's folks like them that make living in Ketchikan such a joy. - More...
Monday AM - December 24, 2007

Two sisters and Buddy By Kathleen Nelson - During the last 2 weeks our youngest daughter, Molly Benson and husband, Mike, have been staying here with us as they combine a business and family visiting trip. As we catch up on news about friends and other family in Ketchikan we continue to hear more stories about Molly's love for Mike's dog, Buddy. There is no doubt by anyone that Buddy enjoys an abundance of care and attention. However, on the very best days of all in his life, he goes to work with Molly at Murray Pacific. Undeniably he has gathered his own fan club there at the store, including customers and the "family" of employees. Consequently Buddy's day to day life with Molly might just be about the best a dog can have. Theirs has become another one of those special friendships between a young woman and her (husband's) dog. - More...
Monday AM - December 24, 2007

Snow on Sidewalks By Sonia Streitmatter - We live in Alaska. Sometimes it snows. Sometimes the city doesn't get around to cleaning all of the sidewalks. Sometimes owners of property abutting sidewalks don't clean their sections of the sidewalks, which is their responsibility. - More...
Monday AM - December 24, 2007

Cowardly Giants By Derek Flom - To those who thought it best to take away the benches at the bus stop, why stop there?? Why not take away the busses too, and with that the roads they drive on. Then you will be safe from all the hazards of public transportation, and most of all you will be safe from FREEDOM. This is the United States of America, land if the free and home of the brave. - More...
Monday AM - December 24, 2007

More Letters/Viewpoints
Webmail your letter or
Email Your Letter To: editor@sitnews.us

---

E-mail your news tips, news
releases & photos to:
editor@sitnews.us

SitNews
Stories in the News
©1999 - 2007
Ketchikan, Alaska

M.C. Kauffman, Webmaster/Editor
webmaster@sitnews.us

In Memory of SitNews' first editor,
Dick Kauffman
1932-2007

Locally owned & operated.
Online since 1999

Articles & photographs that appear in SitNews are protected by copyright and may not be reprinted or distributed without written permission from and payment of required fees to the proper sources.