Ancient Stone Objects Donated by Juneau Man
December 26, 2007
Wednesday

(SitNews) - A Juneau man has donated four ancient stone objects to Sealaska Heritage Institute (SHI), marking one of the most significant donations of cultural items received by the nonprofit in recent years.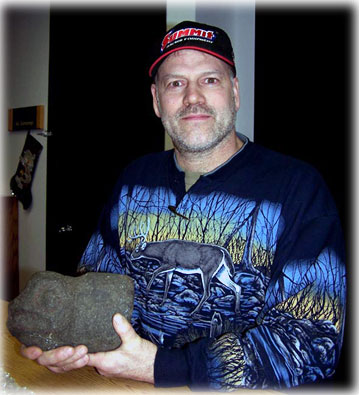 Ronald Haffner holding a maul
Photograph courtesy SHI
The pieces donated by Ronald Haffner include a maul, a bowl, what appears to be a grinder and an object shaped like a seal head. The items were dug at Auke Bay by Haffner's great grandmother, Dora Spaulding, likely in the 1930s, said Haffner.
The pieces reveal the artistic talent of indigenous people thousands of years ago, said SHI President Rosita Worl, who thanked Haffner, calling the donation generous.
"The objects are utilitarian objects, but one piece in particular, the seal head, is finely and intricately carved, and it reflects the artistic achievement of Tlingit people prior to the arrival of Europeans," said Worl.
"I'm glad we can finally put them out there and give them back to the Native community so everyone can see and enjoy them and learn about them," said Haffner, who is part Tlingit and Haida.
The stone seal head is the most unusual of the collection. Its function is unknown, but it is decoratively carved with the face of a seal and grooves that suggest it was once attached to a staff or other item. It appears to be a piece that was ornamental or of ceremonial use. The carver spent a lot of time on the piece, suggesting its function was important.
Mauls historically were used by Native people as a type of sledge hammer. The maul donated to SHI is significant because it was carved as a zoomorphic head and painted, and some traces of ancient red paint remain. The specific function of grinders is unclear to scholars, but the object donated to SHI shows use from hammering while another side is worn flat from grinding.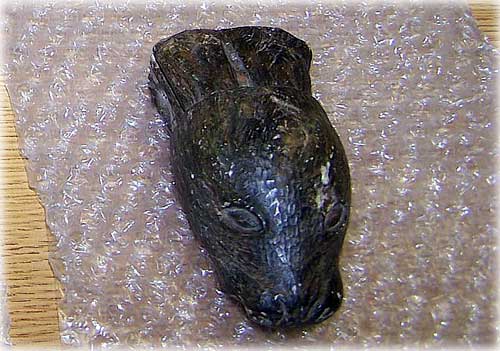 Seal Head
Photograph courtesy SHI

It's also unclear why the objects were buried at Auke Bay, the ancestral homeland of the Tlingit Áak'w Kwáan. Haffner's great, great grandmother was a Tlingit born at Auke Bay. She married Wes Waydelich, who moved here in the late 1800s and founded Juneau's first commercial farm. The farm was at Auke Bay, back then a remote area with no road. Their daughter, Dora Spaulding, might have unearthed the objects while digging at or near her family's farm. Spaulding eventually gave the collection to her daughter, Edith (Nan) Trambitas, who treasured it for 50 years before giving it to Haffner. Haffner made the donation to SHI in memory of Trambitas, who passed away in November 2006.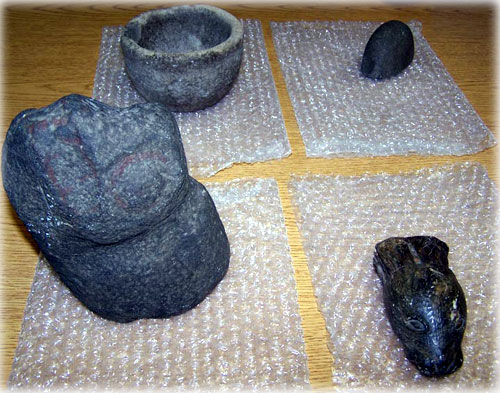 A maul, a bowl, what appears to be a grinder and an object shaped like a seal head
Photograph courtesy SHI

SHI will care for the objects, and eventually exhibit the collection at Sealaska Plaza, Worl said.
"We know that future generations are going to welcome seeing things made by their ancestors, and clearly these are objects made by grandparents of the Áak'w Kwáan," she said.
Sealaska Heritage Institute is a Native nonprofit established in 1981 to administer educational and cultural programs for Sealaska, a regional Native corporation formed under the Alaska Native Claims Settlement Act. The institute's mission is to perpetuate and enhance Tlingit, Haida and Tsimshian cultures. Language revitalization is a priority of SHI.
Source of News & Photographs:
Sealaska Heritage Institute
www.sealaskaheritage.org

E-mail your news & photos to editor@sitnews.us


Publish A Letter in SitNews Read Letters/Opinions
Contact the Editor
SitNews ©2007
Stories In The News
Ketchikan, Alaska