Contact


Webmail Letters


News Tips


Search Sitnews


Copyright Info


Archives
Today's News


Alaska


Ketchikan


Top Stories


U.S. News


U.S. Politics


Stock Watch


Personal Finance


Science News


US Education News


Parenting News


Seniors News


Medical News


Health News


Fitness


Offbeat News


Online Auction News


Today In History


Product Recalls


Obituaries
Quick News Search


Alaska


Ketchikan


SE Alaska


Alaska News Links
Columns - Articles


Dave Kiffer


Parnassus Reviews


Fish Factor


Chemical Eye On...


Bob Ciminel


Rob Holston


More Columnists
Ketchikan


Our Troops
Historical Ketchikan


June Allen


Dave Kiffer


Louise B. Harrington
Recognition


Match of the Month


Asset Builders
Kid's Corner


Bob Morgan
Ketchikan Arts & Events


Ketchikan Museums


KTN Public Libraryt


Parks & Recreation


Chamber
Lifestyles


Home & Garden


Food & Drink


Arts & Culture


Book Reviews


Movie Reviews


Celebrity Gossip
On the Web


Cool Sites


Webmaster Tips


Virus Warnings
Sports


Ketchikan Links


Top Sports News
Public Records


FAA Accident Reports


NTSB Accident Reports


Court Calendar


Court Records Search


Wanted: Absconders


Sex Offender Reg.


Public Notices
Weather, Webcams


Today's Forecast


KTN Weather Data


AK Weather Map


Ketchikan Webcam


SE AK Webcams


Alaska Webcams


AK Earthquakes


Earthquakes
TV Guide


Ketchikan
Ketchikan Phone Book


Yellow Pages


White Pages
Employment


Employment
Government Links


Local Government


State & National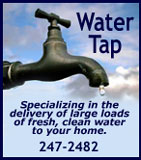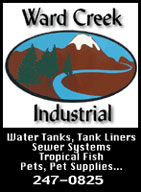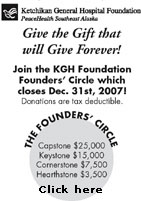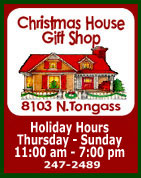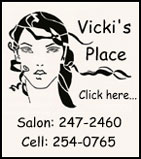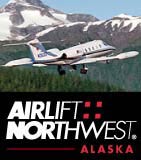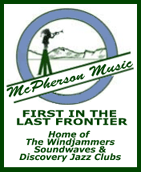 Monday
December 24, 2007



Tongass Sunrise
Front Page Photo by Carl Thompson




Announcement

Gregory Scott Howard passed away at home on December 22, 2007 at 49 years of age.

A service in his memory is scheduled for Thursday, December 27, 2007 at 3:00 p.m. at Holy Name Church.

Alaska: Elections Security Report Findings Released - In a press conference held Friday, Lieutenant Governor Sean Parnell and the University of Alaska Anchorage released Phase 1 results of the Alaska Elections Security Project. Lieutenant Governor Parnell and the Alaska Division of Elections commissioned the study to examine the security and accuracy of the state's current voting system, and asked the University to make recommendations for improvement. The lieutenant governor was joined by Elections System Manager Shelly Growden; UAA Project Lead Luann Piccard; UAA Provost Mike Driscoll; Dean of Engineering Rob Lang; and Director of the Institute for Social and Economic Research Steve Colt.

Phase 1of UAA's Alaska Election Security Project revealed many positive aspects of Alaska's Division of Elections procedures. The study found that the Division of Elections systems and procedures were "in many ways reassuring: Alaska's system has many features that improve security. Those include paper back-ups for electronic counts, cross-checking of vote counts in different locations, and a centralized system for state and federal elections throughout Alaska."

A number of potential vulnerabilities, including the transportation of ballots and vote recording machines to the Bush, were also identified and will be addressed in-depth in Phase 2 of the project, which will continue over the next three months. - More...
Monday AM - December 24, 2007

Fish Factor: Gifts from the sea By LAINE WELCH - At this time of gift giving, let's not overlook the gifts from the sea.

Sponge Bob Squarepants, for example, could be the next rage in fiber optics. Researchers at Bell Labs have found that a certain sponge grows a network of glass fibers far more advanced than any found in today's telecommunications networks.

Speaking of lighting up our world - the DNA from salmon sperm is fueling the world's first bio-LEDs. (Light Emitting Diodes, used everywhere in electronic and digital devices.) Photonics experts at the University of Cincinnati and the U.S. Air Force nano-lab are able to refine DNA fibers into thin films that produce a superior light.

Some jellyfish have a special bio-luminescence useful in medical research. For hundreds of years Asian cultures have used jellyfish to treat arthritis, high blood pressure and back pain.

Shrimp based bandages are now being used by our troops in Iraq and Afghanistan. The bandages contain chitin, a substance found in shells of crab, shrimp and other crustaceans. The compounds in chitin help blood clot and seal wounds in just 30 seconds

Shrimp shells also are being tested in a nasal spray in England as a treatment for allergies.

Russian researchers have created a product from enzymes in king crab shells that helps heal severe burns. An extract from brown seaweed skin reduces damage from radiation exposure. - More...
Monday AM - December 24, 2007

Alaska: The physics of life at 40 below By NED ROZELL - A father wakes, rolls out of bed, and steps onto cold carpet. He grabs a flashlight, and shines it outside the window. The thermometer reads 40 below zero, the only point at which the Fahrenheit and Celsius scales agree. The red liquid within his thermometer is alcohol; mercury freezes at minus 38 degrees Fahrenheit.

His little boy wakes, dresses, and hands his father birch logs to add to the wood stove. The logs are heavy, cut last fall and not properly dried. The green wood contains almost 50 percent moisture, compared to about 30 percent in cured wood. The logs hiss amid other burning logs. They give off no heat until the moisture is driven off.

Outside, the car is plugged in. The father remembered the night before to activate the heating element that warms his antifreeze, which in turn keeps his motor oil just viscous enough to allow the pistons to move. A heat blanket, another northern adaptation, has kept the battery at about 20 degrees Fahrenheit; just warm enough to permit 50 percent of the cranking strength available in summer. - More...
Monday AM - December 24, 2007

Business - Economy: To regift or not to regift By SARA GANUS - No one knows exactly when it began, but it's among one of the oldest gift-giving practices known to mankind.

You receive. You rewrap. And then? You regift.

Whether it's a gift exchange between co-workers, family or dear friends, "regifting" -- coined by a 1995 "Seinfeld" episode -- has become a tradition for many Americans.

But what was once taboo about the regifting ritual is changing, at least according to a recent survey by eBay. The online survey conducted in October included more than 2,700 adults.

Nearly 65 percent of U.S. adults believe regifting or reselling gifts is more "socially acceptable" now than it was several years ago, and about a quarter of them say they are more likely to regift or resell now than they were last year, the survey stated. - More...
Monday AM - December 24, 2007

Business - Economy: Which is better for the environment: paper or plastic? - Paper or plastic grocery bags -- which are better for the environment?

You probably think you know the answer. And you're probably wrong.

Paper bags are not necessarily better for the environment than plastic -- despite many consumers' long-standing assumption that paper beats out plastic hands down when it comes to eco-friendliness.

"There definitely was a period of time when the message was, 'Choose paper over plastic,'" said Jenny Powers, a spokeswoman for the Natural Resources Defense Council. "That's not the way to view it."

Powers and other environmental experts now say the best choice is neither paper nor plastic -- it's reusable shopping bags made of substances like cotton, hemp, nylon or durable mesh-like plastic.

"The ideal option is bring your own bag," Powers said. "Second choice is to ask for the type of bag that you know will be reused -- plastic if you'll use it for holding trash, or paper if you will recycle it." - More...
Monday AM - December 24, 2007

Columns - Commentary

Barbara Polichetti: Oh, what a sweet season! - No matter how many gifts were stacked under the tree when I was a kid, Christmas was never complete until my sister and I had burrowed through our stockings and found the confections we had come to expect.

There simply had to be a candy cane hooked over the top of each stocking's fuzzy cuffs and bulky Lifesavers "Storybooks" stuffed inside. Also, before our fingers found the fresh navel oranges that always filled out the stockings' toes, we knew we would snag mesh sacks filled with foil-wrapped chocolate coins.

There were other sweet traditions. We could always count on at least three boxes of Russell Stover candy -- wrapped in festive poinsettia-covered cellophane -- arriving at the house as family gifts during the holiday season. And although my grandmother always had Russell Stovers to offer us all year long, my sister and I never quite got the lay of the land when it came to the interior organization of those bonbon boxes, and we inevitably ended up biting into fluffy creams when we really wanted the tug of nougat.

At home, this led to a lot of rustling through the chocolate's crinkly waxy cups and lots of nibbling and spitting -- all of which would infuriate my mom, who would immediately confiscate the box and remind us that these were "fine chocolates" that were not to be wasted. She also diligently guarded the seasonal boxes of ribbon candy that were kept in the dining-room buffet and handled as if they were religious relics. - More...
Monday AM - December 24, 2007

Preston MacDougall: Chemical Eye on Santa's Love Train - 'Twas the night before Monday, and all through the house, not a peripheral was whirring, not even the mouse. Yet there it was, I could hear the refrain over and over again in my head.

People all over the world, join hands
Start a love train, love train
People all over the world, join hands
Join a love train, love train

When the voice became clearer, I realized that it wasn't the O'Jays singing their hit from the summer of '74, it was me! (It's amazing what a little remixing will do when you're dreaming.)

Things went from karaoke to concern when the visual effects floated into my dream. While my daughter would be horrified by the thought of me on a new R&B show called "Dancing with the Profs", the setting of my vocal performance was no laughing matter. It looked like Armageddon.

It wasn't clear if the ruined homes were houses, villas or huts. In fact, there could have been some of each since I seemed to be quickly moving from place to place. I kept on moving, not out of fear, but out of frustration - it seemed like nobody was listening. They weren't holding hands anyway. - More...
Monday AM - December 24, 2007

Match of the Month for December 2007
Big Sister Charlotte and Little Sister Tatum pose in front of Holiday display in library of Tongass School of Arts & Sciences.
Photograph by Nancy Coggins

Recognition

Ketchikan: Match of the Month: December 2007 Tatum and Charlotte; "Little Sister's" special "Big Sister" mentor and friend By NANCY COGGINS - Matched for a short while within Big Brothers Big Sisters Alaska (BBBSAK) in Ketchikan, "Big Sister" Charlotte meets her "Little Sister" Tatum once a week at school. Most of the time they share lunchtimes and recess. Tatum says, "If Charlotte didn't come I would miss her," and no matter what activity they do together any seems to be her "favorite."

A "good-luck" element of this match says Tatum's mother, is that "Tatum loves books and my daughter got a librarian as a 'Big.' " She appreciates the fact that BBBSAK took extra time making this match, as "it did a good job in finding the right type of person for my daughter."

Naturally, one of Charlotte and Tatum's favorite activities is reading stories together. Charlotte, as an additional adult in Tatum's life, supplies more of that invaluable relationship element by paying attention and listening to her on a one-on-one basis. - More...
Monday AM - December 24, 2007




Ketchikan

Ketchikan Police Report
AK Troopers Daily Dispatch
Today's Forecast
Satellite
Today's Weather Images
Marine Forecasts
Ketchikan Weather Data
Current AK Weather Map

CLASSIFIEDS

Publish ad
Please select the proper category before posting.




CLASSIFIEDS' CATEGORIES

Announcements and
Help Wanted
For Sale / Free Stuff
Garage Sales
Homes / Apts/ Property
Pets
Wanted
Lost & Found
Local Services
Publish your ad

More Front Page Archives

Viewpoints
Opinions/Letters
Basic Rules

City Council Spending By Bill and Linda Auger - Voted on by the Ketchikan City Council Thursday, December 20:

1. Eighty-Five Thousand Dollars ($85,000) for a Hybrid Vehicle for the Meter Reader.

2. A New Library Building NOT on the bus route, built on a lot that MAY NOT have adequate parking WITHOUT a parking garage built on an adjacent lot. (Did not the city residents VOTE DOWN this project and location not too long ago?) - More...
Monday AM - December 24, 2007

Ketchikan Police Report By Michael Moyer - I enjoy reading SitNews. What a great way to bring local news to our region and the rest of the world. I am a bit concerned however by the way your Ketchikan Police Report is published. I have absolutely no concern about the press publishing a criminal charge as this is good gossip. Good gossip is gossip that helps to "police" our societies moral character. However, and this is the difference, publishing how a Police call was reported to police dispatch may influence the outcome of a trial and borders on predjudice and slander. The embelishment of reality is not needed in your attempt to manage our moral character. I assume that is why you are publishing any of this information in the first place. - More...
Monday AM - December 24, 2007

Keeping the spirit alive By Chris Elliott - A huge thank you to Don & Joyce Hazelquist for clearing driveways on Jackson Street with their snowblower. It's folks like them that make living in Ketchikan such a joy. - More...
Monday AM - December 24, 2007

Two sisters and Buddy By Kathleen Nelson - During the last 2 weeks our youngest daughter, Molly Benson and husband, Mike, have been staying here with us as they combine a business and family visiting trip. As we catch up on news about friends and other family in Ketchikan we continue to hear more stories about Molly's love for Mike's dog, Buddy. There is no doubt by anyone that Buddy enjoys an abundance of care and attention. However, on the very best days of all in his life, he goes to work with Molly at Murray Pacific. Undeniably he has gathered his own fan club there at the store, including customers and the "family" of employees. Consequently Buddy's day to day life with Molly might just be about the best a dog can have. Theirs has become another one of those special friendships between a young woman and her (husband's) dog. - More...
Monday AM - December 24, 2007

Snow on Sidewalks By Sonia Streitmatter - We live in Alaska. Sometimes it snows. Sometimes the city doesn't get around to cleaning all of the sidewalks. Sometimes owners of property abutting sidewalks don't clean their sections of the sidewalks, which is their responsibility. - More...
Monday AM - December 24, 2007

Cowardly Giants By Derek Flom - To those who thought it best to take away the benches at the bus stop, why stop there?? Why not take away the busses too, and with that the roads they drive on. Then you will be safe from all the hazards of public transportation, and most of all you will be safe from FREEDOM. This is the United States of America, land if the free and home of the brave. - More...
Monday AM - December 24, 2007

More Letters/Viewpoints
Webmail your letter or
Email Your Letter To: editor@sitnews.us

---

E-mail your news tips, news
releases & photos to:
editor@sitnews.us

SitNews
Stories in the News
©1999 - 2007
Ketchikan, Alaska

M.C. Kauffman, Webmaster/Editor
webmaster@sitnews.us

In Memory of SitNews' first editor,
Dick Kauffman
1932-2007

Locally owned & operated.
Online since 1999

Articles & photographs that appear in SitNews are protected by copyright and may not be reprinted or distributed without written permission from and payment of required fees to the proper sources.