Contact


Webmail Letters


News Tips


Search Sitnews


Copyright Info


Archives
Today's News


Alaska


Ketchikan


Top Stories


U.S. News


U.S. Politics


Stock Watch


Personal Finance


Science News


US Education News


Parenting News


Seniors News


Medical News


Health News


Fitness


Offbeat News


Online Auction News


Today In History


Product Recalls


Obituaries
Quick News Search


Alaska


Ketchikan


SE Alaska


Alaska News Links
Columns - Articles


Dave Kiffer


Parnassus Reviews


Fish Factor


Chemical Eye On...


Bob Ciminel


Rob Holston


More Columnists
Ketchikan


Our Troops
Historical Ketchikan


June Allen


Dave Kiffer


Louise B. Harrington
Recognition


Match of the Month


Asset Builders
Kid's Corner


Bob Morgan
Ketchikan Arts & Events


Ketchikan Museums


KTN Public Libraryt


Parks & Recreation


Chamber
Lifestyles


Home & Garden


Food & Drink


Arts & Culture


Book Reviews


Movie Reviews


Celebrity Gossip
On the Web


Cool Sites


Webmaster Tips


Virus Warnings
Sports


Ketchikan Links


Top Sports News
Public Records


FAA Accident Reports


NTSB Accident Reports


Court Calendar


Court Records Search


Wanted: Absconders


Sex Offender Reg.


Public Notices
Weather, Webcams


Today's Forecast


KTN Weather Data


AK Weather Map


Ketchikan Webcam


SE AK Webcams


Alaska Webcams


AK Earthquakes


Earthquakes
TV Guide


Ketchikan
Ketchikan Phone Book


Yellow Pages


White Pages
Employment


Employment
Government Links


Local Government


State & National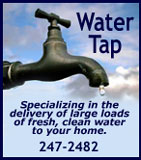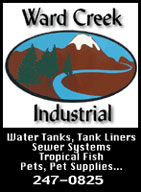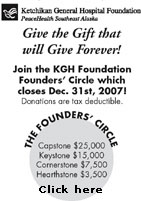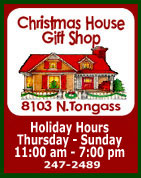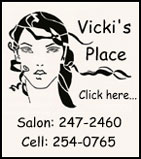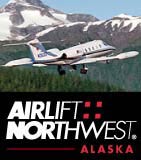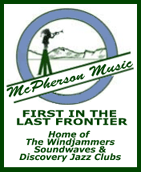 Thursday
December 13, 2007



Ketchikan Community Concert Band
The Ketchikan Community Concert Band prepares for their annual Holiday Concert which will take place Sunday. Roy McPherson conducts...
Front Page Photo by Dale Miller

Ketchikan: Ketchikan Community Concert Band's Annual Holiday Concert Sunday - The Ketchikan Community Concert Band will be performing their "Holiday Band Concert" this Sunday afternoon (December 16th) in the Kayhi Auditorium. The program will include traditional band literature as well as seasonal selections. Highlighting the program will be Alfred Reed's "Russian Christmas Music," a major work that has been a listener (as well as performer) favorite in Ketchikan for over thirty years.

The music begins quietly, with intense, beautiful lines in the woodwinds followed by strong brass statements which build to a climax several times. The powerful sections are connected by beautiful extended solos played by oboist, Kathleen Light. The piece then grows to a truly colossal finish.

The program will open with a bright, joyous piece entitled "Clouds That Sail in Heaven," which is based upon the hymn "All Creatures of Our God and King." Two other Christmas selections include "Prelude on Greensleeves," and "A Most Wonderful Christmas." The latter piece is a delightful arrangement of popular Christmas melodies such as "Winter Wonderland," "I'll Be Home for Christmas," "Santa Claus is Coming to Town," "Have Yourself a Merry Little Christmas," and "It's the Most Wonderful Time of the Year."

The band tries to include at least one traditional march in its concerts - this year's is the popular Sousa march "Washington Post." "From Every Horizon" is a tone poem for band by Norman Dello Joio, describing musically the various moods of New York City. It was written originally as a film score by the same name. "Eire" is a charming and colorful musical portrait of Ireland, and "Poeme" is a quite, lovely ballad.

Some of the most recognizable tunes of our era are included in "Pop Culture," such as the "James Bond Theme", "The Magnificent Seven", "The Flintstones", "The Pink Panther", "Peter Gunn", "Hey Baby", "Scobby Doo, Where Are You?," "Wipe Out", and "The Stars and Stripes Forever".

The fifty-member concert band came together in the spring of 2002. They rehearse each Monday evening, presenting concerts in the fall and late spring each year, taking a break in the summer. A third "Lightweight" concert is planned for April 12th, this spring. It will be something quite different with "The Music of Disneyland," "Chillers and Thrillers," P.D.Q. Bach's "Grand Serenade for an Awful Lot of Winds and Percussion," "76 Trombones," and a load of surprises. - More...
Thursday AM - December 13, 2007

Alaska: Alaska Army National Guard's first female drill sergeant has spirit - Known as the Last Frontier, it's not surprising the kind of people who are drawn to Alaska-adventurous, gregarious and trailblazing to name a few.

Recruit Sustainment Program drill sergeant, Bonnie Cochran calls cadence to keep her new recruits in step during August drill.
Photo by Sgt. Karima Turner

It's also not surprising at the kind of Soldiers the Alaska Army National Guard enlists. They can easily be described as true Alaskans - the kind of people you want fighting for your state and nation, the kind of people you are proud to call Arctic Warriors.

One Soldier in particular has taken hold of this spirit and has become the first female drill sergeant in the Alaska Army National Guard.

Sgt. 1st Class Bonnie Cochran, a resident of Palmer, originally came from Nebraska where she was a member of the Nebraska Army National Guard. Cochran served as an instructor for what was then called the Primary Leadership Development Course and moved to Alaska in 2003 in the hopes of new job opportunities and experiences.

"This has definitely been a new experience for me," Cochran said. "I've always wanted to be a drill sergeant because to me a drill sergeant is the ultimate role model with ultimate responsibility. I've talked to people who've retired from the service, and they can still recall their drill sergeants' names. To have that great of an impact on someone is incredible."

Although training Soldiers is not completely new to Cochran, training civilians to become Soldiers is.

"As an NCO, I couldn't possibly think of anything greater or better than being a drill sergeant. I taught PLDC (Primary Leadership Development Course) for four years at an NCO (Non-Commissioned Officer's) academy, full-time, and this is even BETTER, I love training Soldiers." - More...
Thursday AM - December 13, 2007

Alaska: Benzene study targets attached garages By NED ROZELL - Because of our gasoline and our climate, Alaskans who live in homes with attached garages are at higher risk of exposure to harmful chemicals in the air. A few scientists are trying to find out the size of that risk.

Mary Ellen Gordian of Anchorage is a physician and a professor at the University of Alaska Anchorage who is beginning a study of benzene levels in which she hopes to test 400 local homes. In a preliminary study of Anchorage homes with attached garages, she found that one-third of the air samples from those homes had unhealthy levels of benzene.

"We had families exposed to levels way above the minimal risk level for acute exposure, and they're being exposed to it 24-7 because it's in their home," she said.

Doctors have linked benzene to a higher risk of cancer related to white blood cells, such as leukemia and lymphoma, and Gordian suspects there may be a link between benzene exposure and asthma. Alaskans have a higher risk of exposure to benzene because gasoline refined here from North Slope crude oil has a higher proportion of benzene than gas produced in the Lower 48, Gordian said. - More...
Thursday AM - December 13, 2007

Alaska: National Report Ranks Alaska 5th in Protecting Kids From Tobacco - Alaska ranks 5th in the nation in funding programs to protect kids from tobacco, according to a national report released Wednesday by a coalition of public health organizations. Alaska currently spends $7.5 million a year on tobacco prevention programs, which is 92.5 percent of the minimum amount of $8.1 million recommended by the U.S. Centers for Disease Control and Prevention (CDC). Last year, Alaska ranked 10th, spending $6.2 million on tobacco prevention.

The annual report on states' funding of tobacco prevention programs, titled "A Broken Promise to Our Children," was released by the Campaign for Tobacco-Free Kids, American Heart Association, American Cancer Society Cancer Action Network and American Lung Association. - More...
Thursday - December 13, 2007

Health - Fitness: Making scents of the season By LEE BOWMAN - For many people, the smells of Christmas time are at least as important as the sights and sounds of the holidays.

That's hardly surprising, since scientists say most people can perceive up to 10,000 odors. And genetic researchers say humans have about the same number of genes involving odor detection -- about 1,000 -- as mice. However, unlike the rodents, about half of the human genes have become inactive over the last few million years.

For instance, genetic researchers at the Weizman Institute of Science in Israel recently found that volunteers who still had one particular receptor gene were much more sensitive to odors such as bananas, spearmint, eucalyptus and human sweat, while those with at least two genes with disrupting mutations were pretty much impervious to the offending odor.- More...
Thursday AM - December 13, 2007

News in Photos
Miles Enright takes on wood chips from the RKG Veneer Mill Monday. Six loads of the wood chips were donated by Jerry Jenkins of RKG to the Clover Pass Christian School Playground Project. This state approved playground serves the school students as well as the children's nursery.
Front Page Photo by Rob Holston

News in Photos
Marvin Hill of Wildcatters and Paul Hamilton of P&T Construction moved this house along North Tongass Highway Monday morning to its new location at Mud Bight.
Front Page Photo by Steve Sherva

Column

Dave Kiffer: Are You Really Ready for An Alaska Man? - From time to time I have noted that I'm still receiving numerous emails from Outsiders - mostly of the female persuasion - wanting info about Alaska.

More specifically, they want to know how similar the real Alaska is to the "Alaska" that is portrayed in the television show "Men in Trees."

Of course, they are not interested in hearing the reality about Alaska.

They want to move here and experience the "fantasy" that they have seen on television. Oh and, by the way, do I know any good men they could hook up with they get here?

I have given up trying to dissuade them.

Instead I'm setting up an internet match-making service. It will only cost them $99 the first month and $99 each month thereafter charged to their credit cards for as long as they are members.

Naturally, I will give them a special toll number to call to cancel their memberships when they have been successfully hitched. 1-804-382-2583 or 1-80G-ETA-CLUE. Operators will be standing by!

I have put a lot of thought into this.

I have even gone as far as to stop everything else that I was doing for a few seconds to think only about this. That alone qualifies as a "well thought out plan" by Alaska standards. - More...
Thursday AM - December 13, 2007




Ketchikan

Ketchikan Police Report
AK Troopers Daily Dispatch
Today's Forecast
Satellite
Today's Weather Images
Marine Forecasts
Ketchikan Weather Data
Current AK Weather Map

CLASSIFIEDS

Publish ad
Please select the proper category before posting.




CLASSIFIEDS' CATEGORIES

Announcements and
Help Wanted
For Sale / Free Stuff
Garage Sales
Homes / Apts/ Property
Pets
Wanted
Lost & Found
Local Services
Publish your ad

More Front Page Archives

Viewpoints
Opinions/Letters
Basic Rules

In Defense of The General Public By Ken Bylund - There is a growing sense of power that comes with success; power can become addictive to the point of ignoring our limitations and the desperate impulse to control that which is outside the domain of personal achievement and polished expertise. It really is understandable if we look at the basic risk/reward patterns that have been successful in growing and learning from our past to get where we are... but change, trade-offs and double-betting can be a good strategy for survival. A management consultant Adrian J. Slywotzky has come up with some fresh ideas on the subject and promotes risk shaping instead of risk taking. - More...
Thursday AM - December 13, 2007

Boat Parade - One Last Time!?? By Shauna Lee - Every Christmas I host a "Boat Parade Party" as I am lucky enough to have a home that looks out over the bay. It is a tradition at our home as my father is a tug captain and is usually in the parade. I have always loved this event because it is unique to Ketchikan and made the holidays feel really special. - More...
Thursday AM - December 13, 2007

Sprinkler systems, grade issue By Jim Byron II - The standpipe that Mr. Murphy spoke of did not come as easy as he had made it sound, it took months of fighting with city officials and fire chiefs to come to such an agreement (originally they said there may have to be a residential sprinkler system installed). Everything from cement trucks, to oil trucks, water and dump trucks, even a fire truck have made it up the hill in question, (with over a 10% grade). - More...
Thursday AM - December 13, 2007

Sports By Eileen Small - Just as an observant parent of kids who once lived and played sports in this town, I'd like folks to consider the following: Do you realize that in Coffman Cove - a town much smaller than Ketchikan - they have a beautiful grassed ball field? The kids love to play on it and don't get hurt doing so. - More...
Thursday AM - December 13, 2007

Also a fan of more than just soccer By Teresa Dickey - In response to More than a Soccer Fan, I feel it is unfair to say that KYSL is trying to take over the Ketchikan sporting world. Let's not be petty. As with ANY sport, there are going to be over zealous parents, fans and/or officials. - More...
Thursday AM - December 13, 2007

Changing the Bottom Line; clean elections mean cleaner politics By John D. Lyle - Cam Carlson's October 6th editorial, "Dissatisfied Alaska Republicans" describes repeated, failed attempts to prod the Alaska Republican Central Committee to pass a resolution calling for honesty and integrity in government, things which seem in short supply these days. - More...
Thursday AM - December 13, 2007

Fan of more than just soccer By Jerry Royster - Interesting how time changes things in a small town. Ketchikan has always been a basketball town first, with the other sports left to fend for themselves. But over the past few years I've noticed that we are splintering into three groups in the athletic world. - More...
Wednesday AM - December 12, 2007

Citizens faith in some officials tanking By Lynette Clark - "U.S. Sen. Stevens said...he has no fear of a Democratic opponent in next year's election, and he blamed overzealous reporters for the continued interest in the federal investigation both he and his son have been caught up in." Anchorage Daily News front page. Poor Uncle Ted, his sky is falling and zealots are after him! I'm in complete wonderment as to why the Senator and his son aren't under investigation by the State of Alaska? There's rather "transparent" proof in court records, of poor judgment, absence of ethics, easy money changing hands, breaches of Constitutional Oath of Offices, resulting in individuals presently in prison. Convictions based on clear evidence, evidence that named more names, two of which are Ted and Ben Stevens. - More...
Wednesday AM - December 12, 2007

Residential sprinkler systems By Kevin C. Murphy - I would like to take this opportunity to respond to Mr. Edwardson's letter regarding the actions of the City Council and the proposed adoption of the updated Fire Code. - More...
Tuesday AM - December 11, 2007

Home Sprinkler Systems By Andy Rauwolf - Hats off to Charles Edwardson's letter. I couldn't agree more. One point about home sprinkler systems needs to be emphasized. Sprinkler systems in homes DO NOT save lives. SMOKE DETECTORS save lives. By the time sprinklers are triggered by heat chances are the occupant has already succumbed to smoke. There are very few cases that can be made otherwise. - More...
Tuesday AM - December 11, 2007

City Council: Do you really understand? By Charles Edwardson - The city council, like many other boards and councils, are under appreciated and should be commended for their efforts "SOMETIMES" - More...
Monday AM - December 10, 2007

Revilla Road Closure By Heather Muench - On Saturday afternoon on my usual trip out the Rivilla Road, I noticed a "road closed" sign. The road was clear with a little snow at the edge. It was in far better shape than the few days after the beginning of the cold weather. I saw numerous cars going in both directions. There were folks out cutting wood, walking dogs, hauling snowmobiles and getting Christmas trees. About a mile after the end of the pavement , there was an Alaska State Trooper stopping cars. He told me the DOT had closed the road and he had been sent out to enforce the closure. We were on dry gravel. I asked if I could park and walk my dogs. He once again said the road was closed. - More...
Monday AM - December 10, 2007

Newtown, downtown steering committees By Charles Edwardson - Some of the same people on these committees were the biggest critics of the jewelry stores. And now there is talk of glamorizing Ketchikan's seedy past and turning Newtown into a theme park, (lots better than jewelry stores right)? This is ludicrous and validates the legitimacy of the jewelry stores at least they are what they are, and are not trying to fool anyone. - More...
Monday AM - December 10, 2007

More Letters/Viewpoints
Webmail your letter or
Email Your Letter To: editor@sitnews.us

---

E-mail your news tips, news
releases & photos to:
editor@sitnews.us

SitNews
Stories in the News
©1999 - 2007
Ketchikan, Alaska

M.C. Kauffman, Webmaster/Editor
webmaster@sitnews.us

In Memory of SitNews' first editor,
Dick Kauffman
1932-2007

Locally owned & operated.
Online since 1999

Articles & photographs that appear in SitNews are protected by copyright and may not be reprinted or distributed without written permission from and payment of required fees to the proper sources.