Contact


Webmail Letters


News Tips


Search Sitnews


Copyright Info


Archives
Today's News


Alaska


Ketchikan


Top Stories


U.S. News


U.S. Politics


Stock Watch


Personal Finance


Science News


US Education News


Parenting News


Seniors News


Medical News


Health News


Fitness


Offbeat News


Online Auction News


Today In History


Product Recalls


Obituaries
Quick News Search


Alaska


Ketchikan


SE Alaska


Alaska News Links
Columns - Articles


Dave Kiffer


Parnassus Reviews


Fish Factor


Chemical Eye On...


Bob Ciminel


Rob Holston


More Columnists
Ketchikan


Our Troops
Historical Ketchikan


June Allen


Dave Kiffer


Louise B. Harrington
Recognition


Match of the Month


Asset Builders
Kid's Corner


Bob Morgan
Ketchikan Arts & Events


Ketchikan Museums


KTN Public Libraryt


Parks & Recreation


Chamber
Lifestyles


Home & Garden


Food & Drink


Arts & Culture


Book Reviews


Movie Reviews


Celebrity Gossip
On the Web


Cool Sites


Webmaster Tips


Virus Warnings
Sports


Ketchikan Links


Top Sports News
Public Records


FAA Accident Reports


NTSB Accident Reports


Court Calendar


Court Records Search


Wanted: Absconders


Sex Offender Reg.


Public Notices
Weather, Webcams


Today's Forecast


KTN Weather Data


AK Weather Map


Ketchikan Webcam


SE AK Webcams


Alaska Webcams


AK Earthquakes


Earthquakes
TV Guide


Ketchikan
Ketchikan Phone Book


Yellow Pages


White Pages
Employment


Employment
Government Links


Local Government


State & National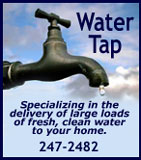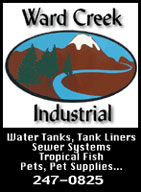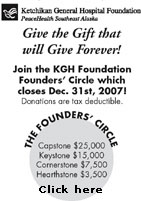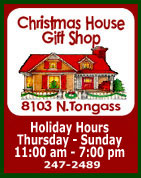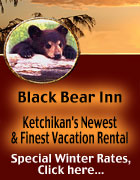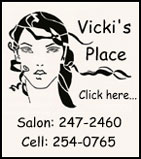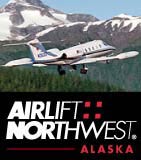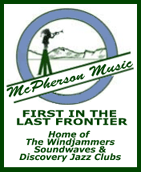 Wednesday
December 05, 2007



Thomas Basin
Front Page Photo by Carl Thompson

Alaska: State health officials release results from 2007 Youth Risk Behavior Survey - In spring 2007, the Alaska Department of Health and Social Services, Division of Public Health, surveyed 1,318 students from 38 high schools that were scientifically selected to represent all high schools in Alaska, said Patricia Owen, state coordinator for the survey. The results from that Youth Risk Behavior Survey have now been released by state health officials.

"These data are critical for understanding the health of Alaska's teens and how families, communities and health professionals can help them make healthier choices," said Dr. Jay Butler, Alaska's Chief Medical Officer. "Healthier youth will be healthier adults."

The survey asked students to report certain risky behaviors. Key findings are: - More...
Wednesday AM - December 05, 2007

Alaska: Alaska corruption scares off energy company By WESLEY LOY - A major Midwest energy company cites Alaska's political corruption scandal for its unexpected decision not to submit a natural gas pipeline application.

In a recent letter to Gov. Sarah Palin, the chief executive of MidAmerican Energy Holdings Co. suggests that criminal investigations, performance lapses by one major North Slope oil producer and other factors stand in the way of a gas line.

"As you are painfully aware the ongoing corruption investigations coupled with previous indictments, guilty pleas and convictions draw into question virtually every major Alaskan project participant and governmental levels from State to Federal," says the letter from MidAmerican CEO David Sokol. "Obviously your administration had no involvement in these previous shenanigans nor did we; however, you and we alone cannot develop the pipeline project through AGIA's expected process." - More...
Wednesday AM - December 05, 2007

Alaska: Alaskan doctor survives bear mauling By KIM MARQUIS - A "crack" in the brush. A split second to turn and see the bear. Another second to click the gun's safety off. That's all the time Dr. John Raster had before the brown bear attacked him.

"I screamed and fired a shot into the air," he said. "It was already on me and the gun was still pretty much slung around my shoulder. He bit me and started scratching me and pushed me down into the water."

The Juneau doctor had been walking alone Friday morning along a stretch of beach on Admiralty Island, just a few hundreds yards from a cabin where he stayed with a hunting party. He was carrying a Lumix digital camera to take pictures of the sunrise when he heard the bear take a step in the woods, about 20 yards to his left. - More....
Wednesday AM - December 05, 2007

Alaska: Alaska Supreme Court upholds state's duty to protect public from harm - The Alaska Health and Social Services Behavioral Health Director has praised the recent Alaska Supreme Court decision affirming that businesses are responsible for harm that may result from the products - in this case tobacco - they sell.

"This decision clarifies responsibilities for stakeholders in our mutual efforts to keep minors tobacco-free," Behavioral Health Director Melissa Stone said. "The decision strongly supports the Health and Social Services mission 'to promote and protect the health and well-being of Alaskans.'"

The court issued a decision on Nov. 23, 2007, upholding Alaska Statute 43.70.075 in a case involving cigarette sales to minors. The court determined that a business owner can be held accountable for an employee's underage tobacco sale based on the employee's conviction, regardless of negligence on the part of the owner or employee. - More...
Wednesday AM - December 05, 2007

National: Even if surge succeeds, Iraq faces volatile future By CAROLYN LOCHHEAD - Is the troop surge in Iraq working?

If it is, the battleground at home could shift in ways unthinkable just two months ago: President Bush could be off the ropes and Republicans back on offense. The Democratic Congress and presidential candidates could lose their footing on their biggest issue. And U.S. troop commitments and war funding could be set on a higher, more permanent trajectory.

Already there seems to be a shift in public perception. A Pew poll last month found that nearly half of the public now believes the U.S. military effort is going well "for the first time in a long time," up from a third in June. Still, the 54 percent majority who believe the troops should come home has not budged.

Leading Iraq experts who have advised government officials are divided about the consequences of the troop surge. Political reconciliation among Iraqi factions, always the strategic aim of the decision last January to increase U.S. combat troops, is not in sight.

Some analysts believe that the United States is merely helping warring factions arm themselves during a lull in violence that will explode again once the surge ends as planned by summer -- around the time Democrats and Republicans hold their national party conventions. Others say Iraq is on the brink of a long-sought cease-fire that will allow the U.S. military to serve as a classic peacekeeping force stabilizing Iraq and the region.

There is no question that violence in Iraq has ebbed since the troop surge announced by Bush in January reached its full capacity in June with about 162,000 troops. Even Rep. John Murtha, D-Pa., chairman of the House subcommittee that controls defense spending, a key ally of House Speaker Nancy Pelosi, D-Calif., and a leading Democratic opponent of the war, recently returned from Iraq saying, "I think the surge is working." - More...
Wednesday AM - December 05, 2007

Business - Economy: Economies of U.S., China bound together By JOHN KOSTRZEWA - Any discussion of the pros and cons of globalization doesn't get very deep without focusing on China.

In the span of less than 25 years, the economies of the United States and China have become intertwined. Shoppers buy toys at Wal-Mart that were made in China. Homeowners pay record prices for heating oil, in part, because of China's appetite for energy. The Chinese government buys Treasury bills that Washington issues to finance government spending.

The interdependence grows deeper every year.

But is China's growth sustainable, or desirable?

No, on both counts, says George Shuster, chief executive officer and president of Cranston Print Works in Rhode Island. He argues that China's emergence, sparked by unfair trade laws, has cost the United States jobs, weakened our industries, created economic inequality, especially for women and minorities, damaged the environment and corrupted the Congress. - More...
Wednesday AM - December 05, 2007

Columns - Commentary

Tom Purcell: Beware of the Office Christmas Party - You got fired because your company had a Christmas party? You're going to have to explain."

"Look, I've been going to Christmas parties a long time. The mix of office politics and adult beverages has caused some nutty things to happen over the years. But now everybody is so serious and so easily offended, things are worse than ever."

"What did you do?"

"Well, the owners of my company threw a traditional office Christmas party after work one evening -- the last such party they'll ever have. Thanks to me and the boys in the sales department, adult beverages were flowing. I thought everybody was having a good time. But something was missing." - More...
Wednesday AM - December 05, 2007

Arts & Entertainment

Ketchikan: The Arts This Week - This week in Ketchikan the Winter Art Walk will take place on Friday, December 7th, from 5:00-8:00pm. Come visit Ketchikan's downtown galleries, each featuring exhibitions, refreshments, and plenty of holiday cheer! New art! Tasty treats! Don't forget to stop by the Arts Council for a map of participating galleries and businesses. The Arts Council's annual food drive is on - when you bring in two cans of food, enter to win a pair of tickets to the Wearable Arts Show. Call 225-2211 for more information.

Ketchikan Theatre Ballet presents The Nutcracker. This year's performance of the classic winter ballet will be Dec. 7th at 7:30pm and Dec. 8th at 2:00pm at the Ketchikan High School Auditorium. Buy tickets for the whole family by contacting or visiting Ketchikan Theatre Ballet at 225-9311, 400 Mission St., Suite 205, or the Arts Council at 225-2211

A Tradition of Service: The History of KPU. The fascinating story of Ketchikan Public Utilities, including achievements, disasters, and workaday activities of KPU employees, will be told in a new exhibit at the Tongass Historical Museum. The show will run from December 7th, 2007, through February 15th, 2008. Opening reception will be Friday, December 7th. For more information, call 225-5600. - More...
Wednesday AM - December 05, 2007




Ketchikan

Ketchikan Police Report
AK Troopers Daily Dispatch
Today's Forecast
Satellite
Today's Weather Images
Marine Forecasts
Ketchikan Weather Data
Current AK Weather Map

CLASSIFIEDS

Publish ad
Please select the proper category before posting.




CLASSIFIEDS' CATEGORIES

Announcements and
Help Wanted
For Sale / Free Stuff
Garage Sales
Homes / Apts/ Property
Pets
Wanted
Lost & Found
Local Services
Publish your ad

More Front Page Archives

Viewpoints
Opinions/Letters
Basic Rules

Buy local & road maintenance... By Rodney Dial - I agree with Mr. Flom's letter and his plea to buy local. In the age of the internet, local business owners not only have to offer a competitive price, but superior service to survive. On a personal note, I have been involved in the renovation of an old house here for over a year and have spent tens of thousands of dollars locally. Madison and Talbot's have been excellent to work with. I have also been very happy with the work provided by local contractors, including the Duckworth's and Aurora Roofing -- good people. - More...
Wednesday AM - December 05, 2007

Conflict of interest By Rep. Gabrielle LeDoux - "No one can serve two masters; for either he will hate the one and love the other, or he will be devoted to one and despise the other." Matthew 6:24, New American Standard Bible. Unfortunately, most Alaskan Legislators can not seem to grasp this fundamental principal of conflict of interest. In the final days of the Special Session, I wrote Speaker John Harris a letter and made the point on the House floor that legislators with clear ties to the oil industry should be recused from voting on the oil tax bill. In light of the recent indictments and convictions and in order to restore the people's trust in the legislative process I believed this was critical. - More...
Wednesday AM - December 05, 2007

Kudos to Jerry Royster By Joey Tillson - I would have to agree wholeheartedly with Mr. Royster. The minute we start allowing our children to participate in such school activities after an "honest mistake" or for "just being a kid" then when does it stop? Offenses get worse and worse. The excuse becomes "well you let so-and-so participate after being caught with tobacco, mine was just one beer". Who determines who plays and who doesn't? It's either all get punished when rules are broken or no one does. There is no level of rule/law breaking. Either you did or you didn't. Period. - More...
Wednesday AM - December 05, 2007

MCA & Sports By Nick Buchanan - In response to Mr. Royster letter, I find it a bit farfetched. Now growing up in Ketchikan and attending K-Hi myself I know how it is, every weekend kids are trying to start a party somewhere, it happens with the youth now days. - More...
Wednesday AM - December 05, 2007

Favorite Ketchikan Birds By Craig Moen - Since I was quite young I've had a fascination with how many different kinds of birds there are. My favorites growing up in Minnesota were the loon, pheasant, red-winged blackbird, and chickadee. The last several years here in Alaska have added the raven and eagle to the list. Most recently in Ketchikan it's the red-necked 4-wheeler. - More...
Wednesday AM - December 05, 2007

MCA's and Making the Varsity By Jon Hurley - I agree with Mr. Royster's letter. If you are caught drinking or doing drugs you should not be allowed to participate in school sports for that year. - More...
Wednesday AM - December 05, 2007

High School Sports By Franny Weihing - I do agree with Mr. Royster that drinking and still getting to play sports is a problem in this town with our youth today. - More...
Wednesday AM - December 05, 2007

Pioneers of Alaska- Jim Duncan By Bob Rehfeld - Another wonderful piece of Ketchikan history by Ms. Harrington. Nice job and keep up the good work. - More...
Wednesday AM - December 05, 2007

Varsity Athletes By Jerry Royster - I was disappointed last month when I checked the police report and saw that two Kayhi athletes were arrested for minor consuming alcohol. But I was even more disappointed to see the Kayhi varsity rosters today and read that both athletes had made their respective teams. - More...
Monday AM - December 03, 2007

4-Wheel Awareness Month By Ken Lewis - The 4 Wheeler Awareness Month, was very enlightening and a delightful insight into problem solving! Rather than throwing some grass seed on the unsightly tracks left by a human and machine, finding out who done it and don't do it again moral to the story? It has turned into justified-beat-down of narrow minded Ketchikanites who would dare ride a 4-Wheeler for any other reason, other than to carry a bat and bludgeoned baby fur seal pups! - More...
Monday AM - December 03, 2007

State prisons: Less and less means more and more By Sen. Kim Elton - Is a bad idea escaping from the state prison system?

There are rumblings that corrections administrators plan to ask for bags of loot to build new prison beds. Our prisons are bursting at the seams but we need to ask if adding new beds is the only answer to the problem. - More...
Monday AM - December 03, 2007

State action regarding VECO scandel. By Lynette Clark - I must first write that this perspective is my own. It does, however, adhere to my own political leanings as a long time Alaskan, and a leader of the AIP. - More...
Monday AM - December 03, 2007

Let's Move! By Su Curtis - The cold weather, dark evenings, slick roads and frosty sidewalks are forcing us indoors. But that doesn't mean we should quit moving. There are plenty of indoor activities that are just as enjoyable and beneficial as a brisk walk. - More...
Monday AM - December 03, 2007

YOUTH EXPO 12/12- You're invited! Especially 4 wheelers... By Bobbie McCreary - FIRST: Mark your calendar, Wed Dec 12th at 5:30 at the Ted Ferry Center, Youth and Family EXPO and Potluck sponsored by Ketchikan Youth Initiatives. We welcome ANY organization serving Youth with healthy alternative activities to exhibit at this EXPO. Just email to: kyi@kpunet.net. There are two meetings to work on the displays...Tuesday and Wednesday of next week (12/4 and 12/5) 5:30pm at Creekside Meeting Center, 640 Park Avenue, across from the American Legion Building. Stop by if you are interested. 247-8080 - More...
Monday AM - December 03, 2007

Off road vehicles and hikers By Penny Eubanks - I just read Mr. Moen's latest viewpoint on his original 4 wheeler post, and thought I would like to point out to him that there are a number of foot trails reaching into areas that are either off limits or not accessible by off road vehicles. There are really very few areas that are open or accessible for 4 wheelers or snowmobilers to enjoy their recreational past time. I do agree that I do not like the scars on terrain such as delicate muskeg eco systems left by tracks of off roaders. But I have noted that for the most part the same trails are used rather than new ugly scars being created. Most of these well used trails are far above the Ward Lake area instead of down in visible residential areas. - More...
Monday AM - December 03, 2007

Vacant downtown By Derek Flom - On a beautiful sunny fall / winter day in southeast Alaska I drove downtown. An empty downtown. Vacant buildings for rent and seasonal buildings closed for the season. I am used to the seasonal businesses, every town has them though not to our effect but they do have them of some sort. The most alarming aspect was the amount of "For Rent" signs in empty buildings. - More...
Monday AM - December 03, 2007

A MARVELOUS SUBJECT By Jo Shepherd Ripley - THIS IS A MARVELOUS SUBJECT. Every time I read something that keeps me interested enough to read more than two pages I feel that material is suitable for a novel or film. - More...
Monday AM - December 03, 2007

Snowmachines and 4-Wheelers By Jos Gus Govaars - OK, that's it! As I sit here biting my tongue, I can't help but feel the need to teach Mr. Moen about the trail system in Ketchikan. I don't know how long you have been in town, but I can think of at least TEN (10) different trails strictly for hikers. There are very few places for the snowmachiners and 4-wheelers to ride. It seems in Alaska when there is dispute over an area segregation is the option that is persued. - More...
Monday AM - December 03, 2007

Al Gore By Rick Seal - I think that we should look at the house(s) that Gore lives in and see just how much he lives what he preaches. - More...
Monday AM - December 03, 2007

More Letters/Viewpoints
Webmail your letter or
Email Your Letter To: editor@sitnews.us

---

E-mail your news tips, news
releases & photos to:
editor@sitnews.us

SitNews
Stories in the News
©1999 - 2007
Ketchikan, Alaska

M.C. Kauffman, Webmaster/Editor
webmaster@sitnews.us

In Memory of SitNews' first editor,
Dick Kauffman
1932-2007

Locally owned & operated.
Online since 1999

Articles & photographs that appear in SitNews are protected by copyright and may not be reprinted or distributed without written permission from and payment of required fees to the proper sources.