Contact


Webmail Letters


News Tips


Search Sitnews


Copyright Info


Archives
Today's News


Alaska


Ketchikan


Top Stories


U.S. News


U.S. Politics


Stock Watch


Personal Finance


Science News


US Education News


Parenting News


Seniors News


Medical News


Health News


Fitness


Offbeat News


Online Auction News


Today In History


Product Recalls


Obituaries
Quick News Search


Alaska


Ketchikan


SE Alaska


Alaska News Links
Columns - Articles


Dave Kiffer


Parnassus Reviews


Fish Factor


Chemical Eye On...


Bob Ciminel


Rob Holston


More Columnists
Ketchikan


Our Troops
Historical Ketchikan


June Allen


Dave Kiffer


Louise B. Harrington
Recognition


Match of the Month


Asset Builders
Kid's Corner


Bob Morgan
Ketchikan Arts & Events


Ketchikan Museums


KTN Public Libraryt


Parks & Recreation


Chamber
Lifestyles


Home & Garden


Food & Drink


Arts & Culture


Book Reviews


Movie Reviews


Celebrity Gossip
On the Web


Cool Sites


Webmaster Tips


Virus Warnings
Sports


Ketchikan Links


Top Sports News
Public Records


FAA Accident Reports


NTSB Accident Reports


Court Calendar


Court Records Search


Wanted: Absconders


Sex Offender Reg.


Public Notices
Weather, Webcams


Today's Forecast


KTN Weather Data


AK Weather Map


Ketchikan Webcam


SE AK Webcams


Alaska Webcams


AK Earthquakes


Earthquakes
TV Guide


Ketchikan
Ketchikan Phone Book


Yellow Pages


White Pages
Employment


Employment
Government Links


Local Government


State & National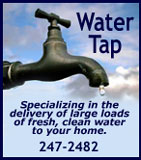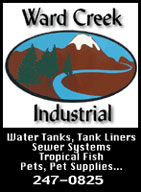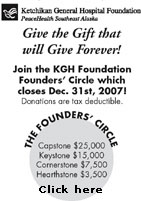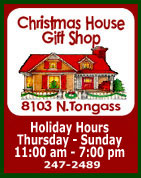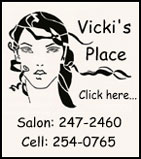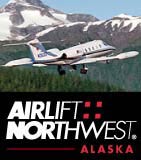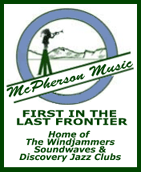 Monday
December 17, 2007



Lunch Creek Trail
Front Page Photo by Jacob T. West




Announcement

An account has been established at First Bank for persons wishing to make a monetary donation to Lodivinia Credito and her son. Donations can be dropped off at Ketchikan General Hospital - HR or you can stop by a First Bank branch to make donations.

Mrs. Lodivinia Credito has been provided housing but she and her son are in need of a refrigerator, household items - pots, pans, dishes, towels, bedding, etc. and clothing. Mrs. Credito wears a size "large" top and "medium" bottoms. Her son wears a size "large" top and size 30-32 waist pants with a length of 32.. Mrs. Credito's son is 15 so if you have anything that you think a 15 year old boy could use or even something for Christmas, it would be greatly appreciated also. These donations can also be dropped off at KGH -HR. Contact person at KGH is Sue Ludwig.

Ketchikan: Tragic weekend kitchen fire claims the lives of three children - Editor's note: This corrects a story that was published December 17th reporting that the death toll from this fire had reached four.

Ketchikan, Alaska - A home fire has claimed the lives of three Ketchikan children over the weekend. The two youngest children, ages 3 and 5, were pronounced dead on the scene and a seventeen year-old who was transported in critical condition for medical care was pronounced dead Saturday evening. The children succumbed to smoke inhalation.

Twelve year-old Alysha Credito was transported by Airlift Northwest to Harborview Medical Center in Seattle, Washington in critical condition Saturday. She was later transferred to Children's Hospital in Seattle.

The deceased have been identified as three year-old Kristinenoell Credito Harris, five year-old Denbert Credito and seventeen year-old Debertson Bertolano.

The Ketchikan Fire Department received a call reporting the house fire at 120 Tuttle Way at 6:10 AM on December 15th. Tuttle Way is a wooden walk-way Street in the 2100 Block of Tongass Avenue. The caller reported "people trapped inside!"

The Ketchikan Fire Department had units on scene within 3 minutes, set-up fire suppression lines and crews entered the building to search for the reported victims. Incident commanders with the Ketchikan Fire Department requested a "second-alarm and mutual-aid" from the South Tongass Volunteer Fire Department and the North Tongass Volunteer Fire Department.

According to information released by the Ketchikan Fire Department, the fire was located in the kitchen area of the main level. The fire was quickly brought under control as crews entered the top floor of the home which is where the children were reportedly located.

The children's mother, Lodivinia Credito, was at work when the fire started, according to authorities in Ketchikan. A fifth child, a 14-year-old boy, was unharmed as he had spent the night at a friend's home.

Crews located and removed the four unconscious children, ages 3, 5, 12 and 17, from the top floor of the structure within minutes and transported the victims to Ketchikan General Hospital. The top floor was choked with smoke.

A fifth person, Jeff Williams, was removed by two members of the Ketchikan Police Department through a window on the main floor of the residence and was uninjured. Williams is Credito's brother-in-law.

A sixth resident, an unidentified adult male, of the lower apartment of the house self-evacuated from the basement level of the house along with his dog and both were uninjured.

As a precaution, three members of the Ketchikan Fire Department were sent to Ketchikan General Hospital for medical evaluation for smoke inhalation following their rescues of the four upper floor victims. All were treated and released. One member of the Ketchikan Police Department received an arm injury during the rescue operation and received treatment at Ketchikan General Hospital. - More...
Monday AM - December 17, 2007

Alaska: Northern sea ice takes a big hit in 2007 By NED ROZELL - For the past few years, vanishing northern sea ice has been a theme of many talks and posters here at the fall meeting of the American Geophysical Union, which draws about 15,000 scientists to the Moscone Center during the weeklong conference. At a press conference here on Wednesday, Dec. 12, 2007, scientists revealed that the ice on top of the northernmost ocean took a punch in the summer of 2007 that might be a knockout blow.

Sea ice off Gambell, Alaska.
Photo by Ned Rozell

In 1980, the dense ice that floats on the Arctic Ocean like a large, moving jigsaw puzzle took up about the same area as the entire Lower 48 states; in September 2007, it was about as big as the U.S. east of the Mississippi River, said Don Perovich of the U.S. Army Cold Regions Research and Engineering Laboratory in New Hampshire. The ice loss in 2007, 23 percent greater than the previous record in 2005, has some scientists here predicting that the northern sea ice will vanish in summer as soon as five years from now. Perovich agreed that one of the greatest environmental changes people have ever seen might be close at hand.

"I used to say that sometime in my children's lifetimes (sea ice covering the Arctic Ocean would disappear for half the year), but now I might see it," said Perovich, who is in his 50s.

John Walsh of the International Arctic Research Center in Fairbanks was, along with Perovich, one of four scientists facing reporters from all over the world on Wednesday morning. Walsh spoke of how warmer water from the Atlantic has been entering the Arctic Ocean.

"We're really moving into record territory in the last four or five years," Walsh said, citing the work of IARC's Igor Polyakov, who coordinates an annual scientific cruise in the Arctic Ocean.

While surprisingly warm water from the Atlantic is entering the Arctic Ocean-which probably adds to the loss of sea ice by melting it from beneath-unusually warm water from the Pacific is also invading the Arctic Ocean through the Bering Strait, said Mike Steele of the University of Washington.

"In 2007, north of Alaska and eastern Siberia, the Arctic Ocean was 3.5 degrees Celsius warmer than the historical average and 1.5 degrees warmer than the historical maximum," Steele said, adding that waters off Alaska were especially warm. "The Bering Strait and Chukchi Sea are warming most." - More...
Monday AM - December 17, 2007

Fish Factor: Breathing a sigh of relief, Crabbers want more and Fish skin fashions By LAINE WELCH - Fishermen are breathing a sigh of relief, knowing that the latest sea lion counts won't force more fishing closures - at least for the near future.

"At this point it looks like there will be no changes out on the water in terms of the current regulations for Steller sea lion mitigation before January 2010," said Doug DeMaster, director of the NOAA Fisheries Science lab in Juneau.

Western stocks of Steller sea lions were listed by the federal government in 1990 as a threatened species, following decades of population declines. That listing resulted in a complex patchwork of fishing closures in waters within three, 10 even 20 miles of sea lion haul outs, rookeries and other "critical habitat" regions.

From 2000 to 2004 the western stock increased by about four percent each year, the first positive turn around since the 1970s. Surveys this year showed sea lion numbers from Cape Saint Elias to the Aleutian Islands remained stable overall, with notable increases in some prime fishing regions.

"For the past three years sea lions have increased in the Central and Western Gulf by 13 percent and eight percent, respectively, and by three percent in the Eastern Aleutians," DeMaster said. "That's a positive sign, for sure."

"It's great news. These are important areas where most commercial fishing occurs for pollock, cod and Atka mackerel," said Donna Parker of Arctic Storm Fisheries.

DeMaster cautioned that it is too soon to tell if the positive numbers reflect a real trend.

"Because we do the sea lion counts every other year, 10 years would give us five points from start to end. And that's about what you need to have confidence that the trend is reliable," he said.

Scientists and the industry are working closely with the North Pacific Fishery Management Council to complete a sea lion recovery plan and related documents by March of 2008. Under the Endangered Species Act, decisions must be based on what actions might jeopardize or adversely modify critical habitat of a listed species.

"There is general agreement that no single factor explains the decline or lack of robust recovery," DeMaster said.

Meanwhile, fishery managers must bear the burden of proof that sea lions and fisheries can co-exist and thrive while sharing the same marine environment. - More...
Monday AM - December 17, 2007




Ketchikan

Ketchikan Police Report
AK Troopers Daily Dispatch
Today's Forecast
Satellite
Today's Weather Images
Marine Forecasts
Ketchikan Weather Data
Current AK Weather Map

CLASSIFIEDS

Publish ad
Please select the proper category before posting.




CLASSIFIEDS' CATEGORIES

Announcements and
Help Wanted
For Sale / Free Stuff
Garage Sales
Homes / Apts/ Property
Pets
Wanted
Lost & Found
Local Services
Publish your ad

More Front Page Archives

Viewpoints
Opinions/Letters
Basic Rules

Form your own opinion of residential sprinklers By Kevin Murphy - Isn't America great? Everyone can freely voice their opinion on any subject they choose. By having the freedom of choice we can either agree or disagree with those opinions. - More...
Monday AM - December 17, 2007

Buy Local and Road Maintenance By Vincent Borelli - I moved to Ketchikan about a year ago and want to say that the people are warm and friendly. It is a pleasure to chat with most anyone in the commmunity and feel that Ketchikan has a unique beauty. The community is refreshing compared to many other places in the US. - More...
Monday AM - December 17, 2007

Bus Stop Benches Removed In Front of Library By Carol Baines - I've been told that the benches that were removed at the bus stop in front of the public library because of partying going on there, i.e. people smoking marijuana, drinking alcohol, sleeping on the benches overnight, etc. - More...
Monday AM - December 17, 2007

Coffman Cove Ball Field By Jennifer Bunch - I lived on the Prince of Wales Island for many years. I can say that Coffman Cove has had a grass field for many, many years. I believe it was originally completed when Howard Valentine Logging Camp was still in operation. To the best of my knowledge the field was built by locals and volunteers from the community helped maintain it for years. - More...
Monday AM - December 17, 2007

Playing on gravel By Cyd Olmsted - I would like to clarify Ms. Clark's comment about people being "very hurt from falling on slick grass." By 'very hurt' does she mean femur fractures, neck injuries and potentially serious MRSA infected wounds? Because as a cheechakoo who grew up playing on grass fields watching people get 'very hurt,' I was APPALLED by the severity of injuries our youth suffer due to playing on gravel....and I'm not talking a sore derriere from landing hard or an occassional fractured ankle. - More...
Monday AM - December 17, 2007

Indoor sports facility By Thom A. Fischer - This letter is for encouragement to parents who want more sports opportunities for their children. Building an indoor sports field would be one of the finest investments Ketchikan could make in its youth. - More...
Monday AM - December 17, 2007

If you build it . . . . they won't come! By Billy Johnson - In regards to the recently letter about building a new soccer field:

1. Instead of begging for money from the city or state, how about fund the upgrades yourself? You've been provided with a playing field. Instead of living on handouts, go out and fund raise. Take pride in ownership. Get some corporate sponsors, round up parents/coaches/kids for volunteer work and fund raising duties. Taking ownership will give the players, fans, coaches and parents pride and respect for what they achieved working together as a team! - More...
Monday AM - December 17, 2007

Fire -- City Council By George Mather - Mr. Edwardson is right we do not live in a perfect world, fires happen. The Ketchikan Fire Department is very good at what they do. - More...
Monday AM - December 17, 2007

History, Reason & Representation By Derek Flom - I first want to give a big hand to Mr. Edwardson, keep the voice of common sense loud and in the forefront.

Why do some of our elected officials seem to go with the group instead of speaking up and standing up for what's best for the people that elected them?. Is common sense leaving Alaska too? Or do they give you a set of chicken feathers and a secret rule book when you take the oath? This seems to be a statewide issue, it's time that the people of Alaska and their representation speak loudly that we are a State and we are due our share, we all pay taxes. We have not had 150 years to build our towns, bridges and roads. We matter just as much as any other state, our federal tax dollars are no different than everyone else's. So why is Alaska still treated like a territory? Like some Eco-park to make liberals and tree huggers feel good about saving the Earth, while they live in their polluting cities. - More...
Monday AM - December 17, 2007

More Letters/Viewpoints
Webmail your letter or
Email Your Letter To: editor@sitnews.us

---

E-mail your news tips, news
releases & photos to:
editor@sitnews.us

SitNews
Stories in the News
©1999 - 2007
Ketchikan, Alaska

M.C. Kauffman, Webmaster/Editor
webmaster@sitnews.us

In Memory of SitNews' first editor,
Dick Kauffman
1932-2007

Locally owned & operated.
Online since 1999

Articles & photographs that appear in SitNews are protected by copyright and may not be reprinted or distributed without written permission from and payment of required fees to the proper sources.