Contact


Webmail Letters


News Tips


Search Sitnews


Copyright Info


Archives
Today's News


Alaska


Ketchikan


Top Stories


U.S. News


U.S. Politics


Stock Watch


Personal Finance


Science News


US Education News


Parenting News


Seniors News


Medical News


Health News


Fitness


Offbeat News


Online Auction News


Today In History


Product Recalls


Obituaries
Quick News Search


Alaska


Ketchikan


SE Alaska


Alaska News Links
Columns - Articles


Dave Kiffer


Parnassus Reviews


Fish Factor


Chemical Eye On...


Bob Ciminel


Rob Holston


More Columnists
Ketchikan


Our Troops
Historical Ketchikan


June Allen


Dave Kiffer


Louise B. Harrington
Recognition


Match of the Month


Asset Builders
Kid's Corner


Bob Morgan
Ketchikan Arts & Events


Ketchikan Museums


KTN Public Libraryt


Parks & Recreation


Chamber
Lifestyles


Home & Garden


Food & Drink


Arts & Culture


Book Reviews


Movie Reviews


Celebrity Gossip
On the Web


Cool Sites


Webmaster Tips


Virus Warnings
Sports


Ketchikan Links


Top Sports News
Public Records


FAA Accident Reports


NTSB Accident Reports


Court Calendar


Court Records Search


Wanted: Absconders


Sex Offender Reg.


Public Notices
Weather, Webcams


Today's Forecast


KTN Weather Data


AK Weather Map


Ketchikan Webcam


SE AK Webcams


Alaska Webcams


AK Earthquakes


Earthquakes
TV Guide


Ketchikan
Ketchikan Phone Book


Yellow Pages


White Pages
Employment


Employment
Government Links


Local Government


State & National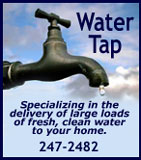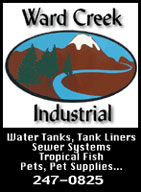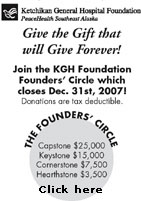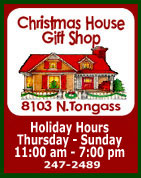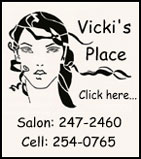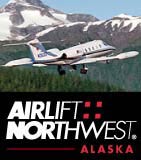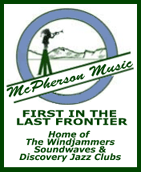 Friday
December 14, 2007



Ketchikan Christmas: All is calm, all is quiet...
Front Page Photo by Carl Thompson




ARTS & Entertainment

Ketchikan Community Concert Band's Annual Holiday Concert Sunday - The Ketchikan Community Concert Band will be performing their "Holiday Band Concert" this Sunday afternoon (December 16th) in the Kayhi Auditorium. The program will include traditional band literature as well as seasonal selections. Highlighting the program will be Alfred Reed's "Russian Christmas Music," a major work that has been a listener (as well as performer) favorite in Ketchikan for over thirty years.- More...
Thursday AM - December 13, 2007

Alaska: New Discoveries About Northern Lights - A fleet of NASA spacecraft, launched less than eight months ago, has made three important discoveries about spectacular eruptions of Northern Lights called "substorms" and the source of their power.

NASA's Time History of Events and Macroscale Interactions during Substorms (THEMIS) mission observed the dynamics of a rapidly developing substorm, confirmed the existence of giant magnetic ropes and witnessed small explosions in the outskirts of Earth's magnetic field. The findings will be presented at the annual meeting of the American Geophysical Union in San Francisco in December.

The discoveries began on March 23, when a substorm erupted over Alaska and Canada, producing vivid auroras for more than two hours. A network of ground cameras organized to support THEMIS photographed the display from below while the satellites measured particles and fields from above.

"The substorm behaved quite unexpectedly," says Vassilis Angelopoulos, the mission's principal investigator at the University of California, Los Angeles. "The auroras surged westward twice as fast as anyone thought possible, crossing 15 degrees of longitude in less than one minute. The storm traversed an entire polar time zone, or 400 miles, in 60 seconds flat."

Photographs taken by ground cameras and NASA's Polar satellite (also supporting the THEMIS mission) revealed a series of staccato outbursts each lasting about 10 minutes. Angelopoulos said that some of the bursts died out while others reinforced each other and went on to become major onsets.

Angelopoulos was quite impressed with the substorm's power and he estimated the total energy of the two-hour event at five hundred thousand billion Joules. That's equivalent to the energy of one magnitude 5.5 earthquake . Where does all that energy come from? THEMIS may have found the answer. - More...
Friday AM - December 14, 2007

National: Land of the fee for photos? By LES BLUMENTHAL - The Bush administration is trying to hide its mismanagement of federal lands by using new permit requirements and fees to limit filming and photography in national parks, forests and wildlife refuges, a congressional leader charges.

"Maintenance in our national parks, listing of endangered species, fire preparedness and responsible energy development are just a few examples of serious policy failures by the Bush administration," said Rep. Nick Rahall, a West Virginia Democrat and chairman of the House Natural Resources Committee. "Any hint that this new permit and fee structure could limit the free flow of public information regarding the very real consequences of these failures is simply unacceptable."

Administration officials said there was no effort to limit news coverage.

"There is no intention in these proposed regulations for censorship by the agencies based on content," said Mitchell Butler, deputy assistant secretary of the interior for fish, wildlife and parks. "In fact, we believe that telling the story of our resources benefits not only our public lands but the visiting public as well."

Rahall's committee heard testimony Wednesday on the proposed regulations covering the national parks, U.S. Forest Service and Bureau of Land Management lands and U.S. Fish and Wildlife Service refuges.

The regulations would require a permit and payment of a fee by those engaging in commercial filming or photography on federal lands. The only exception would be for journalists covering "breaking news." When the licenses would be required and fees imposed would be up to local land managers.- More...
Friday AM - December 14, 2007

Alaska: Richards Appointed to Deputy Commissioner for Highways - Frank Richards, P.E., has been appointed to serve as Deputy Commissioner of Highways and Public Facilities, effective Jan. 2, 2008.

The 47-year-old Richards joined the Department of Transportation and Public Facilities (DOT&PF) in 1991 following 10 years of professional engineering accomplishments in the private sector where he worked on road, airport, mining and oil development projects including the Red Dog Mine, the Bradley Lake Hydroelectric project and various North Slope oilfield projects. - More...
Friday AM - December 14, 2007

National: A ringing endorsement for do not call By JEROME L. SHERMAN - In an era of bitter partisanship, Democrats and Republicans can agree on at least one common legislative target -- unwanted telemarketing phone calls.

The House on Tuesday approved a bill that would make the national Do Not Call registry permanent, eliminating a five-year expiration date that could remove millions of numbers from the list in June.

Since its launch in 2003, the registry has recorded more than 145 million phone numbers from both cell phones and land lines.

"Once people take the step to say, 'Don't call me,' that should be it," said Rep. Mike Doyle, D-Pa., the legislation's primary sponsor.

The bill now faces Senate approval, and Doyle said he knows of no opposition there.

The Federal Trade Commission, which oversees the registry, has said it will not drop any numbers until lawmakers act.

"We're waiting to see how the process plays out," said Mitch Katz, a spokesman for the FTC.

Consumers can sign up for the list at www.donotcall.gov or by calling 888-382-1222.

When Congress first approved the national list, there was no end date, Doyle said. The FTC added a requirement that consumers sign up again after five years, in part because representatives from the telemarketing industry feared that the registry wouldn't be able to track disconnected or reassigned phone numbers.

That issue has become less of a concern as the use of cell phones spreads and some consumers hold onto their numbers when they move. Also, the FTC has hired a contractor to review the registry regularly and purge unused numbers.

In 2004, the U.S. Supreme Court declined to hear a challenge from the American Teleservices Association, which described the law as a violation of free speech. - More...
Friday AM - December 14, 2007

Viewpoints
Opinions/Letters
Basic Rules

KYSL works in cooperation with other groups By William Harney - Mr. Royson's letter proves that a good whine doesn't really need to include the facts. I am not sure who he has spoken to, but it certainly wasn't anyone on the Ketchikan Youth Soccer League (KYSL) board or at the KYSL office. KYSL is quite proud of the fact that we work in cooperation with other groups. - More...
Friday AM - December 14, 2007

Reply to "Sports" By Karl Richey - I must take issue with Eileen Small's comments on our wonderful ballfields. Has she no concept of what a boost they give to the local economy every year? - More...
Friday AM - December 14, 2007

Sports fields & elitism! By Rebecca Clark - While I agree with Eileen that our fields "suck", I must also say this: I play ball myself at Weiss field during our "softball season". The infield is fine, but the "GRASSY" outfield is horrible! I've fallen on my rear-end a few times and I've seen many other people get hurt. Some VERY hurt from falling on the slick grass. - More...
Friday AM - December 14, 2007

Christmas Boat Parade By Peg Travis & Dave Hirchert - Sad to hear this will be the last year of the Christmas Boat Parade in Ketchikan. - More...
Friday AM - December 14, 2007

Boat Parade????????? By Shannon Guthrie - What happened? I too enjoy the boat parade EVERY SINGLE YEAR!!!! I too am part of a gathering in which my grandmother, son, father, sisters, uncles, aunts, cousins and friends. This is an annual thing that we have been lucky to take a part in for several years now. Is lack of participation going to stop our happiness? Why doesn't someone post in the newspaper that there are boats needed to participate? What about donating money to buy lights and decorations to be reused every year by boats that feel festive and would like to participate? - More...
Friday AM - December 14, 2007

In Defense of The General Public By Ken Bylund - There is a growing sense of power that comes with success; power can become addictive to the point of ignoring our limitations and the desperate impulse to control that which is outside the domain of personal achievement and polished expertise. It really is understandable if we look at the basic risk/reward patterns that have been successful in growing and learning from our past to get where we are... but change, trade-offs and double-betting can be a good strategy for survival. A management consultant Adrian J. Slywotzky has come up with some fresh ideas on the subject and promotes risk shaping instead of risk taking. - More...
Thursday AM - December 13, 2007

Boat Parade - One Last Time!?? By Shauna Lee - Every Christmas I host a "Boat Parade Party" as I am lucky enough to have a home that looks out over the bay. It is a tradition at our home as my father is a tug captain and is usually in the parade. I have always loved this event because it is unique to Ketchikan and made the holidays feel really special. - More...
Thursday AM - December 13, 2007

Sprinkler systems, grade issue By Jim Byron II - The standpipe that Mr. Murphy spoke of did not come as easy as he had made it sound, it took months of fighting with city officials and fire chiefs to come to such an agreement (originally they said there may have to be a residential sprinkler system installed). Everything from cement trucks, to oil trucks, water and dump trucks, even a fire truck have made it up the hill in question, (with over a 10% grade). - More...
Thursday AM - December 13, 2007




Ketchikan

Ketchikan Police Report
AK Troopers Daily Dispatch
Today's Forecast
Satellite
Today's Weather Images
Marine Forecasts
Ketchikan Weather Data
Current AK Weather Map

CLASSIFIEDS

Publish ad
Please select the proper category before posting.




CLASSIFIEDS' CATEGORIES

Announcements and
Help Wanted
For Sale / Free Stuff
Garage Sales
Homes / Apts/ Property
Pets
Wanted
Lost & Found
Local Services
Publish your ad

More Front Page Archives

Sports By Eileen Small - Just as an observant parent of kids who once lived and played sports in this town, I'd like folks to consider the following: Do you realize that in Coffman Cove - a town much smaller than Ketchikan - they have a beautiful grassed ball field? The kids love to play on it and don't get hurt doing so. - More...
Thursday AM - December 13, 2007

Also a fan of more than just soccer By Teresa Dickey - In response to More than a Soccer Fan, I feel it is unfair to say that KYSL is trying to take over the Ketchikan sporting world. Let's not be petty. As with ANY sport, there are going to be over zealous parents, fans and/or officials. - More...
Thursday AM - December 13, 2007

Changing the Bottom Line; clean elections mean cleaner politics By John D. Lyle - Cam Carlson's October 6th editorial, "Dissatisfied Alaska Republicans" describes repeated, failed attempts to prod the Alaska Republican Central Committee to pass a resolution calling for honesty and integrity in government, things which seem in short supply these days. - More...
Thursday AM - December 13, 2007

Fan of more than just soccer By Jerry Royster - Interesting how time changes things in a small town. Ketchikan has always been a basketball town first, with the other sports left to fend for themselves. But over the past few years I've noticed that we are splintering into three groups in the athletic world. - More...
Wednesday AM - December 12, 2007

Citizens faith in some officials tanking By Lynette Clark - "U.S. Sen. Stevens said...he has no fear of a Democratic opponent in next year's election, and he blamed overzealous reporters for the continued interest in the federal investigation both he and his son have been caught up in." Anchorage Daily News front page. Poor Uncle Ted, his sky is falling and zealots are after him! I'm in complete wonderment as to why the Senator and his son aren't under investigation by the State of Alaska? There's rather "transparent" proof in court records, of poor judgment, absence of ethics, easy money changing hands, breaches of Constitutional Oath of Offices, resulting in individuals presently in prison. Convictions based on clear evidence, evidence that named more names, two of which are Ted and Ben Stevens. - More...
Wednesday AM - December 12, 2007

Residential sprinkler systems By Kevin C. Murphy - I would like to take this opportunity to respond to Mr. Edwardson's letter regarding the actions of the City Council and the proposed adoption of the updated Fire Code. - More...
Tuesday AM - December 11, 2007

Home Sprinkler Systems By Andy Rauwolf - Hats off to Charles Edwardson's letter. I couldn't agree more. One point about home sprinkler systems needs to be emphasized. Sprinkler systems in homes DO NOT save lives. SMOKE DETECTORS save lives. By the time sprinklers are triggered by heat chances are the occupant has already succumbed to smoke. There are very few cases that can be made otherwise. - More...
Tuesday AM - December 11, 2007

City Council: Do you really understand? By Charles Edwardson - The city council, like many other boards and councils, are under appreciated and should be commended for their efforts "SOMETIMES" - More...
Monday AM - December 10, 2007

Revilla Road Closure By Heather Muench - On Saturday afternoon on my usual trip out the Rivilla Road, I noticed a "road closed" sign. The road was clear with a little snow at the edge. It was in far better shape than the few days after the beginning of the cold weather. I saw numerous cars going in both directions. There were folks out cutting wood, walking dogs, hauling snowmobiles and getting Christmas trees. About a mile after the end of the pavement , there was an Alaska State Trooper stopping cars. He told me the DOT had closed the road and he had been sent out to enforce the closure. We were on dry gravel. I asked if I could park and walk my dogs. He once again said the road was closed. - More...
Monday AM - December 10, 2007

Newtown, downtown steering committees By Charles Edwardson - Some of the same people on these committees were the biggest critics of the jewelry stores. And now there is talk of glamorizing Ketchikan's seedy past and turning Newtown into a theme park, (lots better than jewelry stores right)? This is ludicrous and validates the legitimacy of the jewelry stores at least they are what they are, and are not trying to fool anyone. - More...
Monday AM - December 10, 2007

More Letters/Viewpoints
Webmail your letter or
Email Your Letter To: editor@sitnews.us

---

E-mail your news tips, news
releases & photos to:
editor@sitnews.us

SitNews
Stories in the News
©1999 - 2007
Ketchikan, Alaska

M.C. Kauffman, Webmaster/Editor
webmaster@sitnews.us

In Memory of SitNews' first editor,
Dick Kauffman
1932-2007

Locally owned & operated.
Online since 1999

Articles & photographs that appear in SitNews are protected by copyright and may not be reprinted or distributed without written permission from and payment of required fees to the proper sources.