Match of the Month: December 2007
Tatum and Charlotte
"Little Sister's" special "Big Sister" mentor and friend
By Nancy Coggins
December 24, 2007
Monday

Ketchikan, Alaska - Matched for a short while within Big Brothers Big Sisters Alaska (BBBSAK) in Ketchikan, "Big Sister" Charlotte meets her "Little Sister" Tatum once a week at school. Most of the time they share lunchtimes and recess. Tatum says, "If Charlotte didn't come I would miss her," and no matter what activity they do together any seems to be her "favorite."
A "good-luck" element of this match says Tatum's mother, is that "Tatum loves books and my daughter got a librarian as a 'Big.' " She appreciates the fact that BBBSAK took extra time making this match, as "it did a good job in finding the right type of person for my daughter."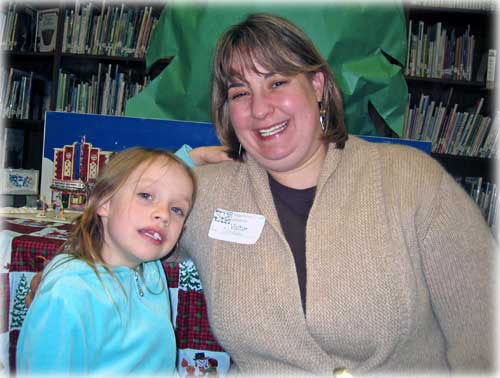 Match of the Month for December 2007
Big Sister Charlotte and Little Sister Tatum pose in front of Holiday
display in library of Tongass School of Arts & Sciences.
Photograph by Nancy Coggins

Naturally, one of Charlotte and Tatum's favorite activities is reading stories together. Charlotte, as an additional adult in Tatum's life, supplies more of that invaluable relationship element by paying attention and listening to her on a one-on-one basis.
Through their match relationship Tatum blossoms. She has opportunities for self-expression without any pressure; time to be herself; and a chance to lead -- all the while being overseen by a caring adult who is extremely mindful of safety. Indoors, Tatum follows the leadership of her teacher; outdoors, she opens up, becoming a leader herself. Thinking about the appearance of this story in the media, Tatum allows she is eager to see herself in the newspaper (Ketchikan Daily News and Capital City Weekly) and is fascinated that she would be able to see her picture any time on SitNews.
Tatum revels in recess.
Recess gives her a chance to choose her activity, to make funny faces, play in the gravel base of the playground, and show off her jungle-gym climbing and hanging tricks to her "Big." On this story's photo-op and interview day, she had fun initiating the idea of and then choosing two outdoor photo backdrops. Bottom line: Out there, once a week, she has her special "Big" for an audience and a chance to shine as the boss!
Some of Charlotte and Tatum's fun activities: Making a paper turkey, paper dolls (including a Hawaiian one), and a paper chain. The two helped with an art mural that took up the whole side of a classroom. One day, Charlotte surprised Tatum when she arrived with Tater Tots®, the idea of which had been sparked by Tatum's nickname, Tater Tot. Lesson learned: Bring enough Tater Tots®, for Tatum's whole lunch table!
Some of Charlotte and Tatum's widely varying adventures: Finding rocks on the playground at recess, and meeting some of the actors and actresses in "Beauty and the Beast." Who knows what excitement will be around their next corner.
Sharing in this match's magic, Tatum loves receiving Charlotte's little surprises like a mini stuffed puppy in a carrying basket. But Charlotte loves having the opportunity to pick out surprises for her. Charlotte, too, gets her magical surprises such as on the day when pushing Tatum on the swings she burst into song!
Tatum's mother says Tatum and Charlotte's meetings represent an "important time for Tatum. Tatum loves Charlotte."
Sound like fun? Join Big Brothers Big Sisters program and add a little magic to your life. Capture fun moments with your "Little." Get involved. Call 907-247-3350.
Little Moments, Big Magic, Huge Impact!


On the Web:
Big Brothers Big Sisters of Alaska
http://www.southeastbigs.org/


Publish A Letter on SitNews
Read Letters/Opinions
Submit A Letter to the Editor
SitNews
Stories In The News
Ketchikan, Alaska