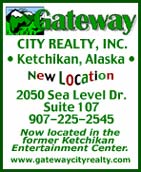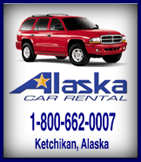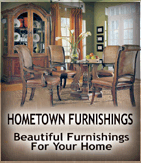 Contact


Webmail Letters


News Tips


Search Sitnews


Copyright Info


Archives
Today's News


Alaska


Ketchikan


Top Stories


U.S. News


U.S. Politics


Stock Watch


Personal Finance


Science News


US Education News


Parenting News


Seniors News


Medical News


Health News


Fitness


Offbeat News


Online Auction News


Today In History


Product Recalls


Obituaries
Quick News Search


Alaska


Ketchikan


SE Alaska


Alaska News Links
Columns - Articles


Dave Kiffer


Arts & Entertainment


Parnassus Reviews


Jason Love


Fish Factor


Bob Ciminel


Chemical Eye On...


Rob Holston


More Columnists
Ketchikan


Our Troops
Historical Ketchikan


June Allen


Dave Kiffer


Louise B. Harrington
Recognition


Match of the Month


Asset Builders
Kid's Corner


Bob Morgan
Ketchikan Arts & Events


Ketchikan Museums


KTN Public Libraryt


Parks & Recreation


Chamber
Lifestyles


Home & Garden


Food & Drink


Arts & Culture


Book Reviews


Movie Reviews


Celebrity Gossip
On the Web


Cool Sites


Webmaster Tips


Virus Warnings
Sports


Ketchikan Links


Top Sports News
Public Records


FAA Accident Reports


NTSB Accident Reports


Court Calendar


Court Records Search


Wanted: Absconders


Sex Offender Reg.


Public Notices
Weather, Webcams


Today's Forecast


KTN Weather Data


AK Weather Map


Ketchikan Webcam


SE AK Webcams


Alaska Webcams


AK Earthquakes


Earthquakes
TV Guide


Ketchikan
Ketchikan Phone Book


Yellow Pages


White Pages
Employment


Employment
Government Links


Local Government


State & National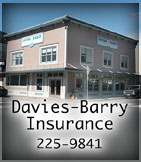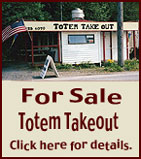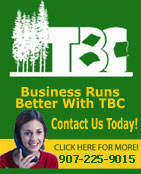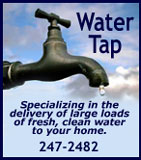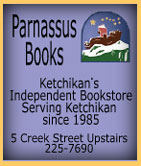 Friday
September 21, 2007



Gravina Access Bridge Is Not the Answer Says Governor
Pennock Island (front right) and Gravina Island (left)
Front Page Photo by Carl Thompson

Ketchikan: Gravina Access Bridge Is Not the Answer Says Governor - Alaska Governor Sarah Palin today directed the Department of Transportation and Public Facilities to look for the most fiscally responsible alternative for access to the Ketchikan airport and Gravina Island instead of proceeding any further with the proposed $398 million bridge.

"Ketchikan desires a better way to reach the airport, but the $398 million bridge is not the answer," said Governor Palin. "Despite the work of our congressional delegation, we are about $329 million short of full funding for the bridge project, and it's clear that Congress has little interest in spending any more money on a bridge between Ketchikan and Gravina Island," Governor Palin added. "Much of the public's attitude toward Alaska bridges is based on inaccurate portrayals of the projects here. But we need to focus on what we can do, rather than fight over what has happened."

The Department of Transportation has approximately $36 million in federal funds that will become available for other projects with the shutdown of the Gravina Island bridge project. Governor Palin has directed Commissioner Leo von Scheben to review transportation projects statewide to prepare a list of possible uses for the funds, while the department also looks for a more affordable answer for Gravina Island access.

"There is no question we desperately need to construct new roads in this state, including in Southeast Alaska, where skyrocketing costs for the Alaska Marine Highway System present an impediment to the state's budget and the region's economy," said Von Scheben. - More...
Friday - September 21, 2007

Ketchikan: Sinking of the Gravina Island Bridge Astounds Stedman - Senator Bert Stedman (R-Sitka) was astounded by the Governor's announcement today that she was unilaterally cancelling the Gravina Island Bridge project. "Improving access to Gravina Island has been an economic priority for the community of Ketchikan, the State of Alaska and our congressional delegation for over 30 years. I'm shocked that the Governor would ignore the significant energy, hard work and financial resources already invested in the project", Sen Stedman said.

The Gravina Access project was conceived to provide a hard road link from the community of Ketchikan to neighboring Gravina Island said Stedman in a news release today. "To many Ketchikan residents, this project is a litmus test of the state's willingness to invest in our community's economic future. Anyone who has studied the project knows how ridiculous it is to suggest that it is simply a bridge to the Ketchikan airport. To have it characterized as such is disturbing and demonstrates a limited understanding of the project", commented Sen Stedman.

The Alaska Congressional delegation appropriated $223 million dollars for the Gravina Access Project in the 2005 Federal Highway appropriation bill. Last year, the state legislature appropriated $10 million in state matching funds. Since the project's inception, over $50 million has been committed to moving it forward. As recently as two weeks ago said Stedman, the Department of Transportation met with Ketchikan leaders to discuss the project and to explore alternatives that would meet the needs of the community. - More...
Friday PM - September 21, 2007

Alaska: "Unusually thin, rotten ice" north of Alaska By NED ROZELL - The news from the top of the world, according to William Chapman, who follows the fate of sea ice from his office at University of Illinois at Urbana-Champaign: "September 12, 2007The (northern hemisphere) sea ice area is currently at its historic minimum (2.92 million square kilometers) representing a 27 percent drop in sea ice coverage compared to the previous (2005) record (northern hemisphere) ice minimum."

This photo of sea ice north of Alaska was taken in summer 2007.
Photo by Jenny Hutchings.

The ice that floats on the Arctic Ocean is now the smallest conglomeration of frozen jigsaw puzzle pieces that people have seen in the era of satellites. That record is short, only going back to 1979, but the ice loss has been outracing some conservative computer models. According to an Alaska scientist just back from the ice pack, northern ice is not what she had seen before.

Jenny Hutchings is a sea-ice researcher for the International Arctic Research Center at the University of Alaska Fairbanks. She cruised the Beaufort Sea north of Alaska for more than a month from late July to late August. She was a passenger on the Canada Coast Guard icebreaker Louis St. Laurent. It was her second straight year in the area.

Satellite measurements aren't perfect, and Hutchings noticed that some areas the satellites revealed as ice-free were instead ice, with water ponded on top. But for the most part, she noticed an ice mass in bad shape.

"We were seeing unusually thin, rotten ice, all the way to 79 degrees north," Hutchings said. "That's where you would expect some of the heaviest ice, and we were having no trouble at all getting through."

Hutchings was on the cruise to validate satellite observations with what she saw and to continue tracking ice around the Beaufort Sea, the portion of the Arctic Ocean north of Alaska and northwest of Canada. She said much of the ice they encountered was ice that has survived from one to three winters. She was surprised in the northern regions of the trip to find no first-year ice that formed last winter. New ice can grow to five feet thick in one winter, but it is also more vulnerable to melting than multi-year ice.- More...
Friday - September 21, 2007

Viewpoints
Opinions/Letters
Basic Rules

What's wrong with Jewelry Stores? By Chris Parks - The current ballot initiative to limit the number and density of jewelry stores states that "It is in Ketchikan's best economic interest to establish and retain year-round businesses"; "Proliferation of jewelry stores in Ketchikan's traditional downtown area has resulted in a monotonous retail atmosphere"; "the proposed ordinance would help encourage a broader array of retail opportunities in the community's downtown core"; "The proposed ordinance would promote year-round services and trade". All of these statements from the proposed ballot initiative make the assumption that jewelry stores are 'bad' for our community. - More...
Sunday - September 23, 2007

Glum, glummer and glummest, At the SE Conference 50th annual meeting By Sen. Kim Elton - GLUM -- It all did start and end well. I took the two-and-a-half hour fast ferry sprint to Skagway Tuesday on one of those treasured, sunny September mornings. But it was frustrating on one level--it was so beautiful I wanted to wax poetic but I'm not a poet. It ended the next day when the ferry system, in very unpoetic language, saved my butt--getting me back home late in the evening on the Aurora after my commuter flight from Skagway to Juneau was canceled due to weather. - More...
Sunday - September 23, 2007

God Bless Governor Palin By Charlotte Tanner - It is so refreshing to have a Governor that is not only fiscally responsible, but does not allow herself to be baffled by "the OldBoy" BS. Sarah Palin is a breathe of fresh air in Alaska Politics. God Bless her, and her integrity. May she continue to be as honest as she has shown herself to be since her election. - More...
Sunday - September 23, 2007

Good and bad neighbors make life interesting By Edward Brown - Ketchikan should be thankful for their local neighbors like the Kauffmans. They provide a room to stop by and have coffe and let us vent when we need to. I was a former rascal to this island community. And when I read Sitnews I really feel like I am not that far away. Just down the block. The digital world has shrunk the miles which separate us. - More...
Sunday - September 23, 2007

The Bridge to Gravina By Tony Alenskis - Well it looks official. After all the ups and downs, after all the rounds and rounds, after all the time and money wasted no bridge. - More...
Sunday - September 23, 2007

Local Governments provide information By Anita Hales - For those who may not be aware of resources on where they may obtain information, I respectfully suggest that they take advantage of television broadcasts and re-broadcasts of local meetings on local TV channels. - More...
Sunday - September 23, 2007




Ketchikan

Ketchikan Police Report
AK Troopers Daily Dispatch
Today's Forecast
Satellite
Today's Weather Images
Marine Forecasts
Ketchikan Weather Data
Current AK Weather Map

CLASSIFIEDS

Publish ad
Please select the proper category before posting.




CLASSIFIEDS' CATEGORIES

Announcements and
Help Wanted
For Sale / Free Stuff
Garage Sales
Homes / Apts/ Property
Pets
Wanted
Lost & Found
Local Services
Publish your ad

More Front Page Archives

The veneer plant By Dave Person - Mary Dahl's letter about the veneer mill was a tour de force of logic, good fiscal sense, and prudent action. I would like someone from the borough assembly or borough staff to respond with an explanation why we should not foreclose on the Ward Cove property immediately. I request that the assembly respond in SitNews, Daily News, and on KRBD and not simply demand folks attend assembly meetings. - More...
Friday AM - September 21, 2007

Jewelry Stores and Us By Walter Bolling - Initiative: A procedure enabling a specified number of voters by petition to propose a law and secure its submission to the electorate for approval. - More...
Friday AM - September 21, 2007

For Your Viewing Enjoyment, and At Your Expense! By Jerry Cegelske - I received a message from a North end resident who told me about an abandoned car in the ditch out North. When I returned the call I was told that the car had been removed but a truck had been dropped off at the pull out just before Second Waterfall. This morning I went out to look at it and take pictures of it. As you can see it was burned, but not where it was found, as the tree leaves show no evidence of being burned and there was no broken glass anywhere. - More...
Friday AM - September 21, 2007

Foreclose on RKG & Jenkins By Peg Travis - Thank you, Mary Lynne Dahl for your continued diligence in keeping us informed on the Borough and RKG and Jenkins.

What is it going to take to wake up the Borough Assembly Members and Mayor to take action? NOW!!! - More...
Friday AM - September 21, 2007

Berry pickers beware... By Crystal Skille - Remembering the old sourdough code of ethics: One shall not touch another person's goods left along the trail. - More...
Friday AM - September 21, 2007

YES on Proposition 1 By Heather Muench - Opponents of Proposition 1 limiting jewelry stores cry private property rights.

In reality, there are many restrictions on private property. On residential property within the city limits, we can t put a mobile home or sawmill, have more than 5 dogs without a special permit, and other restrictions. - More...
Friday AM - September 21, 2007

BIG PICTURE By Susan Doherty - Thanks so much to Olney Webb for his recent letter, and also to Tom LeCompe for his tongue in check road race contest a while back. As bad as it gets, and as good as it gets, the one thing I have always appreciated about the folks in Ketchikan is that we can almost always find the humor in the heated battles and debates we face. - More...
Friday AM - September 21, 2007

Unity Pole in Kasaan By Diane Gubatayao - Thanks to the contributors and editor Mary Kauffman for an outstanding story on the raising of the Unity Pole in Kasaan. I am privileged to work with Native Americans and American Indians here in California, and they aren't as knowledgeable about Alaska Natives. I remember the thrill of watching the raising of the Chief Johnson pole in Ketchikan many years ago, and it is inspiring to see such traditions still alive and thriving. - More...
Friday AM - September 21, 2007

Jewelry Store Initiative By Kaeleen Foote - I am a college student doing research for an article for our college newspaper on the cruiseship industry and its impact on our small town. - More...
Friday AM - September 21, 2007

Top Stories, KTN News Feed Ads By Melissa O'Bryan - I am writing regarding the top stories link on SitNews. This is the second time I have come across this and am hoping it stops. I use Sitnews to stay on top of local news, if you click on Top Stories and then Ketchikan, they link you to a page with all of the articles relating to you guessed it, top stories in Ketchikan. - More...
Friday AM - September 21, 2007

NitPicking By Penny Warner - Regarding the letter by M.E. Cleveland concerning nitpicking, she is correct that education is the key. She is not correct in her mayonnaise treatment nor in telling parents to bag items for months or throw things away. - More...
Friday AM - September 21, 2007

More Letters/Viewpoints
Webmail your letter or
Email Your Letter To: editor@sitnews.us

---

E-mail your news tips, news
releases & photos to:
editor@sitnews.us

SitNews
Stories in the News
©1999 - 2007
Ketchikan, Alaska

M.C. Kauffman, Webmaster/Editor
webmaster@sitnews.us

In Memory of SitNews's first editor,
Dick Kauffman
1932-2007

Locally owned & operated.
Online since 1999

Articles & photographs that appear in SitNews are protected by copyright and may not be reprinted or distributed without written permission from and payment of required fees to the proper sources.