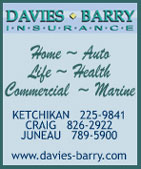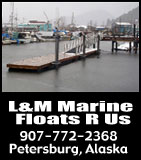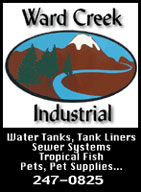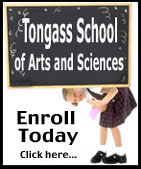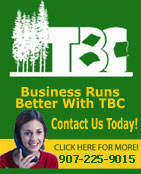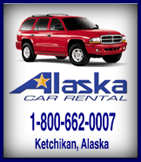 Contact


Webmail Letters


News Tips


Search Sitnews


Copyright Info


Archives
Today's News


Alaska


Ketchikan


Top Stories


U.S. News


U.S. Politics


Stock Watch


Personal Finance


Science News


US Education News


Parenting News


Seniors News


Medical News


Health News


Fitness


Offbeat News


Online Auction News


Today In History


Product Recalls


Obituaries
Quick News Search


Alaska


Ketchikan


SE Alaska


Alaska News Links
Columns - Articles


Dave Kiffer


Parnassus Reviews


Fish Factor


Chemical Eye On...


Bob Ciminel


Rob Holston


More Columnists
Ketchikan


Our Troops
Historical Ketchikan


June Allen


Dave Kiffer


Louise B. Harrington
Recognition


Match of the Month


Asset Builders
Ketchikan Arts & Events


Ketchikan Museums


KTN Public Library


Parks & Recreation


Chamber
Lifestyles


Home & Garden


Food & Drink


Arts & Culture


Book Reviews


Movie Reviews


Celebrity Gossip
On the Web


Cool Sites


Webmaster Tips


Virus Warnings
Sports


Ketchikan Links


Top Sports News
Public Records


FAA Accident Reports


NTSB Accident Reports


Court Calendar


Court Records Search


Wanted: Absconders


Sex Offender Reg.


Public Notices
Weather, Webcams


Today's Forecast


KTN Weather Data


AK Weather Map


Ketchikan Webcam


SE AK Webcams


Alaska Webcams


AK Earthquakes


Earthquakes
TV Guide


Ketchikan
Ketchikan Phone Book


Yellow Pages


White Pages
Employment


Employment
Government Links


Local Government


State & National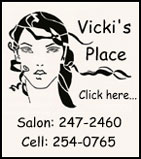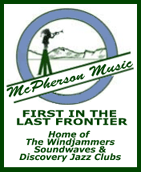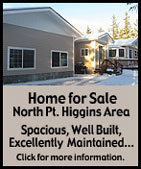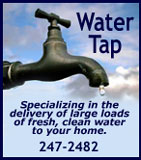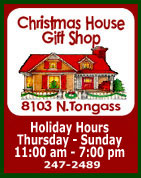 Friday
April 18, 2008



Winter Wren at Settlers Cove
Front Page Photo by Jim Lewis




Public Meeting

Special Borough Assembly Meeting - Friday, April 18th at 5:30 pm in the City Council Chambers to consider the Manager's report regarding Proposals for new administrative offices for the Ketchikan Gateway Borough.
Agenda & Manager's 24 page Full Report

Alaska: Alaska Continental Slope 100 Miles Farther Out Than Thought - New Arctic sea floor data released by the University of New Hampshire and the National Oceanic and Atmospheric Administration suggests that the foot of the continental slope off Alaska is more than 100 nautical miles farther from the U.S. coast than previously assumed.

The data, gathered during a recent mapping expedition to the Chukchi Cap some 600 nautical miles north of Alaska, could support U.S. rights to natural resources of the sea floor beyond 200 nautical miles from the coast.

"We found evidence that the foot of the slope was much farther out than we thought," said Larry Mayer, expedition chief scientist and co-director of the Joint Hydrographic Center at UNH. "That was the big discovery."

Coastal nations have sovereign rights over the natural resources of their continental shelf, generally recognized to extend 200 nautical miles out from the coast. The Law of the Sea Convention, now under consideration in the U.S. Senate, provides nations an internationally recognized basis to extend their sea floor resource rights beyond the foot of the continental slope if they meet certain geological criteria backed up by scientific data.

The Bush administration supports approval of the convention.

The Arctic mapping expedition, conducted between Aug. 17 and Sept. 15, 2007 aboard the U.S. Coast Guard Cutter Healy, employed sophisticated echo sounders to survey this relatively unexplored region, providing much finer-grained data and images than existed previously.

"We now have a better geologic picture of what's happening in that area of the Arctic," said NOAA Office of Coast Survey researcher Andy Armstrong, co-chief scientist on the expedition and NOAA co-director of the Joint Hydrographic Center. "These are valuable data for NOAA and the United States, and I'm pleased that we're making them available for anyone to use." - More...
Friday - April 18, 2008

Southeast Alaska: Indian Creek Timber Sale Announced - The Alaska Department of Natural Resources, Division of Forestry, gave formal notice on April 1, 2008, that the Division has made a preliminary decision regarding commercial timber sales in the Indian Creek Timber Sale Area on Prince of Wales Island.

Before this sale can be held, the Director of the Division of Forestry will make a written final decision that the sales are in the best interest of the State. This decision will set out the facts and applicable policies upon which the Director bases his determination that the proposed timber sale will or will not best serve the interest of the State. The final decision is expected to be available to the public after May 7, 2008.

This timber is located on Prince of Wales Island (POW) approximately 3 statue miles southwest of Hollis, Alaska . This volume will be sold in the form of two to five sales configured in five different units that compose a total of four hundred sixty six (466) acres. The sales will require in-state manufacture and will be a negotiated contract. No export in the round log form will be allowed. The State will utilize a request for proposal (RFP) process to determine the parties with whom to negotiate and sell the timber. The State maintains a public list of mills in Southeast Alaska that have expressed interest in timber sales and will market the sales based on this list. - More...
Friday - April 18, 2008

Fish Factor: High fuel prices idles fleet By LAINE WELCH - High fuel prices have idled 20 percent of Kodiak's trawl fleet - and hundreds of local seafood workers.

Seven of the 35 trawlers home ported at Kodiak are tied up at the peak of the flatfish season. At $4.65 a gallon for diesel, they simply can't afford to go fishing.

"The cost of fuel comes off the top of the trip. Then we have observer fees, gear and maintenance costs, insurances It's just reached the breaking point. And the price of fuel keeps going up," said Jeff Scott, skipper of the 86-foot fishing vessel Dusk.

"For our last delivery we grossed $12, 546. The fuel cost was $7,000. Over 60% for fuel," lamented Al Burch, Dusk owner and director of the Alaska Draggers Association.

The months of April through June are the prime fishing months for arrowtooth flounder, rock sole and other flatfish in the Gulf of Alaska. Normally, the fisheries provide between 35%-45% of the Dusk's annual income, Scott said. But fish prices have remained constant for two years, while diesel costs have increased by more than 40%.

So far the tie up means a loss of 10 million pounds of flatfish to Kodiak, Burch said, as well as down time for the resident seafood processing workforce.

"Every three days that the Dusk doesn't make a trip puts 160-170 processing workers out of work. That's just one boat - multiply that by six boats," he said.

Jeff Scott said fishermen aren't blaming the local buyers for not upping flatfish prices.
"In most cases they have already pre-sold the fish as frozen blocks. Their overhead is going up too and they're stuck," he said.

We're scratching our heads over what to do," added Al Burch. "Boy, it sure is discouraging."

That was echoed in Cordova where the cost of diesel fuel by the town's single supplier was $4.38/gallon, said fisherman Brent Davis.

Last month he began jigging for cod with his salmon boat, but had to give up after two trips.

"Since no one else is doing it here, I had to do some prospecting. But the fuel costs exceed what I am willing to spend," Davis said.

"I know that jigging for cod could be a viable fishery in Prince William Sound," he added. 'As a small time salmon fisherman who wants to expand into other fishing opportunities, I feel pinched by petroleum and will leave the cod to swim."

Fuel costs are "the biggest concern" for Cordovan Rick Ballas who fishes for salmon and halibut. - More...
Friday - April 18, 2008

Columns - Commentary

Dale McFeatters: The mystery of the midnight earmark - A principle as old as Congress is that once a bill is passed it is final. There are no do-overs or changes unless the full Congress votes them in a subsequent bill. But strange things do happen, and one of those is causing furor on Capitol Hill.

The 2005 highway bill contained an earmark -- a lawmaker's pet project -- for $10 million to widen and improve I-75 in Ft. Myers, Fla. After the bill was passed by both the House and the Senate but before it went to the president, staffers for GOP Rep. Don Young, like his fellow Alaska lawmakers a master of the pork process, changed the earmark to fund an interchange on I-75. That would have materially benefited developers who had raised $40,000 for Young and who owned 4,000 acres next to the proposed interchange.

When the change came to light, many lawmakers were outraged. Thursday, by a bipartisan margin of 64 to 28, the Senate voted to ask for a federal criminal investigation into how the earmark was altered. If there was a precedent for the request, no one could immediately recall it. - More...
Friday - April 18, 2008

Dan K. Thomasson: Saving for gas to get to the poorhouse - Will Rogers said that this would be the only country to ride to the poorhouse in a limousine. While his remark came in the midst of the Great Depression, it is once again relevant with one exception. It is becoming more and more difficult to gas up for the journey.

With the price of fuel making it difficult to fill up even an average sedan for less than $50, the average citizen is having to make difficult decisions about how to manage his money often at the expense of the nation's retailers, many of whom are either cutting back or facing bankruptcy from declining sales.

The anomalies of this economic downturn -- it is probably more accurate now to call it a recession -- are somewhat larger than usual. While drivers dependent on their cars are struggling to keep them on the road, the oil companies have never wallowed in so much money. While millions of stressed-out homeowners face foreclosure and eviction in the subprime-mortgage crash and financial institutions need government help to survive their own greed, their officers still earn unprecedented compensation.- More...
Thursday PM - April 17, 2008

Bonnie Erbe: Economics disfigured - For years, government figures on economic growth (or lack thereof) have mystified me as being so far out of whack with reality as to bare little or no resemblance to it. This is true for figures on economic growth, job creation and inflation. In 2005 I wrote:

"I've racked my brain trying to reconcile Labor Department reports of inflation running in the 2-3 percent range, while watching as housing, food, clothing, and transportation costs rise by double digits each quarter. Is the government hiding something?"

Three years later I'm thinking the answer is clearly "yes" since not only has inflation gotten worse, but two much more savvy figures than myself have made the case for government economic deceit. Taken together they agree that the government cooks economic figures until they mimic limp linguine upon release.- More...
Thursday PM - April 17, 2008




Obituary

Dorothy 'Doris' R. Elerding - Former Ketchikan resident Dorothy "Doris" R. Elerding, 80, died on April 12, 2008, in Burien, Wash. - More...
Thursday - April 17, 2008

Ketchikan

Ketchikan Police Report (Updated)
AK Troopers Daily Dispatch
Today's Forecast
Satellite
Today's Weather Images
Marine Forecasts
Ketchikan Weather Data
Current AK Weather Map

CLASSIFIEDS

Publish ad
Please select the proper category before posting.




CLASSIFIEDS' CATEGORIES

Announcements and
Help Wanted
For Sale / Free Stuff
Garage Sales
Homes / Apts/ Property
Pets
Wanted
Lost & Found
Local Services
Publish your ad

More Front Page Archives

Viewpoints
Opinions/Letters
Basic Rules

Update in Progress

New attitude and positive philosophy needed By Billy Johnson - Instead of building million dollar soccer fields and dreams of moving to lower level competition . . . . maybe it's time to bring in a younger, more hungry coaching staff and philosophy to the Kayhi soccer program. - More...
Thursday PM - April 17, 2008

Schoencliff Debacle #2 By Jackie Williams - Once again, we are being offered the Schoencliff Center, or that is my opinion after reading the Introduction in the proposal from Dawson Construction to remodel the more than 75-year-old building. The mention of tenants; of other groups or agencies that have invested much time and energy, sounds just like Schoencliff Center. The collection of property tax that makes it seem like KGB will have an offset in costs, I believe will be paid by the KGB through rental fees - More...
Thursday PM - April 17, 2008

Covenant Players By George R. Pasley - A small troupe from Covenant Players has been in Ketchikan this week and will be performing at the Presbyterian Church on Sunday. - More...
Thursday PM - April 17, 2008

Attitude makes a big difference By Jerry Cegelske - "Attitude Makes The Difference!" I recently read a bumper sticker on the side of a van that had that statement on it. - More...
Thursday PM - April 17, 2008

Shocking News By Ken Lewis - Being 8-year college credits short of having a Masters Degree in aberrant behavior will not prevent me from chiming in on the recent front page article regarding animal husbandry? Or what ever higher educated folks call it! - More...
Thursday PM - April 17, 2008

Bestiality By A. M. Johnson - How often would it be that Al Johnson would agree with Ms. Ortiz (Ketchikan Daily News, Lt to the editor-Bestiality 4/16/08)? My wife and I too, were dumbfounded that a family newspaper would print tabloid crap at best, on not only the front page, but continue the detail for several columns on interior pages. This from a paper that proclaims anonymity for local police reports involving charges far less than those on this case. Yet here every available detail including the perp's name on such a distasteful subject. - More...
Thursday PM - April 17, 2008

Gravina Island Bridge By Stephanie Scott - I travel to Ketchikan from time to time, so I was surprised to hear Mayor Weinstein complain on the radio recently about how difficult it is for elders and those with physical disabilities (he mentioned crutches ) to get to and from the airport in Ketchikan. I am surprised that he doesn't know that you can drive your car to the airport on Gravina Island, or that you can be picked up and driven - thus avoiding lugging luggage and oneself up or down all those airport ramps and steps. Ketchikan has good cab, bus, and airport shuttle service. It has an excellent airport ferry. It has a superb water taxi. Gosh, if you are a passenger, and if you do not live on one of those Ketchikan "roads" that are really walkways, you can actually board a vehicle at your home and stay seated until it's time to step into the lobby of the airport. - More...
Thursday PM - April 17, 2008

Thank You By Shannon Nelson - I would also like to thank Angie Olson for the Easter Egg Hunt at Ward Lake. I am sorry I missed it but saw the pictures and I am looking forward to next year's hunt with my grandson. -- More...
Thursday PM - April 17, 2008

More Letters/Viewpoints
Webmail your letter or
Email Your Letter To: editor@sitnews.us

---

E-mail your news tips, news
releases & photos to:
editor@sitnews.us

SitNews
Stories in the News
©1999 - 2008
Ketchikan, Alaska

M.C. Kauffman, Webmaster/Editor, &
Graphic Designer
webmaster@sitnews.us

In Memory of SitNews' first editor,
Dick Kauffman
1932-2007

Locally owned & operated.
Online since 1999

Articles & photographs that appear in SitNews are protected by copyright and may not be reprinted or redistributed without written permission from and payment of required fees to the proper sources.