Contact


Webmail Letters


News Tips


Search Sitnews


Copyright Info


Archives
Today's News


Alaska


Ketchikan


Top Stories


U.S. News


U.S. Politics


Stock Watch


Personal Finance


Science News


US Education News


Parenting News


Seniors News


Medical News


Health News


Fitness


Offbeat News


Online Auction News


Today In History


Product Recalls


Obituaries
Quick News Search


Alaska


Ketchikan


SE Alaska


Alaska News Links
Columns - Articles


Dave Kiffer


Parnassus Reviews


Fish Factor


Chemical Eye On...


Bob Ciminel


Rob Holston


More Columnists
Ketchikan


Our Troops
Historical Ketchikan


June Allen


Dave Kiffer


Louise B. Harrington
Recognition


Match of the Month


Asset Builders
Kid's Corner


Bob Morgan
Ketchikan Arts & Events


Ketchikan Museums


KTN Public Libraryt


Parks & Recreation


Chamber
Lifestyles


Home & Garden


Food & Drink


Arts & Culture


Book Reviews


Movie Reviews


Celebrity Gossip
On the Web


Cool Sites


Webmaster Tips


Virus Warnings
Sports


Ketchikan Links


Top Sports News
Public Records


FAA Accident Reports


NTSB Accident Reports


Court Calendar


Court Records Search


Wanted: Absconders


Sex Offender Reg.


Public Notices
Weather, Webcams


Today's Forecast


KTN Weather Data


AK Weather Map


Ketchikan Webcam


SE AK Webcams


Alaska Webcams


AK Earthquakes


Earthquakes
TV Guide


Ketchikan
Ketchikan Phone Book


Yellow Pages


White Pages
Employment


Employment
Government Links


Local Government


State & National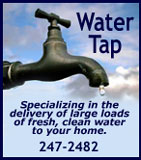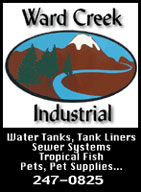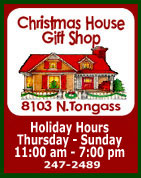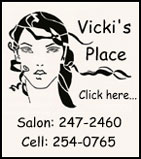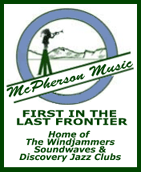 Thursday
February 07, 2008



As the Snow Falls: Thomas Basin
Front Page Photo by Terri Jirschele

Ketchikan: North Tongass Volunteer Fire Department dedicates Fire Station 8 to Elkins - The North Tongass Volunteer Fire Department, in association with the North Tongass Fire & EMS Membership Association and the North Tongass Fire & EMS Service Area Board of Directors, will be holding a dedication ceremony Friday, February 8th starting at 6:30 pm. The ceremony will mark the dedication of the Fire Station located at 13110 North Tongass Highway, known as Station 8, in honor of James 'Jim' Elkins, former area Representative and the person at the forefront in the deliberations for funding to build fire stations in the North Tongass said NTVFD Fire Chief David Hull.

Jaws-of-Life Ribbon Cutting Ceremony: February 2006
In February 2006 District One Representative Jim Elkins has the honors of cutting the ribbon with the jaws-of-life, a hydraulic tool for extracting people from car wrecks. Standing next to Rep. Elkins is NTVFD Fire Board Chairman Steve Phillips.
File Photo 02/06
Photograph by Dick Kauffman

The ceremony also marks the fourth anniversary for the North Tongass Volunteer Fire Department which started responding to emergency calls on February 1, 2004 said Chief Hull.

Hull said there are many people to thank and finger food will be available, as well as tours of the 98% completed fire station and an opportunity to look over the equipment housed at the station. - More...
Thursday - February 07, 2008

Ketchikan: IGA USA Retailers Receive 2008 Outstanding Community Based Independent Retailer Award - Grocery industry trade publication Progressive Grocer has announced that IGA's U.S. Retailers are the recipients of the 2008 Outstanding Community Based Independent Retailer Award. According to Jane Olszeski Tortola, the magazine's editor of independent retailing, this award recognizes IGA Retailers' combined work to excel in today's competitive market, their successes as food purveyors, their relationship and approach to service with our customers, and IGA stores' status as great places to work and shop.

According to Bill Tatsuda, owner of Tatsuda's IGA, located in Ketchikan, the award brings with it a continued responsibility to his customers. "We strive to bring our customers the preferred shopping experience in Ketchikan each and every day," Tatsuda said. "We are able to compete with larger stores because we know our customers and our community, and we care about the needs of both. That's the IGA way, and we're proud to be a part of an Alliance of independents retailers who are recognized for quality and caring. We'll continue to meet the needs of our customers and stand up to the responsibility this award brings." - More...
Thursday - February 07, 2008

National: Brokered Democratic convention looking more likely By CAROLYN LOCHHEAD - The Democratic race between Sens. Hillary Rodham Clinton and Barack Obama shows every sign of heading to an August convention fight in Denver, where backroom deals and brawls over rules could trump primary voters in picking the nominee.

"The stakes are growing," said Stuart Rothenberg, publisher of the nonpartisan Rothenberg Political Report. "The later you go in the process, the more is at stake. The nomination is now at stake. Iowa's about Iowa, but now it's about the nomination."

Emerging from the 22 primaries and caucuses Tuesday with delegate counts less than 10 percent apart, the two rivals head into a pitched round of contests that will reach a climax with March 4's big prizes of Texas and Ohio. Yet with each candidate splitting delegates according to the share of the vote received, neither is likely to be able to build a decisive lead.

And neither Clinton nor Obama is near to ceding the nomination. - More...
Thursday - February 07, 2008

National: Chicken-feed additive may pose danger By DON HOPEY - A chicken-feed additive containing arsenic and used to produce pinker, healthier, bigger-breasted birds could cause human disease, according to a study.

The study is the first to link a human health risk to the feed additive that has been widely used since the 1960s by commercial chicken producers to control intestinal parasites, reduce stress, stimulate growth and improve the color of chicken meat.

Partha Basu, the study's lead author and associate professor in Duquesne University's Department of Chemistry and Biochemistry, said laboratory analysis reveals that the antibiotic arsenic compound roxarsone, which promotes the growth of blood vessels in chickens to produce pinker meat, does the same in human cell lines -- a critical first step in many human diseases, including cancer.

"This is a significant finding as it relates to potential human health effects from roxarsone," said Basu, who worked on the study with scientists from Thermo Fisher Scientific laboratories and the University of Pittsburgh's Department of Environmental and Occupational Health.

"We wanted to test if roxarsone, which increases pigmentation by forming more blood vessels in chickens, does the same in humans and the answer is yes," Basu said. "It's a process called angiogenesis, a common growth process, but also one that occurs in many diseases and cancers." - More...
Thursday - February 07, 2008

Alaska: Tree line changes on the Kenai Peninsula By NED ROZELL - The late Yule Kilcher, a Swiss homesteader who knew the landscape around Homer better than anyone, once told ecologist Ed Berg that during Kilcher's half century of observing the natural world around him, trees in the area had crept "at least several hundred feet" up the hills.

Tree line is on the move in many areas of Alaska.
Photo by Ned Rozell

Two students at Alaska Pacific University recently confirmed at least part of Kilcher's observation. They looked for changes in the tree line of the western Kenai Peninsula and found it has risen about a yard each year since 1951 on north-facing slopes. Tree line didn't change much on south-facing slopes, but trees and bushes got denser there.

Katrina Timm and Alissa McMahon compared photos of the western Kenai hills from the 1950s to photos of the same area taken in 1996 to see the changes in tree line, which is among the most gradual and spotty indicators of warming. In comparing the photos and hiking into the hills to sample trees and take detailed measurements, the pair also found that 20 percent of the alpine tundra that existed in 1951 had become shrubbery or open woodlands by 1996. They wrote up their results in the Journal of Geological Research. - More...
Thursday - February 07, 2008

Ketchikan: HOT AIR, COLD NIGHTS: A Winter LAFF-A-THON - First City Toastmasters Club is hosting a humorous speech contest called HOT AIR, COLD NIGHTS in conjunction with the Festival of the North. Jim Donaghey will be the guest Toastmaster for the evening. Donaghey, from Juneau, has been a Toastmaster for over 28 years.

According to Bonnie Paddock, First City Toastmasters Event Chairman, Donaghey is an engaging speaker, but the contestants are the centerpiece for the evening. Some speakers are First City Toastmasters and some are not she said..

There will be a panel of judges, and each speech is timed to not exceed 7 1/2 minutes. Attendees will have a chance to vote for their favorite speaker. Paddock said, "We'll also be holding an impromptu Joke Telling Contest. Just another way to let your voice be heard!"

Jim Donaghey serves as S.E. Alaska's Area Governor for the Yukon Alaska Council of Toastmasters. Donaghey says his experience includes "16-12-9-28-65-1-43-3-3-1-6-35-7-28", so come find out what this is all about said Paddock. - More...
Thursday - February 07, 2008





PODCASTING
Podcasting is a form of audio broadcasting on the Internet.

Listen to audio replays of public meetings any time, any where.

01/16/08 - Ketchikan City Council Special Meeting - Brokerage Services Proposals for the Sale of the Telecommunications Division - Falkenberg Capital Corporation and Alpina Capital, LLC -- 86.2 MB (1 hour 34 minutes)- Published 02/01/08

01/25/08 -Ketchikan Transportation Projects Update - The Assembly met in the City Council Chambers to listen to a Presentation by Malcolm Menzies Southeast Alaska Regional Director of the Alaska Department of Transportation and Public Facilities. Mr. Menzies presented an update, took public comment and answered questions from the public on projects in the Ketchikan area -- addressing highways, the airport access, etc. -- 96MB (1hour 44 minutes) Published 02/02/08

Watch for more podcasts on SitNews.



Ketchikan

Ketchikan Police Report
AK Troopers Daily Dispatch
Today's Forecast
Satellite
Today's Weather Images
Marine Forecasts
Ketchikan Weather Data
Current AK Weather Map

CLASSIFIEDS

Publish ad
Please select the proper category before posting.




CLASSIFIEDS' CATEGORIES

Announcements and
Help Wanted
For Sale / Free Stuff
Garage Sales
Homes / Apts/ Property
Pets
Wanted
Lost & Found
Local Services
Publish your ad

More Front Page Archives

Viewpoints
Opinions/Letters
Basic Rules

Halibut fishing news By Drew Mathews - This year there will be a few changes in the halibut fishing regulations. The regulations have not been printed yet, but they are coming soon. - More...
Wednesday PM - February 06, 2008

KGB Property Taxes By Dan McQueen - Once again I get to the mailbox, sort through my mail and what do I find? A KGB Property Tax notice telling me that once again after doing nothing to my property the value of my house has gone up another $10,000.00. - More...
Wednesday PM - February 06, 2008

SALE OF KPU PHONE: Speak UP By Charles Edwardson - I have written one or two commentaries about this subject. I do not claim to know everything about this issue, but one thing I do know is that I am disappointed that I do not hear from the phone department employees. I heard there is an obscure website for KPU employees -- this is not enough. Have things got so bad that adults cannot express their opinions in public about a subject that will effect their lives to a degree that will alter their very existence for a number of years to come. Everyone is whispering about this subject yet no one will voice their opinion publicly, I have spoken to a number of you guys face to face you all have very pertinent opinions but seam hesitant to express your opinions to the city council members on a one to one basis. - More...
Wednesday PM - February 06, 2008

Wanna Bet? By Aftan Zink - Oh Mark, Mark, Mark. I assure you that the best speedway in town is Baranof Ave. The conditions here are marvelous: a downhill approach from the Buren stop sign where the race usually begins, and not another stop sign until you hit Carlana. Wow, you can REALLY get some speed either way you go. - More...
Wednesday PM - February 06, 2008

Walden Point road on Annette Island By Bonna Booth - My concerns with the Walden Point road on Annette Island project and the State wanting to get involved has been a little troubling and confusing at best when in perspective with the many other subjects of DOT. - More...
Monday PM - February 04, 2008

Let's talk trash By Robert McRoberts - We're always complaining about the trash being dumped all over the place. But only one has giving a solution to stopping it by placing dumpsters around. Sure you can put up cameras but people will just dump in other places. I will tell you exactly what the problem is and how we could have fixed it. problem: The city owns and operates the garbage dump. Do you think they care if people dump trash in the Borough? If they did then the dump would be open later in the day and on Sundays. - More...
Monday PM - February 04, 2008

Election gamble By Tim Utz - A couple informational points I would like to share. Being Ron Paul support is so much first time voting and caucus, including me, many mistakes are being made by supporters that do not reflect on the actual support. - More...
Monday PM - February 04, 2008

Ferry System By Mike Moyer - Thank you Mr. Smeltzer for your comments on the Alaska Marine Highway system. Yes it is wonderful, and we want it to stay. It's important. That's why all of us need to speak out in favor of funding our ferries. Without that the system, we'll be cut to the bone and the money spent on other projects. We will be left on the beach wondering where our ferries went. - More...
Monday PM - February 04, 2008

Price of Fuel By Chuck Moon - I know that I drive my wife nuts talking about the price of fuel, be it home heating oil, gas for the boat, or truck -- but here goes the rant. I myself am tired of seeing oil and natural gas produced within the state sent south to be refined then delivered back to us for double transit costs. Worse yet, we buy oil from countries who in turn use that very money to sponsor terrorism. - More...
Sunday - February 03, 2008

Minimum wage effort launched By Sen. Kim Elton - Sometimes we mean well, but we mean well without oomph. So it is with the gap between the cost of living in Alaska and our stagnant Alaska minimum wage. - More...
Sunday - February 03, 2008

Theme town By James J. Schenk - Ketchikan, maybe a true paradise? Have you been to the lower 48 states, for work or pleasure lately? I have and I do not take leaving my home in Ketchikan lightly. For years now wherever I have roamed and that has been substantial as a traveling I.B.E.W. wireman, my heart always has been with the little town I grew up in. Every clear evening wherever I am and no matter what is happening in my life if I find myself away from Ketchikan, I search the clear night sky for the big dipper. From southern Tennessee, to recently Maui Hawaii, I have found our state flag in the night sky, this has always given me hope that I will be able to return to my home in Ketchikan the one place on Earth that I Love. - More...
Sunday - February 03, 2008

Forest Service Roads By Mike Moyer - We need to remind the U.S. Forest Service that when the people of the Territory of Alaska made the decision to become the State of Alaska the Federal Government agreed with us to maintain cabins in the Tongass National Forest for the use of Alaskans in their traditional use of their surrounding wilderness. Now the Feds are slowly and quietly closing cabins and tearing them down because they say they can't afford to deal with their maintenance. They are violating a promise made to the people of Alaska. - More...
Sunday - February 03, 2008

Keep Ketchikan Clean By Marie-Jeanne Cadle - I remember growing up in Washington state with litter all along the highways and roadways. I also remember Washington's 'Keep Washington Green' campaign and how successful it was. Granted nothing is perfect and some people will always be thoughtless or selfish and will continue to litter without regard or respect for anyone other than themselves, but overall the 'Keep Washington Green' campaign was a success. It reminded us of what should have been common sense: take pride in where you live and respect others by keeping the state clean and we will all benefit. - More...
Sunday - February 03, 2008

Ferry System By Stephen Smeltzer - I'm not sure what all the controversy over the ferry system is all about. The ferry's were set up as a highway between the larger towns especially for Southeast. They were fun to ride in the 60's and 70's, and had some of the best food in their dining rooms. While doing sports at Kayhi, we took several ferry trips to other towns for meets, and the basketball players flew. - More...
Sunday - February 03, 2008

Super Tuesday: Think before you vote By Mike Isaac - In any normal Republican primary Mitt Romney would win or he would be tied up at this point in the game with the only other Republican Ron Paul. But this is not a normal year, the ruling class and media are pushing hard for John McCain a man who is more liberal than Hillery Clinton. Then there is this Huckabee guy from Hope, Arkansas who wants to give illegal aliens tax dollars to pay for college, and seems to be in this race at this point for the purpose of keeping a Mormon out of the White House. - More...
Sunday - February 03, 2008

More Letters/Viewpoints
Webmail your letter or
Email Your Letter To: editor@sitnews.us

---

E-mail your news tips, news
releases & photos to:
editor@sitnews.us

SitNews
Stories in the News
©1999 - 2008
Ketchikan, Alaska

M.C. Kauffman, Webmaster/Editor, &
Graphic Designer
webmaster@sitnews.us

In Memory of SitNews' first editor,
Dick Kauffman
1932-2007

Locally owned & operated.
Online since 1999

Articles & photographs that appear in SitNews are protected by copyright and may not be reprinted or distributed without written permission from and payment of required fees to the proper sources.