Contact


Webmail Letters


News Tips


Search Sitnews


Copyright Info


Archives
Today's News


Alaska


Ketchikan


Top Stories


U.S. News


U.S. Politics


Stock Watch


Personal Finance


Science News


US Education News


Parenting News


Seniors News


Medical News


Health News


Fitness


Offbeat News


Online Auction News


Today In History


Product Recalls


Obituaries
Quick News Search


Alaska


Ketchikan


SE Alaska


Alaska News Links
Columns - Articles


Dave Kiffer


Parnassus Reviews


Fish Factor


Chemical Eye On...


Bob Ciminel


Rob Holston


More Columnists
Ketchikan


Our Troops
Historical Ketchikan


June Allen


Dave Kiffer


Louise B. Harrington
Recognition


Match of the Month


Asset Builders
Kid's Corner


Bob Morgan
Ketchikan Arts & Events


Ketchikan Museums


KTN Public Libraryt


Parks & Recreation


Chamber
Lifestyles


Home & Garden


Food & Drink


Arts & Culture


Book Reviews


Movie Reviews


Celebrity Gossip
On the Web


Cool Sites


Webmaster Tips


Virus Warnings
Sports


Ketchikan Links


Top Sports News
Public Records


FAA Accident Reports


NTSB Accident Reports


Court Calendar


Court Records Search


Wanted: Absconders


Sex Offender Reg.


Public Notices
Weather, Webcams


Today's Forecast


KTN Weather Data


AK Weather Map


Ketchikan Webcam


SE AK Webcams


Alaska Webcams


AK Earthquakes


Earthquakes
TV Guide


Ketchikan
Ketchikan Phone Book


Yellow Pages


White Pages
Employment


Employment
Government Links


Local Government


State & National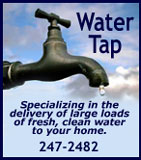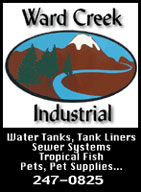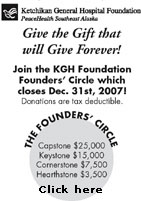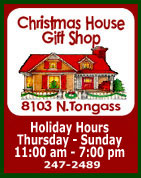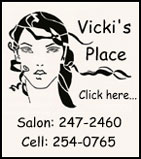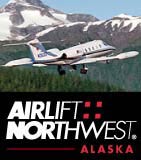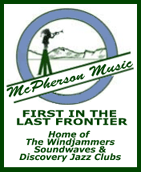 Wednesday
January 02, 2008



Camouflage
A Mountain Point flounder blending in with its surroundings...
Front Page Photo by Mike Kurth

Alaska: First artificial reefs installed in Southeast Alaska - State and federal agencies and the University of Alaska Fairbanks cooperated to build two artificial reefs made of stone in the waters of Lynn Canal, 18 to 25 feet down. The experimental project is designed to enhance near-shore marine habitat for fish and invertebrates.

An anemone and warbonnet in Yankee Cove. Both species will likely use the new reefs.
Photo courtesy of Daniel Okamoto

"The final rock was placed the night of December 20th" said NOAA Fisheries Alaska Regional Administrator Jim Balsiger. "Rigorous study and monitoring will allow NOAA Fisheries and University of Alaska scientists to determine if the materials and design are enhancing marine habitat as expected."

The two new reefs lie just offshore of Adlersheim Lodge north of Juneau. One is located inside Yankee Cove and the other immediately outside the peninsula protecting the cove.

NOAA Fisheries initiated the project through discussions with the Alaska Department of Transportation, reviewed the research proposal and obtained all required state and federal permits. The University of Alaska Fairbanks designed the project and study plan and completed extensive surveys of the seafloor and existing local rocky reefs.

The Alaska Department of Transportation and the Federal Highway Administration provided engineering expertise, funding, and contracting services for the project as partial mitigation for the planned Juneau Access Improvement Project. The Army Corps of Engineers has not yet issued a permit for the proposed road, but the transportation agencies decided to proceed with the habitat enhancement in advance.

"They are the first artificial reefs in southeast Alaska built of local, natural materials," said NOAA Fisheries Marine Resources Specialist Sue Walker, who developed the project in cooperation with the other organizations. - More...
Wednesday AM - January 02, 2008

Alaska: BP Settles Prior Years Taxes for $379 Million - Governor Sarah Palin announced Monday that the State of Alaska and BP Exploration (Alaska) Incorporated have resolved a tax dispute concerning outstanding corporate income tax liabilities.

The taxes related to disputed amounts for tax years 2000 through 2002. Alaska tax statutes require the specific terms and conditions of the dispute and agreement to be kept confidential.

BP agreed to make the payment of $379 million on December 31, 2007. The funds will be deposited in the Constitutional Budget Reserve, which was created as the state's main savings account by a vote of the people in 1990. - More...
Wednesday AM - January 02, 2008

Science - Technology: Benjamin Franklin Viewed Invention as Form of Public Service; In politics, business, science he embodied America's spirit of innovation By PETER SISLER - U.S. Founding Fathers George Washington, Thomas Jefferson, Alexander Hamilton and John Adams all made contributions of a practical kind to the nascent American society, but it was Benjamin Franklin who embodied the inventiveness and sheer creative energy that would mark the American character.

Franklin (1706-1790) was a self-made man who rose to international prominence in equal parts as inventor, scientist, revolutionary and statesman. The remarkable course of Franklin's life, from his humble upbringing as the 10th son of a Puritan soapmaker in Colonial New England to his place as the era's most celebrated scientist and diplomat, revealed quite a bit about the opportunity and promise for advancement the young American nation offered its enterprising sons (and, a bit later, also its daughters).

A one-time penniless runaway, Franklin strove throughout his life to improve society, including founding the first lending library, a university, the first postal service and a respected scholarly society. He became a devoted citizen of his adopted hometown of Philadelphia, which when he arrived in 1723 was a far larger city than either New York or Boston. Franklin considered his scientific experiments and inventions, including bifocal lenses and a smoke-free wood-burning stove, as a type of public service and he never patented or took money for any of his inventions. - More...
Wednesday AM - January 02, 2008

Health - Fitness: New food labels figure nutrition, come up with a score By ERIN ALLDAY - Anyone who's ever spent 15 minutes in the bread aisle of a supermarket trying to find the healthiest loaf of whole wheat knows all too well the curse of the nutrition label.

The federally mandated labels, chock-full of useful information, are notoriously difficult to understand. Even professional nutritionists admit to having a hard time using the information to make smart food purchases. And even when shoppers do understand the labels, who has time to compare five or six or more loaves of bread -- all before moving to the cereal aisle?

A group of researchers may have a solution. Sometime this year, the scientists will introduce a new labeling system that they say will help consumers easily identify the healthiest foods in a grocery store -- every product will be rated on a scale of 1 to 100, with 100 going to the most nutritious products.

The labels -- called the Overall Nutritional Quality Index, or ONQI, score -- will begin to show up on about 40,000 products over the summer. - More...
Wednesday AM - January 02, 2008

Columns - Commentary

Tom Purcell: 100 Years Is Enough for Me, Pal - Ah, the New Year is upon us, a time to make predictions about the future. Here's one that has me worried: human beings may eventually live a really long time.

According to the World Future Society, we are in the early phases of a superlongevity revolution. Thanks to advances nanotechnology and cell and gene manipulation, scientists may eventually learn how to keep humans alive from 120 to 500 years.

Which prompts an important question: Do we really want to live that long?

Sure a longer life would have its upside. I'd love to have my parents around forever. I'd love to swing by for Sunday dinner for at least 100 years more.

It would be great if we were able to keep fellows like Jimmy Stewart, Johnny Carson and Dean Martin around. - More... Wednesday AM - January 02, 2008

Martin Schram: Americans are partial to one-word debates - Almost four decades ago, when the environmentalist movement was just being birthed, The Washington Post's editorial page icon Meg Greenfield put it into perspective by observing that in her formative years, the only time anyone ever mentioned the word "environment" was after someone else had uttered the word "heredity."

Soon, America's thirst for quick-and-easy controversies led us to the eternal quaffological debate between "Less Filling" v. "Tastes Great." Which was just a hop away from today's Great Debate - which is being pitched to us as the essential choice we must make in picking the next leader of the free world: Experience v. Change.

Our world has come down to that, we are being told. Our next president can be either a political careerist with Experience or a political agent of Change. - More...
Wednesday AM - January 02, 2008

Dale McFeatters: And the Iowa caucus proves -- what? - The Iowa presidential caucuses have become such an accepted part of the political calendar it's easy to forget what bizarre rituals they are.

But on 6:30 Thursday, if turnout is as expected, 150,000 Iowa Democrats and 80,000 Republicans will gather in public libraries and church basements in 1,784 precincts to propel one or more of a dozen possible candidates to their party's nomination. Or not. Some years, like 2004 and 2000, it works. Other times it doesn't.

The numbers are only a fraction of the Iowa electorate and an infinitesimal percentage of the national electorate, and, being disproportionately over 55 and female, unrepresentative of both. There's some concern that given easy residency and ID requirements the results might be affected by the hundreds of out-of-state campaign workers in Iowa.

But like little Peterkin and the famous battle, everybody says the caucuses are important, so they are. - More...
Wednesday AM - January 02, 2008




Ketchikan

Ketchikan Police Report
AK Troopers Daily Dispatch
Today's Forecast
Satellite
Today's Weather Images
Marine Forecasts
Ketchikan Weather Data
Current AK Weather Map

CLASSIFIEDS

Publish ad
Please select the proper category before posting.




CLASSIFIEDS' CATEGORIES

Announcements and
Help Wanted
For Sale / Free Stuff
Garage Sales
Homes / Apts/ Property
Pets
Wanted
Lost & Found
Local Services
Publish your ad

Front Page Archives
January 2008

| | | | | | | |
| --- | --- | --- | --- | --- | --- | --- |
| S | M | T | W | T | F | S |
| | 31 | 01 | 02 | 03 | 04 | 05 |
| 06 | 07 | 08 | 09 | 10 | 11 | 12 |
| 13 | 14 | 15 | 16 | 17 | 18 | 19 |
| 20 | 21 | 22 | 23 | 24 | 25 | 26 |
| 27 | 28 | 29 | 30 | 31 | | |

More Front Page Archives

Viewpoints
Opinions/Letters
Basic Rules

Snow advice By Bonnie Sullivan - This letter is for Jessica and for the other drivers in Ketchikan that would rather be safe than intimidated! I am still absolutely appalled that there are drivers in this town, or any other, that feel "put out" that there are a handful of drivers that take their time driving in dangerous conditions. - More...
Wednesday AM - January 02, 2008

Bus stop benches By Jenny Simpson - As a user of the Library bus stop benches, I am VERY sorry to see that the benches have been removed. Ask any one of the disabled, elderly, and other users of the benches how happy we are to be able to sit and rest while waiting. - More...
Wednesday AM - January 02, 2008

Library Bus Stop Benches By Robert Gustafson - I hear everybody saying good and bad things about the seats being removed from the Library bus stop here in Ketchikan. Well I think there's been enough talk and it's time for some action. - More...
Wednesday AM - January 02, 2008

Library location is very bad choice By Charles Edwardson - In regards to the library location site selected by the Ketchikan City Council, is this same council that passed the 10% grade ordinance for roads recently for new construction? My interest in this subject is driven by the fact that both access roads to the new library site chosen, appear to be well in excess of a 10% grade. - More...
Wednesday AM - January 02, 2008

American Coots By Michael Moyer - Amazing!! We just got back from checking on the boat in Bar Harbor and my fiance asked me what kind of bird that was swimming around the dock! "Why that my dear is an American Coot!", I proclaimed with authority! "Actually a rail and not a duck!" I went on to tell her about how I used to shoot them as a kid when nothing else was flying into the decoys. - More...
Wednesday AM - January 02, 2008

Glad Benches Removed By Kristen Gilliard - To my fellow SitNews' readers, I'm so sorry to have to disagree with all of you Library Bench Bullies. I would like to express a bit of insight on what really goes on out there while your just driving by or just walking by. - More...
Monday AM - December 31, 2007

Ferry System By Rebecca Simpson - I do hope people notice the bad ferry system that is due out next spring and summer. It is nice we have this website to start off with but it needs to go to the higher up as once it's written one may see more response and can respond to this issue. The ferry system needs to more convenient for us locals. - More...
Monday AM - December 31, 2007

Katrina animal vicitms still need homes By MJ Cadle - A friend of mine who has been actively involved in the animal rescue efforts in and near New Orleans since shortly after hurricane Katrina reminded me recently that they are still looking for homes for animals rescued in the aftermath of Katrina. - More...
Monday AM - December 31, 2007

Library location, benches & homeless By Carol Christoffel - As a former resident of Ketchikan, I follow events from time to time. I am frankly amazed at the possible location of the library to one of the steepest and most inaccessible areas of downtown. I also note, with some dismay, an INHOSPITABLE message being sent with the removal of library benches at the bus stop. I have noted that many people have defended the right of the citizens, including the homeless, to rest while waiting for the bus. What I have not noticed is any public response from elected City Council to these concerns. - More...
Monday AM - December 31, 2007

More Letters/Viewpoints
Webmail your letter or
Email Your Letter To: editor@sitnews.us

---

E-mail your news tips, news
releases & photos to:
editor@sitnews.us

SitNews
Stories in the News
©1999 - 2008
Ketchikan, Alaska

M.C. Kauffman, Webmaster/Editor
webmaster@sitnews.us

In Memory of SitNews' first editor,
Dick Kauffman
1932-2007

Locally owned & operated.
Online since 1999

Articles & photographs that appear in SitNews are protected by copyright and may not be reprinted or distributed without written permission from and payment of required fees to the proper sources.