Contact


Webmail Letters


News Tips


Search Sitnews


Copyright Info


Archives
Today's News


Alaska


Ketchikan


Top Stories


U.S. News


U.S. Politics


Stock Watch


Personal Finance


Science News


US Education News


Parenting News


Seniors News


Medical News


Health News


Fitness


Offbeat News


Online Auction News


Today In History


Product Recalls


Obituaries
Quick News Search


Alaska


Ketchikan


SE Alaska


Alaska News Links
Columns - Articles


Dave Kiffer


Parnassus Reviews


Fish Factor


Chemical Eye On...


Bob Ciminel


Rob Holston


More Columnists
Ketchikan


Our Troops
Historical Ketchikan


June Allen


Dave Kiffer


Louise B. Harrington
Recognition


Match of the Month


Asset Builders
Kid's Corner


Bob Morgan
Ketchikan Arts & Events


Ketchikan Museums


KTN Public Libraryt


Parks & Recreation


Chamber
Lifestyles


Home & Garden


Food & Drink


Arts & Culture


Book Reviews


Movie Reviews


Celebrity Gossip
On the Web


Cool Sites


Webmaster Tips


Virus Warnings
Sports


Ketchikan Links


Top Sports News
Public Records


FAA Accident Reports


NTSB Accident Reports


Court Calendar


Court Records Search


Wanted: Absconders


Sex Offender Reg.


Public Notices
Weather, Webcams


Today's Forecast


KTN Weather Data


AK Weather Map


Ketchikan Webcam


SE AK Webcams


Alaska Webcams


AK Earthquakes


Earthquakes
TV Guide


Ketchikan
Ketchikan Phone Book


Yellow Pages


White Pages
Employment


Employment
Government Links


Local Government


State & National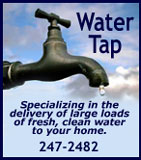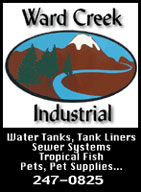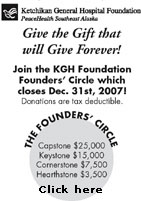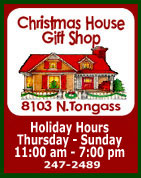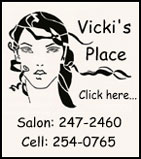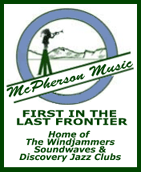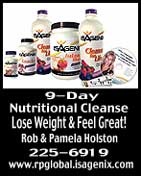 Wednesday
January 16, 2008



Grunt Sculpin
Usually Grunt Sculpins are found in deep water up to 500 feet. This one was found in 35 feet of water in the Reguge Cove area where it has been for the last three weeks.Grunt Sculpins 'crawl' around the bottom using their pectoral fins --nbuzzing" around the bottom like a big fat bumblebee.
Front Page Photo by Mike Kurth




2008 State of the State Address

Read the full text and/or listen to the audio of Governor Palin's 2008 State of the State Address presented on Jan. 15, 2008 - Click here.

Alaska: Fish Waste Surviving Bald Eagles Receiving Care - Ocean Beauty Seafoods LLC expressed their profound regrets for the tragic incident in which several eagles died as a result of attempting to feed on a truckload of fish waste. In a statement Ocean Beauty Seafoods said, "We are doing everything in our power to ensure that the surviving birds get all available care."

"About 28 birds were rescued, and their prospects look good," said Gary Wheeler of the Kodiak National Wildlife Refuge. Wildlife workers in Kodiak were originally going to continue to care for the birds, but a bird biologist with the International Bird Rescue Research Center recommend sending the birds to the rescue center in Anchorage instead. "The folks there have more expertise," Wheeler said.

So far Ocean Beauty has donated $5,000 to the Bird Treatment and Learning Center in Anchorage, to assist with the cost of care and heating fuel to keep the center at the needed temperature for the eagles' rehabilitation. "We are working to do everything within our means to help with the care and recuperation of the eagles, and intend to see this through until the birds are released back into the wild," said Ocean Beauty
President Mark Palmer.

Ocean Beauty reports the company is also sending fish to the center to feed the birds during their stay. In addition to these donations for the Anchorage center, Ocean Beauty is giving $2,000 each to three other raptor centers in Alaska. "We can't bring them [the eagles] back to life, but we will do all we can to help these magnificent eagles have the best chance of survival in the wild all across Alaska," said Palmer.

The Ocean Beauty Seafoods plant has operated in Kodiak for over forty years, and this is the first incident of substantial bird interference and death in that time. The truck in question was leaving Ocean Beauty's Kodiak facility en route to the Kodiak fishmeal plant, where Ocean Beauty has taken fish waste for nearly thirty years. According to Ocean Beauty Seafoods, standard procedures for this waste transfer were followed, which include covering the load for the journey to the meal plant. This procedure has been to pull the trailer with the waste out of the plant, then cover while still in the driveway. In this case the birds went to the waste trailer before the cover could be applied according to Ocean Beauty Seafoods.

"Our procedures have been strengthened over time, to include covering the loads," says Palmer, "but clearly they need further strengthening. We are in the process of reviewing and changing these procedures to ensure that such an incident never happens again. We are in dialog with the federal, state, and local authorities, and will craft these new standards and procedures using their input." - More...
Wednessday - January 16, 2008

Southeast Alaska: Vessel Grounded Near Zarembo Island - The Coast Guard is responding to a vessel that ran aground early this morning 30 miles southwest of Wrangell.

At 2:25 a.m. this morning the motor vessel (M/V) Dolphin ran aground off Zarembo Island and has reportedly leaked an unknown amount of diesel fuel. The vessel has been refloated and is currently anchored. The motor vessel home ported out of Seattle has 34,000 gallons of #2 diesel aboard and is 174 feet in length

The U.S. Coast Guard Cutter Anthony Petit is on scene with the Dolphin. A rescue helicopter from Air Station Sitka launched at first light to perform an over-flight to examine the extent of the spill. - More...
Wednesday - January 16, 2008

Ketchikan: Work on M3 Tripod Mounts Not in Ketchikan - News and press releases circulating the internet reporting that Cape Fox Corporation of Ketchikan, Alaska, has been awarded an $8,523,776 Defense Department contract to manufacture 12,278 M3 tripod mounts is incorrect according to Ketchikan-based Cape Fox General Manager David Landis. The reports that the work will be performed in Ketchikan is also incorrect.

Virginia-based Cape Fox Professional Services, a parent company, did receive the U.S. Defense Department contract which was awarded on Jan. 10, 2008. The work will be completed back east not in Ketchikan, Alaska. - More...
Wednesday - January 16, 2008

Ketchikan: UAS Ketchikan Student Artwork Unveiling Friday - The public is invited to the unveiling of a 3-panel mural created by students who took Artist and UAS Ketchikan Instructor Mary Henrikson's Mural Design and Painting class. The unveiling will be held on January 25, 2008 at 5:00pm at the University of Alaska Southeast Ketchikan Technical Center, 600 Stedman. The mural will hang in the Robertson Building of the Tech Center.

This is the second mural to be unveiled by UAS Ketchikan which features the work of student artists. The first was unveiled in January 2007 and now hangs in the campus library, located on the second floor of the Ziegler Building at the main campus, 2600 Seventh Avenue. Henrikson was also the instructor of the course for the first mural.

This year, students from all walks of life spent the fall 2007 semester studying murals, designing their piece and creating three vivid and interesting 4' x 8' panels. Student artists include Callie Bellon, Grace Freeman, Ashley Glenn, Shoshana Hales, Chase Hoyt, Jacob Mertz, Valerie Stanley, Jackie Williams and Beverly Zaugg. - More...
Wednesday - January 16, 2008

Obituaries

Rebecca Jane East: Rebecca Jane East lost her brave fight against cancer at Ketchikan Hospital on January 13, 2008. She was born September 7, 1947 in Pittsburg, Kansas. Her parents, E.Gene and Betty Jane (Taylor) Carmichael were military and Becky spent her early pre-teen years in Italy before graduation from Waynesville High School at Ft. Leonard Wood, Missouri.

Becky married Robert J. East in 1966 while waitressing tables at The Karney Manor in Rolla, Missouri. She then worked as a telephone operator in Rolla and later in Biloxi, Mississippi. She began her beloved family with the birth of Lorene in 1967 while at Littlerock AFB, Arkansas, and Robby was born in 1969.

Her family writes that Becky was a remarkably hard worker with an exceptional work ethic and devoted her life to selflessly giving her all for the benefit of her beloved family. She faithfully worked in the Scottsdale/Tempe, AZ. area from 1971 until 2004 at a baby nursery while her babies were young and then at Lutes Pharmacy, Allyson's Gift Store, the Salt River Project, and lastly at Sears Service as a cashier. In 2004, with the laboring years finally behind her, she was rewarded with her life's dream - living in the mountains in cooler Ketchikan while she enjoyed her remaining time as a wife and homemaker. She was diagnoised with cancer in 2006. - More...
Wednesday - January 16, 2008

Sgt. Blair W. Emery: Sgt. Blair William Emery, 24, of Lee, Maine, died Nov. 30, 2007 in Baqubah, Iraq, of wounds suffered when his vehicle encountered an improvised explosive device (IED).

Sgt Emery is survived by his beloved wife Chu Emery of Texas; his parents William and Quie Emery of Lee Maine; his sisters Betsy and Hilary from Maine; his Grandparents Alton and Ruby Thompson of Ketchikan, Alaska; his Grandmother Joanne Emery of Wytopitlock Maine; his Uncles Tom Thompson and Carl Thompson of Ketchikan, Alaska; and Uncles Chris Thompson and Paul Thompson of Soldotna, Alaska.

Emery enlisted in the United States Army on October 8, 2002. He completed one station unit training at Fort Leonard Wood, Missouri and was assigned to the 571st Military Police Company, 504th Military Police Battalion, Fort Lewis, Washington.

In January 2004, Sgt Emery deployed to Baghdad, Iraq in support of OIF II. On November 4, 2006, Sgt Emery deployed with the 571st MP CO to Baqubah, Iraq in support of OIF 06-08. - More...
Wednesday - January 16, 2008




Public Meeting

Ketchikan City Council - Special Meeting - January 16, 2008 at 7:00 pm in the City Council Chambers.
Agenda & Information Packets (pdf)

Ketchikan

Ketchikan Police Report
AK Troopers Daily Dispatch
Today's Forecast
Satellite
Today's Weather Images
Marine Forecasts
Ketchikan Weather Data
Current AK Weather Map

CLASSIFIEDS

Publish ad
Please select the proper category before posting.




CLASSIFIEDS' CATEGORIES

Announcements and
Help Wanted
For Sale / Free Stuff
Garage Sales
Homes / Apts/ Property
Pets
Wanted
Lost & Found
Local Services
Publish your ad

Front Page Archives
January 2008

| | | | | | | |
| --- | --- | --- | --- | --- | --- | --- |
| S | M | T | W | T | F | S |
| | 31 | 01 | 02 | 03 | 04 | 05 |
| 06 | 07 | 08 | 09 | 10 | 11 | 12 |
| 13 | 14 | 15 | 16 | 17 | 18 | 19 |
| 20 | 21 | 22 | 23 | 24 | 25 | 26 |
| 27 | 28 | 29 | 30 | 31 | | |

More Front Page Archives

Viewpoints
Opinions/Letters
Basic Rules

Invest in the Alaska Marine Highway Ferries By Michael Moyer - Revising the schedule of Alaska Marine Highway to one ferry per week between Bellingham and Southeast shows complete disregard for the people of Southeast Alaska. The purpose of the Marine Highway system is to provide for efficient, economical, safe, and reliable transportation between the coastal communities of Alaska. The reason for the Ferries is to improve communication between our peoples, develop economic ties between state communities and the lower 48, and allow Alaskans the opportunity to travel within our state and to the outside year-round. - More...
Wednesday - January 16, 2008

Downtown Suggestions By Jackie Williams - My suggestions and opinion regarding Ketchikan's downtown area are:

Short term:

Keep it clean. Whale Park needs attention; it would be nice to see the stores from Mill St. Encourage the painting of buildings, power washing brick and other buildings. - More...
Wednesday - January 16, 2008

How do you stop speeders? By Aftan Zink - This is an open letter to anyone who might have an idea about how to change the speed limit on my street. I live on Baranof Avenue - a speedway for most vehicles. I've seen the city bus, police cars, and new and old drivers alike speed past my house. Granted, they are probably driving 25 miles per hour; yet, on a road that is used mainly by pedestrians under the age of 12, this is too fast. Reducing the speed limit to 15 would not make a difference to drivers reaching their destination, it will however, make a difference between life and death. - More...
Wednesday - January 16, 2008

Early morning noise By Marie-Jeanne Cadle - Please, please, please to the well meaning individuals who honk at the kids at the Forest Park bus stop before 8:45am. I am asking nicely. Please do not honk. I live next to the bus stop. - More...
Wednesday - January 16, 2008

Bus Stop Benches By Cindi Davis - I think it is important to realize that the benches were not removed in response to homelessness. They were removed in response to inappropriate behavior. This isn't a drive against the homeless, but an attempt to restore the library parking lot and bus stop to the public family-friendly area it should be. - More...
Wednesday - January 16, 2008

KETCHIKAN: OUR TOWN HAS A FUTURE AS OUR BRAND by Ken Bylund - The Ketchikan Daily News [KDN] January 12-13 2008 weekend edition had a great editorial 'TOWARD GROWTH'; it starts and ends with the warning that we as a town are experiencing a steady decline but centers on hopes that we as a community need to come up with new industries and new ways of creating jobs in old ones. I love this editorial; it is smack on target... and then back to reading 'THE UPSIDE' by Adrian J. Slywotzky who spent his life researching business success stories and failings. Here's the deal; we learn and think in analogies [Jeff Hawkins - On Intelligence], by comparing this with that, and if our town can be compared to a business, well... we are the Kodak Brownies and Polaroid Film industry in a world of Canon Digital and SanDisk. - More...
Monday - January 14, 2008

Alaska Marine Highway By Paula Peterson - I was born and raised in S.E. Alaska. I am 51 years old, so I've seen a few things during my life. One of the things that I have seen is how important the Alaska State Ferry System is to S.E. Alaska. Alaska is vast and complex when it comes to public transportation and so the Alaska State Ferry System was formed to address the complexity of public transportation in S.E. - More...
Monday - January 14, 2008

Library By Robert McRoberts - In a recent conversation the other day about the library, beside the facts of road grade, parking, access to bussing and walking. what I would like to know is who is using the library? With the internet, is the usage less than ever before? Is the fact that we are losing people in our community not making an impact on usage? - More...
Monday - January 14, 2008

American Injustice for Marion Jones By Mike Sawyer - I continue to be amazed at how our country differentiates between steroids and tobacco. - More...
Monday - January 14, 2008

Road Rage/ Intimidation/ Women By Carol Christoffel - I have read Mr. Hansen's concerns and I am quite sure that he is not among the macho drivers that I referred to. However, may I remind Mr. Hansen that the original Lady described having a hard time in a very difficult snow storm managing her car while being tailgated by a truck, who then gave her a vulgar gesture after forcing her to the side of the road. - More...
Monday - January 14, 2008

More Letters/Viewpoints
Webmail your letter or
Email Your Letter To: editor@sitnews.us

---

E-mail your news tips, news
releases & photos to:
editor@sitnews.us

SitNews
Stories in the News
©1999 - 2008
Ketchikan, Alaska

M.C. Kauffman, Webmaster/Editor, &
Graphic Designer
webmaster@sitnews.us

In Memory of SitNews' first editor,
Dick Kauffman
1932-2007

Locally owned & operated.
Online since 1999

Articles & photographs that appear in SitNews are protected by copyright and may not be reprinted or distributed without written permission from and payment of required fees to the proper sources.