Contact


Webmail Letters


News Tips


Search Sitnews


Copyright Info


Archives
Today's News


Alaska


Ketchikan


Top Stories


U.S. News


U.S. Politics


Stock Watch


Personal Finance


Science News


US Education News


Parenting News


Seniors News


Medical News


Health News


Fitness


Offbeat News


Online Auction News


Today In History


Product Recalls


Obituaries
Quick News Search


Alaska


Ketchikan


SE Alaska


Alaska News Links
Columns - Articles


Dave Kiffer


Parnassus Reviews


Fish Factor


Chemical Eye On...


Bob Ciminel


Rob Holston


More Columnists
Ketchikan


Our Troops
Historical Ketchikan


June Allen


Dave Kiffer


Louise B. Harrington
Recognition


Match of the Month


Asset Builders
Kid's Corner


Bob Morgan
Ketchikan Arts & Events


Ketchikan Museums


KTN Public Libraryt


Parks & Recreation


Chamber
Lifestyles


Home & Garden


Food & Drink


Arts & Culture


Book Reviews


Movie Reviews


Celebrity Gossip
On the Web


Cool Sites


Webmaster Tips


Virus Warnings
Sports


Ketchikan Links


Top Sports News
Public Records


FAA Accident Reports


NTSB Accident Reports


Court Calendar


Court Records Search


Wanted: Absconders


Sex Offender Reg.


Public Notices
Weather, Webcams


Today's Forecast


KTN Weather Data


AK Weather Map


Ketchikan Webcam


SE AK Webcams


Alaska Webcams


AK Earthquakes


Earthquakes
TV Guide


Ketchikan
Ketchikan Phone Book


Yellow Pages


White Pages
Employment


Employment
Government Links


Local Government


State & National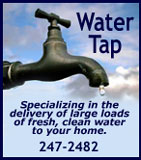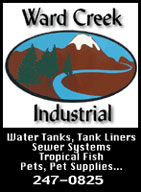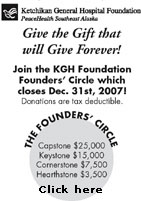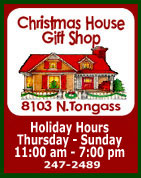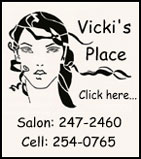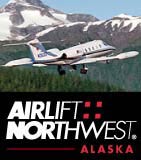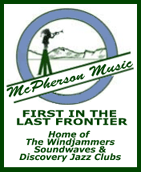 Monday
January 08, 2008



Ward Cove Winter
Front Page Photo by Christina Darnell


Ketchikan - Alaska Ship and Drydock Fire Quickly Extinguished - Thursday night the Ketchikan Fire Department received a call reporting an electrical fire on the pier at Alaska Ship and Drydock at 3801 Tongass Avenue. The call was received at At 11:45 PM January 3rd.

According to Assistant Fire Chief Jim Hill, first arriving fire crews reported lots of smoke from the waterside of the wharf near the docked AMHS M/V Matanuska. At that time a second-alarm was requested for manpower and the city fireboat Harry Newell along with the USCG 47 foot rescue boat were both dispatched to assist.

It appeared the fire was below the surface of the dock in a concrete pipe chase that contains utilities for ships docked and being worked on by the shipyard said Hill. Incident managers ordered power cut to the area and fire crews removed the heavy wooden deck material that provides access to the chase for maintenance and extinguished the fire.

Officials from Alaska Ship and Drydock estimated costs to repair the damaged electrical equipment at $50,000 according to information provided by Assistant Fire Chief Hill. - More...
Monday - January 07, 2008

Ketchikan: FAA Investigation Concludes No Violations in SeaWind Aviation Accident - According to SeaWind Aviation spokesperson Jack Davies, the Federal Aviation Administration has concluded its investigation of the SeaWind Aviation accident at Traitors Cove which occurred on August 16, 2007. The SeaWind aircraft involved was a modified DeHavilland Beaver on floats.

Davies stated the investigation looked at whether there were enough seats and seat belts for all the passengers and whether the weather conditions were adequate for safe flight. Davies said the Federal Aviation Administration (FAA) notified SeaWind by letter dated November 26, 2007 that the investigation had not "established any violations of the Federal Aviation Regulation, and the matter is closed."

SeaWind Aviation had completed, prior to the accident, modifications of its DeHavilland Beaver to include two extra seats, and windows, with a seat belt for each additional seat stated Davies. This modification was approved by the FAA. That made a total of nine seats (including the pilot seat) with seat belts, however it was rare that there were that many people on the aircraft. Because two of the passengers on the accident flight were small children, the gross weight was well within the weight limit allowed by the approved modifications said Davies. - More...
Monday - January 07, 2008

Alaska: State Reaches Agreement with ConocoPhillips and Marathon Oil - Alaska Governor Sarah Palin announced Thursday an agreement between the State of Alaska and oil industry officials that the Governor's office says will help ensure energy supplies and energy security for Alaska. The State will support a two-year extension of the federal export license for the LNG plant on the Kenai Peninsula. LNG plant co-owners Marathon Oil Corporation and ConocoPhillips filed for the extension last January. The present export license expires in 2009.

The agreement between the State and the owners of the LNG plant ensures that there will be adequate supplies of gas for local utilities. The agreement also requires the owners to develop additional natural gas reserves in Cook Inlet and allow third parties the opportunity to monetize their gas production through the LNG plant. Marathon and ConocoPhillips have also agreed to sell Cook Inlet seismic and well data to third parties.

"It is our hope that, by reaching this agreement, the U.S. Department of Energy will have the assurances necessary to approve their request," said Governor Palin. "We understand that the export approval is just one step in the process of securing a future for the LNG operation and look forward to working with all stakeholders in achieving the goal of improved gas supply security for Southcentral." - More...
Monday - January 07, 2008

Alaska: AGIA Completeness Review Finalized; TransCanada Meets Statutory Requirements - Governor Sarah Palin announced Friday that the State of Alaska has finished its completeness review of the five AGIA applications. The application from TransCanada Alaska Company, LLC/Foothills Pipelines, Ltd. ("TransCanada") satisfied all of the mandatory requirements set out in AGIA. Thus, TransCanada's application will move to the next phase, the evaluation phase, of the AGIA process.

AGIA requires that, before an application can be evaluated, it must first undergo a "completeness review" by the commissioners of Natural Resources and Revenue to determine whether it complies with the requirements of AGIA. Then, the commissioners must evaluate the application to determine whether it will sufficiently maximize the benefits to Alaskans and merit issuance of the exclusive AGIA license. The commissioners are now soliciting public comment to help them evaluate the TransCanada application and make that determination.

The five companies which had applied under AGIA to develop and build a natural gas pipeline to transport North Slope gas to market were: AEnergia LLC, the Alaska Gasline Port Authority, the Alaska Natural Gas Development Authority, Little Susitna Construction Company, Inc. ("Sinopec ZPEB"); and TransCanada. While TransCanada's application was deemed complete, the commissioners determined that the other four applications did not meet the requirements of AGIA. Those applications will not be evaluated further. - More...
Monday - January 07, 2008

Alaska: Beaded Tunic and Raven Headdress Repatriated to Lúkaax.ádi - The Denver Museum of Nature & Science has repatriated two important pieces of at.óow to the Lúkaax.ádi of Haines, Alaska.

The Raven Headdress, repatriated to the Lúkaax.ádi was also made by Mary Klanott.
Photograph courtesy CCTHITA

The beaded tunic was made by Mary Klanott (K'agéch) for her husband James Klanott (Lunáat') and is made out of dark purple wool cloth and has intricate floral beadwork designs on it.- More...
Monday - January 07, 2008

Alaska: New Legislation Would Open The State's Checkbook to Public Scrutiny - A bill that would enable Alaskans to easily track state government spending was introduced Thursday by Sen. Bill Wielechowski (D - Anchorage). It calls for the creation of a free, publicly searchable website with detailed and comprehensive information on state expenditures.

"All Alaskans deserve to know how their state dollars are being spent," Wielechowski said today. "Public scrutiny of state spending will reduce waste and ensure that Alaska's limited funds are directed to the state's most essential needs. The Alaska Open Government Act will help achieve that." - More...
Monday - January 07, 2008

Alaska: Legislation Introduced to Promote Alternative Energy - Rep. Paul Seaton (R-Homer) has pre-filed legislation that provides an incentive for home and business owners to generate electricity by using wind, solar, tidal, geothermal, and other alternative energy sources.

This legislation, HB 288, would require electrical utilities to offer their customers the option of installing a net-metering system that calculates the electricity they generate through alternative energy. The utility would apply this as a kilowatt-hour credit against the consumer's bill. "This common sense approach to energy billing gives utilities, homeowners and businesses the option to save a good deal of money," Rep. Seaton said. - More...
Monday - January 07, 2008

Alaska: Alaska and the North hot topics in San Francisco By NED ROZELL - Some Alaska-related news, culled from the notebook after a week at the December meeting of the American Geophysical Union in San Francisco: - More...
Monday - January 07, 2008

Alaska: United Fishermen of Alaska select Kathy and Ed Hansen for 2007 Fishermen of the Year - The United Fishermen of Alaska Board of Directors, composed of 37 fisheries trade organizations and four at-large members, have named Kathy and Ed Hansen as "Fishermen of the Year" for 2007, based on the Hansen's tireless work helping to forge long term solutions to the issue of fisheries allocation between the traditional commercial and emerging sport charter sectors of the industry. - More...
Monday - January 07, 2008

Alaska: United Fishermen of Alaska selects Senator Lisa Murkowski as 2007 Person of the Year in Alaska Politics - The United Fishermen of Alaska (UFA) Board of Directors has selected Senator Lisa Murkowski as "Person of the Year in Alaska Politics for 2007." The statewide fisherman's umbrella association, composed of representatives from 37 fisheries trade organizations, cited Senator Murkowski's exemplary work on behalf of Exxon Valdez oil spill plaintiffs as one of the most significant efforts on behalf of Alaska fishermen in 2007. - More...
Monday - January 07, 2008




Ketchikan

Ketchikan Police Report
AK Troopers Daily Dispatch
Today's Forecast
Satellite
Today's Weather Images
Marine Forecasts
Ketchikan Weather Data
Current AK Weather Map

CLASSIFIEDS

Publish ad
Please select the proper category before posting.




CLASSIFIEDS' CATEGORIES

Announcements and
Help Wanted
For Sale / Free Stuff
Garage Sales
Homes / Apts/ Property
Pets
Wanted
Lost & Found
Local Services
Publish your ad

Front Page Archives
January 2008

| | | | | | | |
| --- | --- | --- | --- | --- | --- | --- |
| S | M | T | W | T | F | S |
| | 31 | 01 | 02 | 03 | 04 | 05 |
| 06 | 07 | 08 | 09 | 10 | 11 | 12 |
| 13 | 14 | 15 | 16 | 17 | 18 | 19 |
| 20 | 21 | 22 | 23 | 24 | 25 | 26 |
| 27 | 28 | 29 | 30 | 31 | | |

More Front Page Archives

Viewpoints
Opinions/Letters
Basic Rules

As firefighters and EMTs... By Jim Hill - December 15th has always been an important date in my life. On December 15, 1980 the West Valley City Fire Department began providing services to a newly formed community in Utah. A few months later I became a member of that department and after a few thousand emergency calls and 21 or so years later, I retired. I left West Valley to accept a position with the Ketchikan Fire Department in Ketchikan, Alaska. Little did I know that the December 15th anniversary date would one day be associated with the needless death of children. - More...
Monday AM - January 07, 2008

Library Location By Marty West - The city owns the land where the new library is set to be built. The present library space will be used to expand the museum. Plans include elevator access from the parking lot below. - More...
Monday AM - January 07, 2008

Sprinklers in the home once more... By David Hull - There has been a bit of misinformation put out there on residential sprinkler systems. First, the sprinkler requirement is not for all new homes, only those where the department cannot get an engine closer than 150 feet. Don't want a sprinkler system in your new home? Build your driveway so the fire department can get an engine within 150 of your door. Done Deal! - More...
Monday AM - January 07, 2008

Her Light Was So Bright By Lois Munch - Bright, bubbly, beautiful...and kind. Beautiful inside and out, and genuinely compassionate of humans and critters alike, Kelly Nausid touched many during her short life. Her ever present smile was infectious, and she was just plain fun to be around. Her zest for life was equally obvious when she waited tables at Salmon Falls during college summers or when encountered on the street. Even the briefest conversation was delightful. - More...
Monday AM - January 07, 2008

Library Area Bus Stop Seating By Charlotte L. Glover - I can certainly understand how people would want a dry area with seating to wait for the bus in front of the library. The city is looking for new seating that would allow a person to wait comfortably for a bus without being so spacious as to provide sleeping space. - More...
Monday AM - January 07, 2008

Replace Library Bus Stop Benches (Please?) By Carol Baines - Someone mentioned the word "bullies" in regard to people complaining that the bus stop benches at the library were removed. I think the bullies are the ones who decided to take harsh action -- without fair warning -- by removing the benches and thereby punishing everyone. - More...
Monday AM - January 07, 2008

Snow driving By Patrick Branco - I wanted to responded to the story by Jessica Peavey called "A Little Snowy Advice for Drivers". Her story reminded me of something my father always used to say "There are only two kinds of drivers, the ones who drive too slow when you are behind them and the idiots who drive too fast". Sadly, few of us are perfect drivers. Dangerous conditions require prudence. Is it prudent to go out on the road, in the dark, in a vehicle poorly suited to the conditions? We each should decide whether a trip to Walmart is worth it. Does the driver of a big SUV with studded tires and 4 wheel drive have the right to pressure less capable vehicles to go behind their safety parameters and driving ability? Clearly not. The law requires that if you have a line of 5 or more vehicles behind you and you are driving under the posted limit, you should safely pull over and allow them to pass. This does not mean that you should bury yourself in a snow bank or inch over onto what barely passes for a shoulder on most of our roads. It means safely. - More...
Monday AM - January 07, 2008

Snow Advice By Kimberly Morton - I would like to say sorry to Jessica and the other drivers out there that have real concerns about the snow and the bad behavior that some drivers have towards them. Though it needs to be known that if you are driving a vehicle with children in it that can't pull out from the side of the road, then it is unsafe for you to be on the road. It amazes me that we live in such a small town and that some people without snow tires or four wheel drive decide to drive anyway. They end up getting stuck and causing many more traffic problems than the drivers that are using their "middle finger". With all the accidents that can happen if your car is not able to get around in the snow, then call a friend and let those that are ready and prepared for the snow do the driving. I have ridden with many people that get scared or nervous during snowy conditions and they are usually the ones that are not prepared. This can lead to serious accidents and even death. - More...
Monday AM - January 07, 2008

Road Rage, Intimidation, Women By Carol Christoffel - Ladies, I am sorry to learn of someone attempting to harass you while driving. I believe that this happens more to females than to males, as a male feels "comfortable" shouting at a young woman, or older woman alone. Often the "mad macho" drivers pick on women because they know that if they did it to another guy they might just be looking at a fist down their throat! "This ties in to the idea of the male superiority vs a respectful treatment of women. Unfortunately there are too many macho drivers out there these days. - More...
Monday AM - January 07, 2008

More Letters/Viewpoints
Webmail your letter or
Email Your Letter To: editor@sitnews.us

---

E-mail your news tips, news
releases & photos to:
editor@sitnews.us

SitNews
Stories in the News
©1999 - 2008
Ketchikan, Alaska

M.C. Kauffman, Webmaster/Editor
webmaster@sitnews.us

In Memory of SitNews' first editor,
Dick Kauffman
1932-2007

Locally owned & operated.
Online since 1999

Articles & photographs that appear in SitNews are protected by copyright and may not be reprinted or distributed without written permission from and payment of required fees to the proper sources.