Contact


Webmail Letters


News Tips


Search Sitnews


Copyright Info


Archives
Today's News


Alaska


Ketchikan


Top Stories


U.S. News


U.S. Politics


Stock Watch


Personal Finance


Science News


US Education News


Parenting News


Seniors News


Medical News


Health News


Fitness


Offbeat News


Online Auction News


Today In History


Product Recalls


Obituaries
Quick News Search


Alaska


Ketchikan


SE Alaska


Alaska News Links
Columns - Articles


Dave Kiffer


Parnassus Reviews


Fish Factor


Chemical Eye On...


Bob Ciminel


Rob Holston


More Columnists
Ketchikan


Our Troops
Historical Ketchikan


June Allen


Dave Kiffer


Louise B. Harrington
Recognition


Match of the Month


Asset Builders
Kid's Corner


Bob Morgan
Ketchikan Arts & Events


Ketchikan Museums


KTN Public Libraryt


Parks & Recreation


Chamber
Lifestyles


Home & Garden


Food & Drink


Arts & Culture


Book Reviews


Movie Reviews


Celebrity Gossip
On the Web


Cool Sites


Webmaster Tips


Virus Warnings
Sports


Ketchikan Links


Top Sports News
Public Records


FAA Accident Reports


NTSB Accident Reports


Court Calendar


Court Records Search


Wanted: Absconders


Sex Offender Reg.


Public Notices
Weather, Webcams


Today's Forecast


KTN Weather Data


AK Weather Map


Ketchikan Webcam


SE AK Webcams


Alaska Webcams


AK Earthquakes


Earthquakes
TV Guide


Ketchikan
Ketchikan Phone Book


Yellow Pages


White Pages
Employment


Employment
Government Links


Local Government


State & National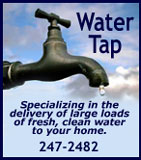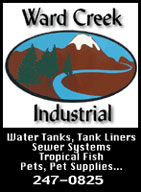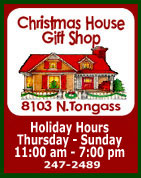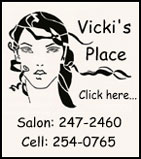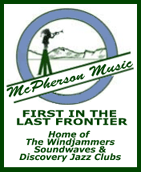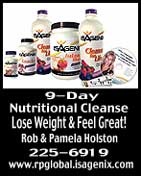 Wednesday
January 23, 2008



Deer Mountain Fireworks
Front Page Photo by Carl Thompson
Saturday's Fireworks Photo Gallery by Carl Thompson: click here


Ketchikan: The Alaska Marine Highway System (AHMS) announced today the early departure of the ferry Malaspina from Ketchikan to Bellingham, Wash., resulting from opposing tidal currents in British Columbia, Canada's Seymour Narrows.

The Malaspina will now depart Ketchikan at 3 p.m. today instead of 5 p.m., to avoid strong currents in the narrows.

"We want to ensure that the earlier departure affords Malaspina enough time to transit the narrows and arrive on schedule in Bellingham, so passengers are able to make their travel connections in Washington," said Charles VanKirk, AMHS Operations Manager.
Wednesday - January 23, 2008




Northwest: Fish farms drive wild salmon populations toward extinction; Experts raise serious concerns about the expansion of industrial fish farming - A study shows, for the first time, that parasitic sea lice infestations caused by salmon farms are driving nearby populations of wild salmon toward extinction. The results show that the affected pink salmon populations have been rapidly declining for four years. The scientists expect a 99% collapse in another four years, or two salmon generations, if the infestations continue.


Young pink salmon with sea lice infection.
Image Credit: Alexandra Morton

"The impact is so severe that the viability of the wild salmon populations is threatened," says lead author Martin Krkosek, a fisheries ecologist from the University of Alberta. Krkosek and his co-authors calculate that sea lice have killed more than 80% of the annual pink salmon returns to British Columbia's Broughton Archipelago. "If nothing changes, we are going to lose these fish."

Previous peer-reviewed papers by Krkosek and others showed that sea lice from fish farms can infect and kill juvenile wild salmon. This, however, is the first study to examine the population-level effects on the wild salmon stocks.

"It shows there is a real danger to wild populations from the impact of farms," says Ray Hilborn, a fisheries biologist from the University of Washington who was not involved in the study. "The data for individual populations are highly variable. But there is so much of it, it is pretty persuasive that salmon populations affected by farms are rapidly declining." - More...
Wednesday - January 23, 2008

Alaska: A congressional battle over wolves By ERIKA BOLSTAD - For the next week, Alaska wolves are the stars of an underground advertising campaign in the Washington, D.C., subway. The $4,500 campaign promotes federal legislation that would end aerial hunting of wolves, a practice that has been used in Alaska to help improve populations of moose and caribou.

The ads are sponsored by the conservation group Defenders of Wildlife, which has used its political-action arm to run commercials in Alaska targeting Republican Rep. Don Young for his record on environmental and renewable energy issues.

For its subway campaign, Defenders picked the Capitol South Metro Station, a strategic location that sees an average of 6,000 commuters each day -- and not just Capitol Hill staffers. Many tourists pass through the stop on their way to visit the Capitol and congressional offices.

"Alaskans voted twice to ban aerial hunting, and the vote has been overturned twice," said Jessica Brand, a spokeswoman for the Defenders of Wildlife. "The only way to end this once and for all is to close the loophole in federal legislation." - More...
Wednesday - January 23, 2008

Alaska: Alaskans regroup in battle against marine debris - Alaska has a reputation for clean waters and pristine vistas. But anyone who has walked Alaska's rocky beaches knows that parts of the state's vast coastline are far from pristine.

Alaska marine debris
Photo courtesy Bob King.

Fishing nets, rope, totes, six-pack rings, bottles, drums, and myriad other trash-much of it plastic-litter Alaska's shores. It's a vexing mess made by both humans and nature. Humans dump trash into the sea-often thousands of miles away-and ocean currents carry it onto the state's rugged and mostly remote Alaskan coast. - More...
Wednesday - January 23, 2008

Alaska: Alaska glacier speed-up tied to internal plumbing issues, says study - A University of Colorado at Boulder study indicates meltwater periodically overwhelms the interior drainpipes of Alaska's Kennicott Glacier and causes it to lurch forward, similar to processes that may help explain the acceleration of glaciers observed recently on the Greenland ice sheet that are contributing to global sea rise.

Alaska's Kennicott Glacier recently has been observed by scientists to be lurching, a result of meltwater and floodwater overwhelming its interior plumbing.
Photo Credit: Robert. S. Anderson/University of Colorado at Boulder

According to CU-Boulder Professor Robert Anderson of the Institute of Arctic and Alpine Research, the amount of water passing through conduits inside and underneath the Kennicott Glacier increases during seasonal melting and also following annual flooding from a nearby lake. The addition of excess water from melting and flooding causes water to back up into a honeycomb of passages inside the glacier, he said, suggesting the resulting increase in water pressure causes the glacier to slide more rapidly down its bedrock valley. - More...
Wednesday - January 23, 2008

Ketchikan: Plane lands safely - Alaska Airlines Flight 64 safely touched down in Ketchikan Sunday evening after an emergency was declared just prior to landing at Ketchikan International Airport. According to initial reports, there was a problem with the plane's flaps. Ketchikan Fire Department had emergency crews standing by. North and South Tongass Volunteer Fire Departments were also called to stand by their stations.

Chief Liepfert (sitting in truck) and other members of the Ketchikan Fire Department relax after the successful landing of Flight 64.
Photograph by Dave Hull

The flight was heading from Anchorage to Seattle Sunday when a mechanical emergency was declared after the plane departed from Petersburg, one of its several scheduled stops in Southeast Alaska. - More...
Wednesday - January 23, 2008

Alaska: Dialogue sought on North Aleutian Basin oil and gas development - Fishermen, community leaders, Alaska Natives, scientists, government officials, environmental groups, and representatives from energy companies will meet in Anchorage to discuss what's needed to safely develop oil and gas in the North Aleutian Basin, a sprawling region that includes part of the salmon-rich Bristol Bay.

The North Aleutians Basin Energy-Fisheries workshop, scheduled for March 18-19 at the Anchorage Marriot Downtown Hotel, is aimed at continuing a dialogue that began last October, when key stakeholders outlined their positions on development and organized the agenda for the March 2008 meeting.

The meeting seeks insights into the economic, social, and environmental questions that must be addressed to make energy development environmentally safe as well as socially and economically beneficial for the region's residents. It also offers a chance for energy and fisheries industries to learn about each other's operations. - More...
Wednesday - January 23, 2008

Alaska: Last native speaker of Eyak language dies By DEBRA MCKINNEY - Chief Marie Smith Jones, the last full-blooded Eyak and last Native speaker of the Eyak language, died Monday. She was 89.

According to her son, Leonard Smith, she was found in her bed. Her family believes she died in her sleep.

"Everyone is like, she not in pain anymore," said granddaughter Sherry Smith. "Because she has been in pain a lot." - More...
Wednesday - January 23, 2008




Public Meeting

Ketchikan School Board meeting in the City Council Chambers at 6:00 pm, Wednesday, January 23, 2008 - Download the Agenda and Board Packet (pdf)

Ketchikan

Ketchikan Police Report
AK Troopers Daily Dispatch
Today's Forecast
Satellite
Today's Weather Images
Marine Forecasts
Ketchikan Weather Data
Current AK Weather Map

CLASSIFIEDS

Publish ad
Please select the proper category before posting.




CLASSIFIEDS' CATEGORIES

Announcements and
Help Wanted
For Sale / Free Stuff
Garage Sales
Homes / Apts/ Property
Pets
Wanted
Lost & Found
Local Services
Publish your ad

Front Page Archives
January 2008

| | | | | | | |
| --- | --- | --- | --- | --- | --- | --- |
| S | M | T | W | T | F | S |
| | 31 | 01 | 02 | 03 | 04 | 05 |
| 06 | 07 | 08 | 09 | 10 | 11 | 12 |
| 13 | 14 | 15 | 16 | 17 | 18 | 19 |
| 20 | 21 | 22 | 23 | 24 | 25 | 26 |
| 27 | 28 | 29 | 30 | 31 | | |

More Front Page Archives

Viewpoints
Opinions/Letters
Basic Rules

Ketchikan Indian Community Enrollment By Charles Edwardson - There needs to be tribal member involvement in discussions such as ennoblement. Ketchikan Indian Community (KIC) has been designated an IRA tribe and by definition is a non-traditional tribe. But when founded KIC adopted a constitution that was ratified by the Secretary of the Interior. In that constitution, lineal descendants at the time of the adoption and one year after that were and are the only people with the (right) to be a KIC member. - More...
Wednesday - January 23, 2008

Deer Mountain Fireworks By Diane Willard - Thank you to the folks for the wonderful New Year's Deer Mountain Fireworks!! - More...
Wednesday - January 23, 2008

Selling KPU Phone??? By Charles Edwardson - Ketchikan, and the people who choose to live here, have made many sacrifices and endured many trials and much tribulation in the past decades. All in an effort to preserve and protect a safe place for our families to call home. - More...
Tuesday PM - January 22, 2008

KPU Rate Hike By Dan McQueen - I'm sure there are others that were here in the 1980's that remember when Ketchikan Public Utilities tried making all 3 departments run off the income of the Electric Division. The fish plants all put in generators and sold the excess back to KPU. Terry Gardiner and others started IRATE. - More...
Tuesday PM - January 22, 2008

Gas Refinery just for Alaskans By Don Hoff Jr. - All the talk to export Alaska natural gas line to the lower 48 via Canada is open for debate. I don't understand why one would export crude oil or natural gas out of the State of Alaska at wholesale prices and then buy it back at a premium prices? The price of a barrel of oil at about $100.00 a barrel and profits to Alaska are in the billions. Alaskans are paying over $3.25 a gallon at the gas pumps. Why don't we build a gas refinery in Alaska to provide cheap fuel just for Alaskans? One large oil and gas refinery can not cost that much to construct, considering the price of oil and gas being sold today. - More...
Tuesday PM - January 22, 2008

KIC Election: Proposition 1 By Kathleen Yarr Svenson - KIC Tribal Members: Have you ever been told you re deactivated when you ve attempted to access medical services at the KIC Clinic? It gets worse. You may find yourself disenrolled entirely from KIC-- without your knowledge nor your consent. - More..
Tuesday PM - January 22, 2008

A community library By Lindsey Bolling - In response to the library comment by Mr. Robert Warner, I believe that there are many points that can be refuted. The first point that I feel is incorrect is the internet issue. The internet is a very new thing to the library especially when considering how for a few thousand years there was not the world wide web. The main attraction, I believe is not for the internet. - More...
Tuesday PM - January 22, 2008

Slowing Down Speeders By Michael Nelson - Greetings from the South Pacific. My vote is for the KPD. They have good officers there and can no doubt rein in those who think that the speed limit does not apply to them. A few visits to Trial Courts Ketchikan and a letter from the insurance company with "new rates" are always attention getters for those with lead lined shoes. - More...
Tuesday PM - January 22, 2008

Fireworks on Deer Mountain By Marie- Jeanne Cadle - Thank you very much to whomever provided the beautiful fireworks display Saturday night from Deer Mountain. You couldn't have picked a more beautiful evening for it. - More...
Tuesday PM - January 22, 2008

Reduced Ferry Service By Nancy York - I am disappointed because the Alaska Marine Highway will be reducing the number of ships making the Southeast rounds. I love visiting southeast Alaska, especially Ketchikan. I had plans to visit Ketchikan all summer long with my camper. However, a ticketing agent from Alaska Marine Highway told me to schedule early and make a reservation due to the reduced ferry service. I do not want to follow such a rigid schedule when I am on vacation and would rather board the ship as a standby. If I get lucky choosing the standby option then I will stay in Ketchikan for 3 months, spend my money at your campgrounds and RV park, and no doubt spend my money at your supermarkets, knick-knack shops, restaurants, and other tourist related activities (of course, not those jewelry shops... no-o-o, never at the jewelry shops...). I am fully aware of the safety issues involved in repairing an AMH ship, after all, safety is the issue for Marine Highway public transportation. - More...
Tuesday PM - January 22, 2008

Guard Island Heritage Display By Rob Holston - I would like to extend our appreciation to Chester and Lee Ann Ginter of Sears in the Plaza Mall for hosting our display for Guard Island Heritage, Inc. Chester and Lee Ann are lifetime members of Guard Island Heritage, Inc. and attended the circumnavigation of the lighthouse meeting in the summer of '06. - More...
Tuesday PM - January 22, 2008

More Letters/Viewpoints
Webmail your letter or
Email Your Letter To: editor@sitnews.us

---

E-mail your news tips, news
releases & photos to:
editor@sitnews.us

SitNews
Stories in the News
©1999 - 2008
Ketchikan, Alaska

M.C. Kauffman, Webmaster/Editor, &
Graphic Designer
webmaster@sitnews.us

In Memory of SitNews' first editor,
Dick Kauffman
1932-2007

Locally owned & operated.
Online since 1999

Articles & photographs that appear in SitNews are protected by copyright and may not be reprinted or distributed without written permission from and payment of required fees to the proper sources.